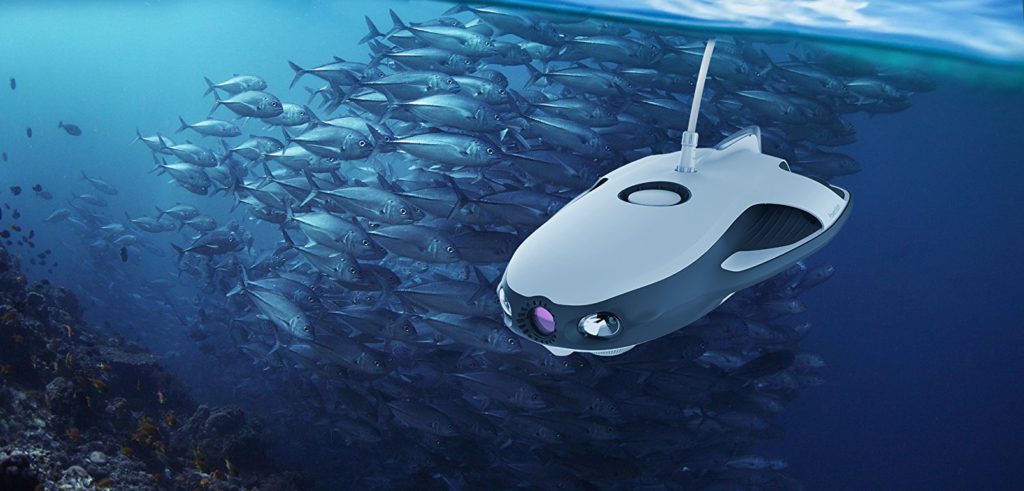 Updated May 26, 2021
Best Underwater Drones for Sale
Public fascination with underwater drones is growing by leaps and bounds.  The undersea world is getting increasing exposure through TV and the media and that has fueled curiosity to participate in diving and fishing and everything in the water.   We are also in a technology boom that has started to create economies of scale in the production of ROVs, otherwise known as underwater drones.  In other words, they are getting more and more affordable.  What used to be available at relatively high prices for military, research, and commercial enterprises to trained professionals only are now possible for recreational use by the general public.  So much of the undersea world has been explored so little, people now are using this opportunity to be at the forefront of discovery by purchasing a drone.  Videographers, photographers, divers, and even fishermen have a great new tool. And underwater drones are so much fun to drive!
Factors to Consider When Buying an Underwater Drone
Being new on the market and having such a rich variety of specifications to digest means there is a unique set of advantages and disadvantages to evaluate before buying.  There are questions concerning battery life and maximum depth.  For example, is it for snorkeling or deep diving?  Is the drone tethered or autonomous?  How is it controlled?
Control Types
Physically tethered, wired cable connection – With these systems, there is higher bandwidth than the wireless models.  The driver often can more discreetly control movement.  This can include independent control of the camera gimbal, so that as the drone moves the camera can turn and remain focused on an object even as the drone moves past the object.  Real-time video feeds can be possible which is useful for inspections of hulls and docks.
Wireless – These are often the simplest for a beginner to learn to operate.  Controls are basic and streamlined for user-friendliness.  The downside is that wireless connections are less stable and reliable and with more limited underwater range.
Autonomous – The drone can be set up to follow a diver automatically without real-time control input.  This is great for the diver who is able to remain busy without having to focus on operating the drone.  There are a few models that do this including the iBubble which is not yet for sale but scheduled for release in November 2018.
Depth Rating
Some drones are designed to operate at the surface. Most under consideration will dive below the surface and will need to operate at increased pressure from that of the surface.  The camera and shell of the drone will have to be rated to handle this pressure.  You need to make sure that the equipment you use is rated for the planned depth.
Battery Life
With the physical support of the underwater environment in terms of buoyancy, the rating is usually in terms of hours rather than the minutes talked about when using aerial drones.  Make sure you know how long it will last and under what conditions.
Salt or Freshwater
There is some difference in tolerance between fresh and saltwater.  Saltwater can cause damage to some equipment.  Make sure if you are in saltwater that your drone can handle it.
Cameras
Resolution is an important feature of a camera, but equally important is the lens in front of the camera.  It is important to thoroughly examine those specifications.  Some drones are not equipped with a camera and some will require adding one.  The GoPro camera is one you can install yourself on many models.
Summary
Underwater drones have long been important and in some cases the only means to access certain underwater locations for research, military, and commercial applications.  Today it is possible for fishermen, treasure hunters, and everyday recreational divers to enjoy the benefits.  The best systems today have powerful cameras for video capture and batteries with a solid run time that is easy and convenient to control.  The only drawback is that no good ones are very low priced.  There isn't really an entry-level sort of budget drone to break yourself in on.  However, considering the price of the tools of the trade for fishing and diving these days, underwater drones are increasingly affordable.  In addition, the features and user-friendliness are continuously improving.
Best Underwater Drones For Sale Today
There are several models that are in development and/or not quite on the market yet which appear to offer advanced features. The models below are ready to go and on sale right now.
The BIKI looks like a chubby little fish and is actually propelled and steered much like a fish with a fin at the back of it.  On the surface, it is controlled by an app (IOS, Android) through a wifi connection to a compatible phone which allows a real-time camera feed.
Upon submerging from the surface to depths up 196 feet, the WiFi control and video end.  Then you must rely on a pre-determined path for the drone set up on the app, and the drone starts recording on its 32 GB of storage.  The video can then be seen when BIKI gets back to the surface.
While on the surface or submerged you can use the remote control to direct BIKI to swim according to your instructions: ascent, submerge, direction, speed, light on or off, photograph, or videotape (no real-time scenes below the surface).
The camera on BIKI can record at a 4K resolution and illumination at depth is aided by two powerful lamps on the front of the unit. Battery life is about an hour and a half and can be recharged in about 2 hours. The lens over the camera has a 150-degree field of view.
It is easily portable at 2.65 lbs, 10.71 x 4.33 x 7.13 inches, and easy to clean up.
Advantages
4K resolution
The battery recharges in only 2 hours
Maximum depth of 196 feet
Easy to control even for beginners
Disadvantages
Relatively slow at 1.12 mph
Not very maneuverable
Power Vision PowerRay Wizard Underwater ROV
The PowerRay Wizard from Power Vision, one of the favorite underwater drones on the market today, has many features useful for underwater exploration, treasure hunting, fishing, and mapping. It has received wide use in studies and filmmaking projects.
This package is the "Wizard" bundle, as opposed to the "Explorer" bundle. The Wizard has the 64 GB version of the drone, which has more space for footage.   Included is a base station, controller, smartphone clip, batteries and charger, bait dropper, fishfinder, and a Zeiss VR One smartphone enclosure headset. Importantly, there is the 230-foot communications cable as opposed to the standard 164-foot cable.
The PowerRay 12-megapixel camera can record 4K UHD video and has 1080p real-time streaming. Still photos are rated at 10 megapixels and you can take them in 5-fps bursts. The lens has a 95-degree field of view with footage captures of 1080p, a high definition quality.  The maximum depth is 98 feet with a tether 210 feet long.
Also included with this model is a fish finder that can be detached and used on its own.  As suggested it provides details for fishing like distribution, water temperature, depth, and bottomscape.  These can be read using the PowerRay Wizard app downloaded into your smart mobile device.  This PowerSeeker fish finder features a precision remote bait drop, as well, that enables you to place a fish hook strategically.
Power Vision indicates that in still water at low throttle the battery will last for 4 hours.  The maximum speed in still water is 1.5 meters/second.
A particularly interesting feature that is included is the ZEISS VR One plus goggles that deliver an immersive diving experience to someone on the surface.
To top it off it can all be stored in a wheeled carrying case.
Advantages
4K resolution
4-hour battery life
Excellent features for fishermen
Zeiss VR One goggles
Disadvantages
ThorRobotics King Crab 100X Underwater Drone with Manipulator Arm
The ThorRobotics King Crab 100X Underwater Drone with Manipulator Arm is a new model that hit the market in 2020.  This drone is has a sturdy protective frame and is great for a variety of activities including fishing, exploring, mapping, treasure hunting, or marine life research.
With 2 hours of battery life, it has 4-axis brushless propulsion with a 3.6 kilometers/hour maximum speed and a maximum depth of 100 meters (330 feet).  It comes with a 50-meter (164-foot) tether with an optional 300-meter (990-foot) tether available.
Two 1,000 lumens LED spotlights show the way and you can view, stream, and record with its 4K HD camera.
It is also equipped with a mechanical arm for grasping objects like artifacts, bottles, trash, etc.
Advantages
Rugged protective frame and waterproof construction
Maneuverable 4-axis propulsion
4K resolution
Mechanical arm
Deep access, with an automatic 100-meter (330-foot) maximum depth setting
Disadvantages
Heavy at 5.5 kg (12.1 pounds) excluding the battery
Geneinno Poseidon I Underwater Drone
The simple lines of the Poseidon I underwater drone tend to represent an understatement of its capabilities.  Its triple thruster design provides precision navigation in six directions and a built-in posture sensor and self-balance control system ensures steady movement in any situation.
It's fast at a maximum speed of 2m/second and will run for 5 hours on a full charge on average use.
It comes with either a 164 or 328-foot tether and has a maximum depth of 390 feet, which means it is capable of out-diving the longer tether.
The Poseidon I can be connected to its provided wifi buoy, then linked wirelessly from there using the Geneinno app for IOS or Android on any smart device.  Poseidon I's buoy uses a 2.4GHz frequency to connect with controlling devices. You can live-stream your underwater adventure directly to your smart devices and view them in real-time.  The camera is a Full HD 1080p, 30fps unit with a 120-degree wide-angle lens.
At 7.8 lbs it is light enough and in its sturdy protective carrying case small enough to take onto a TSA-approved airplane. The side panels of the drone itself are made of industrial-grade plastic and rubber coating, which protect it from unknown underwater obstacles as well as rough handling when being transported.
About the only thing you could consider a weakness is a lack of autonomy. It is a simple high-performance drone that can fill a number of roles.
Advantages
Sturdy construction
390-foot maximum depth
Very maneuverable
Good all-round specifications
Disadvantages
Underwater Drone Comparison Table
From the above reviews, you can see that there is a richness of features possible on underwater drones.  Here is a chart showing a summary of some of the more important considerations.
Feedback and Comments
I hope you enjoyed this review of underwater drones.  If you have any questions, concerns, or experiences to share, please leave a comment.  If there is no comments section directly below, click here:>>comments<<