We may earn money or products from the companies mentioned in this post.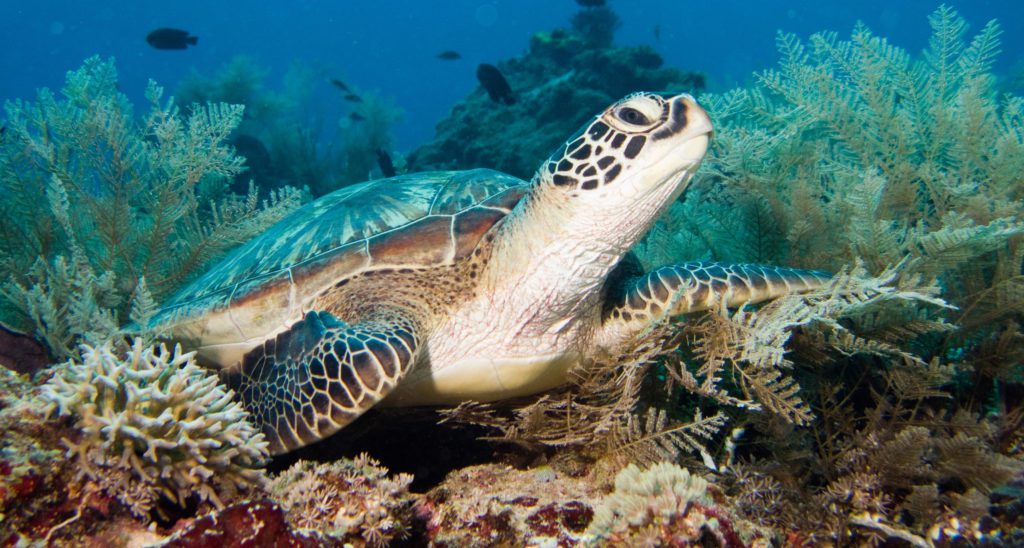 This is the seventy-eighth in a series of reviews of the best dive resort locations around the world.  In this post, the focus is the Gili Islands, Indonesia.
In addition to this series on dive resort locations, the best worldwide liveaboard diving locations and services are reviewed in their own series.  To check them out, or others in this series, click on Liveaboards/Resorts on the menu at the top and choose a title from the list.
Have you ever been diving on the Gili Islands Cyprus before?  If so, I'd love to know about your experience.  What dive shop or liveaboard did you use?  Which dive spots are the best and what are the conditions there regarding the visibility, current, water temperature, sealife attractions, etc.?  Please post your response in the comments section at the bottom and we'll all learn something we can use.
Gili Islands Diving
Background – The three Gili Islands are situated just off the northwest coast of Lombok.  The largest and westernmost, Trawangan, is 35 kilometers (22 miles) from Bali.  They have a total area of 15 square kilometers (22 square miles) and a resident population of 4,439.  Gili means small island in Sasak, so the best way to refer to the 3 islands is by their second names, Trawangan, Meno, and Air.  The Japanese used the islands as a prison camp during the second world war and the first permanent settlers arrived in the 1970s.  Fishing and then coconut production was the early economic foundation and then in the 1980s, foreign backpackers discovered the islands and tourism started to boom.  In the 1990s tourist scuba diving became established.  Destructive fishing practices were common, but since 2000 there has been a major effort to protect the reefs and an increasing number of westerners are establishing resorts and dive shops in recent years.  Trawangan is known to be a party island with the most tourist traffic.  Meno, in the middle, is more laid back and suitable for couples.   Air, closest to Lombok Island, has a more developed local community and has a reputation as a place for social backpackers.  The islands are flat with a maximum elevation of 60 meters (200 feet).  Except for electric scooters, no motorized vehicles are allowed.  Popular means of transport are horse-drawn carts and bicycles.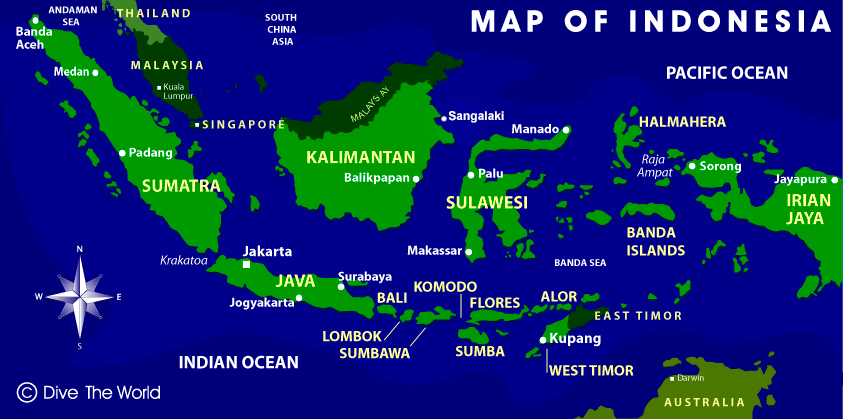 Undersea World – The three island archipelago is most known for a large number of hawksbill and green turtles that are the biggest attraction for divers, snorkelers and boaters.  There are 30 dive sites on an interesting subsea terrain of slopes, ridges, walls, canyons and rocky outcrops with a rich invertebrate cover of colorful hard and soft corals, sponges and huge sea fans.  Fish highlights include schools of sergeant majors, fusiliers, surgeonfish, snappers, batfish, Moorish idols, rabbitfish, chub and pelagics like jacks.  Other notables are several species of sweetlips, clown and titan triggerfish, bumphead parrotfish,  pufferfish, filefish, numerous wrasse species, moray eels, black and whitetip reef sharks, blue-spotted stingrays and occasionally seen eagle and manta rays, and whale sharks.  Macro life is also strong with frogfish, mantis shrimp, octopus, lobsters, nudibranchs, crinoids, sea cucumbers, flying gurnards, and pygmy seahorses.  In addition, there are a couple of intriguing shipwrecks.  The shallowest areas still show damage from historic destructive fishing practices, but as time goes on the life there is getting re-established and the generally healthy reef in deeper water is well worth diving.
To check out liveaboard diving opportunities in Indonesia, click here:
For special offers on Indonesian and other liveaboard diving destinations, please click here:
Seasons and Conditions – With daily air temperature highs at roughly 30°C (86°F) throughout the year, water temperature running from 27-30°C (81-86°F) and rain not a major imposition, diving is possible year round.  A 3 mm shorty wetsuit is probably the most anyone would need to keep warm.  Visibility is usually in a range of 15-30 meters (50-100 feet).  During the rainy season from November through April, give or take a month, the surface can be a little rougher and runoff from Lombok greater decreasing visibility somewhat, particularly when the rain is strongest in January and February.   Current is variable by site and time of the year and can be mild to fairly strong.  Generally, though, conditions are suitable for all levels of diver.  Several dozen dive shops operate on the three islands and are equipped to provide a range of training, equipment rental, guiding and boat tours.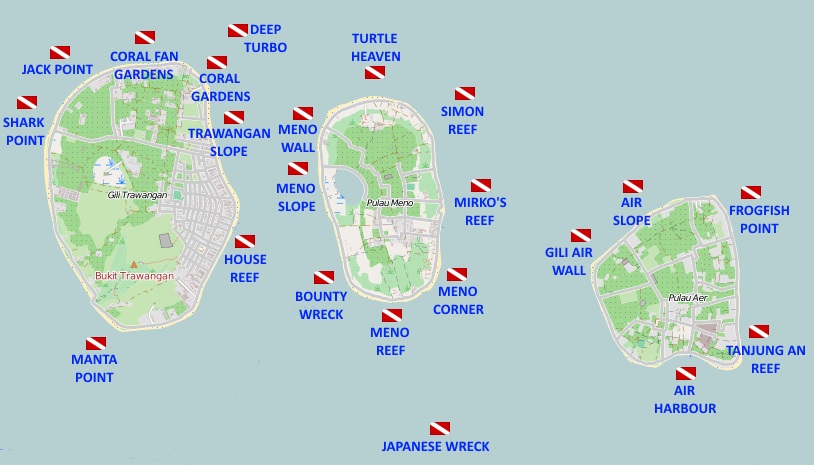 Selected Gili Island Diving Sites
Shark Point: 10-35+ meters (35-115 feet), flat reef area at 10 meters (35 feet), slopes to 18 meters (60 feet), from there descending rows of valleys parallel to the shoreline down to 35 meters (115 feet), shallows frequently have green turtles, anemones, scorpionfish, ribbon eels, scorpionfish, cuttlefish, barrel sponges, hard corals and sea whips, schooling fish including several species of snapper, deeper are blue-spotted stingrays, white and blacktip reef sharks, when there is current batfish, mantas, Spanish mackerel, dogtooth tuna, and jacks may appear, suitable for all levels when shallow, experienced level when deeper
Manta Point: 5-24 meters (16-80 feet), gently sloping fringe reef rich in staghorn, other hard corals and coral bommies, green and hawksbill turtles, schools of batfish, oriental sweetlips, whitetip reef sharks, octopus, mantis shrimp, pufferfish, angelfish, lined snapper schools, manta rays, all levels
Deep Turbo: 18-35 meters (18-115 feet), coral shoal peaking at 18 meters (60 feet), sandy base, hard and soft corals and gorgonians, macro life in the nooks and crannies and pygmy seahorses on the fans, schools of bumphead parrotfish and batfish, spotted eagle rays, white and blacktip reef sharks, green turtles, current possible, experienced level
Bounty Wreck: 5-20 meters (16-68 feet), floating dock sunk to become an artificial reef in 1999, reachable at 8 meters (25 feet), leather and black corals, sponges, several species of angelfish as well as numerous species of butterflyfish, anemones, gorgonians, sponges and hard corals surrounding the wreck, current possible, green turtles, whitetip reef sharks, all levels
Simon Reef: 18-35 meters (60-115 feet), rich and diverse coral shoals topping at 18 meters (60 feet), canyons between shoals, ledges, sandy base, huge gorgonians, barrel sponges, purple sea whips, green turtles, spotted eagle rays, whitetip reef sharks, schools of fusiliers, orange sea fans with pygmy seahorses, hairy squat lobsters, nudibranchs, porcelain crabs, experienced level
Mirko's Reef: 12-35 meters (40-115 feet), deep ridges between 18-35 meters (60-115 feet), with rich hard and soft corals, sponges and sea fans, shallow area has a multitude of reef tropicals, pufferfish, trumpetfish, long-nosed butterflyfish, green turtles, schooling fusiliers and snappers, blue-spotted ribbon tailed rays under coral overhangs, giant frogfish, whitetip reef sharks, all levels
Gili Air Wall: 5-30 meters (16-100 feet), sandy bottom with bumphead parrotfish to a steep drop off from 10-24 meters (35-80 feet), sea fans, whips, soft corals and sponges, nudibranchs, pygmy seahorses, orangutan crabs, octopus, gobies, shrimps, lobster, banded pipefish, angelfish, butterflyfish, triggerfish, current possible, all levels
Air Harbor: 5-18 meters (16-60 feet), shore access, muck location, staghorn coral garden, octopus, banded pipefish, sponge crabs, ghost pipefish, waspfish, bobtail squid, schools of harlequin sweetlips, good night dive, all levels
Gili Islands Photos
With the interesting undersea terrain, wrecks, colorful coral reefs, macro critters, a variety of fish, reef sharks, stingrays, pelagics and turtles, and scenic beach vistas and shoreside targets as well, there are many excellent photo opportunities.  For information and reviews of dive cameras, click here:
Air, land, and boat or ferry transit is necessary to get to the islands.  There are many ways to get it done from the variety of possible starting points.  Here is a source that explains the options in detail:  Wikitravel
There are dozens of resorts and lodges starting at $3 per night on the Gili Islands and more on Lombok in the general vicinity.  A number have an in-house dive shop or are associated with one.  At last count there are 48 dive shops on the 3 islands offering a range of services including equipment rental, dive courses, guiding and boat dive cruises.  The website linked below is a good source for the available options and can arrange a booking.  You can easily find the locations on the map provided on this site.  Their rates are the lowest and it is free to cancel or change dates.
Things to Do in the Gili Islands (aside from scuba diving)
There are a number of cultural and outdoor activities to round out your trip to the Gili Islands.  Here is a list of places to visit and things to do: circumnavigate the islands on foot, island hop, kayaking, stand up paddling, surfing, fishing, BBQ, partying, magic mushrooms, live music, night market, stick fighting tournament, movies, relaxing on the beach, sunsets, yoga, get a tattoo, beach clean-up, massage, fish pedicure, turtle sanctuary, traditional dancing.  This video can give you an idea how it looks.
A cushion for emergencies provides peace of mind when on vacation.  I recommend this diving insurance as they have worldwide coverage and provide scuba divers a quality insurance and medical assistance service.
Feedback and Comments
I hope you found this post on Gili Islands scuba diving interesting and useful. If you have any questions or ideas, please feel free to share them in the comments section.  I'd love to know of any experience you have diving on the Gili Islands.  If there is no comments section directly below, click here:  >>comments<<