We may earn money or products from the companies mentioned in this post.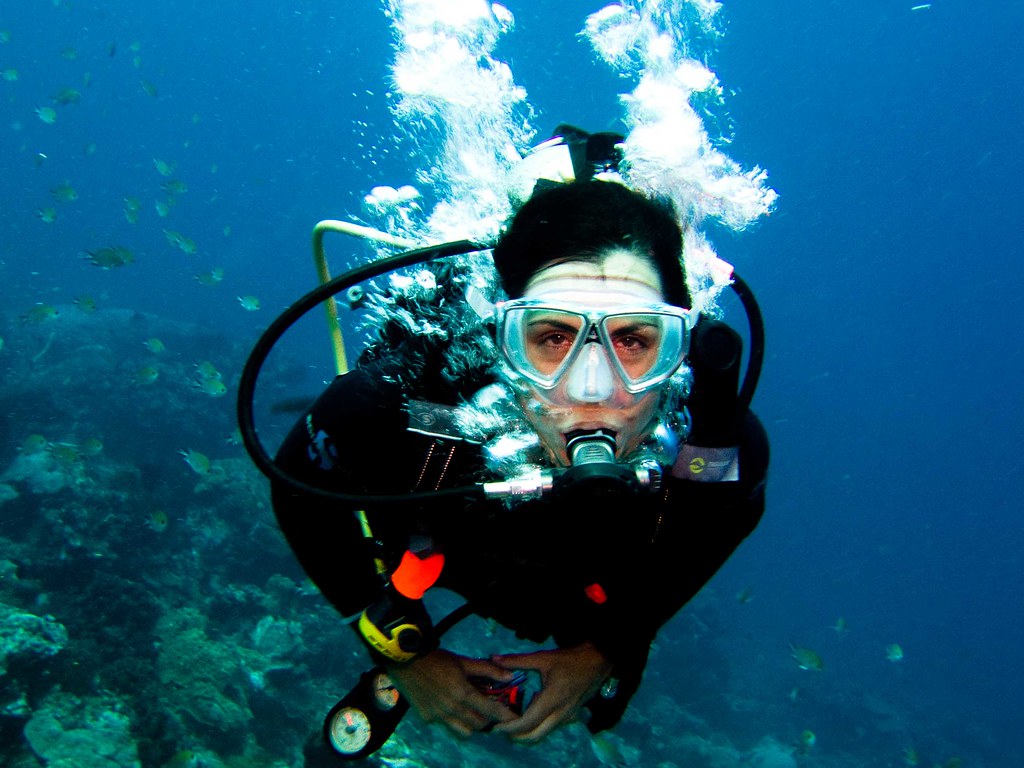 You've decided that you would like to get some training and become a certified scuba diver.  You're about ready to contact the dive shop to sign up, but still have a few questions you'd like to think over before you get started.  Below are some I'm sure you have considered asking and a few more to fill you in and further assure you.  After reading, if you have any more concerns, please ask in the comments section at the bottom.  Good luck.
How to Become a Certified Diver – FAQ
How much time do you need to get certified?  Most of the time 4 days is adequate to complete the work with your instructor.  You can organize it in different ways based on your own scheduling needs.  It could be that you do it in consecutive days or on a couple of weekends.  It is also performance-based, so it will depend on successfully completing the work.
What does it cost to become certified?  It's not cheap but compares favorably to a number of equipment oriented sports and outdoor activities.  The open water diver certification course is generally in the $300 to $600 range, depending on the location.
What are the age requirements for scuba diving?  Most of the prominent training agencies allow children to get started at the age of 10.  Prior to that age, some offer special programs that offer a brief chance to try it for a short simplified exposure.  At the other end of the range, there is no maximum age.  As long as you are in good health you can continue to scuba dive.
Do I need to be a strong swimmer to scuba dive?  You do not have to be a strong swimmer, but there are basic watermanship skills needed.  For PADI they require you to be able to swim 200 yards (or 300 yards if using mask, fins, and snorkel) and tread water on the surface for 10 minutes.  If you have special challenges like paraplegia or an amputation it is possible to earn an open water certification with PADI in a special adaptive program.  You can ask for details at the dive center.
Are Sharks a Threat?  In fact, it is the opposite.  Scuba divers look at sharks as an attraction and go to great lengths to dive with them.  The hype that started regarding their danger has been fueled by movies like Jaws and a lot of other presentations in the media that have created a completely false view of the threat.  The extremely rare instances where there are any problems with sharks for divers are in the circumstance of feeding them or spearfishing.  Here is a video by an expert:
What risks of injury and illness are there in scuba diving?  The most common problems people have when diving are sunburn, seasickness, and dehydration, which can all be dealt with easily or prevented.  Scrapes and stings can also occur which can be avoided by watching where you put your hands and wearing exposure protection.  The top risks are decompression illnesses like the bends (decompression sickness) and air embolism.  A major focus of the training is to teach you how to easily avoid them.
What happens if my equipment breaks down or I run out of air?  The scuba regulator has a very simple design that has been through rigorous testing.  It utilizes a fail-safe system such that if there is a malfunction it results in the air freely flowing out rather than cutting off.  You will receive training related to this, but it is easy to manage.  In addition, you should always dive with a buddy who by training has an air source that can be shared with you.
How deep can you go? The limit for recreational scuba diving is 40 meters (130 feet).  At the first certification level, you will be trained to go to a maximum depth of 18 meters (60 feet).  The closer you are to the surface the more light there is and the brighter the colors.  Frequently there is much more life to see at 10-18 meters (35-60 feet) than by going deeper.  So, as a beginning diver, there is a lot to experience.
What about diving without a certification?  Is this possible?  It is possible, but if you want to get tank fills, rent equipment or dive on a charter or out of a dive shop you will need a certification.  There are risks in diving particularly if you do not have a firm foundation that you receive in an authorized training situation.  These risks include death.
What is the first step in getting a diving certification?   First, you'll need to find a dive shop.  There are thousands easily located online which represent one of the several training agencies.  The beginning course is an open water diver class.  The various agencies like PADI, SSI, NAUI, BSAC, and others offer a class based on the same standards and objectives to provide you with the knowledge and skill-set to dive safely.  There is some variation in the curriculum and digital options, but they are all very similar at the open water diver level.
What scuba gear do I need for my certification course?  Typically the dive center will provide the equipment you use during the course as part of the price.  Sometimes you rent it separately.  Be sure of what's included before you start.  The class will give you a chance to get an idea of what types of equipment you prefer.  As you continue diving after the course has completed you will probably want to get started getting your own gear that suits your needs and is comfortable.  Most divers start with the mask and move on to other pieces as they go.
Once I have my certification, what does it cost to dive?  You will need equipment which can be rented or purchased.  If you plan to dive regularly it will be worth investing in a set of gear.  If you are diving out of a dive shop, they will charge you for chartering a boat and guiding service.  There is a wide range running from $15-$20 per dive in Southeast Asia or Central America on up.  It will depend a lot on the standard of living in the location, the season, and how busy it is.  At a location where you stay at a hotel, it may be possible to get a package deal including diving and the room.  A liveaboard dive safari combines diving with room and board on a yacht with an all-inclusive price.  So, there are several options.  You would be advised to shop around a bit for equipment and diving services.  For equipment, liveaboards, and resort diving information, please check the menu at the top for reviews of all your gear needs and around 150 options around the world on liveaboards and dive resort locations.
For more information about becoming a certified scuba diver, please check these:
Comments and Feedback
I hope you found this post on reasons to become a certified diver interesting and useful. If you have any questions or ideas, please feel free to share them in the comments section.  If there is no comments section directly below, click here:  >>comments<<