We may earn money or products from the companies mentioned in this post.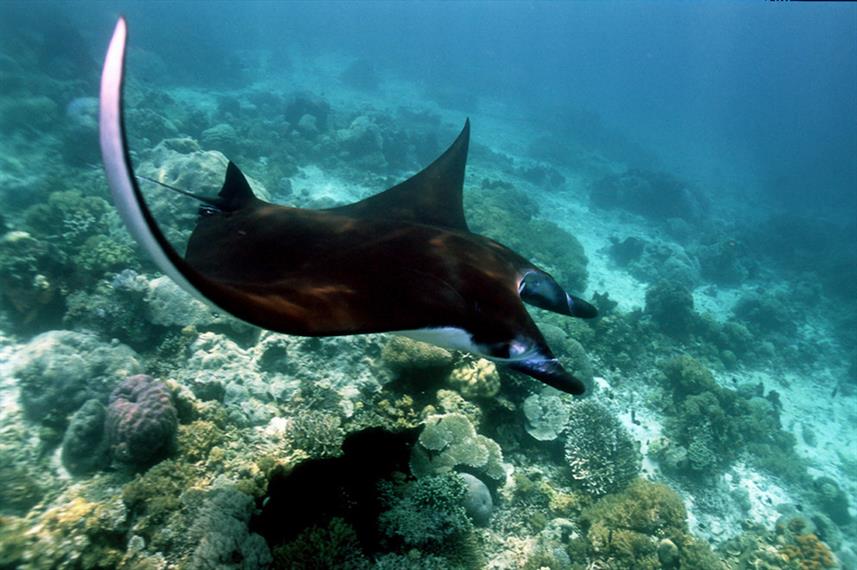 This is the ninety-sixth in a series of reviews of the best dive resort locations around the world.  In this post, the focus is on Raja Ampat, Indonesia. In addition to this series on dive resort locations, the best worldwide liveaboard diving locations and services are reviewed in their own series.  To check them out, or others in this series, click on Liveaboards/Resorts on the menu at the top and choose a title from the list.
Have you been diving in Raja Ampat before?  If so, I'd love to know about your experience.  What dive shop did you use?  Which dive spots are the best and what are the conditions there regarding the visibility, current, water temperature, sealife attractions, etc.?  Please post your response in the comments section at the bottom and we'll all learn something we can use.
Raja Ampat Diving
Background – Raja Ampat, which means four kings, is an archipelago of more than 1,500 islands, shoals, and cays just off the northwest tip of Bird's Head Peninsula, New Guinea, a part of West Papua Province, Indonesia.  The four kings in the name are the islands of Misool, Salawati, Batanta, and Waigeo.  This area known for the richest biodiversity in the world is situated around the equator with only a few of the northern islands in the northern hemisphere.  The population of 49,000 leads primarily a traditional lifestyle based on fishing, although they are known for a welcoming attitude which is great for scuba divers and eco-tourists.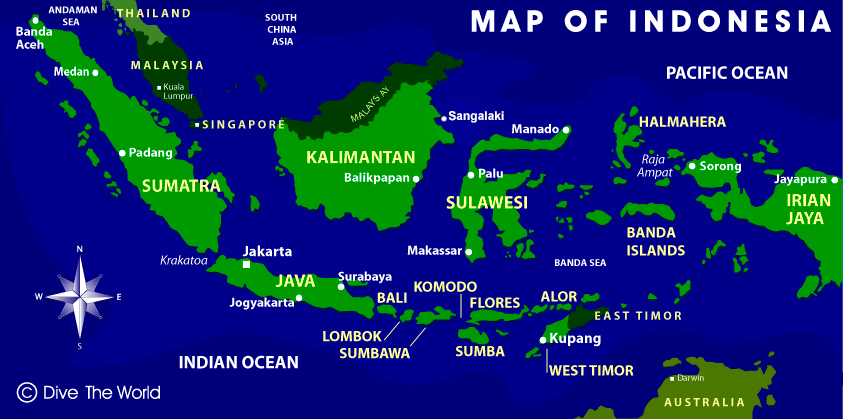 Undersea World – Raja Ampat sits in the middle of the area with the greatest biodiversity in the world that hosts more than 1,500 species of fish, 500 species of coral, and 700 mollusks.  A nice drift and a variety of subsea terrains enhance this diversity of wildlife.  There are shallow coral gardens, grass beds, and mangrove forests and some sites that are especially rich in soft coral with huge gorgonians.  Others sites have more hard coral.  White sand, black sand, rocky slopes, steep drop-offs, and caves are all possibilities.  There are lots of fish, macro critters, and pelagics like giant trevallies, dogtooth tuna, or mackerel on every dive.  Macro attractions include a multitude of nudibranchs, frogfish, scorpionfish, pygmy seahorses, crustaceans, octopus, and cuttlefish, to name but a few.  Reef tropicals like angelfish, parrotfish, sweetlips, and butterfly fish are often accompanied by the more spectacular bumphead parrotfish, Maori wrasse, white and blacktip reef sharks, wobbegongs, green turtles, and manta rays.  On top of those, there are several intriguing wrecks.  If you are lucky you may find a pod of dolphins, whales, orcas, or perhaps a dugong.
Seasons and Conditions – Diving is possible year-round in Raja Ampat.
With such close proximity to the equator, air temperature is always warm with an average daily range from 25-32°C (78-91°F).
Water temperature consistently stays from 26-30°C (79-86°F).
There are two rainy seasons, one from October through May considered the preferable time to dive, and the second in July and August.  Plankton blooms from October to April which attracts large numbers of manta rays.
Surface conditions tend to be a little rougher due to monsoon winds in July and August, although many locations have a degree of protection from the winds.
Currents in many locations are moderate to strong, making for exciting drift diving.
Visibility has a range of 10-40 meters (33-130 feet).  Rains and plankton blooms push it to the lower end of the range.
With the possible moderate to strong current, it is generally considered that most of the sites are suitable for at least intermediate level divers.  There are advanced and technical level sites available.  At least 23 dive shops operate on the islands and can offer a full range of diving coursework, equipment rental, guiding, and boat cruises.  More than two dozen liveaboard yachts also cruise Raja Ampat.
Here is my review of Raja Ampat Liveaboards and links to several Raja Ampat liveaboard yachts: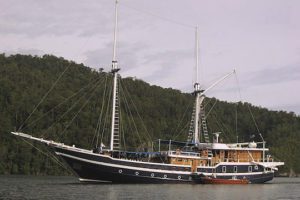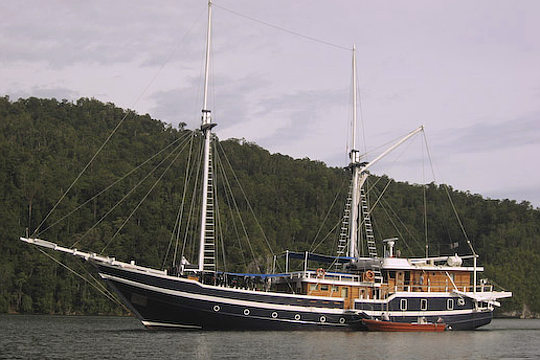 MSY Seahorse, Raja Ampat Liveaboard Diving – Check the Price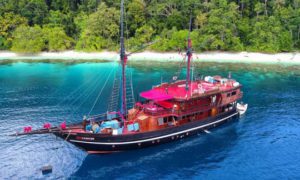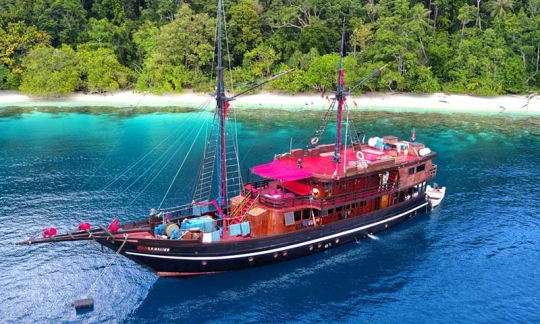 La Galigo, Raja Ampat Liveaboard Diving – Check the Price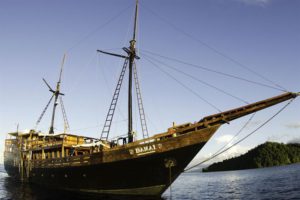 MV Damai I, Raja Ampat Liveaboard Diving – Check the Price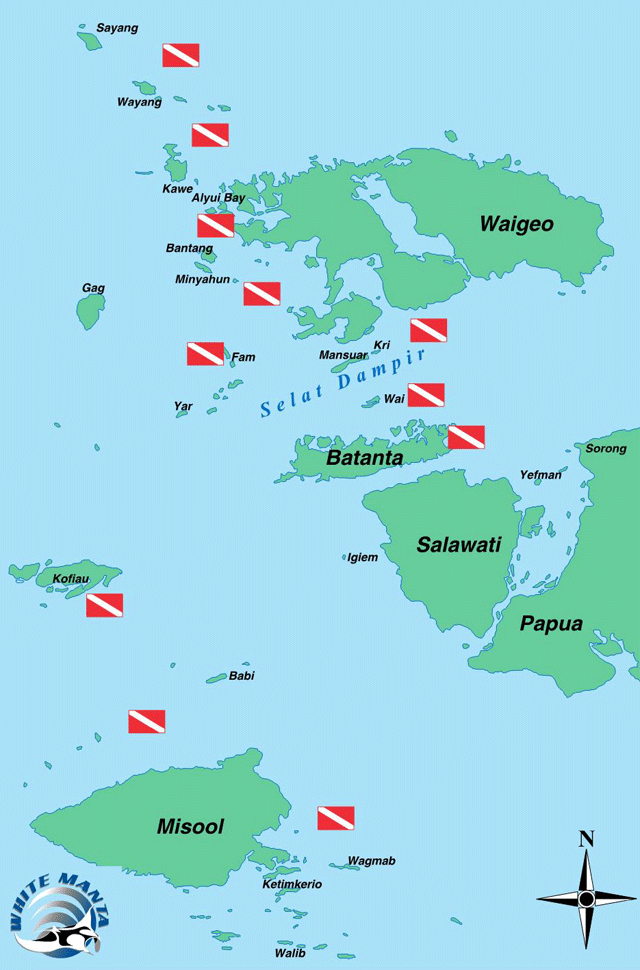 Selected Raja Ampat Dive Sites
Cape Kri: 40 meters (130 feet) maximum depth, famous site where Dr. Gerry Allen counted a record 374 species on one dive, beautiful coral topped reef, current-swept channel between Kri and Koh islands, steep drop-off, nudibranchs, pygmy seahorse, scorpion fish, big schools of barracuda, snapper, and jacks, at the base of the drop-off at 38 meters (125 feet) is an old anchor and coral head with a school of glassfish and sweetlips, black and whitetip reef sharks, hawksbill turtles, and huge groupers, experienced level
Sardine Reef: 5-30 meters (16-100 feet), offshore site on a 200 meter long pinnacle, to the east of Kri Island, massive schools of fish (but no sardines) including bannerfish, fusiliers, rainbow runners, jacks, tuna,  batfish, surgeonfish, and bumphead parrotfish, white, blacktip, and grey reef sharks often prowl amongst them, also big sea fans with pygmy sea horses, strong current possible, experienced level
Boo Window: on eastern side of Misool, barrel sponges, macro critters including mantis shrimp, nudibranchs, ghost pipefish, and pygmy seahorses, Napoleon wrasse, sweetlips, large swim-through in gaps in a coral wall in shallow water, to a steep drop-off with a strong current, large table corals, schools of fusiliers and batfish, reef sharks and wobbegongs, and a pinnacle further out in open water, great photo opportunities, experienced level
Manta Ridge: 6-40 meters (20-130 feet), between Mansuar and Airborei Islands, sloping reef to a sandy bottom at 40 meters (130 feet) that then slopes on down from there, large 4 meter (12 foot) wing-span mantas as shallow as 6 meters (20 feet), but often much deeper, looking for a cleaning station of cleaner and other wrasse species,  they come year round, but October and April have the best conditions for them, other marine life in the vicinity are butterfly fish, bumphead parrotfish, trevallies, and turtles, often there are strong currents,  experienced level
Manta Sandy: 5-20 meters (16-68 feet), near Manta Ridge, moderate to strong current, cleaning station for mantas in a narrow channel of coral heads, at 15 meters (50 feet) 10 or more mantas often linger there hoping for cleaning from a wrasse, all levels.
Happy Ending: near Batanta, shallow dark sand slope with lots of macro critters including crocodile fish, snake eels, wonderpus and mimic octopus, Phyllodesmium nudibranchs, all levels
Melissa's Garden: near Batanta, large coral garden with hard and soft corals, sponges, and anemones, great macro photography site, nudibranchs, lots of colorful reef tropicals, rabbitfish, lionfish, angelfish, sea kraits, pygmy seahorses, deeper there are barracuda, occasional mantas, and wobbegongs, little current, all levels
The Passage: 10 meters (35 feet) average maximum depth, channel between Waigeo and Gam falls to about 35 meters (116 feet), tidal flows create current through the channel bringing nutrients, many passages, tunnels, nooks and crannies to explore, orange sea fans, purple sponges, archerfish, cuttlefish, flatworms, octopus, cuttlefish, resident turtles, and schools of jacks, barracuda, and tuna, wobbegongs, all levels
Magic Mountain: near Misool Resort, submerged pinnacle reaching 7meters (22 feet) in depth, oceanic currents, sometimes strong, bring nutrients and a chance for two species of manta ray, big schools of pelagics, Napoleon wrasse, whitetip reef sharks, experienced level
P-47D Thunderbolt Wreck: 33 meters (110 feet), ditched during WWII when it ran out of fuel, lies upside down, well encrusted, near Way Island, experienced level
Raja Ampat Photos
With the pristine coral reefs, wrecks, extreme biodiversity including mantas, wobbegongs, sea turtles, stingrays,  sharks, dolphins, whales, macro critters and reef tropicals, and interesting onshore scenery, as well, there are many excellent photo opportunities.  For information and reviews of dive cameras, click here:
Transportation
Dominique Edward Osok Airport in Sorong has direct daily flights from Jakarta, Manado, or Jayapura.  The airlines providing this service are Sriwijaya Air, Lion Air, Batik Air, and Garuda Indonesia.
Liveaboards generally depart from Sorong.  Most hotels can provide a speedboat to pick you up there.  Be sure to ask about this when booking.  Otherwise, there is a daily ferry to Waigeo.
For a few more details on transportation logistics, please click here:  Wikitravel – Raja Ampat
Lodging and Dive Shops – There are a small number of hotels, resorts, and homestays around Rajah Ampat.  At least 23 dive shops are also in operation, many associated with lodging.  They offer full services including equipment rental, dive courses, guiding and boat dive cruises.  The website linked below has the details and can arrange the booking.  You can easily find the location on the map provided on this site.  Their rates are guaranteed to be the lowest and it is free to cancel or change dates.
There are also 3 premium resort/dive lodges, Kri Eco Resort, Misool, and Sordido Bay Resort.  They are available through this link.  After clicking, go to Resort/Day Trips, then Indonesia – Raja Ampat Islands.
Things to Do in Raja Ampat (aside from scuba diving)
Most of the things to do relate to nature and the great biodiversity, and water activities.  Here are some things to consider:  sailing, kayaking, island tours/cruising, bird watching, visiting the Red Bird of Paradise, explore the bat cave, visit the Karst islands near Wayag Island, make a wood sculpture with a lesson from an Asmat artisan, fishing in the Papuan style, trek to waterfalls, watch the sea ghost.  The people where you stay will have many ideas for you.
A cushion for emergencies provides peace of mind when on vacation.  I recommend this diving insurance as they have worldwide coverage and provide scuba divers a quality insurance and medical assistance service.
Feedback and Comments
I hope you found this post on Raja Ampat scuba diving interesting and useful. If you have any questions or ideas, please feel free to share them in the comments section.  I'd love to know of any experience you have diving in Raja Ampat.  If there is no comments section directly below, click here:  >>comments<<