We may earn money or products from the companies mentioned in this post.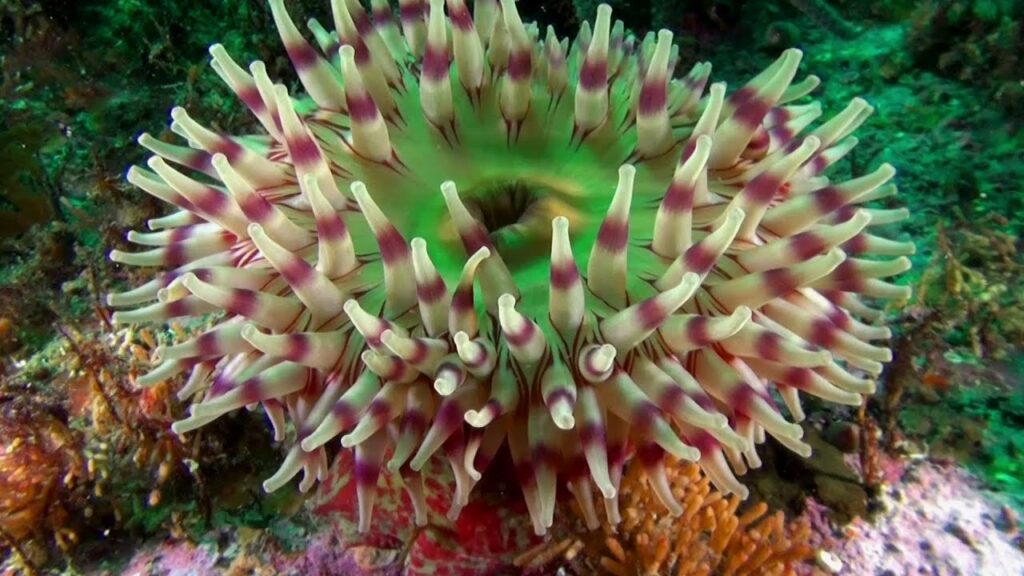 This is the one hundred and seventy-fifth in a series of reviews of the best diving destinations around the world.  In this post, the focus is on Anchorage, Alaska.  In addition to this series on diving destinations, the best worldwide liveaboard diving locations and services are reviewed in their own series.  To check them out, or others in this series, click on Liveaboards/Resorts on the menu at the top and choose a title from the list.
Have you been diving in Anchorage before?  If so, I'd love to know about your experience.  What dive shop or liveaboard did you use?  Which dive spots are the best and what are the conditions there regarding the visibility, current, water temperature, sealife attractions, etc.?  Please post your response in the comments section at the bottom and we'll all learn something we can use.
Scuba Diving in Anchorage
Background – Located in South Central Alaska at the end of Cook Inlet, Anchorage first settled in 1914 is the largest city in Alaska with a population of over 290,000 which is 40% of the state's total.  At this latitude, the days are long in summer and short in winter in a sub-arctic climate with relatively mild dry summers.  Although it has status as a major city, that hasn't precluded the presence of wildlife like black and grizzly bears, moose, mountain goats, northern timber wolves, and beavers from the metropolitan area.  While tourism is important, the economy is driven by transportation, the military, government, and resource extraction, primarily petroleum.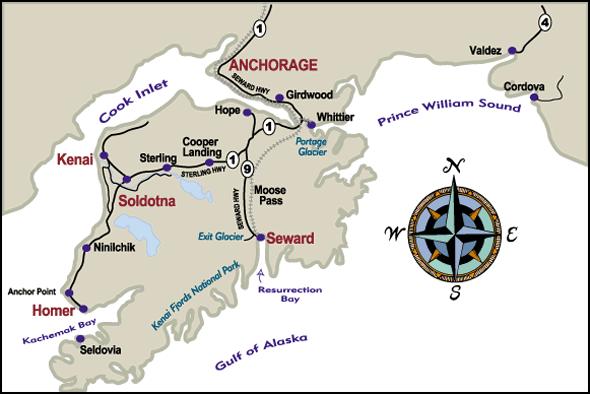 Undersea World – The best scuba diving near Anchorage is in Resurrection Bay and the Kenai Peninsula to the south and Prince William Sound to the southwest.  Although only a short distance from Anchorage, save for wreck sites, undersea conditions are pristine and relatively untouched.  It's true wilderness diving in most spots.  A 40-minute drive from Anchorage to the southeast, Whittier is the closest entry point to Prince William Sound.  Shore diving is available there at Smitty's Cove, a protected area, with heaps of WWII wreckage, planes, industrial materials, cranes, and NOAA reef installations that are well encrusted providing rich habitat for a variety of fish and invertebrates.  Other more natural areas can be reached by boat.  Seward, 2.5 hours away to the south, is the port to Resurrection Bay just to the east of the Kenai National Park.  On the shore are mountains, dense forests, streams, and glaciers, and wildlife you can see from the boat like 100 species of seabirds with cormorants, bald eagles, and puffins.  The undersea topography of walls, inlets, pinnacles, and small islands too has rich wildlife with kelp, and invertebrates including lion's mane jellyfish, plumose anemones, sea stars, ascidians, tunicates, sponges, feather stars, sea cucumbers, nudibranchs, giant Pacific octopuses, and King and Dungeness crabs.  Highlight fish are barndoor halibut, wolf eels, a variety of rockfish (quill-back, black, yelloweye, China), kelp greenling, and chum and humpy salmon.  In addition, the megafauna list is long with huge lingcod, sea otters, stellar sea lions, harbor seals, Dall's porpoises, and the possibility of salmon sharks, orcas, and gray and humpback whales.
Seasons and Conditions
Diving is possible all year in Resurrection Bay and Prince William Sound.
Air temperature average daily highs range from 23-65°F (-5-23°C) with the highs in July and the lows in January.
The water temperature annual range is 36-55°F (2-13°C).  Divers will need drysuits, hoods, and gloves all year.
With a "dry-summer sub-arctic" climate, most of the precipitation comes in the late summer.
Currents are variable and can be strong at times due to large tidal changes.
Visibility in summer is usually 30-40 feet (9-12 meters) and 50-80 feet (15-24 meters) in winter.
There are sites suitable for all levels of diver from beginner to technical levels.  All will need drysuit skills. Several dive shops are in operation offering scuba diving classes, and equipment rental, sales, and service but only one makes full arrangements for tours to the dive sites, Dive Alaska.
For my reviews and information about cold water gear please click on the following post:
Alaska Liveaboards
None of the major liveaboard yachts travel to Resurrection Bay or Prince Edward Sound.  However, there are quite a few that cruise other Alaskan locations for adventure cruises.  Here are a few of the best vessels and links to descriptions, services, itineraries, and pricing.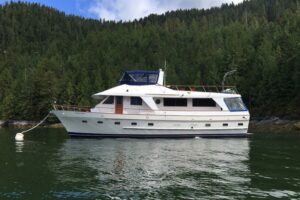 Northern Dream, Alaska Adventure Liveaboards – Check the Price & Details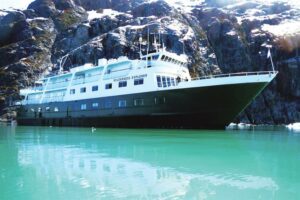 Wilderness Explorer, Alaska Adventure Liveaboards – Check the Price & Details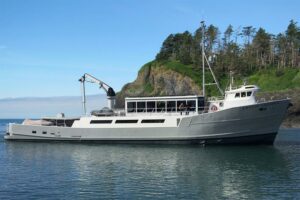 Kruzof Explorer, Alaska Adventure Liveaboards – Check the Price & Details
Selected Resurrection Bay and Prince William Sound Dive Sites
Seward Sites
Fox Island Y-754 Navy Barge Wreck:  5-90 feet (1.5-27 meters), 8 miles (13 kilometers) by boat from Seward, suffered fire damage and was beached, then in 1950 pushed back in and scuttled to become an artificial reef, internal structure is unsafe for penetration, look for sea cucumbers, rockfish, and greenling, suitable for experienced levels (check out the video just above)
Shearwater Cove (The Shackle):  10 miles (16 kilometers) by boat from Seward, 4-5 dive sites off the dock in front of the yurt accommodations, two facing walls with a variety of marine life, suitable for all levels
Kayaker's Cove:  40 feet (12 meters) maximum depth, 12 miles (19 kilometers) by boat from Seward, lots of kelp, rockfish, and lingcod, numerous macro critters, suitable for training and all levels
Other sites:  Shark's Tooth, Hidden Treasure, Mary's Rock, Barwell Island, Lowell Point, The Ball Field, Sealife Center
Whittier Sites
Smitty's Cove: protected marine park with a great variety of World War II wreckage, industrial materials, cranes, planes and NOAA artificial reef installations, visibility can be poor from late May to early September due to run-off, popular as a winter-time training site, suitable for all levels (check out the video below)
Kittiwake Rookery: 130 feet (40 meters) maximum depth, 5-10 minute boat ride from Whittier, gradual decline that becomes a steep wall that turns into a canyon and becomes a steep wall starting at 100 feet (30 meters) extending to the abyss, rich encrusting invertebrates, nudibranchs, brittle stars, large sponges, and rockfish, suitable for experienced levels
Things to Do in Anchorage (aside from scuba diving)
As a modern city and the gateway to one of the few remaining natural areas of the world, there are loads of sights and activities in and around Anchorage.  Here are a few to consider:
Tony Knowles Coastal Trail, Alaska Zoo, Moose, Bear, and Wildlife Watching, Anchorage Midnight Sun Brewing Company, Glaciers, Chugach State Park, Meet Native People, Alaska Native Heritage Center, Train Tours, Hilltop Ski Area, Bicycle Touring, Ulu Factory, Seward Highway, Flight Tours, Anchorage Museum, Fishing, Kincaid Dunes, Whale Watching, Snow City Café, Panning for Gold, Saturday Market, Northern Lights, Dog Sledding, Arts and Shopping, Potter Marsh, Alaska Aviation Heritage Museum, Downtown Anchorage Arts and Shopping, Bore Tides.
This video is a nice overview of what awaits.
Anchorage Transportation, Hotels, and Diving Services
Air – Ted Stevens Anchorage International Airport (ANC) has direct connections on many major US and international carriers.
Taxi – The Anchorage area is served by two main carriers.  There is a taxi stand at the arrivals level at the airport.
Hotel Airport Shuttles are available to many of the Anchorage hotels.
Car Rental – All the major rental agencies have outlets at the airport.
Bus – Reasonably priced public buses have numerous routes around the city.  There is also a twice-daily bus service to Seward called the Park Connection during the summer months.
Train – The Alaska Railroad moves natural resources and has a summer-time passenger service to points north of Anchorage and to Seward for access to Resurrection Bay and a spur to Whittier for access to Prince William Sound.
For more complete details on transportation options and tourist information, please go to Wikioyage-Anchorage.
Hotels and Diving – Lodging options in Anchorage run from $27-$325 per night.  There are only a few dive shops that rent, sell, or service equipment and conduct scuba diving classes.  At present one of them organizes guided boat tours.  Otherwise, for diving in Resurrection Bay or Prince William Sound, you will need to bring your own or rented equipment and charter a boat or hire a water taxi to take you to dive sites.  The website linked below has the details and can arrange a booking for the lodging.  You can easily find the location on the map provided on this site.  Their rates are guaranteed to be the lowest and it is free to cancel or change dates.
Photography in Anchorage
With the interesting underwater terrain, encrusting reef life, a variety of fish, macro critters, seals, sea lions, dolphins, whales, and beautiful shoreside targets, as well, there are many excellent photo opportunities.  For information and reviews of dive cameras, click here:
A cushion for emergencies provides peace of mind when on vacation.  I recommend this diving insurance as they have worldwide coverage and give scuba divers a quality insurance and medical assistance service.
Feedback and Comments
I hope you found this post on scuba diving in Anchorage interesting and useful. If you have any questions or ideas, please feel free to share them in the comments section.  I'd love to know of any experience you have.  If there is no comments section directly below, click here:  >>comments<<