We may earn money or products from the companies mentioned in this post.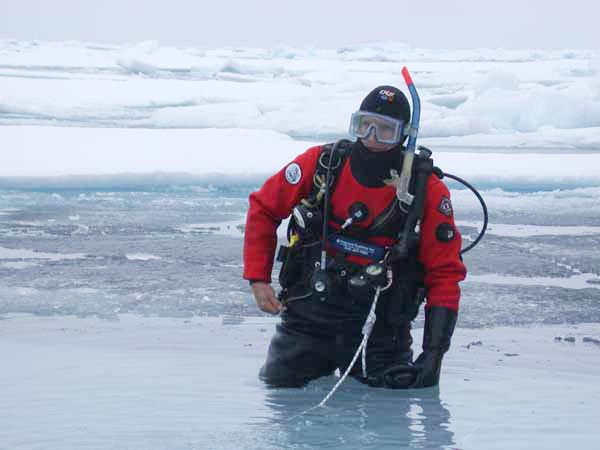 When most people think of scuba diving they imagine a warm tropical setting with the fantastic creatures and wrecks that have been presented in the media that we are all familiar with.  Coldwater settings, though, can be equally, if not more amazing with the array of life and exploration possibilities.  Places like the Arctic and Antarctic, the Isle of Man or the San Juan Islands (all places I have reviewed on this site) are all exceptionally fascinating and accessible to divers with the right equipment.  Below I present the gear options so you will be ready when you get the chance to dive in cold water.
Drysuit Scuba Diving
If the water is really cold, the best choice is a drysuit.  It can be pretty expensive and there are other accessories to complete the package, but is the option which will keep you warmest in the most frigid conditions.
Each drysuit has its own special features and characteristics and there is air inside it between your body and the suit that has an impact on buoyancy. Because of these factors, you need a little practice and training before wearing it on a serious dive at depth.  Here is a post which provides a description of the features and considerations of drysuit diving in detail, followed by one with detailed descriptions of the best drysuits:
The water is cold and you've decided on using a drysuit. It will keep you dry, but only offers a minimum of warmth.  You'll need to wear something underneath that gives you proper thermal protection without overheating.  The use of drysuit undergarments is the solution.  This post explains the features and characteristics of drysuit undergarments and reviews 10 top models:
Best Drysuit Undergarments of 2019
Drysuit gloves seal to the wrist of the drysuit.  There are different systems to accomplish this including the use of a ring or zipper system.  Here are several top models:
Drysuit hoods are usually made of neoprene, like wetsuit hoods, but are thick and well sealed around the face and neck.  Here are several top models:
Most divers use thick wetsuit boots with their drysuit.  Some drysuits have a soft sock attached that can be worn inside wetsuit boots or durable, hard-soled drysuit boots, which add greater protection when walking over rocky surfaces:
Wetsuit Scuba Diving
Drysuits are usually pretty expensive, and as stated earlier, require some extra training and practice to become safely acclimated.  For many a thick wetsuit of 7mm or more is an acceptable alternative, along with some added accessories.
A wetsuit can provide good thermal protection in very cold water if it is thick enough, fits well and has very minimal water circulation.  The proper accessories provide a good assist in maintaining optimal comfort.  Here are several posts to help you decide which wetsuit is right for you.  The first gives you an explanation of how wetsuits keep you warm and describes the features and characteristics of good wetsuits.  The others are reviews of wetsuit models generally, for women, for spearfishing, and for surfing.
For really cold water, 5mm should be the minimum thickness.  A well constructed and designed pair uses material like stretch neoprene that provides warmth, a flexible, comfortable fit, and sturdy seams resistant to leakage.  This post provides an explanation of the best features and reviews 8 models, 4 of which come in 5mm thickness:
Best Scuba Diving Gloves of 2019
vest is an option that adds a layer of neoprene to the torso while eliminating the possibility of inflow at the neck.  The
Bare 7/3mm Ultrawarmth Hooded Vest
, shown at right, is a good example.  Here is a review and description of wetsuit hoods, 4 of which are 5mm or thicker:
Best 8 Scuba Diving Hoods of 2018
For cold water, the full foot fin without a boot is a non-starter.  You'll want a boot with 5mm of neoprene in thickness and a thick sole is helpful.  The following post describes the features and characteristics to you look for with 9 of 12  boots reviewed having greater than 5mm in thickness:
Best Scuba Dive Boots of 2019 – Reviewed and Compared 
Other Cold Water Gear
When diving in extremely cold water the regulator first stage freezing up is a consideration.  To avoid this, the first stage needs to have an environmental seal that won't allow the very cold seawater to get inside. The Atomic M1 Regulator is highly rated for cold water use.  Here is my post on regulators where I describe features and characteristics and review several models rated for cold water usage:
Top 5 Best Regulators of 2019 – Reviewed and Compared
I hope you found this post on cold water equipment interesting and useful. If you have any questions or ideas, please feel free to share them in the comments section.  If there is no comments section directly below, click here:  >>comments<<