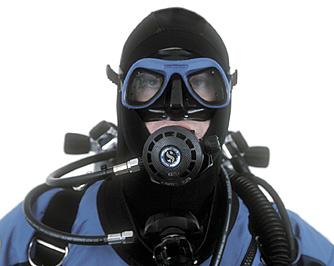 Updated July 1, 2021
When you feel cold in the water, it is uncomfortable and your body functions become affected and start to shut down.  Many divers use neoprene wetsuits, booties, gloves, and even drysuits to combat the cold.  The addition of a hood can also be very effective as 60% of the body's heat is lost through the head, so it follows that it can help greatly in keeping the whole body warm if the head is warm.
The large variety of scuba diving hoods on the market can require significant research to find the one suitable for the diving you have planned.  To help in that process, some of the best have been selected as an introduction.  First, there is a buying guide, followed by a comparison table, reviews with key features, photos, some care and maintenance tips, and a video.
If you have any questions or concerns, please let me know in the comments section at the bottom.  I'd love to know your thoughts.
Scuba Diving Hoods Buying Guide
Neoprene is a flexible, spongy rubber material filled with bubbles. When used in a diving hood it forms a close fit and traps heat between the head and the hood.  The thin layer of water there becomes warm from the body's natural heat and with a proper fit is trapped, keeping the head warm throughout the dive.  If the hood is too loose and isn't well sealed, cold water from the outside will flow through and the effect is lost.
The colder the water, the thicker the neoprene will need to be.  A rule of thumb is that for a water temperature of 70°F (21°C), 1-3 mm is the appropriate neoprene thickness, for 60-70°F (15.5-21°C), 4-5 mm and 50-60°F (10-15.5°C), 6-7 mm.
A cold water hood should cover the forehead, jaw, and chin.  A bib helps to eliminate water flow by tucking into a wet or drysuit.  If the drysuit has an insulated neck, the bib wouldn't be needed.
A warm water hood is thinner, without a neoprene bib and generally covers less of the face.  For really warm water, nylon, lycra, or some other new materials may be used.  While doing little to keep the head warm, a lycra hood can provide UV protection and prevent sea lice, stingers, and other irritants from getting to the skin.
As mentioned, the fit should be snug to prevent water from flowing in and out, but it should not be too tight.  A firm seal around the face and neck without discomfort is desired.  The newer versions of neoprene are very stretchy and flexible so that donning and doffing the hood is easy.  Some hoods have included a zipper or drawstring to aid in this process and in sealing.
For information about the range of equipment designed for cold water use, please check out this post:
Best Scuba Diving Hoods
Best Scuba Diving Hood Comparison Table
Picture
Hood
Material
Thickness
Rating
Price
Neo Sport Multi-Density Wetsuit Hood
Neoprene
3/2 mm
5/3 mm
7/5mm
5
$$
IST Proline HDN0250 5mm Super Stretch Neoprene Dive Hood with Zip Back
Neoprene
5 mm
4.7
$$
Mares 5mm Flexa with Bib Dive Hood
Neoprene
5 mm
4.7
$$
Mares 6.5mm Trilastic Diving Hood
Neoprene
6.5 mm
4.9
$$$
O'Neill Wetsuits Mens 3 mm Hyperfreak Coldwater Hood
Neoprene
3 mm
4.8
$$$$
XS Scuba 2 mm Neoprene Non-Choking Beanie
Neoprene
2 mm
4.5
$
O'Neill Thinskins 1.5mm Hood
Neoprene
1.5 mm
4.6
$
Storm Accessories Lycra Hood for Warm Water Diving
Lycra
NA
4.5
$
Neo Sport Multi-Density Wetsuit Hood
Form-Fit, Minimal Water Exchange, Warm to Cold Water Options
Extra soft form-fitting stretch neoprene
Large bib of thinner material that fits comfortably under the wetsuit to keep water out
Specially developed flow vent material permits air to escape without a water exchange
Stitched and glued seams won't let water in
Available in 3 thicknesses:  3/2 mm – warm water, 5/3 mm moderate water, 7/5 mm cold water
IST Proline HDN0250 5mm Super Stretch Neoprene Dive Hood with Zip Back
Close Fitting, Easy On/Off Zipper, Cold Water Usage
Durable super stretch 5 mm neoprene
YKK rear zipper for easy on and off and close fit with full-length gusset to prevent leakage
Double layered with top vents allowing air or water to escape without water exchange
Seams double-blind stitched and glued to keep water out
Mares 5mm Flexa with Bib Dive Hood
Sturdy, Comfortable, Cold Water Usage
5 mm stretch Nylon II Neoprene
Blindstitched, triple glued seams for strength and to keep water out
Bib fits under the wetsuit to keep water out
Mares 6.5mm Trilastic Diving Hood
New Design, Comfortable, Cold Water Usage
New and redesigned
6.5 mm hood with 3 mm bib
Extra flexible neoprene with stretch panels for comfort and a good fit
Sapphire plush lining for comfort and added heat retention
O'Neill Wetsuits Men's 3mm Hyperfreak Coldwater Hood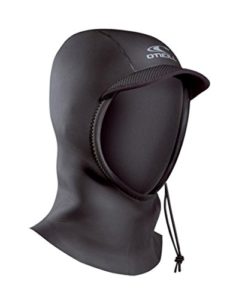 Comfortable, Warm to Cool Water Usage
3 mm TechnoButter neoprene for comfort and a good fit
Glued and blindstitched seams for a firm seal
Adjustable drawstring to aid the face seal
UV protection
Wind resistant
XS Scuba 2mm Neoprene Non-Choking Beanie
Comfortable Fit, Warmer Water Usage
2 mm neoprene
Less restrictive comfortable design
Adjustable chin strap
Flatlock stitched seams for durability and fit
Water Sports & Warm Water Scuba
1.5 mm Metal-Lite Nylon II Neoprene
For board sports, snorkeling, and warm water scuba diving
UV protection
Chinstrap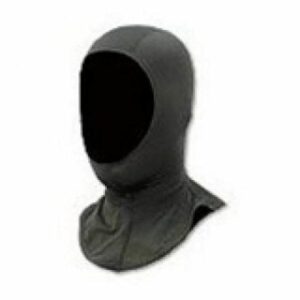 Storm Accessories Lycra Dive Hood for Warm Water Diving
Light Weight, Skin & UV Protection
Lightweight Lycra Spandex material
UV 50 protection
Protection from stings and sea irritants
Can be used under a neoprene hood for comfort and easier on and off
View More From Storm Accessories
Scuba Diving Hood Care and Maintenance
Rinse in fresh water after each dive (just like a wetsuit).  Don't machine wash or use detergent.
Allow the hood to thoroughly dry out of the sun in a ventilated place.
Don't store it in the direct sun or under a lot of weight to avoid deterioration and deformities.
For information about the range of equipment designed for cold water use, please check out this post:
I hope you found this post on scuba diving hoods interesting and useful. If you have any questions or ideas, please feel free to share them in the comments section.  If there is no comments section directly below, click here:  >>comments<<