We may earn money or products from the companies mentioned in this post.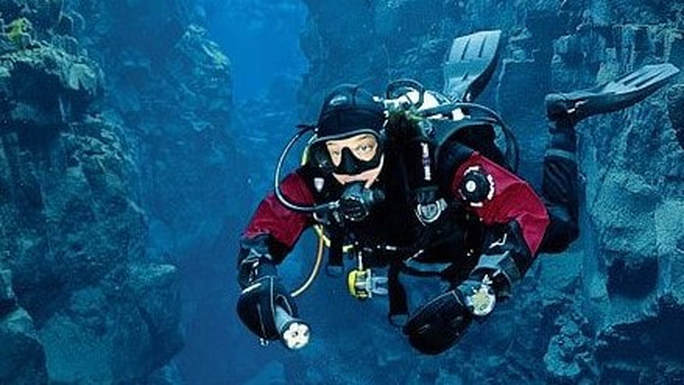 For comparisons and reviews of specific drysuit models for your consideration, please click on this post:
Diving in a Dry Suit
If you like to dive, but getting cold is too uncomfortable to bear, not too mention potentially life-threatening, then you should consider investing in a dry suit.
As you may recall from your beginning scuba course, water conducts heat away from the body 20 times faster than air.  In cold water, an exposure suit is a necessity in order to remain comfortably warm and avoid hypothermia.  A dry suit does an excellent job of this by keeping water out and by having a layer of air around the body to warm us.
Drysuits are a bigger expense than wetsuits but can last ten times longer and provide a new and different kind of diving experience.  When people first think of scuba diving, warm, lush tropical settings come to mind.  Those aren't always convenient or close to home, so on a more localized sea adventure you can still get some fantastic diving where the sea life is as rich or richer, but in cold water that requires stronger exposure protection ably provided by a dry suit.
Diving in a dry suit is different than when you use other kinds of exposure protection.  There is air inside which has an effect on buoyancy and the amount of weight you carry.  It is highly recommended to get some specific orientation or training.  A dry suit specialty course by PADI or another such training organization that contains confined and open water training can give you the skills and confidence to effectively and comfortably use your drysuit.
Materials
There are some sub-categories, but broadly speaking dry suits in widespread use are of two types, neoprene, and membrane (otherwise called shell or trilaminate).  A third type is made of vulcanized rubber.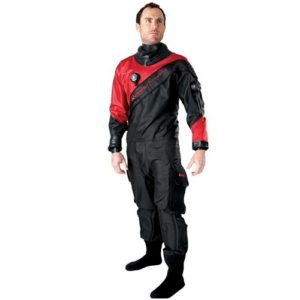 Membrane suits are made up of layers of material.  When there are 3 layers it is called trilaminate.  These suits will keep the water out, but provide little warmth.  They dry quickly and are easy to keep clean. Membrane suits are also more versatile. They generally fit more loosely and you adjust warmth by adding insulation inside. You can go from more temperate diving to extreme cold ice diving by switching to a thicker undergarment.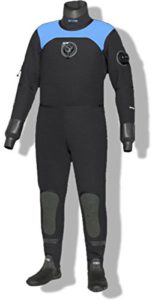 Neoprene drysuits make use of the same material used in wetsuits, but it is extra thick and has been crushed or compressed making it thinner and waterproof, but it still has an effect on buoyancy in ascents and descents. These suits are heavier and warmer than membrane suits allowing divers to wear lighter undergarments compared to when using membrane suits. They also fit more snuggly, which gives a more streamlined feel underwater but are a little more work to put on.  Damage or puncture is also a bigger possibility than with membrane suits.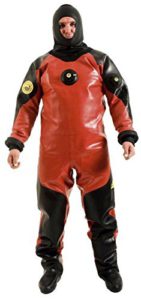 Vulcanized rubber is used in heavy-duty military, search and rescue, commercial and contaminated water applications.  The lining is usually made of a blend of natural and man-made fibers and uses seals of latex.
Seals
Seals at the wrists and neck keep water out of your drysuit. Choices of materials for seals are neoprene (mainly on neoprene dry suits) and latex and or/silicone seals (mainly on membrane dry suits). There have been some complaints of allergies to latex, so some companies have turned to silicone or neoprene instead.
Neoprene is generally considered the most durable but will stretch over time. Also, due to its thickness, it can be a challenge for some divers to pull a neoprene seal over their heads.
Latex and silicone seals are more flexible and easier to replace when needed. If a diver is allergic to latex, silicone seals are as flexible but easier to tear.
Zippers
The main zippers, usually placed on the front or back and very important in keeping you dry, are the most expensive bit to replace.  They should be washed with fresh water and lubricated to properly maintain them. Some suits also have pee zips (for use on the surface only).
Valves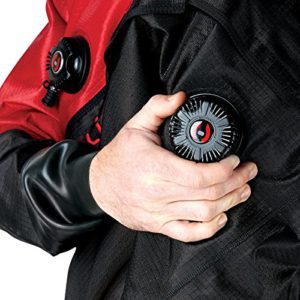 Drysuits have a low-pressure inflator for adding air to the drysuit for warmth and for buoyancy control.  There are also dump valves usually located near the shoulder and/or a cuff.  These come in automatic or manual. You will need to know how to use these to effectively function.  That will be a major focus of training.
Boots or Socks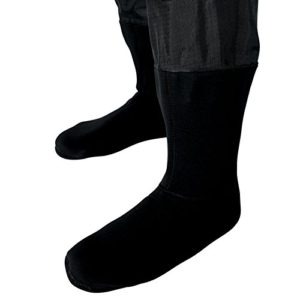 Drysuits come with a sort of foot covering attached to the suit.  Commonly these are in the form of neoprene socks or lightweight boots.  If your suit has socks you can conveniently wear rock boots or wetsuit boots on top.  These provide stronger protection if you need to hike around on a rugged shoreline surface before submerging.
Other Features and Accessories to Consider
Pockets or no pockets
Hoods and dry gloves for extremely cold environments
Weight systems
Regulator suitable for cold water
Getting a Good Fit
Try it on to make sure it fits properly and is just what you are looking for.
Can you bend your knees enough to put your fins on?  Is it roomy enough to bend over as you are sitting?
Can you reach with both hands up to the position of the tank valve?
Can you squat with feet flat to the floor and knees fully bent?
If it is a membrane suit you are trying on, make sure you are wearing an undergarment while putting yourself through the paces above.
If you're not able to comfortably complete all of the three exercises, the suit is inhibiting movement too much. When the dry suit does not fit properly, there will be safety issues.  Make sure it fits before you go diving.
Also, seals around the neck and wrists should be fairly tight to ensure no water gets in.
Alterations 
It is possible to have adjustments made to help make a better fit.  It could be a matter of replacing or adjusting neck or cuff seals or just changing boot sizes. As the drysuit is no small investment you are urged to seek a certified professional to help you with this.  You want a correct alteration and a safe piece of equipment to result.
Women's Dry Suits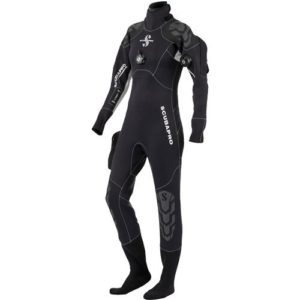 The number of women diving is increasing at such a rate that the smart equipment companies now provide dry suits with the features and form suitable for the unique characteristics of the female body.  There are special models available for women and those that are suitable for both men and women.
Remember 
Remove earrings, rings or any other jewelry or objects that might get hung up on or tear the drysuit or its seals when putting it on or taking it off.
Maintenance
Drysuits need regular basic maintenance. Periodically check the valves, clean and lube the zippers and get the dry suit pressure tested. Clean your dry suit with fresh water after dives as you do with the rest of your dive equipment.
For comparisons and reviews of specific drysuit models for your consideration, please click on this post:
For my reviews of related cold water equipment, please click on the titles below:
I hope you found this post on drysuits interesting and useful. If you have any questions or ideas, please feel free to share them in the comments section.  If there is no comments section directly below, click here:  >>comments<<