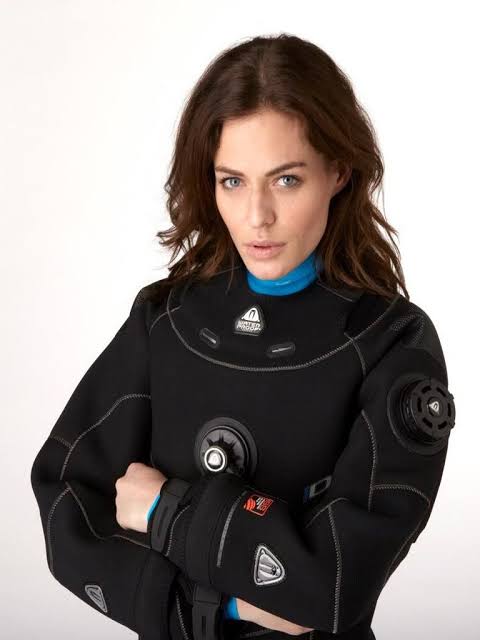 Updated March 20, 2022
Getting a good fit in a drysuit has always been challenging.  Since most of the divers using them have been men, companies have historically made the shapes and sizing more suitable for them.  When there was a question about how to configure and design them, it was safer for the margin of error to be in favor of men's bodies.  A few of the smart manufacturers have seen the light and are now creating suits specifically with women in mind.  They have overhauled their patterns for the size and shape of the torso, arms, and legs of the female form.  Some have even reorganized positions of zippers, pockets, and other functional components to be more suitable to women, as well.
The selected drysuits below are the best examples on the market representing these design upgrades.  There is a range of suits taking into consideration materials and pricing for recreational and technical levels.  In the descriptions, each model has some bare-bones specifications, pros and cons, links, and a video.  I suggest taking a look at the video to get the best idea of the important aspects of each.  At the end is a comparison table with some key features, pricing, and a rating.
If you have any questions or concerns, please use the comments section at the bottom.  I'd love to hear your thoughts.
Women's Scuba Diving Drysuits Buying Guide
For an earlier post with a description and comparison of the key features of a drysuit to consider, please click here:
For my reviews of related cold water equipment, please click on the titles below:
Best Women's Scuba Diving Drysuits
Women's Scuba Diving Drysuit Comparison Table
| Picture | Drysuit | Material | Boots/Socks | Rating | Price |
| --- | --- | --- | --- | --- | --- |
| | Bare Aqua-Trek I Pro Dry | Cordura Nylon | Boots | 4.7 | $$ |
| | DUI Yukon II | Trilaminate | Ultraflex Boots | 4.8 | $$$ |
| | Bare XCS2 Pro | Neoprene | Boots | 4.8 | $$$ |
| | Seac Warmdry | Neoprene | Sem-Rigid Boots | 4.5 | $ |
| | Scubapro Everdry 4 | Neoprene | Socks | 4.6 | $$ |
| | Typhoon Concept | Trilaminate | Boots | 4.6 | $ |
| | Bare Trilam Tech | Trilaminate | Boots | 4.8 | $$$ |
| | Waterproof D10 Pro ISS | Neoprene | Kevlar Reinforced Boot | 4.7 | $$$ |
| | Bare X-Mission | Trilaminate | Boots | 4.9 | $$$$ |
| Picture | Drysuit | Material | Boots/Socks | Rating | Price |
Bare Aqua-Trek I Pro Dry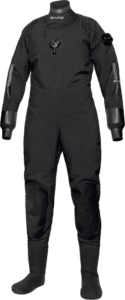 Material: Cordura Nylon Oxford 4-layer fabric, abrasion, and puncture-resistant
Boots/Socks: compression-resistant soft boots
Ultra-warmth top and pant base layers included
2mm nylon/smoothskin smart collar with vented neck drain and effective seal
plastic, low-profile dry zipper, low profile valves
the back waist has elastic for a conforming fit with less bulky anatomically shaped arms, legs, and torso
M-PADz backed with 2mm neoprene for knee protection
5 women's sizes
Pros: lightweight, moderately priced
Cons: I don't see any, please give me your feedback
Material: polyester trilaminate, ripstop nylon, butyl rubber, and double-coated seams
Boots/Socks: ultraflex boots
Telescoping torso and design without underarm seams creates a comfortable fit and flexible range of motion
Diagonal front-entry zipper, 36-inch Miflex hose with oversized easy disconnection
5 women's sizes
Pros: rugged and durable, comfortable, good all-round performance
Cons: reinforcing pads on the knees would be useful
Bare XCS2 Crushed Neoprene Proa>
Material: hyper-compressed 2mm neoprene for minimal changes in buoyancy and flexible movement, nylon laminate exterior, and high stretch interior laminate
Boots/Socks: boots
No-stitch double heat tape technology
Back-zip and female design pattern for easiest articulation in the legs, arms, and torso
Low-profile 360-degree swivel exhaust valve
Shoulder, underarm, and elbow protection
5 women's sizes and 3 color combinations available
Pros:  durable and comfortable
Cons: a little expensive
Material: 4mm neoprene with a durable outer lining of Powertex and poly PK with an inner lining of nylon
Boots/Socks: semi-rigid boots
Blind-stitched seams sealed on the inside with neoprene tape
Rear shoulder metal zipper for easy on and off
Dry comfortable neoprene neck and wrist seals
Bellowed pockets for gear storage
Fabric bag, hose, straps, and hood are included
9 women's sizes
Pros: close-fitting and comfortable
Cons: inflator valve is overly abrupt
Material: 4 mm high-density neoprene with nylon jersey inner and outer lining
Boots/Socks: socks
Comfortable fit and flexibility
Reinforced, coated seams
Rear zipper
Leg pocket with zipper, removable suspender system
Heavy-duty large kneepads, improved knee and shoulder panels
Hood included
6 women's sizes
Pros: extra-soft neoprene allows you to wear thinner undergarments because of its good insulation level, moderately priced
Cons: may be too large through the shoulders and upper back for some divers
Material: durable trilaminate of rip-stop and a textured mix
Boots/Socks: boots

Double-taped internal seams

Back entry

Adjustable waist straps for a more conforming fit

PU knee pads

Latex cuff and neck seals for excellent dryness

Full range of women's sizes

Pros: budget-priced, great value for such quality and features
Cons: occasionally out of stock
Material: durable butyl trilaminate
Boots/Socks: boots

Front entry with a more flexible plastic zipper system

2 needle felled seam construction with double taped reinforcement at critical wear points

Includes suspenders, telescoping torso with elastic crotch strap, and adjustable easy release front buckle

M-PADz backed with 2mm neoprene for knee protection
5 women's sizes
Pros: great technical drysuit adapted to the female form
Cons: fairly expensive
Material: high-quality microcell CR neoprene with SD Toughtex lining
Boots/Socks: Kevlar reinforced boot

Pre-bent arms and legs for a sculpted fit

Two expandable pockets

Rubber knee and shin guards

Exchangeable silicone neck and wrist seals

Hood and waterproof Cordura bag included

7 women's sizes

Pros: durable, comfortable fit
Cons: moderately expensive
Material: extremely flexible Nylon rip-top trilaminate
Boots/Socks: Boots (tech)
Front entry with a more flexible plastic zipper system and offset protected zipper flap
2 needle felled seam construction with double taped reinforcement at critical wear points
Includes replaceable 4-point suspenders, telescoping torso with adjustable elastic waistband
Low back M-PADz reinforcement panel and knee protection
Large thigh pockets
Low profile valves
5 women's sizes, comes in black or red and black
Pros: low weight, low-profile, top drysuit for tech or recreation
Cons: expensive
For my reviews of related cold water equipment, please click on the titles below:
Feedback and Comments
I hope you found this post on women's scuba diving drysuits interesting and useful. If you have any questions or ideas, please feel free to share them in the comments section.  If there is no comments section directly below, click here:  >>comments<<