We may earn money or products from the companies mentioned in this post.
What factors do you need to consider when deciding what undergarment(s) to choose.  It depends on the water temperature, your preferences and style, and the price.  I've put together some categories to consider in your selection process and descriptions of 10 popular undergarments to browse.
Best Drysuit Undergarments of 2020 – the List
How to Choose the Best Drysuit Undergarments
Warmth – The most important feature of an undergarment is warmth.  Some materials insulate better than others.  Drysuits will leak and the undergarment must still be effective when a little bit wet.  In addition, moisture-wicking, that is the ability of the material to eliminate moisture, like sweat, from the body, is important.  This will help maintain comfort and avoid that sticky feeling.
Layering – Wearing more than one layer of undergarments is an effective way to maintain warmth. It is best for the undergarments to be designed to be used together.  For really cold water a base layer is worn next to the skin and additional layers added on top.  Being bulky and hindering movement is a factor in choosing which garments to be worn together.  In addition, accessories including hoods, gloves, and booties designed for colder water will be essential in maintaining warmth.
Design and Fit – There are several options available to suit your personal needs and comfort.  Most undergarments are one-piece, full-body models.  Two-piece systems with a top and a bottom, which are more versatile, are a choice. You can wear one or the other separately or in conjunction with other undergarments.  Some are designed in the form of a vest to put emphasis on warmth for the body core.  Battery operated models are also available which are heated.  Foot and thumb loops are useful in keeping the garment in place and prevent riding up.  Stretch panels can be incorporated in the crotch or armpits for increased mobility and the allowance of proper finning capability.  The design should allow the hosing and apparatus for a P-valve (a system which allows the collection of urine during the dive, while maintaining dryness).  The undergarment should always fit well and be comfortable or there will be a negative impact on the experience.
Material – A number of different materials are used to accomplish the various functions described.  Wicking is important to keep the diver as dry as possible. The material should also provide the necessary warmth while under increased barometric pressure.  Fleece is soft and a good insulator and also effectively wicks away moisture.  Wool can also be used for increased warmth in colder water and has similar wicking properties.  Compression can alter the properties of materials.  Some suits use pre-compressed materials like Thinsulate, which is an excellent insulator, yet very thin, and won't affect buoyancy when changing depth.  Nylon and Spandex are two other useful materials that have features that can improve durability and flexibility, respectively, that can be combined with other materials.
Care and Maintenance – Because of the variety of materials that are used in the design and construction of the different undergarments, be sure to follow carefully the instructions from the manufacturer when washing and storing.
For my reviews of related cold water equipment, please click on the titles below:
Best Drysuit Undergarment Reviews
Scubapro Climasphere Drysuit Undergarment 
Unisex
Stretch fleece – conforms to the body, but allows freedom of movement
Two pieces – full-body undersuit and shorty top
Thumb and foot loops
Neoprene cuffs on ankles and wrists
Can wear one or both pieces for moderate or colder water
Fourth Element Halo 3D Drysuit Undergarment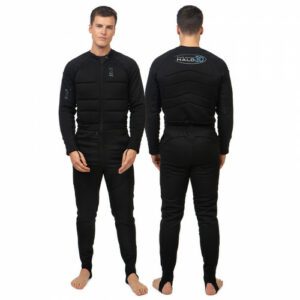 Thumb and foot loops, P-valve holes
3 layer construction using dual-layered stretch material with Spacetek insulated panels
Very warm even when wet
Designed to combine with Xerotherm inner layer
Bulky when worn with Xerotherm layer
Expensive
Effective in very cold water, especially when combined with the Xerotherm inner layer
Fourth Element Arctic Drysuit Undergarment 
Thumb and foot loops
Dual-layer lightweight fleece-like material for insulation and comfort
Overlap prevents separation and development of cold spots
Continues to perform well when wet
Good for cold water when used alone, when combined with Xerotherm under layer is suitable for very cold water
Check the Price
Aqua Lung MKO Drysuit Undergarment
Unisex
Material of breathable, moisture-wicking bamboo blend with Spandex for extra stretch to fit all
Rear relief flap and two-way non-corroding YKK zipper
Excellent base layer when used with other undergarments
Used alone suitable for moderately cold water
Top of a two-piece undergarment (that can be used with the bottom, just below)
Comfortable, stretchy 3 mm incompressible 3D Mesh lining for easy donning
Retains shape allowing air to move in your suit, keeping optimal body temperature
Thumb loops
Long top reaching mid-thigh ensures no cold spots when combined with the bottom
Suitable for moderately cold water
Waterproof Meshtec Men's Bottom
Bottom of a two-piece undergarment (that can be combined with the top, just above)
Same comfortable, stretchy 3 mm incompressible 3D Mesh lining as used on the top for easy donning
Retains shape allowing air to move in your suit, keeping optimal body temperature
Foot stirrups
Suitable for moderately cold water
Waterproof Warmtec HD 200G Fiberfill
Unisex
Polyester fiber lining with scald surface, outer shell of 100% nylon taffeta 210 polyurethane silver coated
Snug fit, four pockets, mesh shoulders, elastic waist, front zipper, zippered legs, ventilation zipper in armpits
Compression free technology
Suitable for moderately cold water
Waterproof Warmtec HD 300G Fiberfill
Polyester fiber lining with scald surface, outer shell of 100% nylon taffeta 210 polyurethane silver coated
Snug fit, four pockets, mesh shoulders, elastic waist, front zipper, zippered legs, ventilation zipper in armpits
Compression free technology
Thick material a little bulky
Suitable for cold water
Hollis 300gm Men's Undergarment
Outer shell of nylon, technical fleece lining
Neoprene cuffs, underarm vents, neoprene stretch panel in the crotch for easier leg movement
Windproof nylon shell
Very affordable
Suitable for moderately cold water
Sharkskin Men's Chillproof Undergarment
Very thin, neutrally buoyant, odor-resistant material with anti-microbial features
Front zipper
Windproof membrane
Warmth maintained even when wet
Suitable for moderately cold water
Nylon exterior with Thinsulate insulated interior
Fleece material with stretch panels
Ribbed knit cuffs and collar comfort and fit
Handwarmer pockets, chest pocket with zipper
Thumb and foot loops, two-way zipper for easy P-valve routing
Expensive and bulky
Very warm, suitable for cold water
Picture
Undergarment
Warmth
Rating
Price
Scubapro Climasphere
*
5
$$
Fourth Element
Halo 3D
****
5
$$$$
Fourth Element
Arctic
***
5
$$
Aqua Lung MKO
*
5
$
Waterproof Meshtec
Men's Top
*
4.5
$
Waterproof Meshtec Men's Bottom
*
4.5
$
Waterproof Warmtec HD 200G Fiberfill
**
4.6
$$
Waterproof Warmtec HD 300G Fiberfill
***
4.6
$$
Hollis 100gm Men's Undergarment
**
4.4
$
Sharkskin Men's Chillproof Undergarment
**
4.5
$$
Bare Polarwear Undergarment
****
4.7
$$$
Feedback and Comments
I hope you found this post on drysuit undergarments interesting and useful. If you have any questions or ideas, please feel free to share them in the comments section.  If there is no comments section directly below, click here:  >>comments<<