Updated June 15, 2021
A good wetsuit for a spearfisherman is essential. It not only keeps you warm enabling longer periods in the water without risking hypothermia but also provides skin protection from bumps and scrapes and stingers in the water.  In addition, a camouflaged suit will allow you to get a jump on your prey.
Whether you are an absolute beginner or would like to replace or upgrade your gear, the goal here is to give you some guidance on how to select the best spearfishing wetsuit for your needs and introduce some top models to consider.
If you have any questions or concerns, please use the comments section at the bottom.  I'd love to know your thoughts.
For more reviews of related spearfishing and freediving gear and accessories, please check out these popular posts:
Pole Spears     Spearguns     Lycra Dive Skins     Freediving Watches     Freediving Masks     Freediving Fins
How to Choose a Spearfishing Wetsuit
Four main factors should be considered in selecting a spearfishing wetsuit:
thickness
camouflage
materials
style
Thickness
The desired thickness of a wetsuit is based on the water temperature – the colder, the thicker.  The neoprene in the wetsuit can increase positive buoyancy, so it would be best not to overcompensate for the temperature.  Basic guidelines are summarized in this table:
Above 28°C (82°F):  1-2.5 mm
From 20-28°C (70-82°F):  3mm
From 16-20 °C (60-70 °F)   5mm
From 10-16°C (50-60°F):  7mm
Camouflage
Camouflage coloration on wetsuits not only looks cool (to me anyway) but also serves a useful purpose.  Hunters everywhere agree, if the prey can't see you, you can get the jump on it.  So if you blend into the background you have greatly enhanced your probability of getting close to your target.  The colors used should be based on the environment.  If you are in open water, blue is your best bet.  In a rocky area, chances are brownish colors will blend in better.  For divers spending time in the blue and also closer to the reef, green or blends of blue and brown may be most effective.  You could even consider using camo fins to match your wetsuit.
Style
There are several styles of wetsuit in use today.  The simplest is a one-piece suit called a steamer.  It usually has a zipper up the back or across the chest.  Scuba and surfing wetsuits are often steamers but usually lack an important loading pad on the chest desired for spearfishing.  That pad provides something to brace your speargun against when you cock it so that bruising or scraping of your skin is prevented.  The style that is usually preferred by spearfishermen is a two-piece outfit that includes a bottom that comes above the waist or has a suspender system known as a farmer john.  A long-sleeved jacket is used over the top that may or may not include a hood.  The top jacket connects to the bottom with Velcro, a zipper, or clips.  Some systems overlap not requiring any fasteners.
Materials
A number of materials can be included in a wetsuit with the main component being neoprene, either closed-cell or open-cell.
Closed-cell neoprene has a coating or other material on the surface that isn't easily permeated by water.  They are usually cheaper and more suitable for warmer water.  Surfing wetsuits are usually closed-cell models.
Open-cell neoprene is generally used for two-piece systems and suits designed for spearfishing.  Water passes through the neoprene and forms a layer between the skin and suit.  The suit needs to fit snugly enough that there is little to no water flow inside the suit.  The body warms the water within and it is maintained at body temperature.  This system is warmer though with the snug fit required takes more effort putting it on.
Best Spearfishing Wetsuit Reviews
Best for experienced spearfishermen
Material: open-cell neoprene
Thickness: 1.8mm, 3.5 mm, 5mm
Style: farmer john with full-length jacket, and hood, reinforced knees, elbows, and chest, reinforced seams
Colors: brown camo
Women's Version: not available
Pros: 3 thicknesses available, durable, effective camo
Cons: fit is a little small for some
Best for warm water spearfishing
Material: closed-cell neoprene with a smooth exterior
Thickness: 1.5mm
Style: full length one piece wetsuit without a hood with knee reinforcements, adjustable neck closure, and wrist and ankle seals
Colors: blue and green camo
Women's Version: available under the same name, SEAC Body Fit
Pros: durable, effective camo
Cons: fit is a little small for larger sized divers
Material: open-cell neoprene with a nylon exterior
Thickness: 5.5mm
Style: two-piece hooded wetsuit with high-waisted trousers, reinforced elbows, knees, seams, and chest pad
Colors: green camo
Women's Version: not available
Pros: flexible for a thick suit, effective camo, two-year warranty
Cons: fit runs a little small
Best for warm water spearfishing
Material: open-cell neoprene with a nylon exterior
Thickness: 3mm
Style: one-piece full wetsuit with a back zipper and no hood, Velcro neck closure, rubber chest panel, extra padding on knees, shins, and chest
Colors: black with blue or aquamarine accents
Women's Version: this model is for men or women
Pros: durable, flexible, easy to don and doff, could use for other water sports
Cons: chest pad could be a little thicker for comfort in cocking
Material: open-cell Yamamoto neoprene
Thickness: 3mm
Style: two-piece hooded, choice of high-waist or farmer john, sewn in chest and knee pads, ergonomic hood for warmth, integrated knife pocket
Colors: reef camo
Women's Version: not available
Pros: durable, comfortable, watertight, quality craftsmanship
Cons: knife pocket awkward to use at times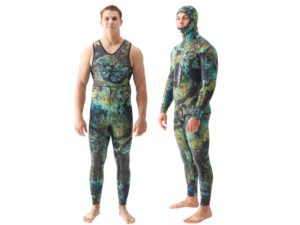 Best for warm water spearfishing
Material: open-cell Yamamoto neoprene with super-stretch lycra outer shell
Thickness: 3.5mm
Style: two-piece hooded wetsuit, built-in chest and knee pads, non-binding wrist and ankle seals, vented hood for release of excess air
Colors: reef camo
Women's Version: not available
Pros: comfortable fit, quality craftsmanship
Cons: none reported
Best for warm to cold water spearfishing and freediving
Material: open-cell neoprene
Thickness: 3.5mm and 5mm available
Style: two-piece hooded wetsuit, high top pants, reinforced elbows, knees, groin, and chest
Colors: black
Women's Version: not available
Pros: durable, comfortable fit, quality craftsmanship
Cons: none reported
Best for warm water spearfishing
Material: closed-cell neoprene with a nylon exterior
Thickness: 1.5mm
Style: two-piece hooded wetsuit, high top pants, reinforced elbows, knees, and chest
Colors: multicolored blue camo
Women's Version: not available
Pros: comfortable, easy to don and doff, lightweight
Cons: not the most durable against scrapes and bumps
Best for spearfishing and freediving
Material: open-cell neoprene with a smooth hydrodynamic exterior, very stretchy and flexible
Thickness: 3mm
Style: two-piece hooded wetsuit, high-waisted trousers, and beavertail jacket
Colors: multicolored black
Women's Version: available in the same name, Scubapro Element
Pros: flexible, streamlined for effective freediving
Cons: no reinforced areas for spearfishing needs
Best for warm water freedivers who also do some spearfishing
Material: closed-cell neoprene with a smooth exterior
Thickness: 1.5mm
Style: one-piece without a hood
Colors: multicolored black with fluorescent accents
Women's Version: available in the same name, Cressi Freedom
Pros: flexible, streamlined, easy donning and doffing
Cons: no reinforced areas for spearfishing needs
Check the Price
Best for warm water reef spearfishing
Material: closed-cell stretchy neoprene
Thickness: 2.5mm
Style: one-piece without a hood, with a chest pad and integrated pocket
Colors: green camo
Women's Version: not available
Pros: easy donning and doffing, pocket convenient for storing accessories
Cons: a hood would help for streamlining
Spearfishing Wetsuit Comparison Table
| Picture | Wetsuit | Pieces | Thickness | Best For | Rating | Price |
| --- | --- | --- | --- | --- | --- | --- |
| | Cressi Tecnica | 2 | 1.8mm, 3.5mm, 5mm | Variable Water | 4.4 | $$ |
| | SEAC Body Fit | 1 | 1.5mm | Warm Water | 4.7 | $ |
| | Salvimar N.A.T. Camo | 2 | 5.5mm | Cold | 4.5 | $$ |
| | Cressi Morea | 1 | 3mm | Variable Water | 4.2 | $ |
| | Mako Yamamoto Reef Camo | 2 | 3mm | Variable Water | 4.6 | $$ |
| | Riffe Digi-Tek Camo | 2 | 3.5mm | Variable Water | 4.6 | $$$ |
| | Cressi Apnea | 2 | 3.5, 5mm | Variable Water | 4.5 | $$ |
| | Salvimar Atlantis | 2 | 1.5mm | Warm Water | 5 | $$ |
| | Scubapro Element | 2 | 3mm | Variable Water | 4.6 | $$$ |
| | Cressi Freedom | 1 | 1.5mm | Warm | 4.2 | $ |
| | JBL Vertigo | 1 | 2.55mm | Variable Water | 4.1 | $$ |
| Picture | Wetsuit | Pieces | Thickness | Best For | Rating | Price |
Wetsuit Maintenance and Care
For more reviews of related spearfishing and freediving gear and accessories, please check out these popular posts:
Pole Spears     Spearguns     Lycra Dive Skins     Freediving Watches     Freediving Masks     Freediving Fins
For more information concerning thermal protection and cold water gear, please check these reviews:
Feedback and Comments
I hope you found this post on spearfishing wetsuits interesting and useful. If you have any questions or ideas, please feel free to share them in the comments section.  If there is no comments section directly below, click here:  >>comments<<