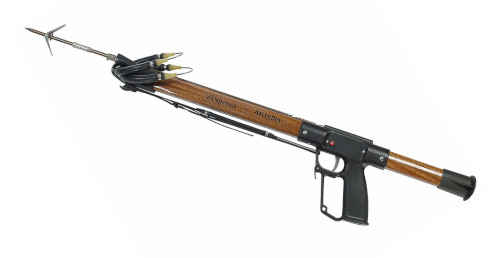 Updated August 2, 2022
I would like to preface this with some personal comments.  In many places, it has been a battle to convince people that there is any need for environmental protection and maintenance of the natural ecology of an area.  In Southeast Asia, spearfishing, along with muro-ami, dynamite, and cyanide fishing has been used to virtually wipe out reefs and populations of fish in some areas.  These practices have been eliminated in most places and should never happen again.  Spearfishing in a responsible way, based on ecological guidelines and local laws, is more exciting than fishing with hook and line.  In the case of an intrusive species like the lionfish in the Caribbean, spearfishing is actually a public service.
The popularity among sport divers of spearfishing is increasing.  Like hunting on land, there is a need for special equipment to use underwater.  It should be easy to use, fun, and capable of helping you meet your goal of putting some fresh fish on the table for a tasty meal.  There are recipes for lionfish, by the way, that are good enough for restaurants to include them on the menu in Caribbean settings to help encourage their elimination from the reefs there.  You need to consider what species to hunt, your own abilities in the water, and the appropriate gear to suit your needs.
Here I'll try to help you to make the decision about which equipment best suits your needs.  To begin, there's a buying guide, followed by key features, pros and cons,  photos, tips on maintenance, and a comparison table.
If you have any questions or concerns, please use the comments section at the bottom.  I'd love to know your thoughts.
For recommendations of other gear to use when spearfishing, please check out these popular articles:
How to Choose the Best Speargun
Type of Spearfishing
If you are free diving or using scuba in shallow water you will need less power for a shorter range target.  Accuracy won't be as important as it is for more distant targets in deeper water.  For larger fish, you will need more power, a larger and stronger spear with greater range, and the capability to quickly kill a fish to avoid excessive suffering or escape after a non-lethal wound.
Type of Speargun
Two basic types dominate the market, band spearguns, and pneumatic spearguns.
Band Spearguns are the original and more popular designs.  They are quiet and can be powerful and accurate.  The self-evident design involves a band made of elastic material that is stretched and then released.  To add power you can simply add more bands.  Of course the more bands there are, the longer the loading time.  Band spearguns are easy to maintain, but bands may need to be replaced after 6 to 12 months.
Pneumatic Spearguns use compressed air in a canister and are more compact and easier to carry.  There is little recoil and they are reliable.  Loading can be more difficult and accuracy is not as good at longer distances.
Length
Smaller spears are easier to handle for beginners and in confined spaces like inside caves and wrecks.  Longer spears are more suitable for open water and when hunting larger gamefish.
Shafts
Shafts refer to the actual spear shot from the speargun.  There are a variety of sizes and lengths depending on the manufacturer.  Made of corrosion-resistant steel, they come in 3 basic styles, Breakaway, Tahitian style or Single Flopper, and Double Flopper.
Breakaway shafts are the heaviest and are used for big fish.  They have a tip that can break off from the rest of the shaft.
Tahitian or Single Flopper models have a single barb, are ordinarily the fastest shafts, and are the most suitable for reef fish.  Removal from the fish is the easiest with this type.
Double Flopper shafts have two barbs and are most suitable for larger fish.
Price
Spearguns range in price from under $100 to over $500.  When starting, I would urge you to get a more compact, basic model to use until you have developed some expertise and a more concrete idea of the type of spearfishing you would like to do in the longer run.  Later you can buy a longer, more expensive model if you find that it would suit you.  The models I review here can give you an idea of the range of models that all have a good reputation for performance and reliability.
The Best Spearguns for 2022 Reviewed
Best for reef spearfishing
Length: Five sizes from 23.6 to 43.3 inches
Spear: Single flopper barb pointed tip
Price: $$
Rating: 4.6
Pros:  Easy to load, ergonomic handle increases shot precision, the overall length can be increased by a couple of inches, anti-corrosion aluminum tubes, one-year warranty
Cons:  Water sometimes gets trapped inside, the spear can break at times, not as effective with larger fish
Best for reef spearfishing of small to medium fish
Length: 4 sizes from 16-42 inches
Spear: Multiple tips with 7mm threading fit, cadmium spear harpoon style shaft
Price: $$
Rating: 4.7
Pros:  Ergonomic grip, lightweight, bright highly visible color, safety catch for prevention of accidental firing, one-year warranty
Cons:  The spear can be tricky to load
Best for small to medium fish
Length: 4 sizes from 14-30 inches
Spear: Tahitian style
Price: $
Rating: 4.4
Pros:  Good back-up or beginner's speargun, Compact and lightweight, adjustable handle, easy loading with a closed muzzle, low priced
Cons:  Not exceptionally durable
Best for shallow or reef spearfishing
Length: 4 sizes from 19.7 to 39.4 inches
Spear: Tahitian style
Price: $$
Rating: 4.5
Pros:  Lightweight closed muzzle design, easy to use, automatic line release, reasonable pricing
Cons:  Durability is questionable
View More Options From Beuchat
Length: 2 sizes, 16 and 32 inches
Spear: Tahitian style
Price: $
Rating: 4.7
Pros: High strength aerospace aluminum barrel, reliable trigger, compact, reasonable pricing
Cons: Loading is not always easy
JBL Magnum
Best for shallow water or reef spearfishing for small and medium fish
Length: 42 inches
Spear: Twin spinner rock point
Price: $$$
Rating: 4.6
Pros:  Low profile design, mahogany body, durable, trigger, shaft, and point are of stainless steel, shaft is aluminum, all corrosion-resistant, long butt extension aids in easy loading
Cons:  A little pricy
Best for reef fish and game fish
Length: 3 sizes from 16.5 to 39.4 inches
Spear: Double Flopper
Price: $$$
Rating: 4.8
Pros:  Easy to load, hydrodynamic muzzle, ergonomic handle, reliable safety, high capacity air tank, can use 7 or 8 mm shafts, Includes loader, pump, shock line, tip, shaft, and holster, 24-month warranty
Cons: High price (for high quality)
Best for deep water and big fish
Length:  4 sizes from 13.78 to 29.53 inches
Spear: Tahitian style
Price: $
Rating: 4.1
Pros:  Powerful for large fish, easy loading, versatile usage accommodates 6 mm and 8 mm threaded shafts and a variety of heads, good beginner model, durable heat-treated stainless steel barrels, safety mechanisms provided, full warranty
Cons:  Reel not provided
View More Options From Hammerhead
Length: 7 sizes from 24 to 60 inches
Spear: Double Barb Rockpoint
Price: $$$$
Rating: 4.9
Pros:  Quick changing tips, durable polyurethane coated wood design, 5/16" stainless steel shaft, double barb penetrates into large prey, naturally buoyant, one-handed usage is possible, two rubber slings
Cons:  Bands and line provided are of questionable quality
View More Options From AB Biller
Speargun Maintenance
Most spearguns require little maintenance.  However, it is very important to take good care of them to maximize the longevity of use and decrease the likelihood of misfiring, accidents, and other malfunctions.  Like all of your gear. rinsing in fresh water to remove salt and debris is a no-brainer.  Beyond that make sure you follow the maintenance procedures outlined in the user manual for other instructions on cleaning, lubrication, storage, etc.
How Should I Maintain My Spearfishing Equipment?
Best Speargun Comparison Table
| Picture | Speargun | Type | Length | Best For | Rating | Price |
| --- | --- | --- | --- | --- | --- | --- |
| | Cressi Comanche | Band | 26.6 to 43.3 inches | Reef Spearfishing Small to Medium sized Fish | 4.6 | $$ |
| | Cressi SL Star | Pneumatic | 16 to 42 inches | Reef Spearfishing Small to Medium Sized Fish | 4.7 | $$ |
| | Cressi Apache | Band | 14 to 30 inches | Entry Level For Small to Medium Sized Fish | 4.4 | $ |
| | Beauchat Arka | Band | 19.7" to 39.4" | Shallow Water or Reef Spearfishing | 4.5 | $$ |
| | JBL Carbine | Band | 16 and 32.5 inches | Game Fish | 4.7 | $ |
| | JBL Magnum | Band | 42 inches | Shallow Water or Reef Spearfishing | 4.6 | $$$ |
| | Mares Sten | Pneumatic | 16.5 to 39.4 inches | Shallow Water or Reef Small to Medium Prey | 4.8 | $$$ |
| | Hammerhead Proteus | Band | 13.78 to 29.53 inches | Deep Water Large Fish | 4.7 | $ |
| | AB Miller Mohogany | Band | 24 to 60 inches | Small & Large Fish | 4.9 | $$$$ |
| Picture | Speargun | Type | Length | Best For | Rating | Price |
Some Additional Top Models to Consider
For recommendations of other gear to use when spearfishing, please check out these popular articles:
Feedback and Comments
I hope you found this post on spearguns interesting and useful. If you have any questions or ideas, please feel free to share them in the comments section.  If there is no comments section directly below, click here:  >>comments<<