We may earn money or products from the companies mentioned in this post.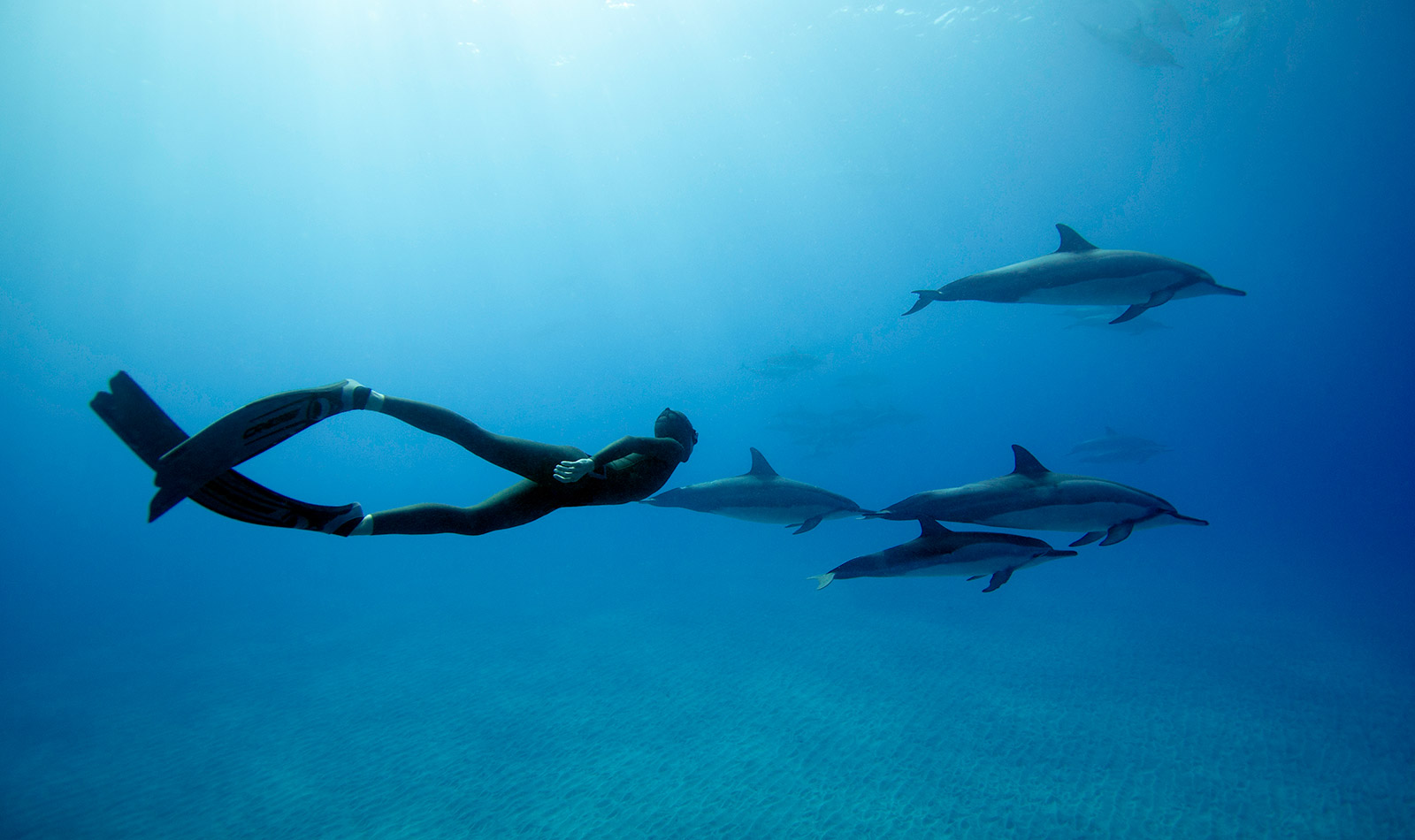 The simplicity of freediving is a major alluring factor.  No need for a couple of bags of heavy gear and tanks.  All you need to have is a basic mask and some fins.  The fins are the key.  You want the most functional and energy efficient design possible to preserve your one breath of air as long as possible in order to achieve depth and enjoy the adventure without overexerting yourself.
There are many freediving fins on the market today specially designed for different activities and for freedivers of all skill levels that range from low priced to very expensive.  How do you figure out the right fins for you?  I'll break it down here and then introduce some of the best models for you to consider.
If you are interested in doing some spearfishing while freediving or scuba diving, please check out this article:
How to Choose the Best Freediving Fins
Skill and Experience Level
Are you just getting started?  How much experience do you have at freediving?  A beginner would best not opt for the top of the line fins.  Cheaper models with polymer plastic blades will be adequate for getting your feet wet.  Later when you have a better idea of your ability and style you will be able to make a better decision on the technical aspects and benefits of more expensive fiberglass or carbon fiber models
Material
The blades of freediving fins are usually made from one of three basic materials, polymer plastic, fiberglass, or carbon fiber.
Polymer plastic blades are the least expensive and perform pretty well when new.  They have desirable flexibility and are durable against bumps and scrapes.  However, after some use, they have a tendency to maintain a bent shape that has lost some efficiency.
Fiberglass blades are more expensive and not as flexible as the polymer plastic version, but maintain their shape in the long term.  They are also able to withstand underwater scrapes and bumps well.
Carbon fiber blades are the most efficient with the highest ratio of propulsion to energy used.  They maintain their original shape and are very light, but also more fragile than the other two materials.  Top competitive freedivers use carbon fiber blades in spite of the fact that they are much more expensive.
Budget
You will need to look at your own finances and commitment to freediving.  In addition to the fins, you will need a mask and snorkel and perhaps thermal or skin protection, as well.  These long blade freediving fins start at around $80 for fins with polymer plastic blades and run up to over $600 for a pair with carbon fiber blades.  Custom-fit foot pockets and design features can push it up beyond that.  Keep in mind that the most important factor is a good technique.  When you have developed that to a certain level, then the higher-tech fins will be of more use to you.  A basic guideline is that:
polymer plastic = cheapest
fiberglass = mid-range
carbon fiber = the most expensive
Getting  a Good Fit
A snug comfortable fit is essential to have an efficient finning technique.  If the foot pocket is loose there will be a loss of efficiency and wasted energy.  When purchasing the best practice is to try them on, if possible.  If not, do your best to understand the sizing chart.  Also, keep in mind that some manufacturers expect that you will be prepared to wear a neoprene sock which can fill in the gap for an oversized foot pocket.  The sock can also provide thermal protection and may make for a more comfortable fit.
Separate Foot Pockets and Blades
There are systems in which blades are detachable from foot pockets.  In such cases, it is possible to buy them separately and combine them.  This will allow you to replace a component while retaining the one you would like to still use, for example when one component is worn out or not suitable for your current style or ability.  You could also use blades and foot pockets that are different brands.  This option is more expensive than the purchase of standard nondetachable models.
Blade Stiffness
Freediving fins are available with varying degrees of blade stiffness.  The level of stiffness suitable depends on body type and amount of muscle.  Generally speaking taller divers produce weaker propulsion than shorter-legged divers making longer blades more effective.  Most divers will find soft to medium stiffness is suitable.  Divers with very weak propulsion will likely prefer soft blades.
Best Freediving Fins Review
Material: polymer plastic
Interchangeable blade design: no
Stiffness option: no
Many sizes available
Comfortable foot pocket
Pros: good value for the low price
Cons: can get bent over time
Best for beginners
Material: polymer plastic
Interchangeable blade design: yes
Stiffness option: no
V-shaped tips
Comfortable foot pocket
Pros: superior design and well constructed
Cons: sizing may be a little large
Best for beginners
Material: polymer plastic
Interchangeable blade design: no
Stiffness option: no
High-quality materials
Stabilizers integrated into foot pocket tips and on the blades
Fishtail fin shape guides blade more efficiently in the water
Pros: low priced, good value for the money
Cons: can get bent over time
Best for beginners
Material: polymer plastic
Interchangeable blade design: no
Stiffness option: no
Large size selection
Teflon and neoprene blade coating
Camouflage coloration for hunting
Soft EPDM rubber foot pocket
Pros: high performance for a moderate price
Cons: sizing may be a little large
Best for beginners
Material: polymer plastic
Interchangeable blade design: no
Stiffness option: no
3 material molding process
Comfortable foot pockets with or without diving socks
Cressi fin bag is included
Pros: low priced with bag included
Cons: can get bent over time
Best for intermediate level
Material: fiberglass (10% fiberglass & 90% borealis)
Interchangeable blade design: yes
Stiffness option: yes (soft and medium)
Can upgrade blades to other fiberglass or carbon components
Several materials used in comfortable foot pockets
Many sizes available
Pros: low priced for great features
Cons: blades scratch easily
Best for advanced level
Material: carbon fiber
Interchangeable blade design: yes
Stiffness option: yes (soft, medium, and hard)
3D camouflage finish
Lightweight
Comfortable foot pockets
Many sizes available
Pros: top performance for spearfishing
Cons: very expensive, scratch easily
Best for advanced level
Material: carbon fiber
Interchangeable blade design: yes
Stiffness option: yes (soft, medium, and hard)
Lightweight
High-quality materials and design
Comfortable foot pockets
Pros: good for spearfishing
Cons: expensive, scratch easily
| Picture | Freediving Fin | Material | Stiffness Options | Interchangeable Blade Option | Rating | Price |
| --- | --- | --- | --- | --- | --- | --- |
| | Mako Freedive Hunter | Polymer Plastic | No | No | 4.4 | $ |
| | Mares Pure Instinct Razor Pro | Polymer Plastic | No | Yes | 4.5 | $$ |
| | Beuchat Mundial One | Polymer Plastic | No | No | 5 | $ |
| | Rob Allen Scorpia | Polymer Plastic | No | No | 4.5 | $$ |
| | Cressi Gara 3000 | Polymer Plastic | No | No | 4.5 | $$ |
| | Mako Competition Freediver | Fiberglass | Yes | Yes | 4.7 | $$ |
| | Omer Stingray Carbon | Carbon Fiber | Yes | Yes | 5 | $$$$$ |
| | Maverick C4 Falcon | Carbon Fiber | Yes | Yes | 4.5 | $$$$ |
| | | | | | | |
Feedback and Comments
I hope you found this post on freediving fins interesting and useful. If you have any questions or ideas, please feel free to share them in the comments section.  If there is no comments section directly below, click here:  >>comments<<