We may earn money or products from the companies mentioned in this post.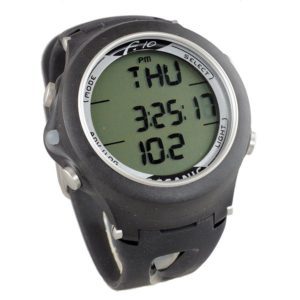 Freediving has increased in popularity by leaps and bounds recently.  As has happened in scuba diving, the limits are getting pushed further and further.  For the serious freediver, a watch or computer can go a long way in not only maintaining safety but also as a tool for training.  Real-time data about the environment and your performance during the dive lets you know where you stand and then afterward you have a record that you can analyze and plan from.
Below is a buyer's guide followed by a number of freediving watch options that I have reviewed to help you more easily make the decision on which one would work best for you.  There is a range from the simplest freediving watches all the way up to models suitable for freediving as well as more advanced and technical levels of scuba diving.  Videos have been provided for all the models except one to help fill in the gaps in the written material.  After that is a comparison table of the reviewed watches, to summarize some of the key features.
Freediving Watch Buyer's Guide
Modes – Some extremely specialized freediving watches are suitable only for freediving.  Many are more versatile and include gauge, air, nitrox, and/or trimix modes.  If you are involved in freediving and scuba diving there is a selection of modes available for the sports you want to participate in without having to purchase two watches.
Depth – Like scuba divers, freedivers are continuously increasing the depth of their dives. Today's dive watch should be operational at depths of at least 330 feet (100 meters).
Dive Logs/Memory – A major function of a dive watch is the logging of the data from your dives.  Particularly if you dive a lot, a watch that can track more dives over a longer period of time will be more convenient.
User-Friendliness – It is important to be able to easily use your dive watch.  The display needs to be clear and easily readable.  Backlighting can be a good feature in poor visibility.  Audible alarms need to emit a sound loud enough to hear over boat motors, waves, and other ambient sounds.  Often these alarms are regarding surface intervals, depth limits, breath-hold training or hydration which are significant to be aware of.
Freediving versus Scuba Computers – A scuba computer won't necessarily be suitable for freediving.  One reason is depth ratings.  Top class freedivers can go very deep, much deeper than recreational scuba diving limits.  Some scuba computers can't function properly beyond a certain depth.  Also, alarms for ascent rates for scuba divers won't be applicable to freediving where faster ascents are acceptable and don't have barotrauma and decompression implications.
Quality and Durability  Brand name watches are more likely to have the best materials, designs, and craftsmanship that will help to ensure durability and comfort.
Best Freediving Watches
Best Use: scuba divers who also free-dive
Modes: air, nitrox, gauge, free-dive, and watch
User Changeable Battery: Yes, CR2430
Memory: 24 dives
Features: USB cable enables connection to your computer and downloading of logbook info, DSAT decompression model, selectable audible alarms for different actions and gases, deep stop and safety stop countdown
Pros: air integrated for scuba diving eliminating gauge and hose, simple design with easy navigation
Cons: expensive
Oceanic F10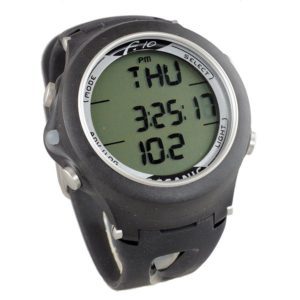 Best use: free-dive training
Modes: free-dive, and watch
User Changeable Battery: Yes, CR2430
Memory: 99 dives
Features: free dive mode shows depth and elapsed dive time, user-defined surface recovery timer, repeating dive time and depth interval alarms, 3 maximum depth alarms
Pros: alarms and display great for free dive training
Cons: good for freediving, not so good for scuba diving
Best use: nitrox and advanced divers
Modes: air, nitrox, gauge, free, and watch
User Changeable Battery: Yes, CR2430
Memory: 24 scuba dives or 99 free dives
Features:  2 algorithms, 2 Nitrox mixes up to 100% oxygen, firmware auto-updates, audible alarms, gauge mode with run timer, last dive display for maximum depth and dive time
Pros: PC compatible, durable, stylish, easy navigation through the menus
Cons: many complaints about the poor users manual, suggest checking out the Oceanic tutorial below
Best use: nitrox and advanced divers
Modes: air, nitrox, and gauge
User Changeable Battery: yes, CR2430
Features: oxygen toxicity indicator, user adjustable conservatism levels, easy to program single button navigation with large digits, imperial or metric
Pros: high-definition screen, has a battery save mode, ability to reset, low price
Cons: computer interface not included
Best use: freediving and watch
Modes: air, nitrox, and free-dive
User Changeable Battery: Yes, CR2430
Memory: 36 hours
Features: ergonomic design, attractive styling, 7 color combinations, calendar, dual time zones, alarms
Pros: easy to read display,
Cons: watch straps a little short to fit over some cold water wetsuits
Omer Compact UP-X1 (with Heart Rate Monitor)
Modes: freediving and watch
User Changeable Battery: no, it's rechargeable, has a power-save mode
Memory: 250 dives
Features: 4 buttons and 6 screen modes, carbon fiber face ring, heart rate monitor and USB, multiple alerts, automatic dive mode
Pros: can use heart monitor for other sports, as well,
Cons: a little expensive
Best use: technical divers and advanced freedivers
Modes: air, trimix, free-dive, gauge, and watch
User Changeable Battery: yes, Cr2450
Memory: 80 hours
Features: supports trimix and helium, electronic 3D compass, titanium housing, can switch between 8 mixes of gas, USB included
Pros: durable titanium housing, high quality
Cons:  quite expensive, more for the advanced scuba diver than freediver
Best use: freediving and watch
Modes: air, nitrox, gauge, free-diving, and watch
User Changeable Battery: yes, Cr2450
Memory: 24 dives
Features: two gas switching, 4 button menu navigation, variable ascent rate indicator, time to fly and desaturation countdowns, comes in white or black
Pros:  many features at a reasonable price
Cons:  24 dives memory is not a lot
Pyle Multifunction Sport Watch
Best use: freediving and watch
Modes: freediving and watch
User Changeable Battery: yes, Cr2
Memory: 100 hours
Features: 5 modes include the current time, dual time, chronograph, countdown timer, underwater diving, automatic activation, long battery life, alert for fast ascents
Pros:  very low price, colorful styling
Cons:  watch band is a bit short
Best use: scuba and freediving
Modes: air, nitrox, free, and off
User Changeable Battery: yes, Cr2450
Memory: 140 hours
Features: has apnea, air, and nitrox timers, optional wireless gas integration, compact styling, 9 colors available, has scratch guards, includes a USB cable, audible, visual depth and time alarms
Pros:  versatile, quality construction, and features
Cons:  if you find a problem, please let me know
| Picture | Freediving Watch | Users | Modes | Memory | Depth | Rating | Price |
| --- | --- | --- | --- | --- | --- | --- | --- |
| | Sherwood Amphos | Scuba & Freediving | Air, Nitrox, Gauge, Freedive, & Watch | 24 Dives | 330 Feet | 4.6 | $$$$ |
| | Oceanic F10 | Breath Hold Training | Freediving & Watch | 99 Dives | 399 Feet | 4.7 | $$$ |
| | Oceanic Geo 2.0 | Budget | Watch, Air, Nitrox, Gauge, & Freedive | 99 Dives | 330 Feet | 4.8 | $$ |
| | Cressi Leonardo | Budget | Air, Nitrox, & Gauge | 60 Dives or 70 Hours | 393 Feet | 4.5 | $$ |
| | Mares Smart | Budget | Air, Nitrox, & Free Dive | 36 Hours or 200 Dives | 492 Feet | 4.7 | $$$ |
| | Omer Compact UP-X1 | Breath Hold Training | Freediving & Watch | 250 Dives | 328 Feet | | $$$$ |
| | Suunto D9tx | All | Air, Trimix, Free Dive, Gauge, & Watch | 80 Hours | 399 Feet | 5 | $$$$$ |
| | Tusa Talis | Budget | Air, Nitrox, Gauge, Freediving, & Watch | 24 Dives | 120 Feet | 4.8 | $$ |
| | Pyle Multifunction Sport Watch | Budget | Freediving & Watch | 100 Hours | 328 Feet | 4.4 | $ |
| | Suunto D4i Novo | Scuba & Freediving | Air, Nitrox, Free, & Off | 140 Hours | 328 Feet | 4.9 | $$$$ |
For my reviews on scuba diving computers and watches, please check out these posts:
Feedback and Comments
I hope you have found this review of freediving watches to be useful.  If you have any questions, ideas or personal experience, please feel free to share them in the comments.  If there is no comments section directly below, click here:  >>comments<<