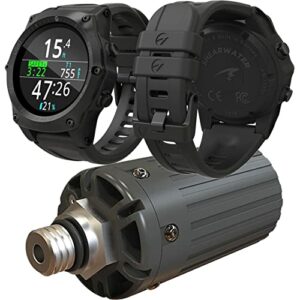 Updated June 27, 2021
Air-integrated computers eliminate the need for an SPG at the end of your high-pressure hose.  The amount of pressure in your tank can be easily monitored on your computer at the same time you keep track of your depth, dive time, and no-decompression limits.
These computers tend to be expensive and have lots of other features to consider for the type of diving you plan to do.  A brief buying guide, reviews of top integrated air computers, and a comparison table are presented below to make the selection process easier.
If you have any questions or concerns, please leave a comment at the bottom.  I'd love to know your thoughts.
Air Integrated Dive Computer Buying Guide
Diving Level
What sort of diving do you plan to do?  What are your capabilities?  There are dive computers set up for all levels of diving from simple recreational to more advanced with deeper limits, mixed gases, or the use of a rebreather.  With increasing levels of sophistication, the more expensive and complicated the computer will be.
Set-Up
Air integrated dive computers have two basic designs, one to carry on your wrist like a watch, or the other on the high-pressure hose.  The wrist-mounted models use a wireless transmitter attached to the first stage.  Hose-mounted models are usually a little bulkier and heavier.
Pricing
The air integration feature adds a cost to the price of the dive computer.  The price range is from around $500 to over $2,000.  More technical diving capabilities are the factor that takes it to the top end of the range.  Hose-mounted models run cheaper than the wireless version.  If you know you do not plan to do technical diving that can include several mixed gases, the use of a rebreather, or other advanced features, you can save a lot of money by purchasing a simpler model.  To get an idea of models available that are a little more affordable, please take a look at these two reviews.
Readability
Large screens found on many hose-mounted models and computers designed for technical diving are easier to see than the smaller round screen often used on wrist mount models.  The preferred option is an LCD screen display that provides more room to show information useful for technical divers who monitor decompression and multiple gas mixes.
Lighting
Seeing the computer screen in low light or bad visibility conditions is important.  Today's modern computers take care of that with backlighting or by having an inherently bright LCD display.  Without these features, you would need to rely on a flashlight.
Navigation
An essential piece of gear for effective navigation and safety is the compass.  Most air-integrated computers will include an integrated compass. This saves having to carry another gauge but does add to the price.
Air Integrated Dive Computer Reviews
Best for: recreational and advanced
Modes: air, nitrox, gauge, and free dive
User Changeable Battery: No
Features: steel casing, tilt-compensated 3D digital compass, anti-reflective coated glass face, hoseless air integration, USB cable
Pros: can be worn as a watch out of the water thus keeping your dive info with you, strong and durable steel case
Cons: the strap is plastic and prone to breaking, expensive, battery not user-changeable or rechargeable
Overall Rating:   4.5/5
Best for: recreational
Modes: air, nitrox, gauge, free dive
User Changeable Battery: yes
Features: integrated compass, wireless air integration, 3 button navigation, backlit display, improved USB cable
Pros: affordably priced
Cons: some have complained the strap is uncomfortable  
 Overall Rating:  4.2/5
Best for: technical
Modes: air, ccr, gauge, mixed gas
User Changeable Battery: rechargeable
Features: integrated compass, hoseless air integration, USB cable, multi-gas diving up to 10 gases
Pros: fully user-customizable
Cons: a bit bulky mounted on the wrist, expensive
Overall Rating:   4.5/5
Best for: technical
Modes: air, ccr, gauge, mixed gas
User Changeable Battery: yes, standard replaceable AA battery, the transmitter uses a 3V CR2 lithium
Features: 5 open-circuit gas switch presets, full-color screen, 850 ft operating depth, Bluetooth connectivity with iOS devices, capable of displaying tank pressure in all modes, 2.2-inch display with an enhanced color range and saturation, simple to navigate menu structure, hoseless air integration, integrated compass
Pros: Mountable on either wrist, features for use with a rebreather, full information provided for decompression diving
Cons: moderately expensive
Overall Rating:  5/5
Best for: technical
Modes:open-circuit, fixed po2, gauge, free dive
User Changeable Battery: yes, 1 CR123A battery
Features: hoseless air integration, able to connect with 2 transmitters, integrated 3D compass, Bluetooth Smart technology, and wireless charging, switchable audible and vibration alerts
Pros: mountable on either wrist, features for use with a rebreather, full information provided for decompression diving
Cons: expensive
Overall Rating:  4.9/5
Best for: recreational
Modes: air, nitrox
User Changeable Battery: Yes
Features: hose mounted air integration, matrix display, electronic 3D compass tilts to 45 degrees and is still readable, 4 button operation, optional deep stops
Pros: quick disconnect, reliable
Cons:  let me know
Overall Rating:  4.8/5
Best for: recreational and technical
Modes: scuba, free dive, gauge, CCR, sidemount, trimix
User Changeable Battery: rechargeable up to 50 hours of dive time per charge
Features: 485 MB memory, USB cable or Bluetooth Low Energy interface, hoseless air integration, integrated digital compass, includes heart rate monitor
Pros: loads of memory and features
Cons: let me know 
Overall Rating:  4.8/5
Best for: recreational and technical
Modes: deco, gauge, free dive,  CCR
User Changeable Battery: yes, good for 150-200 dives
Features: hoseless air integration, integrated digital compass, optional heart rate monitor
Pros: wristwatch sized, full top-side timekeeping functions
Cons: small buttons
Overall Rating:  4.5/5
Air Integrated Dive Computer Comparison Table
| Picture | Computer | Gas Mixes | Compass | Rating | Price |
| --- | --- | --- | --- | --- | --- |
| | Suunto D6i Novo | 3 | Yes | 4.5 | $$$ |
| | Suunto Vyper Novo | 3 | Yes | 4.2 | $ |
| | Suunto Eon Steel | 10 | Yes | 4.5 | $$$ |
| | Shearwater Research Perdix AI | 5 | Yes | 5 | $$$ |
| . | Shearwater Research Teric | Any Combination of Oxygen, Nitrogen, and Helium | Yes | 4.9 | $$$ |
| | Suunto Cobra 3 | 2 | Yes | 4.8 | $ |
| | Scubapro G2 | 8 | Yes | 4.8 | $$$ |
| | Scubapro Mantis 2.0 | 3 | Yes | 4.5 | $$ |
| Picture | Computer | Gas Mixes | Compass | Rating | Price |
For other reviews regarding dive computers and compasses, please check these three:
Comments and Feedback
I hope you found this post on the best air integrated dive computers interesting and useful. If you have any questions or ideas, please feel free to share them in the comments section.  If there is no comments section directly below, click here:  >>comments<<