We may earn money or products from the companies mentioned in this post.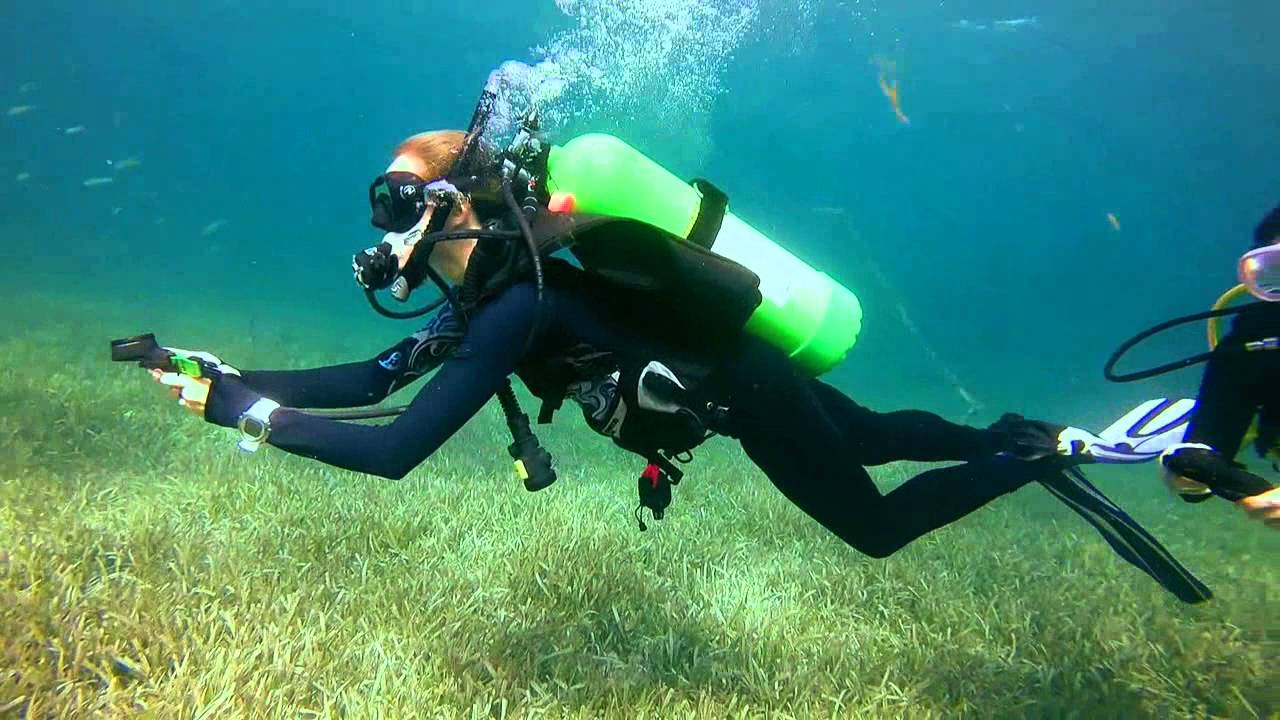 Getting your bearings underwater is not as easy as it is on land where you can pick out a mountain or other landmark in the distance.  Perhaps there is bad visibility or you're in blue water with no reference points.  You might find yourself in a swift current or washing machine like conditions on a dive.  These are all times when a compass would be a big help, if not essential.  A good reliable compass will give you some peace of mind and aid substantially in keeping you safe.
Here I will discuss the important features to look for in a compass and review and compare ten models.  After that is a short video lesson on how to use one.
List of the Best Dive Compasses
How to Choose the Best Dive Compass
Digital or Analog – A digital compass is usually an integrated part of a dive computer.  Whenever you use the battery for the first time, such as right after purchase or when changing the battery, the compass will need to be calibrated.  A digital compass is easy to read, but not as accurate or reliable as an analog model.  An analog model is a standard conventional stand-alone compass that is accurate and reliable, requires no battery, and can be mounted anywhere on your equipment.
Tilt Tolerance – This refers to how far off a zero degree plane you can tilt the compass before the needle gets stuck.  The bigger the tolerance, the better.  Unfortunately, high tilt tolerance compasses will tend to be thicker and heavier, but in my opinion, that is no big inconvenience
Size – Most compasses are approximately the same size. What is important is that it is easy to see and read particularly in low visibility or dark conditions.  A bigger one will be easier to see and the better choice, though perhaps heavier.
Mounting Options
Wrist – The compass can be mounted in a housing you can strap to your wrist like a watch.  Some divers would feel uncomfortable with a computer and a compass on the same wrist and will put the compass on one and the computer on the other.
Console – It can be included in a boot along with the SPG and computer or depth gauge so that all three are in one handy place easily observed.  Some divers will feel this is heavy or unwieldy.
Retractable – The compass can be mounted by attaching a clip to a D-ring.  When you want to use the compass it can be pulled out and when you are finished it will retract back to the storage position.  These will tend to be a little more expensive.
The Best Dive Compasses
Many features, auto-retractable, favored by professionals
Pros: quickly stabilizes, gun sight navigation, can tilt to a 30-degree angle, firm grip bezel, auto-retractable
Cons: expensive
Rating: 4.8
Price: $$$$
Add on for a Wisdom Dive Computer
Pros: highly luminous and easily visible, super tilt can be seen from the top or at a 30-degree angle, 360-degree rotating bezel
Cons: add on that doesn't mount independent of the computer
Rating: 4.5
Price: $$
Floating magnet separated from the compass creates a better viewing angle and permits use in the northern and southern hemispheres – a good travel model
Pros: durable, scratch-resistant, tilts to a 35-degree angle, firm grip bezel, extra luminous
Cons:  a bit expensive
Rating: 5
Price: $$$
XS Scuba Retractable Super Tilt
25 inch reach with coated stainless steel cord, durable rubber boot, and hose mount
Pros: easy to read in low light or at night, reliable, durable, retractable
Cons: more accurate when extended than when not extended
Rating: 5
Price: $$
30 inches of 4 mm of bungee cord, double bungee strap conveniently secures compass where you want it
Pros: large ratcheting bezel, top and side reading, illuminated faceplate at night
Cons: works only in the northern hemisphere
Rating: 5
Price: $$
Use on your wrist or add to a console (works best in an Oceanic SWIV console)
Pros: large ratcheting bezel, luminescent floating card enables fast and long-lasting glow, high visibility lubber line, easy top or side reading
Cons: let me know what you think
Rating: 5
Price: $$
Liquid filled wrist-mounted, Lumi-Nova light storage dials
Pros: gun-sight accurate navigation, top and side reading, liquid-filled works in northern and southern hemispheres, bright in the dark
Cons: let me know what you find
Rating: 4.7
Price: $$
Retractable, 31.5 inches extended, retracts to 7 inches
Pros: glows in the dark, large clear faceplate, easy to read, conveniently clips anywhere, affordable
Cons: limited side reading capability, some say it has a plastic, cheap feel to it
Rating: 4.1
Price: $
Fits a variety of SWIV consoles
Pros: top and side reading, luminescent floating card enables fast and long-lasting glow, smooth movement with quick response, high visibility lubber line
Cons: may not function properly around the metal in some computer batteries
Rating: 4.8
Price: $$
Sherwood Genesis Compass and Accessories
Retractable, built-in mount, professional quality
Pros: highly durable, easily attachable, two different mounting clips, easy to read, excellent tilt range, top and side reading, ratchet bezel, liquid-filled, luminescent dial, comes with rubber boot
Cons: a little expensive
Rating: 5
Price: $$$
| Picture | Compass | Rating | Price |
| --- | --- | --- | --- |
| | Suunto SK8 | 4.8 | $$$$ |
| | Sherwood Wisdom | 4.5 | $$ |
| | Scubapro FS-2 | 5 | $$$ |
| | XS Scuba Retractable Super Tilt | 5 | $$ |
| | XS Scuba Highland | 5 | $$ |
| | Oceanic Aeris Wrist Mount | 5 | $$ |
| | Tusa Platina SCA-160 | 4.7 | $$ |
| | Scuba Choice Compass | 4.1 | $ |
| | Oceanic SWIV Compass Module | 4.8 | $$ |
| | Sherwood Genesis Compass and Accessories | 5 | $$$ |
| | | | |
Feedback and Comments
I hope you found this post on compasses interesting and useful. If you have any questions or ideas, please feel free to share them in the comments section.  If there is no comments section directly below, click here:  >>comments<<