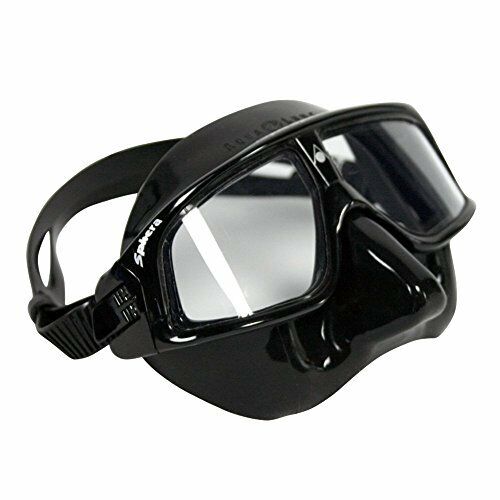 Updated May 24, 2021
The mask you choose for scuba diving or simple snorkeling may not be suitable for freediving.  An ideal freediving mask needs to be very low volume so that you won't have to spend precious air eliminating a mask squeeze.  In addition, if you are involved in photography, videography, or spearfishing, your field of vision will play a major role.  You will want to see as much as possible in order to effectively capture your target.  Of course, the usual comfort, water seal, ease of use, and quality of materials are a factor as they are for any mask.
With so many models on the market, the task of selecting the appropriate one may seem a little daunting.  Below the major considerations are outlined to guide you through the process.  Afterward is a review of a range of 10 quality freediving masks for your consideration.
If you have any questions or concerns, please use the comments section at the bottom.  I'd love to know your thoughts.
For more reviews of related gear and accessories, please check out these popular posts:
Pole Spears     Spearguns     Spearfishing Wetsuits     Lycra Dive Skins     Freediving Watches     Spearfishing Masks     Freediving Fins
How to Choose the Best Freediving Masks
Low Volume
The amount of air that the mask can hold between it and your face is the volume.  The smaller the better as you need to equalize the space by adding precious air as you descend.  A low-volume mask also will have a low profile allowing you to have a wider field of vision useful for photography and spearfishing.
Materials
Today the best and most commonly used material for the skirt of the mask is silicone.  It is soft conforming well to the shape of the face for comfort and water-tightness.  Durability is another key factor.  On older masks and on some cheaper ones rubber is used.  It won't last as long and doesn't have the same fit characteristics.  Tempered glass withstands the pressure well and is generally much more durable than the plastic you can find on cheap snorkeling masks.  There are a few exceptions of quality freediving masks that use plastic lenses, the Aqua Sphere Sphera being one.
Fit
If you put the mask in position on your face without using the strap and inhale through your nose, it should hold itself in place if it fits well.  If it won't hold in place it is too big.  Leakage and fogging can happen with such a mask.  On the other hand, if it is too small for your face it can place undue pressure on your nose or otherwise feel uncomfortable and quickly become intolerable.
Color of the Skirt
Black is the recommended color for the skirt.  Brightly colored versions can cause glare which influences your vision.  That would be a problem particularly for photography or spearfishing where clear vision is essential.  Also as a hunter, bright colors are more noticeable and can alert prey to your presence.
Lenses
Dark or colored lenses can also impinge on vision and communication between dive buddies.  If you can't see each others' eyes, you have lost a point of connection.  On the other hand, polarized lenses and those with filters for UV rays can decrease the irritation of the bright sun or glare on the water when at the surface and may be worthwhile for you.  Some spearfishermen recently have started to use tinted or mirrored lenses which can tend to brighten up the scene.  The mirrored lenses hide the hunter's eyes, though, which interferes in communication with a buddy but also can help the hunter get a jump on his prey.  For divers who would like corrected vision, some mask companies can install prescription lenses or a bottom lens for far-sighted individuals enabling them to see their gauges.  When you dive deeper into the water, colors start to disappear from vision, as you know.  Some masks have lenses that can compensate for this to a degree and also increase brightness.
Panes
Some masks have a single pane and others have two.  A single-paned model is roomier and leaves more space for the nose that divers may prefer.  The double-paned models are lower in volume and profile which requires less air to equalize or clear and provides a wider range of vision.  It boils down to personal preference.
Straps and Fastening
The strap holds the mask gently in place for the length of your dive.  It needs to be comfortable and easy to adjust if necessary.  Good masks will have a well-designed system of adjustable buckles.
Best Freediving Masks
Suitable for scuba diving and freediving
Lens: single, special coating to resist UV rays and glare
Colors: black skirt, orange or blue-tinted lens to enhance contrast and depth perception
Other features: extra-soft silicone skirt, a wide field of vision, rigid tear-drop frame
Pros: single-lens frame can be more comfortable across the nose for some
Cons: volume not as low as some other models
Suitable for experienced freedivers & spearfishermen,  and divers with smaller faces
Lens: 2 panes, inverted tear-drop shape for increased downward visibility
Colors: black frame with skirts of clear, black, blue, lilac, pink, white, and yellow
Other features: unbreakable easy to adjust buckle system, comfortable silicone skirt
Pros: ultra-low volume
Cons: fit a little tight on wider faces
Aqua Lung Micro
Suitable for experienced freedivers & spearfishermen fits small faces with enough nose room for larger faces
Lens: 2 panes, inverted tear-drop shape for increased downward visibility
Colors: black frame with a black skirt or a clear skirt in combination with frames of a variety of colors
Other features: high-grade comfortable silicone skirt, compact frame, easy to clear, cardanic joint buckles rotate up and down and in and out for pinch-free fit
Pros: ultra-low volume, compact shape for minimal drag
Cons: none reported
Suitable for all divers, ergonomic design to suit all faces
Lens: 2 panes
Colors: a variety of colors
Other features: ergonomic design, double button system for easy adjustment
Pros: ultra-low volume, compact shape for minimal drag
Cons: nose fit is poor for some with fogging the result, the field of view comparatively limited
Omer Zero Cubed
Lens: 2 panes
Colors: black, mud, or olive
Other features: comfortable skirt and strap, ultra-low profile, strap buckles swivel 30 degrees for quick adjustments
Pros: very wide-angle field of view
Cons: some divers experience discomfort from the close-fitting frame
Suitable for beginner freedivers and spearfishermen, men and women with narrow faces
Lens: 2 panes
Colors: black
Other features: comfortable soft silicone skirt, low profile
Pros: budget pricing
Cons: uncomfortable fit for some larger faces, beginner level only freediving and spearfishing mask
Suitable for photographers/videographers who want a big field of view
Lens: Single with a beveled and bonded 3 window panoramic view
Colors: black skirt with a black frame or clear skirt with black, blue, purple, or yellow frame
Other features: Qwik strap for easy on and off and comfortable fit
Pros: heavy-duty built-in stainless steel camera mount suitable for all models of GoPro cameras, good field of vision
Cons: a little expensive
Suitable for freedivers looking for a wide field of vision
Lens: 2 panes, curved plastic with 180-degree field of vision
Colors: black
Other features: comfortable fit, scratch-resistant anti-fog lenses, low profile
Pros: wide field of vision,
Cons: plastic lenses are more fragile than tempered glass
Kraken Snorkel Freediving Mask
Suitable for freedivers and scuba divers
Lens: single
Colors: all black or black with red inner frame
Other features: comfortable water-tight fit, scratch and shatter-resistant anti-fog lenses, easy-adjust buckles,
Pros: low price, durable
Cons: some divers experienced fog build-up
Cressi Scuba Diving Snorkeling Freediving Mask
Suitable for freedivers, fits most faces well, wide field of vision
Lens: single
Colors: 12 different color combinations
Other features: frameless flexible low volume design, comfortable skirt, easy to adjust push buckle system
Pros: low price, quality materials, includes a quality F1 dry-top snorkel
Cons: some divers experienced fog build-up
Freediving Mask Comparison Table
| Picture | Freediving Mask | Lenses | Best For | Rating | Price |
| --- | --- | --- | --- | --- | --- |
| | Oceanways Superview | Single | Experienced Scuba and Freedivers | 4.8 | $$ |
| | Cressi Nano | 2 Panes | Experienced Freedivers & Spearfishermen | 4.8 | $$$ |
| | Aqua Lung Micro | 2 Panes | All Divers | 5 | $$$$ |
| | Mares Viper | 2 Panes | All Divers | 4.6 | $$$ |
| | Omer Zero Cubed | 2 Panes | All Divers | 4.5 | $$$ |
| | Scuba Choice Spearfishing | 2 Panes | Budget - Beginner Freediver/Spearfisherman | 4.3 | $ |
| | XS Photo Panorama | Single with 3 Window Panoramic View | Videography/Photography | 4.8 | $$$ |
| | Aqua Sphere Sphera | 2 Panes | Experienced Freediver | 4.7 | $$ |
| | Kraken Aquatics Snorkel Freediving Mask | Single | Budget | 4.4 | $ |
| | Cressi Scuba Diving Snorkeling Freediving Mask | Single | All Divers | 4.5 | $$ |
| Picture | Freediving Mask | Lenses | Best For | Rating | Price |
For other reviews of masks and snorkels, please check out these posts:
Feedback and Comments
I hope you found this post on freediving masks interesting and useful. If you have any questions or ideas, please feel free to share them in the comments section.  If there is no comments section directly below, click here:  >>comments<<