We may earn money or products from the companies mentioned in this post.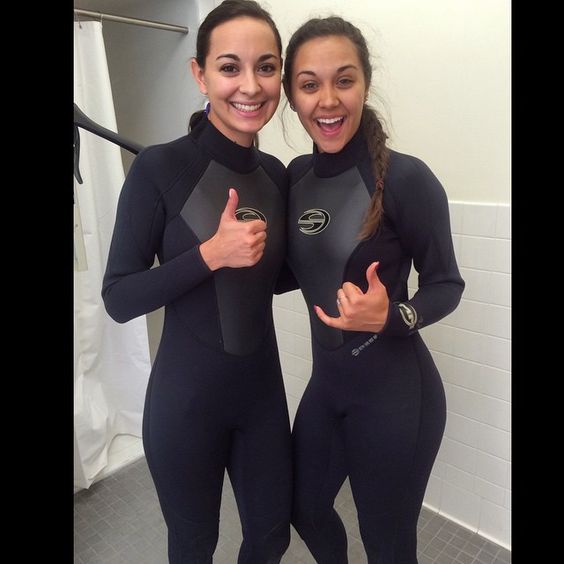 For a general introduction and major facts about wetsuits, please click on my earlier post here:
Below are a detailed description and comparison of the 10 best scuba diving wetsuits of 2019.  For each wetsuit key features and benefits are outlined.  At the end is a comparison chart.
Best Scuba Diving Wetsuit Reviews
This is a high quality, good value, warm, comfortable and durable wetsuit featuring, flexible bonded thermal knee pads for abrasion resistance and an adjustable velcro collar for a comfortable, stretch fit for all users.
Other features:
Constructed from soft and comfortable premium 5mm neoprene material.
Suitable for warm and cooler waters–design promotes core warmth and flexibility.
Heavy-duty back zipper, velcro collar, and lycra on wrists and ankles
Glued and sewed seams prevent water from entering the suit, keeping you warmer, longer
Anatomically cut pattern for a comfortable fit
Spot taped at intersecting seams for long life and durability
Internal key pocket
Comes in 3mm, 5mm, and 7mm versions
This is a very popular, best selling model that comes in many configurations and thicknesses, with men's and women's versions made of flexible and durable nylon II high stretch neoprene.  It has high-quality materials, design, and construction, but at a reasonable price.  The Thermoprene has a contoured fit to keep water exchange to a minimum allowing an attractive optimal fit.
Other features:
High-quality Nylon II Neoprene: 75% more stretch than standard wetsuit material

GBS-Glued and blind stitched seams

Adjustable collar

Zipper tab leash for easy on and off
Durable knee pads
Lycra-trimmed cuffs
Spine pad for added warmth
Available in multiple sizes and 3mm, 5mm and 7mm thicknesses
The Bare Velocity wetsuit provides a great fit with comfort and mobility including features like zippered ankles, a velcro collar, and knee pads.  Different thicknesses and models for men and women are available.  Easy to put on and take off, comfortable and quick-drying the Bare Velocity Ultra is one of the most popular wetsuits.
Other features:
Bare's progressive full-stretch neoprene construction 

Seamless underarms for superior comfort when worn on its own, with an additional wet layer or with a BCD

PROTEKT knee protection provides strong wear resistance

Heavy-duty ankle zippers for easy on and off

Double glued construction provides well-sealed seams

Comes in 3mm, 5mm, and 7mm versions
The Playa is a 2.5 mm shorty that is a great option for tropical dive vacations or when you need an extra layer to wear with another suit.  With an anatomical fit and ultraspan neoprene seals on arms and legs, it does a good job of keeping your core warm and comfortable.
Other features:
Heavy-duty YKK front zipper
Glued and sewn seams for added strength and durability.
The suit is available in 5 sizes from S to XXL
Comes in men's and women's versions
Hollis Neo Tek
 (semi-dry suit)
This is a semi-dry wetsuit that offers excellent insulation designed to keep you warm during cold water dives and is quite comfortable.  Construction includes 8/7/6 mm compression-resistant neoprene and their own LavaSkin inner liner.  The horizontal zipper is mounted in the front for a good seal and easy on and off.
Other features:
two big pockets on the thighs which are handy for carrying accessories
double-glued seams for maximum protection against water intrusion.
uses compression-resistant 8/7/6 mm neoprene and the exclusive "ThermaSkin" inner liner.
Two large pockets for accessories.
Neck,

 ankle, and wrist internal dams to seal 

Built-in hood
Comes in 9 different sizes.
This wetsuit puts 3 mm neoprene and a thick, fleecy lining in the torso, tapering to 2 mm neoprene in the wrists and shins.  The design allows a natural comfortable movement that allows you to stretch with flexibility.  Included in the design is a diagonal back zipper that goes from your left to right shoulder.  This is superior to the usual zip that runs up the spine and makes the wetsuit much easier to put on and take off.  The Everflex was designed with a great deal of attention to detail.
Other features:
Made from 100 percent Everflex neoprene

Assembled using a solvent-free water-based glue that is diver and environmentally friendly

Multi-thickness panels deliver a superior combination of warmth and flexibility

The design uses fewer seams and panels for maximum flexibility

Durable, watertight double blind-stitched outer seams, and comfortable to the skin single blind-stitched inner seams 

Hip-mounted plastic hook for securing a hood or gloves
Short zipper at the throat, which lets you ease the neck seal for comfort while on the surface
Effective wrist and ankle seals that use a tapered edge in the 2mm material, stop water penetration and provide a snug fit
Also comes in 5mm and 7mm models
This well made 3mm wetsuit is warm and comfortable.  The aqua flex neoprene has 3 times the stretch of standard neoprene, conforms well to body shape and eliminates the need for ankle or wrist zippers.  This design will keep you warmer, as zippers create more water exchange which leads to heat loss.  it is ultra-easy to put on and take off.
 Other features:
AqauFlex neoprene used throughout, with nylon outer and inner layers

Ultra-soft inner material for easy on and off

Skin-in-neck seal provides for a comfortable stretch and seals out water

The exterior seams are sealed with liquid rubber to block water seepage

Glued and blind-stitched watertight inner seams

The front of the torso is lined with a thick insulating panel
Comes in men's and women's versions
3mm, 5mm and 7mm models available
The Alize is a relatively low cost comfortable warm water wetsuit.  The design is cut and fabricated to conform naturally to the body with effective seals and little water flushing or movement.
Other features:
F

lexible 3mm neoprene with 2mm at the joints for ease of movement

Back zip fastener with stop 

Neoprene collar 

Stretch neck flap with a velcro pad

Rolled easy fit edges 

Men's and women's versions and 5mm and 7mm models available
This model is very well made, warm and comfortable for a low priced wetsuit.  It is rated highly for fit and range of motion with pre-curved elbows and a high-stretch panel on the lower back.  Wrist and ankle zippers make donning and doffing easy and rubbery shoulder appliques help keep the BCD straps from moving around.
Other features:
Comfortable high-grade neoprene hugs your body and moves with you

Super-stretch panels in the armpits and lower back maximize flexibility

Shoulder appliques provide extra durability for scuba diving with a BCD

Lower-leg sleeves feature compression material

to improve blood circulation

Waffle pattern knee pads protect from abrasion
Suitable for men and women
Comes in 3mm, 5mm and 7mm models
For the environmentally conscious, Akona has developed a sort of "green" limestone-based neoprene and a four-way stretch nylon weave suitable for the harsher elements of diving.  Add to this a unique lamination process that has combined the two to produce one of the most comfortable and best-fitting of wetsuits. The extremely flexible material, cut from design to fit multiple divers and a smooth lining material makes this wetsuit easy to put on and take off.
Other features:
Environmentally friendly limestone-based neoprene rubber design

Effectively designed neck and cuff seals
Rubbery kneepads provide abrasion protection and non-slip traction
Full-length zipper back zipper
Men's and women's versions and 3mm, 5mm and 7mm models available
For more information concerning thermal protection and cold water gear, please check these reviews:
Comments and Feedback
I hope you found this post on wetsuits interesting and useful. If you have any questions or ideas, please feel free to share them in the comments section.  If there is no comments section directly below, click here:>>comments<<