We may earn money or products from the companies mentioned in this post.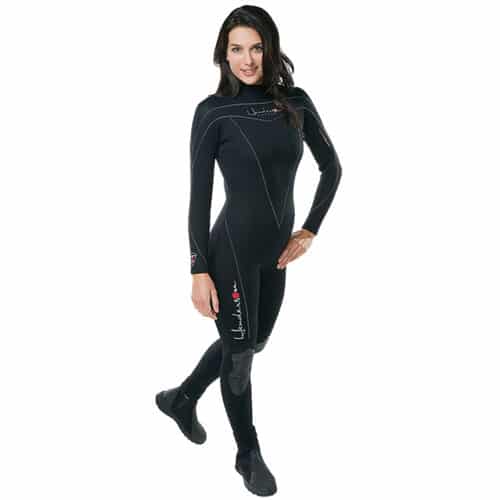 Protection from the elements, whether it be the temperature, stingers, or abrasions, is a key to having a safe and comfortable dive.  A wetsuit plays a major role in this for everyone.  With their size and anatomical differences to men, women command special consideration in the design of one that conforms to their needs.  Selecting a standard men's suit probably won't do it and certainly, the worn suits available for rent are meant for the general public and may not afford a reasonable fit.  This review is meant to help you select the best wetsuit designed for a woman's needs in the differing climates and diving environments that might be encountered.
Best Wetsuits for Women Buying Guide
For a detailed introduction and key considerations when selecting a wetsuit complete with photos and video, please click here:
Below is a detailed description and comparison of the best wetsuits for women of 2019.  For each wetsuit key features and benefits are outlined.  At the end is a comparison chart.
Best Wetsuits for Women
This is a very popular, best selling model that comes in many configurations and thicknesses, with men's and women's versions made of flexible and durable nylon II high stretch neoprene.  It has high-quality materials, design, and construction, but at a reasonable price.  The Thermoprene has a contoured fit to keep water exchange to a minimum allowing an attractive optimal fit.
Key Features:
High-quality Nylon II Neoprene: 75% more stretch than standard wetsuit material
GBS-Glued and blind stitched seams
Adjustable collar
Comes in back and front zip models
Durable knee pads
Lycra-trimmed cuffs
Spine pad for added warmth and protection
Available in multiple sizes including short and tall versions
3mm, 5mm, and 7mm thicknesses available
Moderately priced
This very affordable warm water wetsuit comes with a frontal zip for easy on and off and a great stretchy second-skin feel.  Double-lined neoprene provides balanced insulation and reinforced shins and knees give added protection from bumps and scrapes.
Key Features:
Double-lined stretchy neoprene
Flatlock seams
Easy to reach front zip
Aquastop wrist and ankle seals
Reinforced shins and knees
Available in a full range of sizes and 2.5 and 3mm thicknesses
Low priced
The Bare Evoke is designed by women to ensure that features suit women's special anatomical needs.  High-tech infrared technology was used to develop an extra warm material with many features added to create a good fitting wetsuit for all sizes.
Key Features:
Designed by women using infrared technology for extra warmth
Blindstitched seams
Adjustable Velcro neck seal
Celiant lining
Armor Flex 2.0 3D kneepads
Back zip with long zippers along the back, neck, and ankles
Available in a full range of sizes and 3, 5, and 7mm thicknesses
Expensive
Aqua Lung Solafx


This is Aqua Lung's most advanced wetsuit with 8mm torso and 7mm arms and legs with an integrated hood for extra core and head warmth.  The unique design is specially tailored for women and maximum comfort.
Key Features:
Made of environmentally friendly non-PAH (Polycyclic Aromatic Hydrocarbons) neoprene
Outer nylon resistant to scrapes and snags
Blindstitched liquid fused seams
Padded spine, attached hood with vents
Internal arm and leg cuffs
Powertex knee pads
Pre-bent anatomic arms and legs for a comfortable fit and reduced bunching of material at the joints
Back zip with long zippers along the back, neck, and ankles
Available in a full range of sizes and 8/7mm thickness
Very expensive
Scubapro Element 2 Piece Apnea
The Element two-piece wetsuit has no zippers minimizing seepage and making it easy to put on and take off.  The beavertail is adjustable and the high-stretch neoprene is extra flexible for ease of movement
Key Features:
Two-piece hooded construction with high-waist pants and hooded beavertail vest
Made of environmentally friendly non-PAH (Polycyclic Aromatic Hydrocarbons) neoprene
Sharkskin textured neoprene is hydrodynamic, durable, and high-stretch
Thicker neoprene coverage in the midsection increases core warmth while thinner coverage on arms and legs maximizes mobility and flexibility
Smooth-skin face seal on the hood decreases water seepage to help maintain body heat
Available in a full range of sizes and 3mm thickness
Moderately expensive
This comfortable attractive shorty uses three types of neoprene for maximum strength, warmth, and durability in tropical water.
Key Features:
One-piece differentiated neoprene construction – body of fluid foam, chest and back of mesh smooth skin
Dry neck seal of smooth skin fluid foam
Flatlock stitching
Hook and loop zipper closure on YKK back zip
Hidden key pocket
5 color combinations
Available in a full range of sizes and 2mm thickness
Low priced
The Definition uses premium materials implementing the Body Map System using a 3D cut to create an excellent form fit to a woman's anatomy.  Scubapro's environmentally green X-foam is light yet has great thermal efficiency.  The combination of zippers and abrasion-resistant fabric makes for a comfortable, durable suit easy to put on and take off.
Key Features:
Interior lining of infrared fleece for extra thermal insulation
Back diagonal zipper
Wrists and ankles have zipper seals
Special abrasion-resistant material on shoulders, seat, elbows, and knees
Spine pad
Available in a range of sizes and 3 and 5mm thicknesses
Moderately priced
The Flexa uses different thicknesses of neoprene on different parts of the body to provide maximum thermal protection and padding where it is most needed and thinner material where flexibility is the priority, keeping in mind the female anatomy.
Key Features:
Ultra-stretch neoprene
Thermo plush interior
Back zipper with smooth neoprene flap
Velcro neck closure
Knee pads and back padding under the tank
Available in a range of sizes and 5/4/3mm thickness
Moderately expensive
| Picture | Wetsuit | Thickness | Best Suited For | Rating | Price |
| --- | --- | --- | --- | --- | --- |
| | Henderson Thermoprene | 3, 5, 7mm | All | 4.4 | $$ |
| | Cressi Bahia | 2.5, 3mm | Tropical | 4.5 | $ |
| | Bare Evoke | 3, 5, 7mm | All | 4.8 | $$$ |
| | Aqua Lung Solafx | 8/7mm | Cold/Semi-Dry | 5 | $$$$ |
| | Scubapro Element 2 Piece Apnea | 3mm | Tropical to Moderate | 4.7 | $$$ |
| | O'Neill Reactor Shorty | 2mm | Tropical | 4.3 | $ |
| | Scubapro Definition Steamer | 3, 5mm | Tropical to Moderate | 4.6 | $$ |
| | Mares Flexa | 5/4/3mm | Moderate | 4.7 | $$$ |
| Picture | Wetsuit | Thickness | Best Suited For | Rating | Price |
For more information concerning thermal protection and cold water gear, please check these reviews:
Comments and Feedback
I hope you found this post on the best wetsuits for women interesting and useful. If you have any questions or ideas, please feel free to share them in the comments section.  If there is no comments section directly below, click here:  >>comments<<