We may earn money or products from the companies mentioned in this post.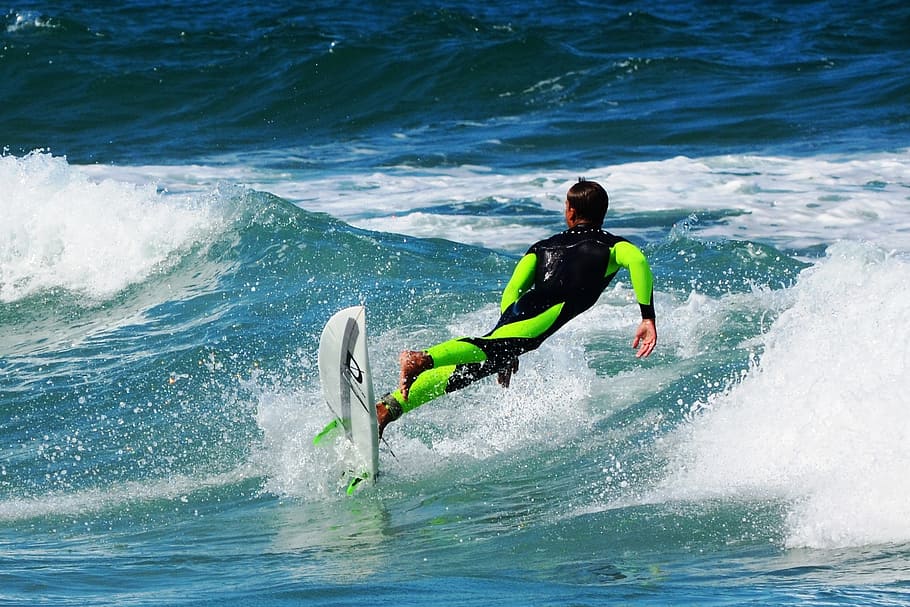 When you go surfing you need to be prepared to safely face the elements.  Keeping your body warm goes a long way toward functioning at your physical best to meet the challenge and minimize the risk of injury or some other medical condition due to hypothermia.
A good fitting wetsuit with the appropriate level of thermal protection and flexibility can keep you comfortable, warm, and able to perform at your best.
To help you sort through the vast array of surfing wetsuits on the market, some of the best models with a variety of features have been selected to introduce to you.  Included is a description with key specifications, photos, and videos followed by a comparison table, buying guide, and tips on maintenance.
If you have any questions or concerns, please let me know in the comments section at the bottom.
Best Surfing Wetsuits of 2020
Seavenger Navigator 3mm Shorty Surfing Wetsuit
The Seavenger Navigator Shorty is an excellent, low-priced, comfortable wetsuit for warm-water surfing and other water sports.  The separate designs for men and women use stretchy, durable Nylon II neoprene and smooth flex-lock stitching that conforms well to the body without irritation.  Stretchy armpit panels ensure flexibility for surfing and padding on the shoulders make the Navigator suitable for scuba diving, as well.  For water temperatures 65° F (18° C) and up this is a great option without breaking the bank.
Premium 3mm Nylon II neoprene
Flex-lock stitching for smooth irritation-free seams
Flexible armpit panels
Anti-abrasion shoulder panels (good for scuba diving with a BCD)
YKK #10 back zipper with an extra-long leash
Full range of men's and women's sizes
Low price
O'Neill Men's Reactor 3/2mm Surfing Wetsuit
The Reactor full body surfing wetsuit from the iconic brand, O'Neill, is a comfortable, highly functional entry-level model.  It has flatlock, no rash seams and the company's trademarked combination of nylon, spandex, and neoprene in the sleeves and shoulders that is stretchy and comfortable.  A super seal neck and cuffs effectively minimize water flow and a padded front and knees prevent abrasion in vulnerable areas. The 3/2mm configuration is great for moderate temperatures (55-75° F or 13-24° C) for all levels of surfer and for other board sports, kayaking, and jet-skiing.
Premium 3/2mm neoprene
Flatlock stitched, overlapping, no-rash seams
Krypto Knee Padz
FluidFlex (combination of nylon, spandex, and neoprene) shoulders and sleeves
Sealing neck and cuffs
Padded front
YKK back zipper
8 color combinations
Full range of men's sizes including short and tall versions
Moderate price
Billabong Furnace Absolute X 3/2mm Chest Zip Surfing Wetsuit
Like all Billabong wetsuits, the Furnace Absolute X is made from a limestone-based neoprene that also uses upcycled tires at a 30% level.  Aside from that, the feature that most stands out is the Furnace Graphene lining in the front and back panels that is exceptionally durable and around 10% more heat retentive.  The seams, too, are sturdy of glued, blindstitched, and welded construction.  It has a stretchy silicone lining for a comfortable fit and includes knee pads and an easy on and off dislocating chest zip entry.  The technology put into this surfing wetsuit is groundbreaking and yet the pricing is pretty reasonable.
3/2mm light foam construction using 30% upcycled tires and limestone-based neoprene
Proprietary Furnace Graphene lining in front and back panels
Silicon stretch lining
Knee pads
Glued and blindstitched seams with external welding and tape on high wear areas
Dislocating chest zip entry
Also comes in 5/4mm version
Range of 10 men's sizes from S to XL
Moderate pricing
Lemorecn Premium 3mm Shorty Surfing Wetsuit
The Lemorcn Premium 3mm Shorty is a good quality model, especially for the price.  With a form-fitting design of comfortable stretchy neoprene in a complete size range of men's and women's models, it has durable flatlock stitching and an easy to use YKK back zipper with a long leash.  Great for water temps of 65° F (18° C) on up, it will do the job for surfing and other water sports.
3mm neoprene construction
Anatomical design
Flatlock stitching
YKK back zipper with a long leash
6 men's sizes from S to XXXL, 6 women's sizes from 4 to 14
Low pricing
See Customer Feedback
O'Neill Hyperfreak 3/2+mm Chest Zip Full Surfing Wetsuit
The O'Neill Hyperfreak 3/2+mm surfing wetsuit is a high-quality model that is extra warm and comfortable.  The TechnoButter neoprene is actually an extra .5mm thick and the top section has been pre-stretched for superb flexibility in the arms and shoulders.  With the best cross-chest zipper on the market, glued, blindstitched, fully taped irritation-free seams, and a double-sealed collar, the internal water flow is minimal.  Aside from this men's version, women's and kid's models are also available in a wide range of sizes and in several thicknesses. Pricing is middle-ranged and it comes with a 1-year warranty.
3/2+mm light TechnoButter neoprene (.5mm thicker, thus the +)
TB3X pre-stretched neoprene in the top section, TB3 neoprene in the rest
Solvent-free neoprene lamination
Chest zipper
Minimal seam design that is glued, blindstitched and fully taped on the inside
Seamless paddle zone
Double-seal collar
Drainage holes in the arms, back, and inside
External key pocket and loop
Also comes in men's, women's, and kids 5/4mm, 4/3mm, and 3/2mm models
Comes in 4 different black color versions
Range of 11 men's sizes from XS to XXL
1-year warranty
Quiksilver Syncro 3/2mm Chest Zip Full GBS Surfing Wetsuit
The Quiksilver Syncro 3/2 mm Men's Chest Zip Surfing Wetsuit is an entry-level model in the iconic company's line.  Made of comfortable and flexible neoprene with a thermal lining for extra warmth, it is recommended for a water temperature range of 56- 64°F (13- 18°C).  It has quality GBS construction, a good sealing chest entry, and drainage holes that add up to good heat retention and a comfortable fit.  13 men's sizes are available for this model.  The Syncro line also has a number of configurations with some designed for women.  Pricing is very reasonable.
3/2mm StretchFlight limestone derived neoprene
Vapor Stretch back panel with WarmFlight X1 far-infrared thermal lining
GBS (glued and blind stitched seams) with seam taping in critical areas
Durable, flexible knee pads
Drainage holes
Chest entry with PK#8 plastic zipper
Comes in 3 dark color combinations
Range of 13 men's sizes from S to XXL
Rip Curl Dawn Patrol Back Zip 4/3mm Surfing Wetsuit
The Dawn Patrol sits in the middle of the great Rip Curl line of surfing wetsuits.  It's durable enough to last several seasons and is comfortable, flexible, warm, and quick-drying.  Recently upgraded, this model has top-flight lightweight, stretchy E5 neoprene, and E4 Thermoflex lining (a combination of E4 neoprene and thermal lining).  E5 Flashdry Lining effectively drains and adds warmth especially to the front torso, legs, and back and is quick drying.  This model comes with back zip, but in the Dawn Patrol line chest zip is also available as are 5/4mm and 3/2mm thicknesses.  This model comes in black or blue in 13 sizes.  Pricing is quite reasonable.
4/3mm E5 premium high-stretch, lightweight neoprene
E4 Thermoflex thermal lining
Glued and blind stitched with high-stress points internally taped
Flashdry lining from the chest through knees in the front and on the back
Double-lined throughout
Supple neck seal and small storage pocket
Back zip
Comes in black or blue
Also available in 5/4mm, 4/3mm, and 3/2mm with back or front zipper
Range of 13 men's sizes from S to XXL
Xcel Drylock X 5/4 Hooded Surfing Wetsuit
The Xcel Drylock X 5/4mm Hooded Surfing Wetsuit is a high-priced premium-grade suit for when you want to surf in water from 38-53°F (3-12°C).  Made with eco-conscious Japanese limestone neoprene, warm high-pile lining, and quality construction with triple-gluing, blind-stitching, and FusionX taping, this is a super-warm and comfortable wetsuit.  Chest entry is facilitated by a magnetic zip enclosure, glide skin collar, and two-part smoothskin seal for complete closure.  To top it off there are wrist and ankle seals.  The manufacturer produces this suit in a range of 12 sizes.  Other thicknesses and hoodless models are also available.
5/4mm Nanoprene light Japanese limestone neoprene construction
Full suit with hood
Celiant high pile lining from chest to knees on the interior
Triple-glued, blind-stitched seams with FusionX taping
Back-knee flex grooves
Easy entry waterproof chest zipper with magnetic zip enclosure and two-part smoothskin seal
Glide skin collar
Ankle and wrist seals
Comes in black only
Rip Curl Flashbomb Heatseeker 3/2 Zip Free Surfing Wetsuit
The Rip Curl Flashbomb Heatseeker 3/2mm Zip Free Surfing Wetsuit is considered the Rolls Royce of wetsuits by many.  It is loaded with technological innovation in warmth and flexibility.  The E5 neoprene is light and stretchy and the heatseeker lining, Liquid Mesh, and Thermo Shield panels keep you exceptionally warm.  Add in the glued and blind-stitched construction with stress point taping, a zipperless entry, and quality seals and it's an unparalleled package.  The pricing is high, but competitive with top of the range wetsuits.
3/2mm top quality E5 neoprene, 20% lighter, 30% stretchier
Flex energy heatseeker lining throughout (heats up when the body moves)
E5 flash lining tape, flexible and fast-drying
Extra flexible Liquid Mesh smooth skin panels on chest, back, shoulders, and shoulder blades
Thermo Shield panels on arms to cut wind chill
Glued and blind-stitched, stress point taping
Zipless entry
Key pocket
Available with chest zip and in 4/3mm and 6/4mm models
Range of 6 sizes
Best Surfing Wetsuits of 2020 Comparison Table
| Wetsuit | Picture | Thickness | Style | Rating | Price |
| --- | --- | --- | --- | --- | --- |
| Wetsuit | Picture | Thickness | Style | Rating | Price |
| Seavenger Navigator 3mm Shorty Surfing Wetsuit | | 3mm | Men's & Women's Shorty | 4.5 | $ |
| O'Neill Men's Reactor 3/2mm Surfing Wetsuit | | 3/2mm | Men's Full | 4.5 | $$ |
| Billabong Furnace Absolute X 3/2mm Chest Zip Surfing Wetsuit | | 3/2mm | Men's Full | 4.8 | $$ |
| Lemorecn Premium 3mm Shorty Surfing Wetsuit | | 3mm | Men's & Women's Shorty | 4.4 | $ |
| O'Neill Hyperfreak 3/2+mm Chest Zip Full Surfing Wetsuit | | 3/2+mm | Men's Full | 4.9 | $$$ |
| Quiksilver Syncro 3/2mm Chest Zip Full GBS Surfing Wetsuit | | 3/2mm | Men's Full | 4.7 | $$ |
| Rip Curl Dawn Patrol Back Zip 4/3mm Surfing Wetsuit | | 4/3mm | Men's Full | 4.8 | $$ |
| Xcel Drylock X 5/4 Hooded Surfing Wetsuit | | 5/4mm | Men's Full Hooded | 4.9 | $$$$ |
| Rip Curl Flashbomb Heatseeker 3/2 Zip Free Surfing Wetsuit | | 3/2mm | Men's Full | 5 | $$$$ |
Best Surfing Wetsuits of 2020 Buying Guide
Fit – The wetsuit needs to be the right size or you can have serious problems.  If it is too small it can restrict movement and be irritating or uncomfortable.  Wetsuits that are too large can leak or have significant water movement inside and you'll become cold.  The best bet is to try on some suits to have a concrete idea of the size that will fit you best.  Otherwise, you can check the manufacturer's information online or buyer feedback to see if there are any issues or size considerations.
Durability – The surf, sun, and bottom structure can inflict a lot of stress on a wetsuit all the more so if you are serious, surf frequently, and hope to keep your suit performing for several years.  Choose a wetsuit that not only has the correct thickness for the water temperature but is otherwise made of quality materials and is well constructed, especially regarding the seams.  There are several technologies in use, but generally speaking, flat-lock taped seams are the sturdiest.  Check customer feedback for questions of quality and durability.
Seals at your neck, wrist, and ankles need to effectively keep outside water out.  The best are flexible and comfortable and in some cases adjustable for the best fit.
Materials – Neoprene is the standard foundational material for wetsuits due to its flexibility, porosity, and relatively low price.  New versions are continuously developed with increased flexibility and durability.  Materials used on the surface and lining often include a combination of substances including nylon and natural fibers that are likewise flexible and add to the comfort and functionality.
Flexibility – Freedom of movement is required to surf most effectively.  You rely on reflexes and fluid body movement to control and manipulate the board while maintaining balance.  A flexible wetsuit that behaves like your skin without restriction is the target.
Brands – Everything else aside, if you see two wetsuits with roughly the same features and materials, chances are the brand name suit will be more reliable.  The company will have a history of performance, research, and buyer feedback that have made them popular.
Price – Decent to excellent surfing wetsuits can be purchased from $30 to over $600.  Shorties will be at the bottom end due to lower quantities of thinner material used than full-length models.  As the thickness increases, as well as advanced materials and features, the price goes up.  You'll need to evaluate how much you want to spend based on the conditions and temperature you will experience, your capability level, and frequency that you intend to surf.  Is surfing a lifestyle for you or an occasional recreational outlet?  If you surf every day and plan to for the foreseeable future, you already know the value in a top-quality wetsuit.
Care & Maintenance of Wetsuits
For more information concerning thermal protection and cold water gear, please check these reviews:
Feedback and Comments
I hope you found this post on surfing wetsuits interesting and useful. If you have any questions or ideas, please feel free to share them in the comments section.  If there is no comments section directly below, click here:  >>comments<<