This photo of St-Barth Plongee – Birdy Dive Center is courtesy of TripAdvisor
Updated June 16, 2021
This is the one hundred and ninety-fourth in a series of reviews of the best diving destinations around the world.  In this post, the focus is on St. Barts.  In addition to this series on diving destinations, the best worldwide liveaboard diving locations and services are reviewed in their own series.  To check them out, or others in this series, click on Liveaboards/Resorts on the menu at the top and choose a title from the list.
Have you ever been scuba diving in St. Barts before?  If so, I'd love to know about your experience.  What dive shop or liveaboard did you use?  Which dive spots are the best and what are the conditions there regarding the visibility, current, water temperature, sealife attractions, etc.?  Please post your response in the comments section at the bottom and we'll all learn something we can use.
Scuba Diving St. Barts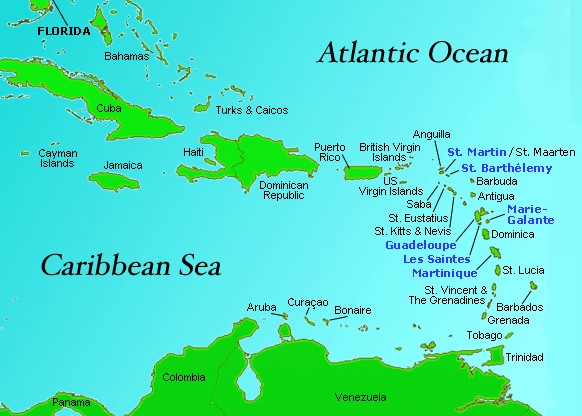 Background
St. Barts (to many English speakers), otherwise known as St. Barthelemy, St. Barths, or St. Barth, is an overseas collectivity of France made up of the main island of 25 square kilometers (9.7 square miles) and a number of small islands and islets.
Situated to the northeast of the tiny Dutch islands of St. Eustatius and Saba, and 35 kilometers (22 miles) southeast of the larger Dutch Sint Martin, it is volcanic in origin with rocky hills and valleys, a high point of 286 meters (938 feet) at Morne de Vitet, more than two dozen white-sand beaches, and shallow fringing reefs.  There is substantial bird life with pelicans, egrets, and herons, nesting leatherback, green, and hawksbill turtles, and dolphins, porpoises, and whales (December through May) in the surrounding seas.
When Columbus got his first look at St, Barts in 1493, the islands were frequented by Taino and Arawak peoples.  Hindered by a poor supply of water and attacking Caribs, the French began colonization in the 17th century.  Although the 18th century in St. Barts was dominated by the Swedish, the French have been the major power and influence over the centuries with African slavery in play up until 1847.
Upon the completion of its airport, the 1960s and 70s saw major development of tourism led by David Rockefeller, who established an estate, and numerous other celebrities including Howard Hughes, Greta Garbo, and more recent stars like Jimmy Buffet, Lorne Michaels, Steve Martin, Chevy Chase, and a number of others making St. Barts a major home away from home.  Today there is a resident population of around 10,000 with more than 200,000 visitors annually.  The economy is fueled by sophisticated international lifestyles, the high-end luxury tourist market, and duty-free retail.
Gustavia, the capital, is a comfortable modern city but there are still some more traditional villages and beautiful landscapes intact.  French customs and language are the norms though there is some use of English as the main language in a residential section of Gustavia, with Creole French spoken by some on the east windward side and French Patois on the west leeward side.
For more historical, cultural, geographic, and demographic information, please check Wikipedia-Saint Barthelemy.
Undersea World
Most of the diving in St. Barts takes place on 22 sites of the Marine Reserve established in 1996 where they have rules including no touch, no gloves, no feeding, no fishing, and no anchoring.  Most of the sites are on the leeward side within 5 minutes boat-ride of Gustavia.  There are also a number of locations on the northern and southern sides that generally take 30 minutes or less to reach.
Many shallow sites are on fringing reefs but there is a variety of topography including walls, canyons, swim-throughs, caverns, and volcanic rocky structures.  Several sites are situated around small islets and there are also several wrecks.
The reefs are typically quite healthy and diverse with hard and soft corals, gorgonians, encrusting, tube, and barrel sponges, and a variety of other invertebrates like urchins, anemones, and sea cucumbers.  There is an abundance of spiny lobsters, moray eels, Caribbean reef tropicals, and highlights like tarpon, stingrays, eagle rays, barracuda, groupers, nurse and reef sharks, along with dolphins, porpoises, and whales that migrate through from December through May.  Turtles are common with the nesting of leatherback, green, and hawksbill turtles taking place on St. Barts beaches.
Seasons and Conditions
Diving is possible all year in St. Barts.
Air temperature always stays warm with average daily highs that range from 32°C (90°F) from June through September to 29°C (84°F) from January through March.
The water temperature likewise stays pretty warm ranging from is 26°C (79°F) in February to 29°C (84°F) from August through October.  A 3mm full wetsuit or shorty will be sufficient for most divers when the water is at its coolest.
It rains some all year with the strongest from October through January.  Hurricane possibilities are greatest from June through November.  However, rains don't often interfere with diving for long.
Currents are generally mild but variable based on location and conditions.
Visibility is usually quite good at 20-40 meters (680-130 feet).  During the rainy season, it may dip out of that range.
There is diving suitable for all levels around St. Barts.  Several dive shops are in operation offering a range of PADI coursework, equipment rental, guiding, and boat cruises.  Pricing tends to be high making liveaboards a bargain.  Unfortunately, there is no liveaboard specifically sailing to St. Barts.
Nearby Caribbean Liveaboards
There is one excellent liveaboard yacht that cruises nearby Saba and St. Kitts.  Here is my review and links to the vessel: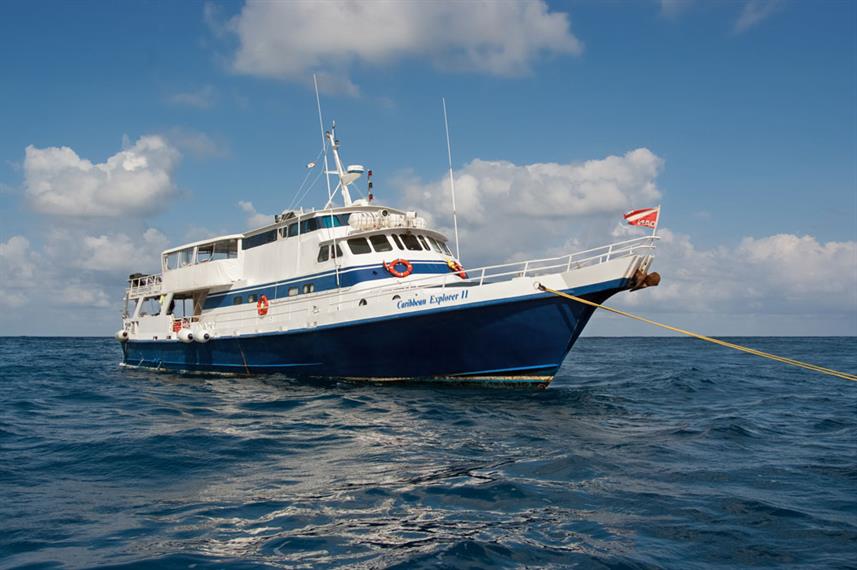 MV Caribbean Explorer II, St Kitts & Saba Liveaboard Diving – Check the Price & Details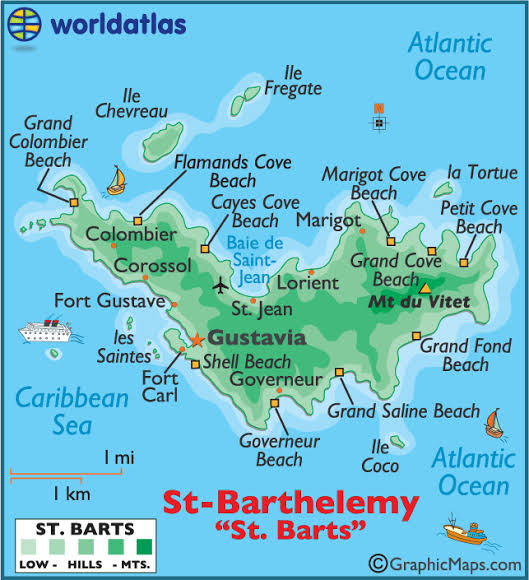 Selected St. Barts Dive Sites
Coco Islands Caves: 6-25 meters (20-82 feet), off the southern coast, several possible dive sites on a shallow flat area with lots of hard corals including staghorn, descending to a couple of caves and a swim-through tunnel rich with encrusting corals, and sponges, highlights include turtles, stingrays, and sharks, strong currents are possible around the caves, suitable for experienced levels
Pain de Sucre (Sugar Loaf): 28 meters (92 feet) maximum depth, several sites to the west of Gustavia, gentle slope with a variety of corals and sponges, keep alert for spiny lobsters, schools of barracuda, turtles, nurse and reef sharks, eagle rays, and big-eye jacks, suitable for all levels (check out the video below)
Tombant de Colombier (Colombier Wall): 27 meters (90 feet), to the northwest, wall with rich invertebrate life including gorgonians and barrel sponges, look for spiny lobsters in the nooks, lots of reef tropicals, angelfish, jacks, tarpons, eagle rays, and sharks, strong current is possible, suitable for experienced levels
Ile Fourchue: 15 meters (50 feet), halfway to St. Martin 30 minutes away, rich coral reef, lots of fish and macro critters, look for turtles, barracuda, stingrays, and the occasional dolphin, drift dive, suitable for all levels
L'Ane Rouge (Red Donkey): 25 meters (82 feet) maximum depth, northwest site, rocky pinnacle with a sandy bottom, moderate current attracts barracudas and eagle rays, look for turtles and stingrays in the sand, suitable for experienced levels
Kayalie Wreck: 30 meters (100 feet), old fishing boat with penetration opportunities, look for rays and turtles, suitable for experienced levels
Nonstop Wreck: 15 meters (50 feet), lies to the east of La Baleine, 61-meter (200-foot) yacht that sank in 1989 during Hurricane Hugo, rests upside down with the superstructure crushed, not safe to penetrate, lots of hard and soft coral encrustation on the steel hull and a variety of reef fish, suitable for all levels
St. Barts Hotels, Transportation, and Dive Shops
Transportation
Air – Gustaf III Airport on the north side of St. Barts has a very short runway and connects to a number of other Caribbean Island airports in small aircraft suitable to the task.  San Juan, St. Martin, Guadeloupe, and Antigua all make the connection to St. Barts.
Ferries – Great Bay Express has morning and evening departures 5 days a week connecting to Marigo in St. Martin for a 75-minute journey.  "The Edge" is a higher speed ferry making the trip between Pelican Marina from St. Martin's Dutch side to Gustavia on 45-minute trips departing at 9 am.
Yacht Service – Windward Islands, a yacht charter company, offers services in St. Barts, St. Martin, and Guadeloupe.
Private Yachts have anchorage areas available in St. Barts through the Harbour Master.
Taxi service is can be obtained at stations in Gustavia and the airport.
Car Rental – Numerous agencies operate from the airport and in Gustavia.
Scooters, motorbikes, quads, and ATVs are also for rent by a number of companies.
The island is small enough and safe enough that walking to many places and around town is feasible and preferable.
For further details and contact information concerning transportation and subjects of interest to a tourist, please check Wikitravel-Saint Barthelemy.
Hotels and Dive Shops
There are several dive shops in St. Barts offering full services including equipment rental, PADI dive courses, guiding, and boat dive cruises.  Trips can be arranged to sites around Saba by at least one dive shop.  The lodging options are limited and tend to be fairly expensive.  From December to April it is usually fully booked.
The website linked below has the details and can arrange the reservations for accommodations.  You can easily find the location on the map provided on that site.  Their rates are guaranteed to be the lowest and it is free to cancel or change dates.
Things to do in St. Barts (aside from scuba diving)
Although the airport only handles small aircraft due to the length of the runway and conditions for landing and take-off, St. Barts is a luxury resort island catering to jet-setters.  There is an array of beautiful beaches and seaside activities, high-end lodging, restaurants, entertainment, and nightlife, as well as some historical and cultural sights to enjoy.  Here are some to consider:
Baie de St-Jean (windsurfing, snorkeling), Anse des Flamands, Gustavia (entertainment, shopping, nightlife), Fort Gustave, Fort Karl, Walt House Museum, Anse de Grand Cul de Sac (kayaking, windsurfing, kite surfing, fly fishing), Anse de Colombier (quiet), Anse de Grande Saline (nude), Anse de Gouverneur, Nikki Beach Saint Barth (restaurant), Shell Beach, Lorient (village), Anse des Flamands, Corossol (fishing village, with a beach and Inter Oceans Museum), Toiny Coast, Anse de Petit Cul de Sac, Anse des Cayes, St. Barts' Film Festival (January), Carnival (February), Tennis, Volleyball, Hiking, Horseback Riding, Jet Skiing.
Photography in St. Barts
With the colorful corals and encrusting life, gorgonians, macro critters, schools of fish, southern stingrays, eagle rays, reef sharks, turtles, shipwrecks, and fascinating scenes on land, as well, there are many excellent photo opportunities.  For information and reviews of dive cameras, click here:
Scuba Diving Trip Insurance
A cushion for emergencies provides peace of mind when on vacation.  I recommend this diving insurance as they have worldwide coverage and provide scuba divers quality insurance and medical assistance service.
Feedback and Comments
I hope you found this post on scuba diving in St. Barts interesting and useful. If you have any questions or ideas, please feel free to share them in the comments section.  I'd love to know of any experience you have.  If there is no comments section directly below, click here:  >>comments<<