We may earn money or products from the companies mentioned in this post.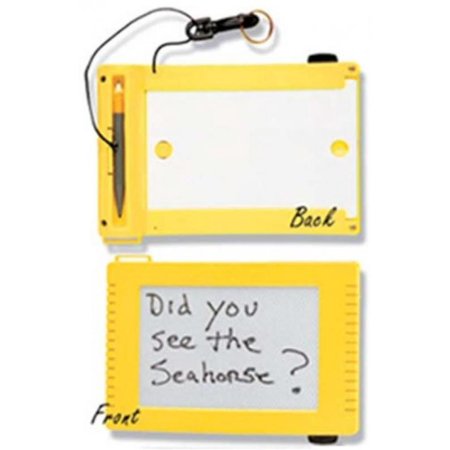 Effective communication underwater is essential in maintaining safety and fulfilling your role as a buddy, dive guide, or instructor.  The hand signals we all learn early on in training are excellent but obviously limited.  Some divers opt for full-faced masks so that talking is possible and with the right equipment to the surface as well.  Short of that and much more cost-effective is the use of underwater slates.  Slates enable articulation between divers to reach a much higher level.  Otherwise, they allow notes and record-keeping useful for research, navigation, and instruction that greatly enhance the experience.
Below a number of the best underwater slates are described that have a variety of features to consider that may best suit your needs as a diver.
Which is the Best Scuba Diving Slate?
Promate 3 Layer Underwater Writing Slate
Ergonomic wrist attachment
3 multi-level slates and 5 writing surfaces
Secure fastening with a Velcro wrist strap
Pencil with a leash and holster
Extra pencil and O-rings included
4" x 4"
Low priced
Durable woven ballistic nylon cover with 2250D PU coating
The inner and outer back cover has clear window pockets for storage of dive tables, checklists, etc.
Elastic pencil holder inside front cover, graphite pencil and leash are included
D-ring for attachment
Wraparound bungee cord secures closure
8" x 10" open, 8" x 5" closed
Scrolling slate with 2¼" x 3½" writing area
Worn on the wrist or attached to the BCD with a retractable lanyard
Holds up to 8 feet of paper-like phosphorescent vellum wrapped over two spindles
Glows in the dark after shining your light on it
Comes with 5 feet of blank vellum, Velcro wrist strap, and graphite pencil
Trident Instructor Size Underwater Writing Dive Slate
Waterproof slate in four sizes (8" x 10", 6" x 8", 4" x 6", 2" x 4")
Replaceable graphite pencil attached to the slate with a surgical tubing leash
The pencil fits into clips molded in the surface
Low priced
Innovative Scuba Concepts Quest Underwater Slate
Sturdy patented magnetic design allows you to write, then erase by pushing a thumb button, then write again
Includes slate, stylus, split ring, swivel clip, and holster
Screen designed for maximum contrast for easy visibility at depth
6" x 8.5"
Xit 404 Underwater Writing Slate – Aqua Pencil Kit
Kit contains slate, pencil, lead pack, underwater eraser, and tether

Includes a basket to place the tip in and a snap-on holder for the pen

Pen available in green, yellow, pink, blue, orange, and red

4" x 6"
Innovative Scuba Concepts Scuba Diving Slate, Super Pencil
Comes in multi-page or single-page models
Includes super pencil, single or multi-page slate, clip, and pencil with lanyard
Fits in BCD pocket
5" x 6.25"
Palantic Scuba Dive Writing Slate with Compass and Pencil
Quality glow-in-the-dark, detachable 1" x 2-3/8" compass
6" x 7-3/8" slate
2" replaceable pencil with a leash
Easy to use removable clip
IST Compass Mounted Wrist Slate with Retractor
Long, thin slate with a compass mounted
Pencil with a leash
Quality compass with ratchet and lubber line across the top
Retractor clips to BCD
2.8" x 8"
Promate Scuba Dive Underwater Writing Slate
Pencil with a safety leash and holder
Clip to attach the slate
Glow in the dark and compass models optional
5" x 6"
Low priced
Types of Scuba Diving Slate
A scuba diving slate at its simplest is a sheet or board, usually made of plastic that you can write or draw on and the markings will remain until erased or removed.  A variation is wet notes, which is a notebook of waterproof paper with the same function.
Basic – The simplest models consist of a rectangular usually plastic material that can be attached to your equipment, most often the BCD, or stored in its pocket.  The writing implement, often a graphite pencil, is attached to it with some sort of line.  The slate can have a clip attachment, retractable line, and/or a compass.
Wrist – Some designs enable the slate or multiple slates to be strapped to the wrist using Velcro.  This makes it easily available for use and provides a stable platform to write against.
Waterproof Notebooks use thinner waterproof paper where it is possible to keep many pages of detailed notes, drawings, observations, etc.  These are usually bulkier than a slate but designed to be small enough to easily clip to your equipment or place in a BCD pocket.
Budget – The most basic slates are quite reasonably priced, some under $10.  When you start to add features like clips, retractable line, specialized pencils, magnetization, compasses, etc., the cost starts to mount.  You'll have to decide just what you need the slate for and what kind of note-taking or communication you have in mind.
Cleaning – The type of slate you have will determine the best method for cleaning.  Some are designed to be cleaned by rubbing, others with a normal or specialized eraser.  Underwater it may not be easy to clear the writing but on the surface, most of the plastic surfaces will clean easily.  Often alcohol will quickly do the job.  Magnetic designs, of course, get around this completely with the built-in clearing mechanism.
Feedback and Comments
I hope you found this post on scuba diving slates interesting and useful. If you have any questions or ideas, please feel free to share them in the comments section.  If there is no comments section directly below, click here:  >>comments<<