This is the twentieth in a series which introduces and describes the various dive services and sites for worldwide liveaboard dive safaris.  The focus in this one is on Madagascar liveaboards.
In addition to this liveaboard series, the best worldwide dive resort locations and services are reviewed in their own series.  To check them out, or other liveaboards, click on Liveaboards/Resorts on the menu at top and choose a title.
Madagascar Scuba Diving
The scuba diving of world renown on Madagascar takes place around Cosy Be in the far northwest coastal area.  Although Cosy Be is a relatively thriving metropolis with a number of dive shops and dozens of hotels, most of the islands are sparsely inhabited by people who have remained fairly true to their original cultural values without many outward signs of westernization.  The reefs are rich and well preserved and spread a fair distance to the north and south of Cosy Be.
The two liveaboards operating in the area both run cruises to the south to the Radames Archipelago, which consists of 4 main islands. On land there are idyllic sandy beaches, tropical vegetation and small traditional fishing villages.  The seascape in the Mozambique Channel where the archipelago is situated is typified by beautiful, pristine hard and soft corals with diverse marine life.  The dive sites are all located within a few minutes of the islands and range in depth from 12 to 80 m (40 to 260 ft).  The huge sea fans and macro life are fascinating to behold along with pelagics including dog tooth tuna and bonito, inhabitants like Napoleon wrasse, giant grouper, whitetip and hammerhead sharks and schools of fusiliers, barracuda and jacks, along with hawksbill and green turtles.
One of the liveaboard vessels also runs safaris to the Mitsio Archipelago running to the north of Cosy Be.  It is made up of 5 islands and is known for its clear water, secluded bays and basalt rock formations.  Similarly endowed with a pristine coral reef and great diversity of macro and large-scale sea life, it is remembered for its large sea fans, plate corals and leopard and grey reef sharks.
In both itineraries there is great variety in the substrata which includes shallow reefs, walls, canyons, caverns, swim throughs and ship wrecks.  Mantas and devil rays are expected sightings, as well as dolphins, whale sharks in October and November, humpback whales from August to November, and Omura's (dwarf fin) whales from October to December.
There is suitable diving for all levels of scuba diver and snorkeler.  Strong current is possible on some sites, better suited for the more experienced.  Many stops are made for interesting excursions into the local island cultural scene and beautiful flora and fauna.
Water temperature ranges from 24-29°C (75-84°F) and visibility from 5-30m (16-100ft), but usually better than 15m (50ft). Daily high air temperatures are 30-32°C (86-90°).
Madagascar's Best Liveaboard Dive Boats
The two boats serving the Madagascar diving are very different.
The MV Galatea is a more traditional, full service, 30 meter yacht that spends most of the year cruising the Seychelles.  They take a two month hiatus from their itinerary there to go the relatively short distance down to northwest Madagascar to dive.  To see my post on Seychelles liveaboards, please click here: ->>Seychelles Liveaboards<<-  
Ocean's Dream is a 13 meter catamaran that provides a little more spartan experience luxury-wise, but is a specialist, diving Madagascar with two itineraries 10 months of the year.
Both make a point of making many stops at the islands to tour the natural environment and meet some local people where they live.
MV Galatea ($270/day)
Oceane's Dream ($151/day)
Best Luxury Service – MV Galatea ($270/day)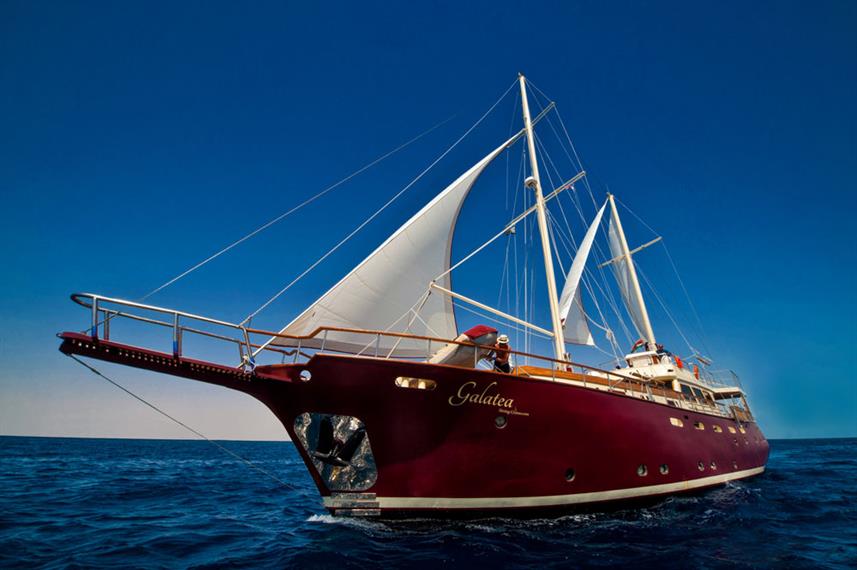 July – August dives Madagasscar
8 day itineraries include: Hell Ville Marina, AMPARADHAR REEF, AMPASINDAVA BAY, Angadoka, NOSY KIVIN, CORAL GARDEN, ANDRAHIBO BAY, DEEP SORONY, CORAL REEF, Baramahamay river, Ambacomilay Bay, Nosy Iranja Beach, NOSY IRANJA, KUMAMERY TIP, MAHAJUNGA, Nosy Kalajoro, KALAJORO, NOYE BANK, Antany, Nosy Valida, Malagasy Village, NOYE'S CORAL, back to Nosy Be, ROCK ISLAND, Nosy Kalajoro Bay (capital letters indicate dive sites)
Amenities include: leisure deck, audio & video entertainment, air conditioned saloon, aircon cabins, sun deck, indoor saloon, warm water showers, outdoor dining, en-suite bathrooms
Western and local food
The crew speaks English, German, French, and Italian
Beach visits
Onboard kayaks
Non-diver (snorkeler) friendly
Diving is separately priced
Dive courses available
one 7m diving boat and one dinghy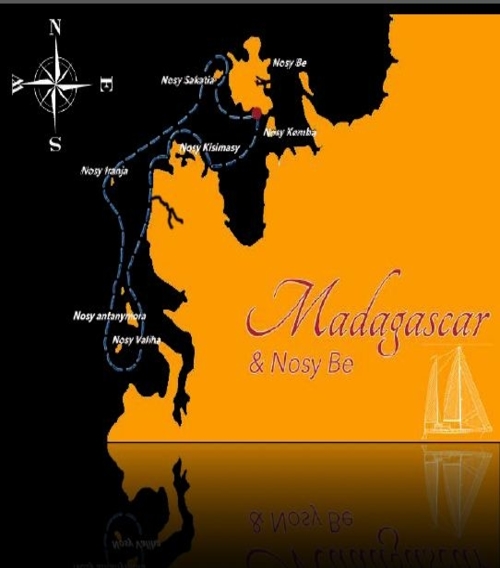 Budget Personal Service, Small Groups – Oceane's Dream ($151/day)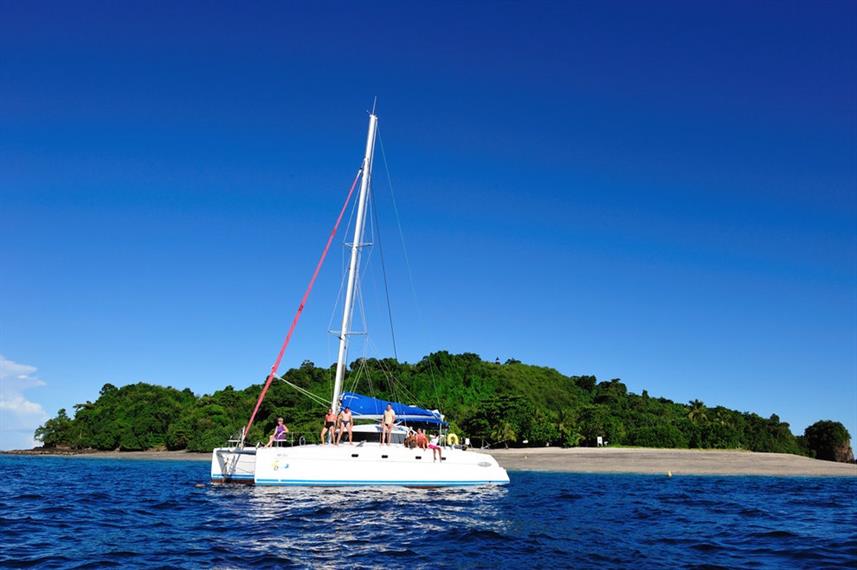 March to January dives Madagascar
Two 6 day itineraries
Mitsio itinerary: Ambatoloaka Beach, Nosy Be, Tetons, Basalt Organs, Tsarabajina Island, Bench Little Beaver, Nosy Lava Island, Bench of Ankarea, The Brothers, Sakatia Island, Bench of the Unicorns, back to Ambatoloaka Beach
Radames itinerary: Ambatoloaka, Nosy Be, Russian Bay, Drooping Kalakajoro west, Anchorage Antanimora, Banc du Cyclone, Diving Garden Suzanne, Antanimora Island, Antanimora, Greg, Drooping Berafia west, Baramahmay, Roches Gabriel, Iranja Turtle Island, Nosy Iranja, Russian Bay, Tanikely Island, back to Nosy Be
Beach visits
4 double cabins each with bathroom
Dining room, kitchen and a lounge
Second dining area outside
Daily housekeeping
Local and vegetarian food
The crew speaks English and French
Diving is included in the price
5 crew including 1 dive instructor
Snorkel friendly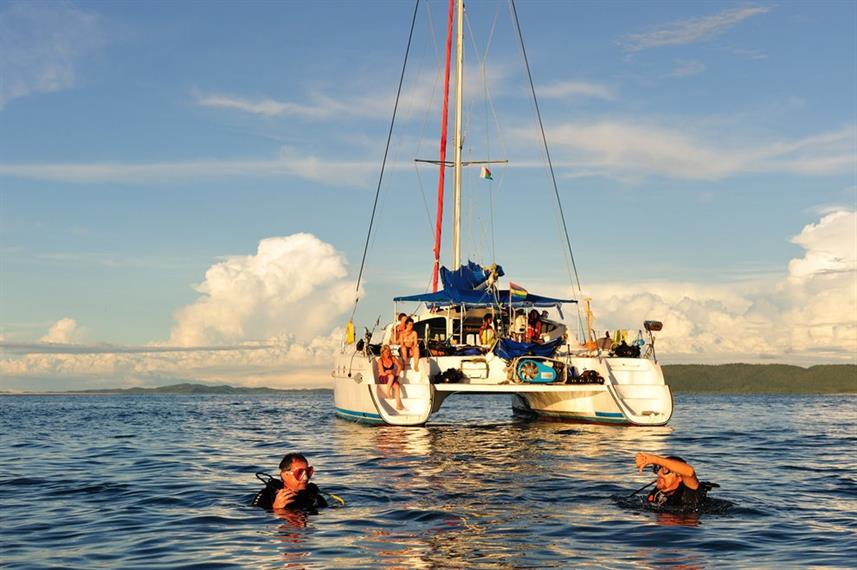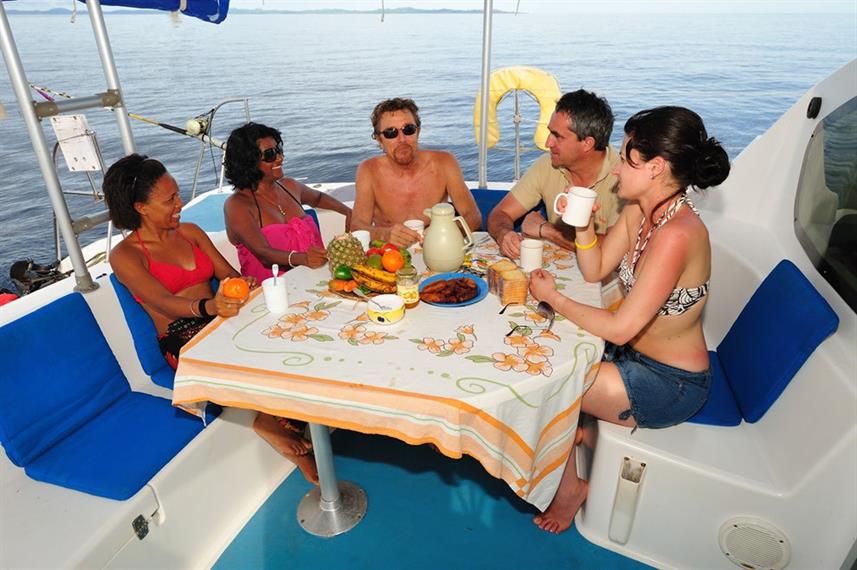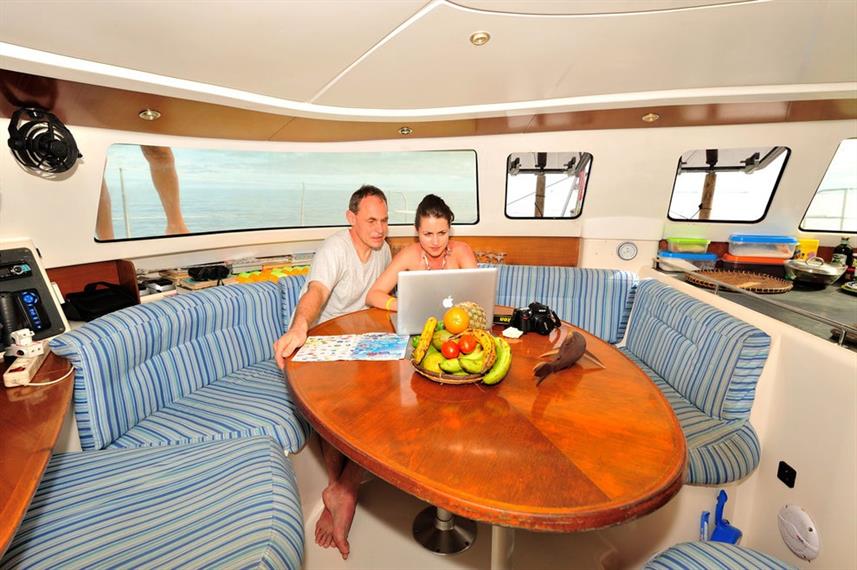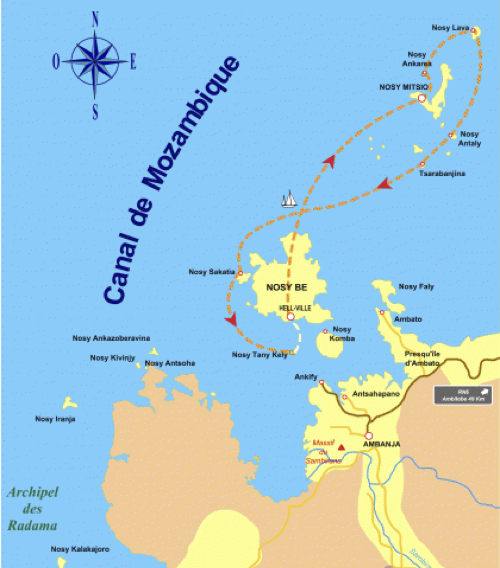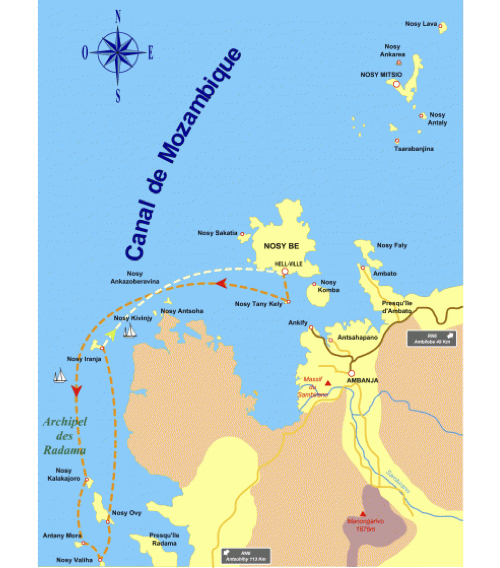 MV Galatea

Oceane's Dream
Length

30 m
13 m
Guests

14
8
Crew

7
5
Equipment

€10/dive
To Be Arranged
(from €5/dive)
Nitrox

No
No
Diving Package
€180/6 dives
No Extra Charge
Dive Courses On Board
Yes
To Be Arranged
Snorkeling Available

Yes
Yes
Price/Day

$270
$151
Nosy Be Hotels and Dive Shops
As you can see there are limited options and places available on these two liveaboard boats.  They provide the best opportunity to dive a number of dispersed dive sites, but may not always be available in your time frame and circumstances.  Nosy Be has a number of dive shops operating there and at least 37 hotels to service divers.  If you would like to check local accommodations in Nosy Be, here is a website that can organize your arrangements.  Nosy Be Accommodations
I hope you found this post on Madagascar liveaboards interesting and useful.  If you have any questions or ideas, please feel free to share them in the comments section.  If there is no comments section directly below, click here:  >>comments<<