We may earn money or products from the companies mentioned in this post.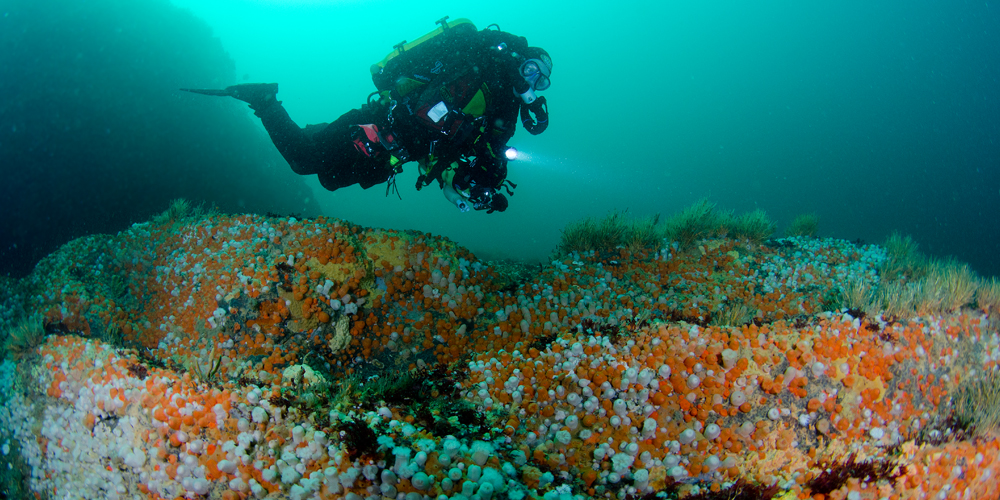 This is the twenty-sixth in a series of reviews of the best dive resort locations around the world.  In this post, the focus is the Isle of Man.
In addition to this series on dive resort locations, the best worldwide liveaboard dive locations and services are reviewed in their own series.  To check them out, or others in this series, click on Liveaboards / Resorts on the menu at the top and choose a title from the list.
Have you ever been diving in the Isle of Man before?  If so, I'd love to know about your experience.  What dive shop or liveaboard did you use?  Which dive spots are the best and what are the conditions there regarding the visibility, current, water temperature, sealife attractions, etc.?  Please post your response in the comments section at the bottom and we'll all learn something we can use.
Isle of Man Scuba Diving
Background – Situated in the Irish Sea between Ireland and Great Britain is the historically rich self-governing British dependency, the Isle of Man.  It is 52 by 22 km (32 by 14 miles) and encompasses several smaller islands.  Well known for its motorcycle races and low taxes, it has a diversified economy lead by the insurance, gaming, ICT, banking and aerospace manufacturing sectors.  The population of 83,000 has a rich cultural and historic tradition that is evident in the architecture and sites around the country.  For more details on the demography, culture, history, and geography of the Isle of Man, click here: Isle of Man (Wiki)
Undersea World – Not well known outside of a circle of true aficionados is its outstanding scuba diving.  There are good sites all around the island, but most of the organized diving is off the southern tip.  There can be substantial tidal currents and plankton which helps provide nutrients for a variety of invertebrates like carpets of hydroids, anemones, and soft corals, not to mention the largest of sea creatures including basking sharks and whales.  In between is a full range of interesting adaptations to the specific ecology of the region.  Aside from the aforementioned these are some undersea highlights:  scallops, crabs, lobsters, conger eels, tompot blennies, deadman's finger soft corals, plumose anemones, dahlia anemones, velvet swimming crabs, various nudibranchs, shoaling pollack, cod, ling cod, coalfish, mackerel, flounder, bullhuss, wrasses, lesser spotted dogfish, grey seals, porpoises, dolphins and orcas.  In addition, there are a number of shipwrecks.  Take care to have the authorization to dive the wrecks that you choose.  Some require a permit.
Seasons and Conditions – There is diving suitable for all levels, with some sites having substantial drift and, of course, the water is cold.  It is possible to dive year round, but most do it from May through September.  Water temperature is at an annual low in March at 5-8°C (41-46°F).  In August it reaches a high of 13-17°C (55-62°F).  In the warm season, many divers will be comfortable in a 3-5 mm wetsuit and hood.  Offseason a 7 mm wetsuit or drysuit with a thick hood, gloves, and booties is recommended.  You should make sure you are well prepared and have appropriate training and experience with the correct gear.  Additionally, one of the big draws to Isle of Man diving is the excellent cold water visibility running from 10 meters (35 feet) to greater than 30 meters (100 feet).
For information about cold water gear, please check out my review: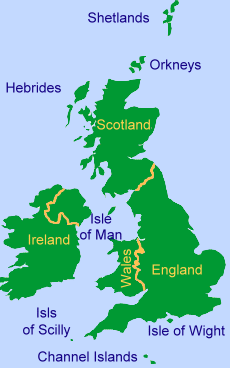 Selected Isle of Man Dive Sites
The Booroo: rock shaped like a dragon at the southern tip of Calf of Man, to 40 meters (130 feet), kelp in the shallows, underwater cliffs, declines, boulders, gullies, nooks and crannies, a timber from a ship, all surfaces encrusted with corals, sponges, and oaten-pipe hydroids, dahlia, plumose and elegant anemones, nudibranchs, snakelocks, crabs, lobsters, ballan wrasse, pollack, grey seals, strong tidal currents possible
Chicken Rock: most southerly Isle of Man island, old lighthouse on a rock, 800 meters (half a mile) from Calf of Man, great variety, gullies, encrusted walls, wildlife similar to that of the Burroo, strong current
Garden Rock: south of Port St. Mary, pinnacle rising from 18-meter (60-foot) sandy seabed, lobster, crab, soft corals, little current
The Ledges: close to Garden Rock, rock gullies, small walls and overhangs, similar in wildlife to Garden Rock, little current
Sugarloaf Caves: near Port St. Mary, behind Sugarloaf Rock descend to 12 meters (40 feet) to the entrance of the system of caves, sheer rock wall corridors to a junction to the entrance of the next cave section, walls covered with hydroids, sponges and anemones, grey seals may follow you in to play, all but the final section has direct access to the surface
Clan McMaster: 6,563-ton cargo ship sunk in 1923 in Calf Sound in shallow water, broken up, humongous engine, boilers and prop shaft are on a rock bed with plumose anemones and kelp, strong currents, timing with the tides necessary for safety
Outer Breakwater and Craw Row: outer breakwater ruins in Port Erin, to 12 meters (40 feet), nooks and crannies, lobsters, conger eels, cuckoo, ballan, and corkwing wrasse, tompot blennies, orange octopus, good night dive and training site, easy access, minimal current
Peel Castle and Fenella Beach: midway up the west coast, breakwater entrance, to 10 meters (35 feet), rocks, kelp forest, caves, around the corner to the cliff face, rock channels, playful seals
Skerannes: off Langness Peninsula in the southeast, gullies, and trenches, macro life like nudibranchs, sea hares, seals, easy dive
Glendun: Belfast steamer sunk in 1940 by running aground, south of Maughold Head in the northeast, to 12 meters (40 feet), mostly broken up and scattered, 8-meter (25-foot) tall boiler, penetration of boiler casing possible, lots of scattered brass bits, easy dive
The Iron Pier and the Dolphin: at Ramsey beach in the north, pier running from the beach to a concrete structure called the Dolphin, to 14 meters (47 feet) at high tide, crabs, lobster, scallops, queenies, conger eels, tompot blennies, long swim out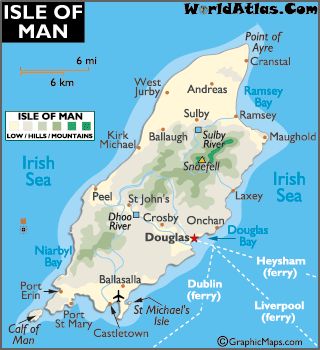 Here are two books with some detailed discussion of the Isle of Man dive sites.  Please click on the cover photos for details.
Isle of Man Airport, near Castletown, has regular 30-minute flights by 5 airlines connecting to Ireland, Northern Ireland, Scotland and England. From the airport, bus and rail service is available to destinations around the island.
On the Isle of Man, there are dozens of hotels of all levels starting under $40 per night. As for the diving, the Port St. Mary area has several shops and the British Sub Aqua Club (BSAC) is active with training and outings.  This website is a good source for the available housing options and can arrange a booking:
Isle of Man Things To Do (aside from scuba diving)
Although the lifestyle on the Isle of Man is modern, its rich heritage is a major attraction to tourists.  Castles, ancient sites, landmarks, museums, galleries, and exhibitions are a testament to Manx history.  Outdoor activities are abundant including golf, hiking, climbing, cycling, fishing, horse riding, wildlife watching, and other water sports.  There are also the famous Isle of Man motorcycle races to watch at the end of May.
Isle of Man Photo Opportunities
With the macro life, beautiful, diverse reef life, lots of fish and large mammals, caverns and wrecks, there are many excellent photo opportunities.  For information and reviews of diving cameras, click here:
A cushion for emergencies provides peace of mind when on vacation.  I recommend this diving insurance as they have worldwide coverage and provide scuba divers a quality insurance and medical assistance service.
Feedback and Comments
I hope you found this post on Isle of Man scuba diving interesting and useful. If you have any questions or ideas, please feel free to share them in the comments section.  I'd love to know of any experience you have diving there.  If there is no comments section directly below, click here:  >>comments<<