We may earn money or products from the companies mentioned in this post.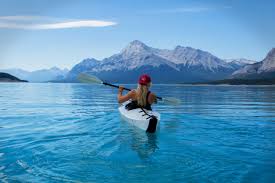 A day out on the lake kayaking can be one of the most leisurely ways to commune with nature and work out a few kinks from the stress of daily life.  It is not as challenging as battling the surf or shooting the rapids and can be a great activity for beginner to expert paddlers that the whole family can share.
When it comes to selecting the right kayak to take to the lake, there is an extraordinary number to choose from.  The good news is you can rule out many models that are designed for the most specialized environments.
To help in choosing the right one for your needs, some of the best are described for you below with the key features, photos, and videos followed by a comparison table and a buying guide.  Different sizes and configurations are presented to show you the scope of what is available.
If you have any questions or concerns, please let me know in the comments section at the bottom.
For more reviews of kayaks and boats, please check out these posts:
Marine VHF Radios  /  Kayak Trolling Motors  /  Kayak Fish Finders  /  Marine GPS  /  Marine Binoculars  /  Touring Kayaks  /  Tandem Kayaks  /  Whitewater Kayaks for Beginners  /  Whitewater Kayaks Beginners  /  Ocean Kayaks  /  Fishing Kayaks  /  Beginner Kayaks  /  Recreational Kayaks  /  Inflatable Kayaks  /  Inflatable Boats  /  Canoes
Best Lake Kayaks of 2020
The Sun Dolphin Journey SS is lightweight and reasonably priced, and tracks and paddles well in lakes and rivers.  This stable sit-on model is made of durable high-density polyethylene and set up for fishing with 3 rod holders, ditty trays, cup holder, and paddle holder.  Adjustable padded seating, foot braces, and thigh pads make you comfortable and effective as a paddler and when you haul in that record muskie.  An unusual feature is a rear well with a bungee cord and a removable portable accessory carrier.  For beginner to intermediate kayakers, this model performs well for fishing and paddling out on the lake.
Weight capacity of 250 pounds
1 paddler
UV-stabilized polyethylene construction
Adjustable padded seat
Adjustable foot braces
Protective thigh pads
2 flush-mounted and 1 swivel rod holder
Bungee deck storage
Portable Accessory Carrier (PAC) in the rear tank
Ditty trays, cup holder, bottle holder
Paddle holder
Bow and stern grab handles
Length: 9 feet 6 inches, Width: 29.4 inches
Weight: 44 pounds
For paddling on your favorite lake with a friend, the Perception Pride 13.5 is a stable and comfortable model great for beginners.  The padded adjustable seating is comfortable and storage for the day is ample in front and rear wells and in the center hatch.  There is even room for a child or pet to ride along without infringing on the space.
Weight capacity of 500 pounds
2 paddlers
Roto-molded polyethylene construction
Adjustable thick-padded, ventilated seating
Multiple footrest options
Front and rear storage well with bungees
Center hatch with inner bag
Drink holder
Molded side handles
Front and rear grab handles
Removable jump seat for a child or dog
Length: 13 feet 6 inches, Width: 33.75 inches
Weight: 67 pounds
View More From Perception Kayaks
The Hobie Mirage has a pedal system using ST fins that enable hands-free cruising.  This feature is especially useful for fishermen who can propel the kayak and more easily go about the business of fishing.  It has comfortable seating, a weight capacity high enough for all-sized paddlers, and many options for stowing baggage and gear.  The super-stable platform makes for easy cruising in mellow conditions on a lake or mild stream with or without paddling.
Weight capacity of 325 pounds
1 paddler
Durable polyethylene construction
MirageDrive with ST fins pedal system
Retractable steering system with a stowable rudder
Mesh aluminum frame seat
Front and rear bungee storage
8 sealed hatches
2 molded rod holders
2 integrated accessory rails
2 piece aluminum paddle included
Length: 10 feet 6 inches, Width: 34 inches
Weight: 65 pounds
The Oru Kayak Beach LT is a great stable platform for a day of easy, light padding in the calm waters of a lake or lazy river.  Reminiscent of traditional kayaks it has a special design that allows it to fold up into a 26-pound easily portable case.  The durable double-layered polypropylene construction can withstand 20,000 folds in its lifetime and the bumps and scrapes out on the water.  It has an adjustable seat, plenty of storage below, and fore and aft deck lines.
Weight capacity of 300 pounds
1 paddler
5mm double-layered polypropylene construction with rust-resistant hardware
UV treated – good for 10 years
Fold-up design rated for 20,000 folds in a lifetime
Folds to the size of a large suitcase
3 bulkheads add rigidity
140 liters of storage below deck
Adjustable seat
Reflective deck lines
1-year warranty, 30-day money-back guarantee
Length: 12 feet, Width: 28 inches (at cockpit)
Weight: 26 pounds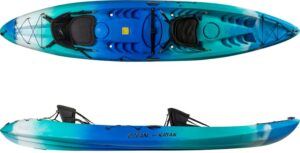 The Ocean Kayak Malibu Two XL is a great model for a family outing that can be configured for the largest of solo paddlers or for a couple with a pet or child.  It is an exceptionally durable and stable platform with an extremely defined keel for excellent tracking.  There is comfortable padded seating and substantial dry storage along with bungee cords in the front and back that set you up well for a day of paddling on a lake or mild-flowing river.
Weight capacity of 500 pounds
2 paddlers
Rotomolded polyethylene construction
Keel protector
Molded-in seats with pads and backrests
Molded footwells and calf rests
Molded-in paddle holders
Up to 3 dry storage areas
Bungee storage fore and aft
Bow and stern toggle handles and molded-in side handles
Available in 5 color patterns
Limited lifetime warranty
Length: 13 feet 4 inches, Width: 34 inches
Weight: 61 pounds
Sevylor Big Basin 3-Person Kayak
The Sevylor Big Basin has the seating for three small to medium-sized people that can be adjusted and configured for two.  It is a lightweight inflatable easy to transport in its carry bag and quick to set up and takedown.  Spray covers will keep you dry in this durable model with heavy-duty PVC construction and a tarpaulin bottom.  3 air chambers provide enough support to get to safety in the unlikely event of a puncture or leakage.  It's a great stable platform for a day at the lake or in a gentle river.
Weight capacity of 490 pounds
3 paddlers
Heavy-duty PVC construction, tarpaulin bottom
Double threaded Boston valve for easy inflation and deflation
Multiple air chambers
Guaranteed not to leak
Adjustable seats
Carry handles
Spray covers
Carry bag, and pressure gauge included
1-year warranty
Length: 12 feet, 3 inches, Width: 37 inches
Weight: 35 pounds
Advanced Elements Advanced Frame Convertible Tandem
This great 15-foot tandem kayak is another in the Advanced Elements line of inflatables.  With durable puncture-resistant material and built-in aluminum-ribbed frame, it has adjustable high support padded seats that can quickly be converted from solo to tandem with adjustable seat positions.  Set up and take down time is fast and it packs into an easy to carry bag.  For a day of lake paddling, it is a stable, comfortable platform for one or two.
Weight capacity of 550 pounds
2 paddlers
Puncture resistance with 3 layers of double-coated material
Aluminum ribs built into the bow and stern
6 air chambers
Adjustable high support folding, padded seats
3 seat locations for single or tandem paddling
Substantial storage space and legroom
Bungee cords in front
Easy to set up
Easy to use inflation and deflation valves
Optional single and double deck conversion
Length: 15, Width: 32 inches
Weight: 52 pounds
View More From Advanced Elements
The Emotion Kayaks Spitfire has a durable, stable, good tracking design for easy paddling on lakes and mellow rivers.  Lightweight and compact, it has a comfortable fold-down seat, a central hatch, bungee storage in bow and stern wells, and carry handles at each end for easy portage.  The reasonable price is attractive to all levels of paddlers.
Weight capacity of 350 pounds
2 paddlers
UV-protected, high-density polyethylene construction
Fold-down padded seat and seat-back
Screw-down center hatch
Bow and stern bungees for storage
Front and back carry handles
Molded-in foot braces
Paddle keepers
Scupper drainage holes
Length: 9 feet, Width: 31 inches
Weight: 45 pounds
Best Lake Kayaks Comparison Table
| Picture | Kayak | Type | Length | # of Persons | Price |
| --- | --- | --- | --- | --- | --- |
| | Sun Dolphin Journey 10 SS | Sit On | 9 feet 6 inches | 1 | $ |
| | Perception Tribe 13.5 Tandem | Sit On | 13 feet 5 inches | 2 | $$ |
| | Hobie Mirage Passport | Sit On/Pedal | 10 feet 6 inches | 1 | $$$$ |
| | Oru Kayak Beach LT | Sit In/Foldable | 12 feet | 1 | $$$ |
| | Ocean Kayak Malibu Two XL | Sit On | 13 feet 4 inches | 2 | $$$ |
| | Sevylor Big Basin 3-Person Kayak | Sit In/Inflatable | 12 feet 3 inches | 3 | $ |
| | Advanced Elements Advanced Frame Convertible Tandem | Sit In/Inflatable | 15 feet | 2 | $$$ |
| | Emotion Kayaks Spitfire 9 | Sit On | 9 feet | 1 | $ |
| Picture | Kayak | Type | Length | # of Persons | Price |
Considerations in Selection of a Lake Kayak
Kayak Styles – There are two basic styles to consider – sit on top and sit in models.
Sit On Top kayaks are more or less open on top making it is easy to get on and off.  There tends to be less protection from splashing and a greater possibility of getting wet.  Usually, they have built-in drainage (scupper) holes that permit natural drainage from footwells.
Sit In models resembling the classical style with a sort of recessed cockpit have a lower center of gravity and tend to keep you drier.  If it tends to be windy or wavy in your chosen lake, it might be worth considering a sit-in model for additional protection.  Sit in models also often have as standard or an option a spray skirt which seals the cockpit for complete internal dryness.
Weight Capacity – The manufacturer will state a weight capacity.  You should keep the total weight onboard below it including the weight of the person or people and the gear and baggage accompanying.
Weight is primarily a consideration in the transport of the kayak.  A lighter kayak is easier to load on a vehicle and carry from the car to the water and back again.  Inflatables are generally much lighter and can be packed into luggage that seldom requires more than one person to carry.
Size of the Kayak – Wide kayaks are more stable than narrow ones.  For lake paddling on smooth water, that isn't as big a consideration as it would be on rough surfaces or in current.  If you would like a kayak for 2-3 people it will by necessity be longer to accommodate them.  For solo paddlers, shorter kayaks are more maneuverable but longer ones can generate more speed.  On smooth lake surfaces, longer narrower models provide the best overall performance.
Some Basic Features
Hull – This is the bottom of the kayak.  Its design features determine how well it stays on track and how easy it is to maneuver.  Flatter hulls are more maneuverable and more defined ones track better.
Bow & Stern – The bow is the front and the stern is the back.
Skeg – This is a fin that attaches to the bottom of the kayak which aids in keeping it on track moving straight through the water.  Not all kayaks have them and they are most useful on longer models.  For lake paddling a skeg is useful in windy conditions.
Scupper Holes – Sit on kayaks have a tendency to take on water from splashing.  To avoid pooling of water under the paddler or the kayak getting too heavy, some models have intentional holes called scupper holes drilled in the bottom to allow drainage.
Storage Hatches – Some kayaks have built-in sealed storage compartments where baggage can be kept dry.  Otherwise, gear can be attached using D-rings, nets, or bungees which require placing items in waterproof containers to keep them dry.
For a basic kayaking guide, check out this article:  The Ultimate Beginners Guide to Kayaking
Feedback and Comments
I hope you found this post on the best lake kayaks interesting and useful. If you have any questions or ideas, please feel free to share them in the comments section.  If there is no comments section directly below, click here:  >>comments<<