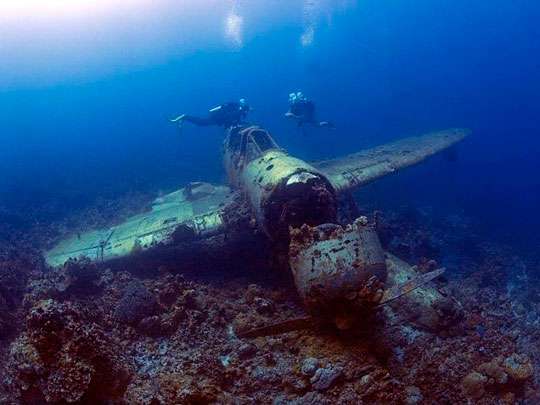 Updated May 31, 2021
This is the ninth in a series that introduces and describes the various dive services and sites for worldwide liveaboard dive safaris.  This one focuses on Palau liveaboards.
In addition to this series on liveaboards, the best worldwide dive resort locations and services are reviewed in their own series.  To check them out, or others in this series, click on Liveaboards/Resorts on the menu at the top and choose a title from the list.
Have you been diving in Palau before?  If so, I'd love to know about your experience.  What dive shop or liveaboard did you use?  Which dive spots are the best and what are the conditions there regarding the visibility, current, water temperature, sealife attractions, etc.?  Please post your response in the comments section at the bottom and we'll all learn something we can use.
Liveaboard Diving Palau Micronesia
Background
The western-most island group in Micronesia, Palau, is situated 1,450 km (906 miles) southwest of Guam and 450 km (280 miles) southwest of Yap and reachable by air directly from Manila, Guam, Taipei, and Cairns.
Undersea World
Recognized as one of the richest scuba diving locations in the world, the nutrient-rich water there is the home to a bountiful coral reef, with soft corals, big sea fans, anemones, shrimp, crabs, and a multitude of reef fish such as the much-prized to the photographer, mandarin fish.
The seascape includes lagoons, steep walls, and World War II wrecks.
It is equally rich in large creatures including a variety of sharks and rays:  whitetip, blacktip, and grey reef sharks, hammerheads, whale sharks, oceanic whitetips, and manta and eagle rays.  The whale sharks and mantas are most likely to appear from January to April.
Hawksbill and green turtles are also seen often and make their appearance in greater numbers from April to July.
To the delight of wreck divers, some of the Palau dive sites are exciting explorable wartime history in the form of the Iro Maru, Helmet, and Jake Seaplane wrecks.  Liveaboard diving Palau is truly memorable.
Seasons and Conditions
There can be substantial current, so many of the dives are most suitable for advanced divers.
Diving is great year-round with visibility often more than 40 meters (130 feet), going down to 15-20 meters (50-65 feet) from July to September.
The water is warm, running 29-30 degrees C (84-86 degrees F) most of the year, dipping to as low as 26 degrees C (79 degrees F) in February and March.
Unlike the relatively nearby Philippines, Palau is rarely affected by typhoons.
For further details on the undersea world, seasons and conditions, and dive sites in Palau, check out this popular review:
Palau Liveaboard Dive Boats
Palau is served by 6 different boats for all-inclusive diving vacations of 7 to 10 days at rates of $267 to $449 daily.  Below is the list of 6 great vessels followed by photos, details, and videos for an introductory view of features.  Toward the bottom of the page are a map of the popular dive sites and a comparison chart.
Top Rated – Palau Aggressor II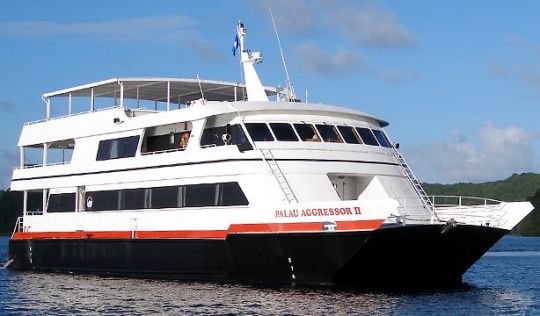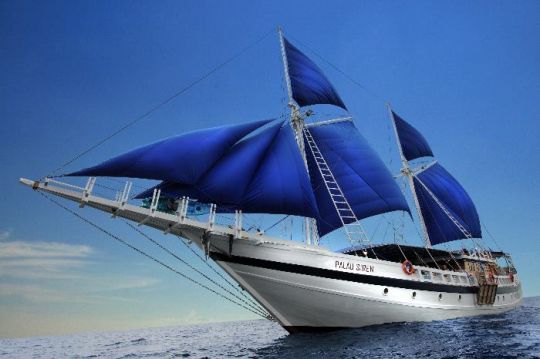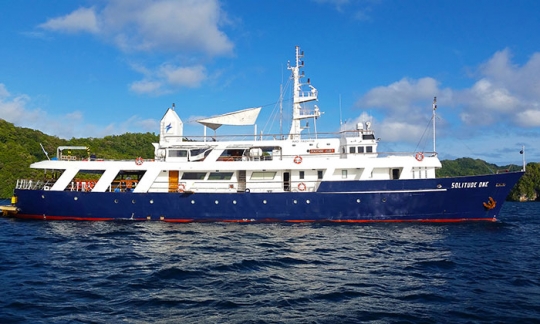 Intimate Small Group – MV Ocean Hunter I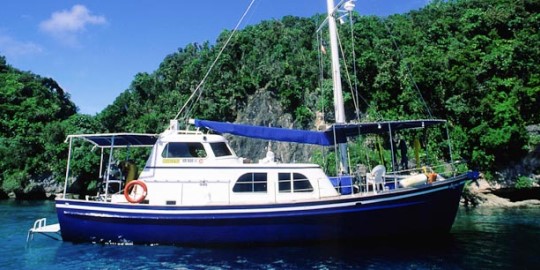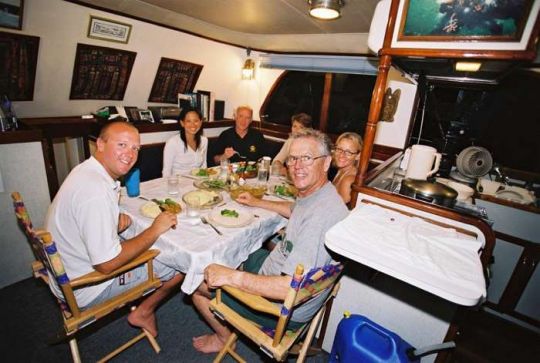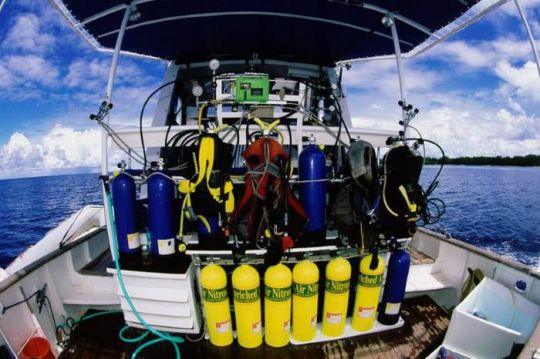 Tech Diver's Choice – MV Ocean Hunter III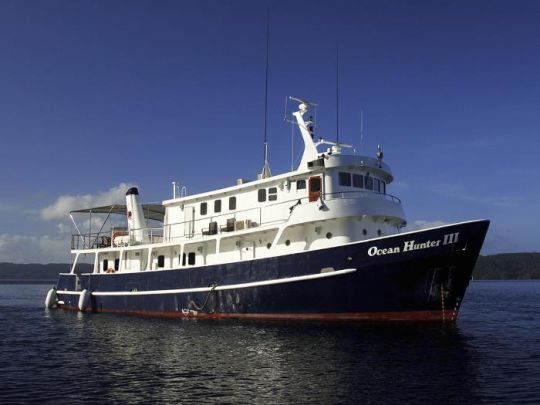 Palau Liveaboard Dive Boat Comparison Table
|   | Rock Islands Aggressor | Palau Aggressor II | SY Palau Siren | MV Solitude One | MV Ocean Hunter I | MV Ocean Hunter III |
| --- | --- | --- | --- | --- | --- | --- |
| Length | 31 m | 32 m | 40 m | 52 m | 20 m | 29 m |
| Guests | 18 | 18 | 16 | 22 | 6 | 16 |
| Equipment | $26/night | $26/night | free | $41/day (includes computer) | $75/day (includes computer) | $75/day (includes computer) |
| Nitrox | available - price tba | available - price tba | free | $23/night | $43/day | $29/day |
| Single R. | +65% | +65% | +100% | +80% | +100% | +90% |
| Price/Day | $312 | $312 | $401 | $328 | $447 | $436 |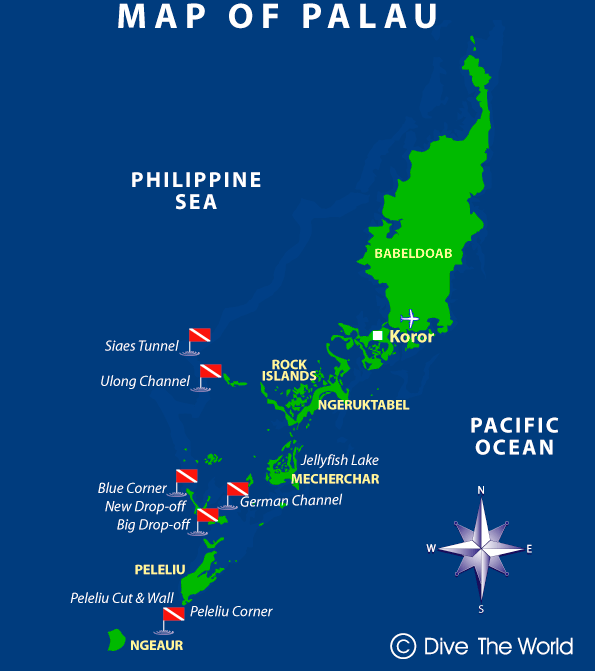 Scuba Diving Trip Insurance
A cushion for emergencies provides peace of mind when on vacation.  I recommend this diving insurance as they have worldwide coverage and provide scuba divers quality insurance and medical assistance service.
Palau Photo Opportunities
With the macro life, beautiful, diverse coral reef, and lots of fish, there are many excellent photo opportunities.  For information and reviews of diving cameras, click here:
Feedback and Comments
I hope you found this post on Palau liveaboards diving interesting and useful. If you have any questions or ideas, please feel free to share them in the comments section.  I'd love to know of any experience you have.  If there is no comments section directly below, click here:  >>comments<<