We may earn money or products from the companies mentioned in this post.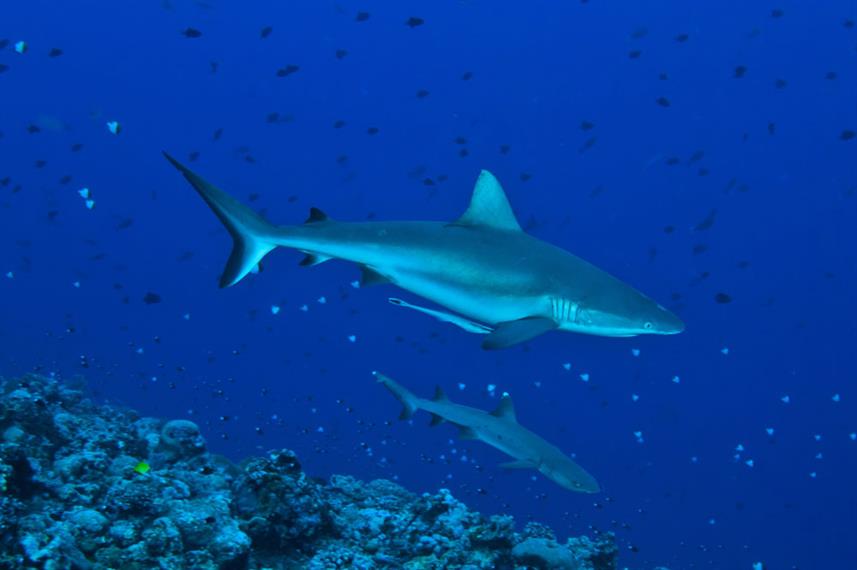 This is the ninety-seventh in a series of reviews of the best dive resort locations around the world.  In this post, the focus is on Palau, Micronesia. In addition to this series on dive resort locations, the best worldwide liveaboard diving locations and services are reviewed in their own series.  To check them out, or others in this series, click on Liveaboards/Resorts on the menu at the top and choose a title from the list.
Have you ever been diving in Palau before?  If so, I'd love to know about your experience.  What liveaboard or dive shop did you use?  What are the best dive spots and the conditions there like the visibility, current, water temperature, sealife attractions, etc.?  Please post your response in the comments section at the bottom and we'll all learn something we can use. 
Scuba Diving Palau
Background – Situated 856 kilometers (535 miles) east of the Philippines, Palau is an archipelago of 340 islands that are the westernmost chain in the Caroline Islands of Micronesia.  Of volcanic and coral limestone origins, Palau was originally settled by people from Indonesia and the Philippines 2-3 millennia BCE.  The Spanish first took note of the place in 1522 and were the first to exert any outside control.  The British came in the 18th century followed by the Spanish again in the 19th.  Palau was considered a part of the Philippines until Japan took control in WWI.  When the Japanese occupation came to a bloody ending in 1944, the US effectively gained control which continued until independence in 1978.  Today Palau's status is Presidential Republic in free association with the US.  The population of 21,000 is a mixture of Melanesian and Austronesian heritage, with a large number of Filipinos, other Asians and a few Americans and Europeans.  The economy is fueled by tourism, subsistence farming, fishing, and foreign aid.  Palauan and a couple of other local languages are the official languages in their regions, along with English.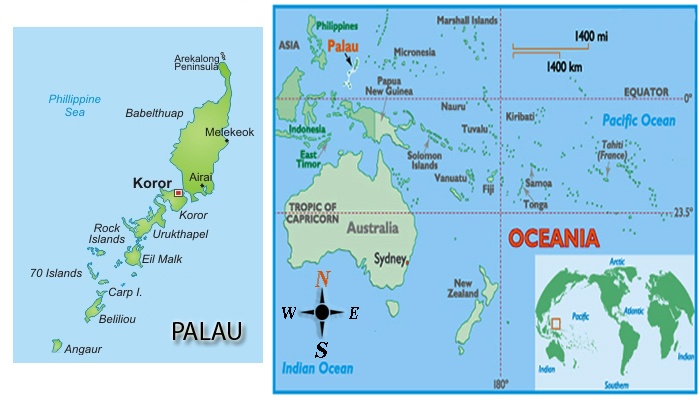 Undersea World – With more than 1,300 species of fish and 800 species of sponges and corals, Palau is recognized as one of the most biodiverse locations in the world.  It has pristine, healthy reefs, a great volume, and a variety of macro critters, huge schools of fish, and loads of sharks, rays, turtles, and pelagics, on shallow serene coral gardens to high energy drift dives along steep walls, and everything in between.  You can add in some intriguing historic wrecks and the famous Jellyfish Lake on top of that.  There is something for every level of diver.  A list of highlights includes macro critters like the octopus, flatworms, nudibranchs, oysters, sea kraits, scorpionfish, frogfish, moray eels, and cleaner shrimp, to name but a few.  There are heaps of reef tropicals and schooling fish like bannerfish, surgeonfish, sweetlips, and snappers, clown triggerfish, trumpet and cornetfish, soldierfish, and larger marine life such as Maori wrasse, massive schools of barracuda and jacks, green and hawksbill turtles, eagle and manta rays, whitetip, blacktip, and grey reef sharks, leopard sharks, whale sharks, and dolphins.  I had to restrain myself to keep the list so short.
Seasons and Conditions – Diving is possible all year in Palau.
Air temperature stays in a nice warm daily range of 24-31°C (76-88°F) all year.
Water temperature consistently stays from 29-30°C (84-86°F) most of the year dipping to as low as 26°C (79°F) in February and March.  A 3 mm wetsuit is probably the most thermal protection needed for most.
It rains on 16-22 days per month, but it doesn't often interfere with diving for long.  Rains and winds are stronger from July to September.  Typhoons are not usually a factor, with some rare exceptions.  Typhoon Haiyan in 2013 caused some property damage but no major injuries or fatalities in spite of the fact that no one evacuated.
Surface conditions tend to be a little rougher due to winds and rain from July to September.
Currents in many locations are moderate to strong, making for exciting drift diving.
Visibility normally has a range of 15-40 meters (50-130 feet).  The July to September wind/rain season influences it toward the bottom of the range.
Whale sharks and mantas are most likely to appear from January to April.  Hawksbill and green turtles are also often seen and around in greater numbers from April to July.
With the possible moderate to strong current, many of the sites are more suitable for intermediate to advanced level divers.  There are sites suitable for beginners, as well, though.  At least 17 dive shops are in operation on the islands and can offer a full range of diving coursework, equipment rental, guiding, and boat cruises.  Currently, eight major liveaboard yachts also cruise Palau.
Here is my review of Palau liveaboards and links to several of the top-rated Palau liveaboard yachts: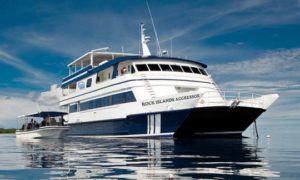 Rock Island Aggressor, Palau Liveaboard – Check the Price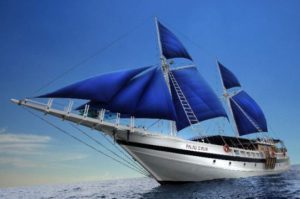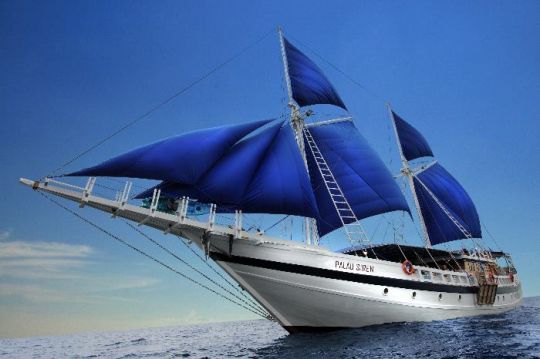 SY Palau Siren, Palau Liveaboard – Check the Price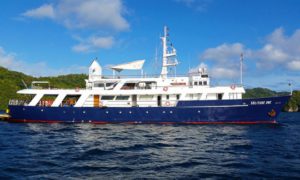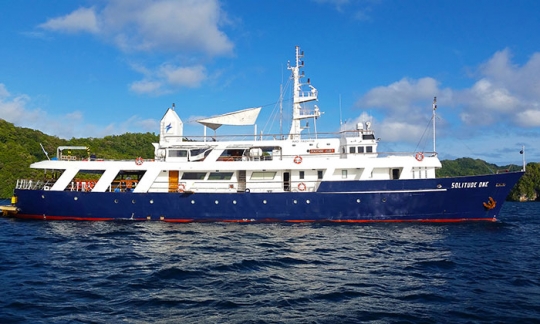 Solitude I, Palau Liveaboard – Check the Price

Selected Palau Dive Sites
Blue Corner – Palau's most famous site, coral reef from 12-18 meters (40-60 feet) that drops steeply off, frequently there is a tremendous current that encourages many to use a reef hook to maintain position on the reef in order to watch the masses of marine life cruise by in the nutrient-rich flow like whitetip and grey reef sharks, Napoleon wrasse, bluefin jacks, giant trevally, dogtooth tuna, blackfin barracudas, and eagle rays, the shallower coral section of the reef also has rich marine life with lionfish, leaf fish, reef tropicals, and green and hawksbill turtles, current can be quite strong, experienced level
Blue Holes – located next to Blue Corner on the west side, four openings in the reef leading to a huge cavern which descends to 35 meters (120 feet), the walls are rich in encrusting corals and sponges, wrasses and other reef fish, light filters in through the holes, there is a sort of window exit to the outside wall with grey reef sharks and possible eagle rays, strong current is possible, especially outside the window on the wall, experienced level
German Channel – created over 100 years ago to provide a shipping lane between the port and mines, currents passing through the channel can be rich in nutrients attracting a variety of marine life including grey and whitetip reef sharks, triggerfish, black snapper, jacks, Spanish mackerel, turtles, feather-tailed rays, and manta rays which come to a cleaning station on the sandy bottom at 20 meters (68 feet), experienced levels
Ulong Channel – a great flood-tide drift site, rich corals at the entrance to the channel, whitetip and grey reef sharks, big eye trevally, tuna, hammerheads, and manta rays possible outside and inside the channel there to feed on the many fish that have drifted in, huge lettuce corals, experienced level
Peleliu Wall – deep wall covered with soft corals, sea fans, sea whips, and black coral, canyon, crevices, and caverns with rich macro life, redtooth triggerfish, snapper, grouper, whitetip, and grey reef sharks, possible big pelagics, silvertip sharks, and pygmy killer whales, experienced level
Chandelier Cave – an underwater cavern with five chambers each with a breathable air pocket, silt bottom is at 15 meters (50 feet), full of stalactites and stalagmites, only light from the entrance necessitating a torch, experienced level
Iro Wreck – 140 meter (462 foot) Japanese fleet oil tanker, sunk in 1944, bow at 20 meters (68 feet), stern at 36 meters (120 feet), sitting upright, well encrusted with coral and other invertebrates, lots of fish and macro life, schooling jacks, barracuda, and batfish, visibility is variable, experienced level
Alice's Coral Garden – easy dive for beginners, little to no current, gentle slope, lots of reef fish and coral, whitetip reef sharks, crocodile fish, green and hawksbill turtles, all levels
Jellyfish Lake – lake site that is filled with 20 million teacup-sized golden jellyfish which through lack of predators have lost the ability to sting in what is left of their tentacles, with lots of sunlight they have developed a system using photosynthesis to thrive, a snorkeling site worth experiencing
Palau Photos
With the pristine coral reefs, wrecks, extreme biodiversity including manta and eagle rays, turtles, a variety of sharks, dolphins, whales, macro critters and reef tropicals, and interesting onshore scenery, as well, there are many excellent photo opportunities.  For information and reviews of dive cameras, click here:
Transportation
Air – Palau has one airport, Airai, on Babeldaob.  Regular connections are available to Seoul, Macau, Manila, Taipei, and Guam.  Additionally, some charters can be obtained to Yap, Hong Kong, and Tokyo.
Sea – Liveaboards usually depart from Koror.  Occasionally cruise ships stop at Palau.  Private and government-run boats provide transit between the islands of Palau.
Land – Taxis and rental cars are available on Koror.  The taxis are not metered.  Roads are not great and the speed limit is 40 km/h (25 mph).
For a few more details on transportation logistics, please click here:  Wikitravel – Palau
Lodging and Dive Shops – There are 23 or more hotels and resorts ready to serve on Palau.  At least 17 dive shops are also in operation, many associated with lodging.  They offer full services including equipment rental, dive courses, guiding and boat dive cruises.  The website linked below has the details and can arrange the booking.  You can easily find the location on the map provided on this site.  Their rates are guaranteed to be the lowest and it is free to cancel or change dates.
Things to Do in Pulau (aside from scuba diving)
Attractions:  sailing, kayaking, explore Koror's crafts, shopping, restaurants, and bars, Ngarachamayong Cultural Center, Palau Aquarium, Peleliu Island, Jellyfish Lake, swim with dolphins, Badrulchau Monoliths, Belau National Museum, hike Babeldaob (the big island).
This video gives a feel for the natural beauty.
A cushion for emergencies provides peace of mind when on vacation.  I recommend this diving insurance as they have worldwide coverage and provide scuba divers a quality insurance and medical assistance service.
Feedback and Comments
I hope you found this post on Palau scuba diving interesting and useful. If you have any questions or ideas, please feel free to share them in the comments section.  I'd love to know of any experience you have.  If there is no comments section directly below, click here  >>comments<<