We may earn money or products from the companies mentioned in this post.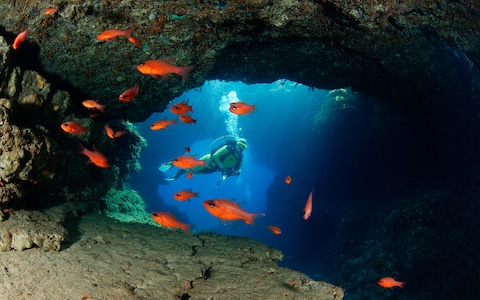 This is the eighty-ninth in a series of reviews of the best dive resort locations around the world.  In this post, the focus is on Malta. In addition to this series on dive resort locations, the best worldwide liveaboard diving locations and services are reviewed in their own series.  To check them out, or others in this series, click on Liveaboards/Resorts on the menu at the top and choose a title from the list.
Have you ever been diving in Malta before?  If so, I'd love to know about your experience.  What dive shop or liveaboard did you use?  Which dive spots are the best and what are the conditions there regarding the visibility, current, water temperature, sealife attractions, etc.?  Please post your response in the comments section at the bottom and we'll all learn something we can use.
Malta Scuba Diving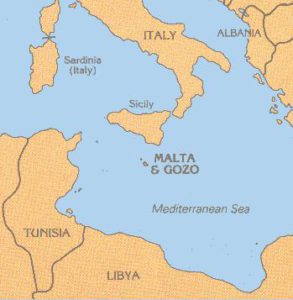 Background – Nested in the middle of the Mediterranean just 80 kilometers (50 miles) south of Italy is the Republic of Malta, a member of the EU.  The three-island nation of just 316 square kilometers (122 square miles) is densely packed with a population of 475,000.  Historically rich and inhabited since 5,900 BC, English and Maltese are the official languages and Catholicism the official religion.
Undersea World –  Malta is an archipelago of three islands, Malta, the largest, Gozo, and Comino, the tiny one sandwiched in between.  There are intriguing harbors, plateaus, arches, tunnels, caves, and swim-throughs with a surprisingly rich and colorful reef and marine life.  The water is remarkably clear in a smooth sea with little to no current.  The rocks and walls are covered in a rainbow of encrusting sponges, corals, and invertebrates surrounded by fish and creatures including nudibranchs, crabs, damselfish, sea bream, octopus, lobster, rainbow wrasse, scorpionfish, Mediterranean parrotfish, triggerfish, starfish, grouper, barracuda, amberjacks, tuna, and an occasional turtle.  The highlight is the vast array of historic and scuttled ship and plane wrecks of all sizes, both shallow and deep, with something suitable for all levels.  Most of the sites are accessible from shore, but boat diving is done to more remote areas and the dives around Comino Island.  Sheltered, shallow sites are perfect for beginners and their training and deep wrecks with penetration possibilities will excite the most experienced of technical diver.  Overall there are more than 50 dive sites with more than 20 divable wrecks.
Seasons and Conditions – Malta is known for hot, dry summers with air temperatures from 21-30°C (70-83°F) with the driest time from May through August.  In January the range is 10-15°C (50-60°F).  Water temperature hits a low of 15°C (60°F) in February and March and a high of 26°C (79°F) in August.  At the coolest many will want a drysuit.  With little tidal flow, the current is generally minimal and the surface fairly smooth.  Visibility is usually quite good extending to 40 meters (130 feet) or more at times.  Some of the wrecks are deep requiring advanced or technical skills, but many sites are suitable for all levels.  Quite a few sites are accessible from shore.  There are at least 86 dive shops providing a full range of diving coursework, equipment rental, guiding and boat cruises.
Here is my review regarding the range of gear suitable for cold water diving:
There is not a liveaboard that directly cruises the Malta dive sites, but there is a boat that goes to the not too distant Tuscan Archipelago (Italy).  Here is my review and links to that liveaboard: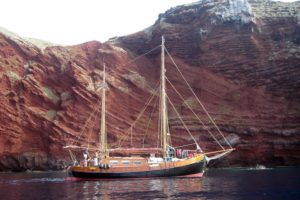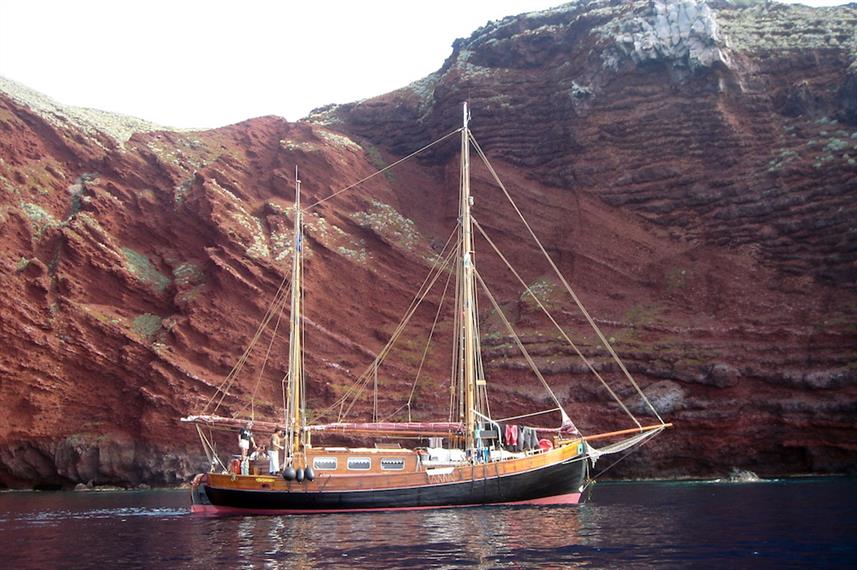 Norseman, Tuscan Archipelago Liveaboard – Check the Price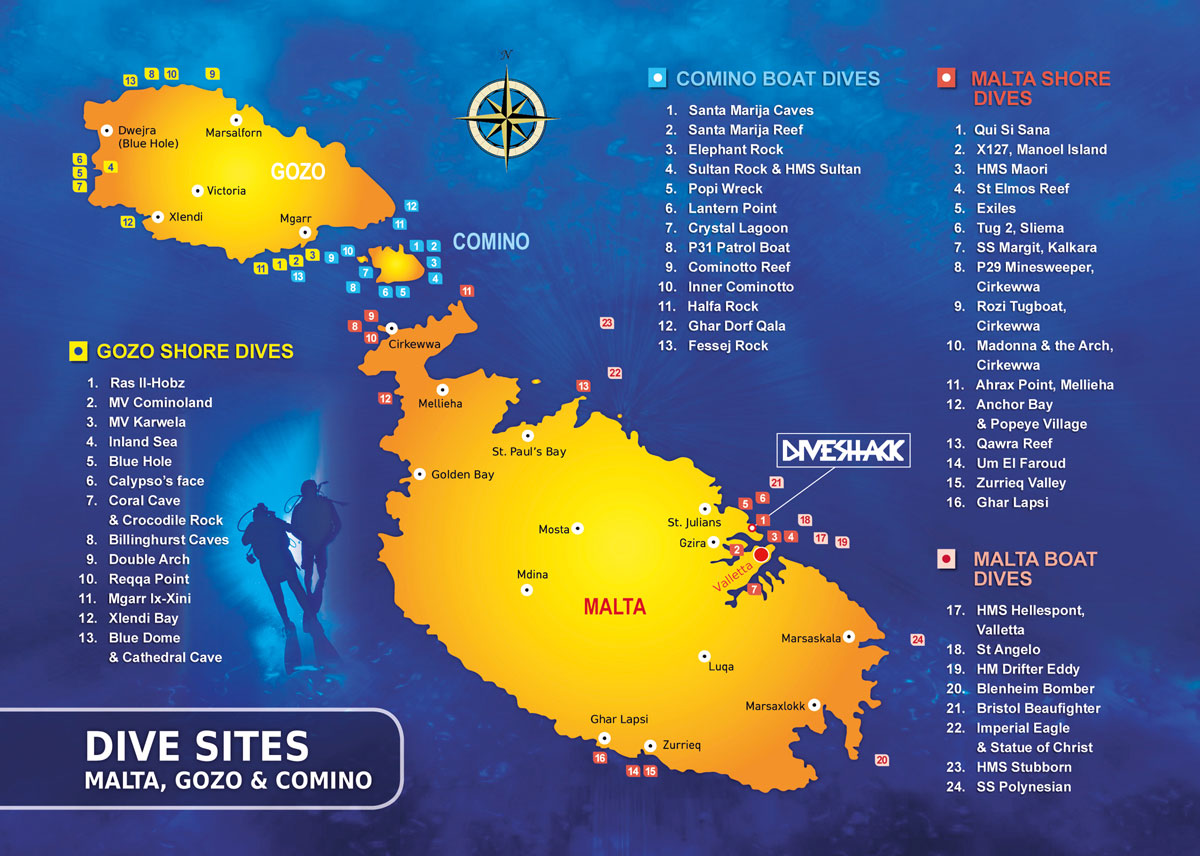 Selected Malta Diving Sites
The Blue Hole: from a 10-meter (35-foot) inland pool, descent to 15 meters (50 feet) through a series of arches, tunnels and rock formations with exceptionally clear water and marine life including moray eels, lobster, octopus, parrotfish, bream and others, continue to the inland sea or go through chimney at 18 meters (60 feet) back to a coral garden at 4 meters (12 feet), all levels
Blenheim Bomber: 42 meters (140 feet), British WWII light aircraft that attempted a belly landing and sunk intact, not all dive centers know the location, colorful anemones, sponges and corals encrust it, occasional turtles, advanced and technical levels
Um El Faroud: 35 meters (116 feet), 115-meter (390-foot) oil tanker scuttled to become an artificial reef after an explosion in 1995, upright on a sandy bottom, broken in two with prop and rudder in place, deep penetration possible, marine life includes conger eels, barracuda, squid, advanced and technical levels (see video above)
The Polynesian: 65 meters (220 feet) maximum depth, French ocean liner sunk by a torpedo during WWI in 1918, lying on the port side, superstructure reachable at 45 meters (156 feet), amidships damaged significantly by the torpedo, engine room accessible, deck cannon and anchor visible, cargo bay has pipes and motorbike tires, lots of penetration possibilities, technical level (see video below)
Santa Marija Caves: 10 meters (35 feet), Comino site, a system of 10 caves, some half in and half out of the water and some to swim through, damselfish, moray eels, banded sea bream looking for a handout, all levels
Qawra Reef: 15-40 meters (50-130 feet), shore entry, reef top around 15 meters (50 feet) with parrotfish, grouper, cardinalfish, steep drop-off to 40 meters (130 feet), big caves to the right of the wall with slipper and spiny lobster, hermit and spider crabs, nudibranchs, deeper there are finger sponges, possible barracuda, amberjacks, and tuna, all levels depending on depth
P29: 30-38 meters (100-125 feet), 62-meter (208-foot) German minesweeper scuttled in 2007 to become an artificial reef, good penetration opportunities, pretty good marine life for such a new wreck, schooling fish, experienced level
Billinghurst Cave: 27 meters (90 feet), cave opening above the waterline down to 27 meters (90 feet), long tunnel within known as the Railway Tunnel leading to another cave where surfacing within the cave is possible, cardinalfish, soft corals, red sponges, not much natural light inside the caves and tunnel, experienced level
Rozi Tugboat: 34 meters (114 feet), 40-meter (130-foot) tugboat scuttled in 1991 to become an artificial reef, 150 meters (500 feet) from shore, sitting upright, propellers and engines removed, easy penetration, rainbow wrasse, sea bream, scorpionfish, cardinalfish, experienced level
Malta Photos
With the interesting undersea terrain of arches, caves, and tunnels, colorful encrusting invertebrates and fish, historic ship and plane wrecks, interesting landmarks, shoreside geographical sites, and city scenes as well, there are many excellent photo opportunities.  For information and reviews of dive cameras, click here:
Best Malta Hotels, Transportation, and Dive Shops
Transportation – Malta International Airport has regular connections to Europe, the Middle East, and North Africa on a number of airlines.  Ryanair has its base in Malta.  There are also many fast and regular ferries to several ports in Italy and Tunis and inter-island ferries between the three Maltese islands.  Boat charters are also an option.  Taxis are numerous and there is an extensive network of buses around Malta.  Cars and bikes are also for rent.  For more complete details please click here:  Wikivoyage – Malta
Lodging and Dive Shops – Malta is well prepared for its 2.2 million annual visitors with lots of accommodation options starting at $14 a night.  There are also at least 86 dive shops that offer full services including equipment rental, dive courses, guiding and boat dive cruises.  The website linked below has the details and can arrange the booking.  You can easily find the location on the map provided on this site.  Their rates are guaranteed to be the lowest and it is free to cancel or change dates.
Malta Things to Do (aside from scuba diving)
With a long and intriguing history, there are many sites and activities to enjoy when not diving.  Here are a few:  Old capital of Mdina, Upper Barrakka Gardens, Lascaris War Rooms, Casa Rocca Piccola, Fort St. Elmo, Most Dome, horse riding at Golden Bay, St. John's Co-Cathedral, dancing at Isle of MTV, Palazzo Parisio and Gardens, Ggantija Temples, Great Siege of Malta and the Knights of St. John, Marsaxlokk, National Museum of Archeology, Valletta Harbor, Auberge de Castille, Ta'Quali Craft Village, Tarxien Temples, Ghar Dalam Cave and Museum, Three Cities, Manoel Theatre and Museum, San Anton Gardens.
These videos give a nice overview of what Malta has to offer.
A cushion for emergencies provides peace of mind when on vacation.  I recommend this diving insurance as they have worldwide coverage and provide scuba divers a quality insurance and medical assistance service.
Feedback and Comments
I hope you found this post on Malta scuba diving interesting and useful. If you have any questions or ideas, please feel free to share them in the comments section.  I'd love to know of any experience you have diving in Malta.  If there is no comments section directly below, click here:  >>comments<<