We may earn money or products from the companies mentioned in this post.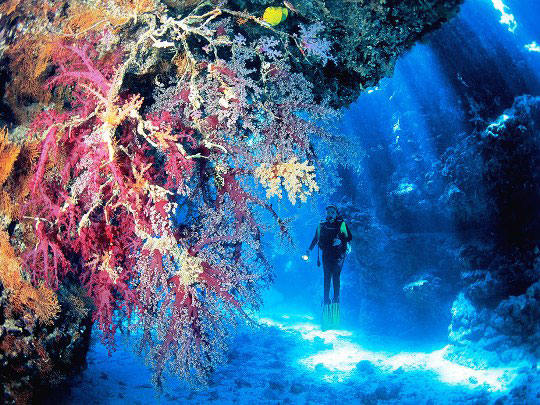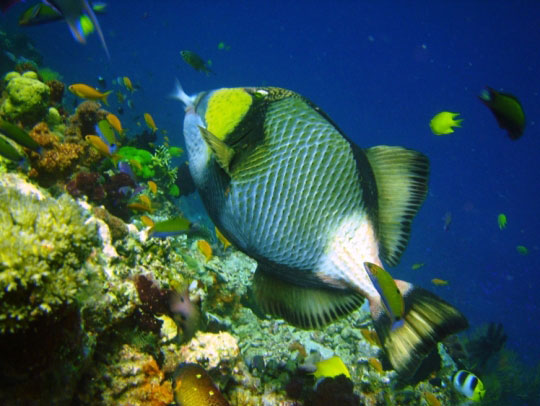 This is the thirtieth in a series that introduces and describes the various dive services and sites for worldwide liveaboard dive safaris.  This one will focus on the trips that embark from Phuket, Thailand and sail the southern Andaman Sea.
In addition to this series on liveaboards, the best worldwide dive resort locations and services are reviewed in their own series.  To check them out, or others in this series, click on Liveaboards/Resorts on the menu at the top and choose a title from the list.
Have you ever been diving in Phuket before?  If so, I'd love to know about your experience.  What dive shop or liveaboard did you use?  Which dive spots are the best and what are the conditions there regarding the visibility, current, water temperature, sealife attractions, etc.?  Please post your response in the comments section at the bottom and we'll all learn something we can use.
Phuket Thailand Diving
Phuket is situated on the west coast of Thailand, centrally located on the shore of the Andaman Sea.  At 21 km (17 miles) wide and 48 km (30 miles) long, it is the largest island in Thailand, and though having a very developed tourist industry, still has many relatively unspoiled natural areas on land, as well as in the sea.  It is known for its beautiful beaches, scuba diving, water sports, resorts, Thai cuisine, ornate temples, and nightlife and is also well positioned as the port for liveaboards to the Similans and Burma Banks in the north and also the southern Andaman Sea, as well. The southern Andaman sites are usually thought of as day trip dives, but there are liveaboards that do an excellent job providing access to the best sites there without having to go back and forth to shore.
Twenty-six years ago I first went to Phuket and took part in several day trips to dive.  I was impressed with the rich coral reef and the variety of fish and macro creatures.  Some of the featured sites are Shark Point with its leopard sharks, Koh Doc Mai – walls covered with macro life, the King Cruiser Wreck, Hin Daeng and Hin Muang – seamounts, Anemone Reef, Racha Noi and Yai, Phi Phi Islands and Koh Ha. Highlighted wildlife includes whale sharks, mantas, schooling barracuda and jacks, snappers, grouper, moray and zebra eels, leopard sharks, blacktip and whitetip reef sharks, red tooth, clown and titan triggerfish and schooling baitfish all on a bio-diverse coral reef.  Check out the videos for more.
Diving is possible year-round in the Andaman Sea.  The best time is between November and April when it is dry and less windy.  Tourists really flock there in December and January, so early booking is advisable.  The monsoon season is March to October with September and October the rainiest time. There can be more surface chop due to the wind during the monsoon season.
Air temperatures are highest in April with an average of 31°C (87°F) and coolest in December at 26°C (79°F).  Water temperatures reach 26°C (79°F) in January and February and 30°C (86°F) in May and June.  In March and April thermoclines may be encountered with downward decreases of 2°C (3.6°F).  A 3mm wetsuit is probably adequate for most divers.
Visibility is variable based on the area and season but ranges from 10 meters (35 feet) to 30 meters (100 feet).
The northern Andaman Sea embracing the Similans and Burma have liveaboards specifically for those areas.  To find out details of the available boats, services, and dive sites, please go to these two posts: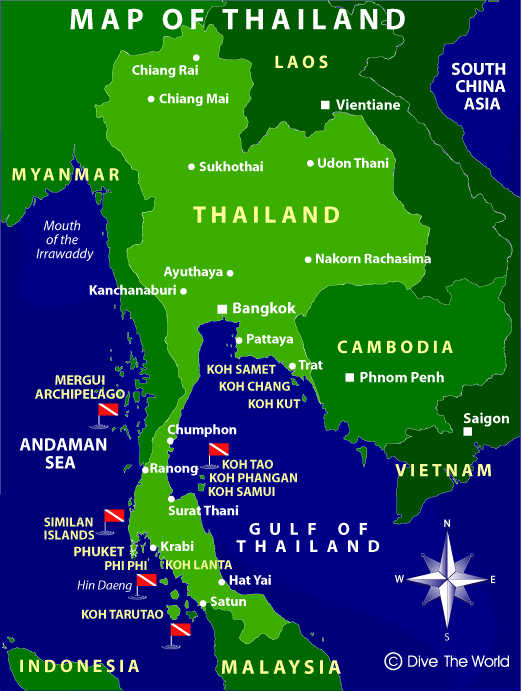 Liveaboard Dive Boats Thailand
Three boats are providing liveaboard dive safaris to the southern Andaman Sea departing from Phuket.
The Merdeka 3 promotes a relaxed atmosphere of up to two dives a day and a lot of island hopping and shoreside activities, all in the southern sector.
The MV Giamani runs two different cruises, one to the southern Andaman and another to the northern Andaman, back to back.  This allows divers to do one or both. This boat is more encouraging for advanced and tech divers.
The MV Gentle Giant, like the Merdeka 3 runs just a single cruise, but this one encompasses both the northern and southern Andaman Sea.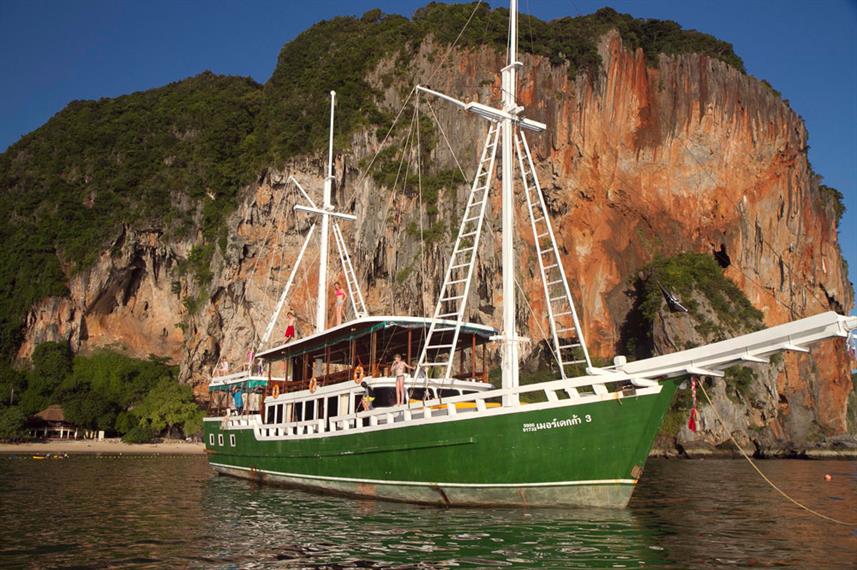 3-5 day cruises in the Southern Andaman Sea for both divers and non-divers to explore Phi Phi, Koh Ha, Hin Daeng and Hin Muang in the Krabi province
2 dives daily (usually in the morning) and afternoons spent exploring the islands, kayaking, snorkeling and relaxing
Aircon cabins, en-suite bathrooms, warm water showers, audio & video entertainment, daily housekeeping
Sun deck
Massage
Western, local and vegetarian food, outdoor dining
The crew speaks English, German, Thai, and French
Separate rinse for u/w camera, charging stations
Onboard kayaks
Non-diver (snorkeler) friendly
Experience required: Open Water Certification and 10 minimum logged dives
Sidemount diving
Tenders for diving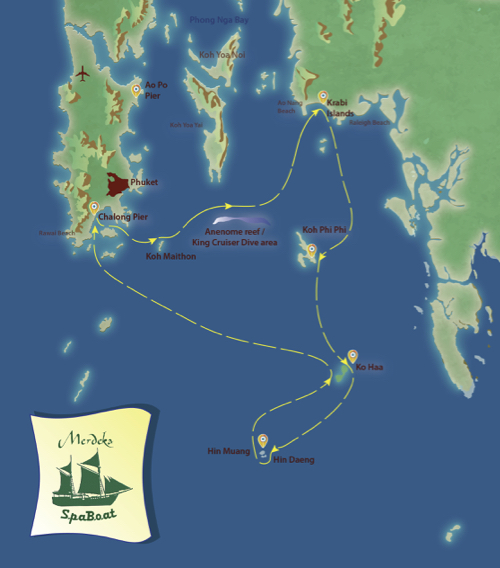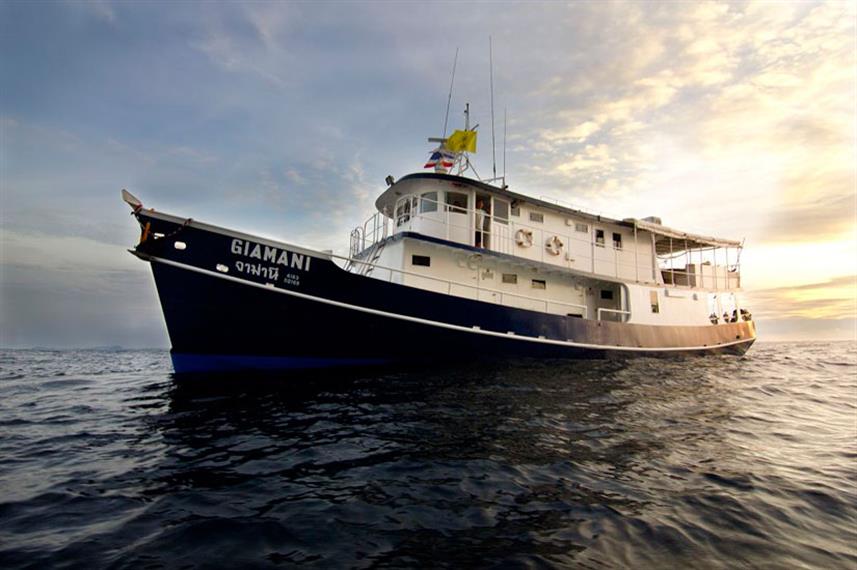 3-day cruises to Hin Deang, Hin Muang, Koh Haa, Phi Phi & Phuket followed by 5-day trips to the Similans, Koh Bon, Koh Tachai, Surin & Richelieu (divers can sign up for one or both legs)
Air-conditioned saloon, aircon cabins, indoor saloon, en-suite bathrooms, audio & video entertainment, library, daily housekeeping, warm water showers
Sun deck, leisure deck
Massage
Photography station, separate rinse for u/w camera, charging stations
Western, local and vegetarian food, outdoor dining
The crew speaks English, German, Thai, French, Spanish, Portuguese, and Italian
Shaded diving deck
Non-diver (snorkeler) friendly
Nitrox available, tech diving, rebreather support
Tender for diving – 1 x 3.80m 30HP
Emergency rafts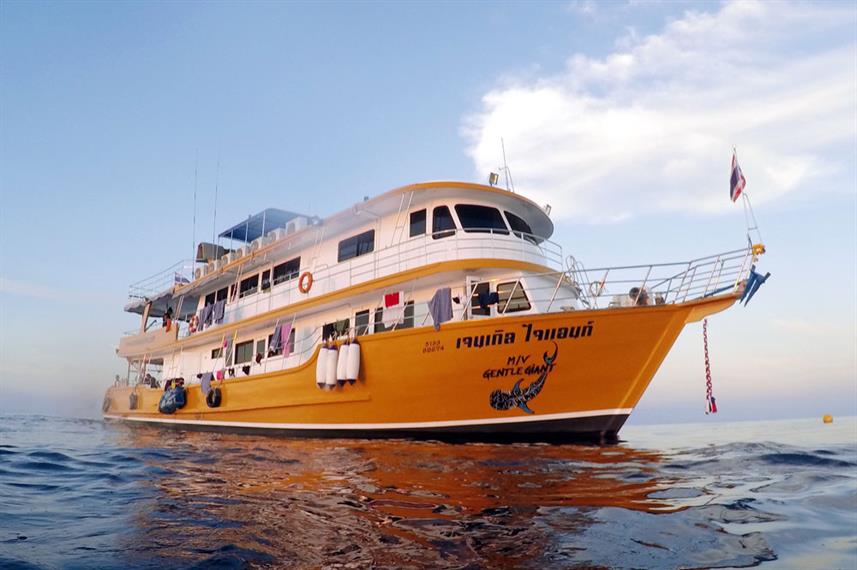 December – April 6 day cruises to the Similans, Richelieu, Hin Daeng, and Hin Muang
Air-conditioned saloon, aircon cabins, en-suite bathrooms, indoor saloon, warm water showers, audio & video entertainment
Sun deck
Separate rinse for u/w camera
Charging stations
Western, local and vegetarian food
The crew speaks English and Thai
Non-diver (snorkeler) friendly
Nitrox available
Dive deck
Emergency rafts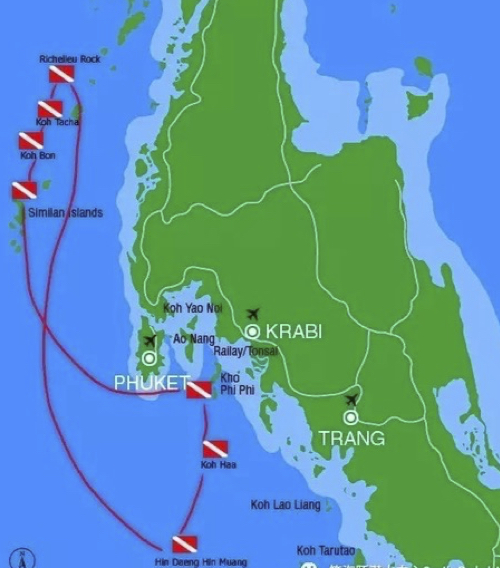 Merdeka 3
MV Giamani
MV Gentle Giant
Length

30 m
24 m
27 m
Guests

14
10
20
Equipment

Included
thb800/day
thb500/day
Nitrox

No
thb300/fill
thb200/fill
Snorkel
Friendly
Yes
Yes
Yes
Price/Day

$203
$216
$195
Phuket Photos
With the macro life, beautiful, diverse coral reef, megafauna, and lots of fish, there are many excellent photo opportunities.  For information and reviews of diving cameras, click here:
Dive Insurance
A cushion for emergencies provides peace of mind when on vacation.  I recommend this diving insurance as they have worldwide coverage and provide scuba divers a quality insurance and medical assistance service.
Phuket Dive Resorts and Hotels
Phuket has many dive shops and is world-famous for its hotels and resorts of all levels.  Before and after your cruise you may want to spend some time taking advantage of the sun, beach and nightlife activities by hooking up with some local lodging.  This website is a good source for available options and can arrange a booking:
Feedback and Comments
I hope you found this post on Phuket scuba diving interesting and useful. If you have any questions or ideas, please feel free to share them in the comments section.  I'd love to know of any experience you have diving there.  If there is no comments section directly below, click here:  >>comments<<