Updated July 13, 2022
This is the second in a series that introduces and describes the various dive services and sites for worldwide liveaboard dive safaris.  This one will focus on the trips that include the Similans, an extremely popular and exciting area to dive in Thailand.
In addition to this series on liveaboards, the best worldwide dive resort locations and services are reviewed in their own series.  To check them out, or others in this series, click on Liveaboards/Resorts on the menu at the top and choose a title from the list.
Have you been diving in Thailand before?  If so, I'd love to know about your experience.  What dive shop or liveaboard did you use?  Which dive spots are the best and what are the conditions there regarding the visibility, current, water temperature, sealife attractions, etc.?  Please post your response in the comments section at the bottom and we'll all learn something we can use.
Best Scuba Diving Thailand Liveaboards
Thailand and the Similan Islands are richly serviced by 28 different boats for liveaboard scuba diving vacations of 2 to 12 days at rates of $105 to $439 daily.  Below is a list of the top vessels.  After that are a recommended sample of 5 great boats.
For details and booking of all the boats in the lists below, click here.
Budget Liveaboard Vessels
MV Andaman Tritan
MV Deep Andaman Queen
MV Dolphin Queen
MV Oktavia
MV Daranee
MV Similan Explorer
MV Thai Sea
MV Manta Queen 5
MV Manta Queen 6
MV Sea World I
MV Bavaria
The Phinisi Cheng I Sao
SY The Junk
MV Marco Polo
MV Sawasdee Fasai
MV Pawara
Manta Queen 3
Manta Queen 7
Smiling Seahorse
Manta Queen 1
MV Camic 2
Manta Queen 2
Manta Queen 8
Peterpan
MV Gentle Giant
Middle Budget Liveaboard Vessels
MV Giamani
MV South Siam III
SY June Hong Chian Lee
Merdeka 3
Merdeka 1
MV DiveRACE Class E
Ajao
High Budget Liveaboard Vessels
MV Hallelujah
SY Diva Andaman
Thailand Aggressor
Most Popular – MV Andaman Tritan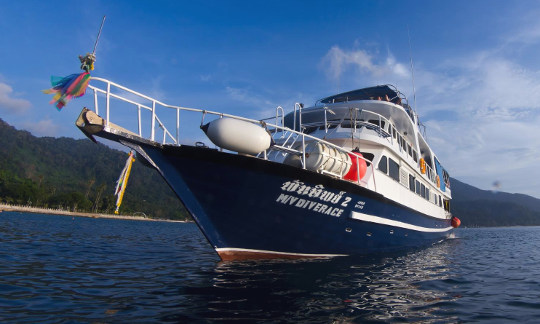 Features
Visits Similans, Richelieu Rock, Khao Lak
Most cabins have en-suite bathrooms
Air-conditioned cabins
Extensive dive deck
Full entertainment and safety facilities
Nitrox onboard
7 crew, 3 divemasters
Large sundeck
Thai and international cuisine
Check the Price at Liveaboard.com
Top-Rated – MV Deep Andaman Queen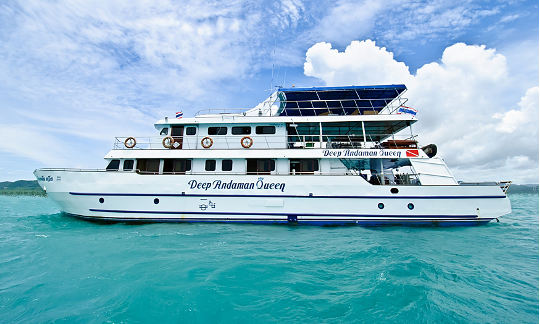 Features
Visits Similans, Surin, Khao Lak, Burma South
All cabins have ensuite bathrooms with hot water
Master cabin with a TV/DVD player
Underwater cameras available
Complimentary mini-bar
Air-conditioned saloon
All carrying of equipment is done by the boat crew
Nitrox onboard
Large dive deck and 2 motorized tenders
Shaded deck to the rear of the boat where the evening meals are served
Plenty of sunbathing space
Check the Price at Liveaboard.com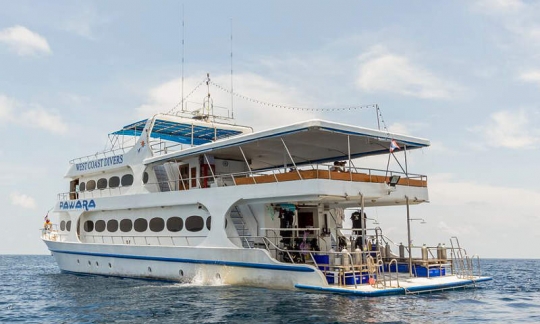 Features
Cruises Similans, Richelieu Rock, Khao Lak
All cabins with private bathrooms
Dedicated restaurant with bar, large sundeck
Large stable boat with a steel hull
35 square meter saloon (with TV/DVD player, free Wi-Fi internet and Play Station)
72 square meter sundeck
Air-conditioned saloon and dining room are air-conditioned
Large shaded deck area on the main deck

C

omplimentary nitrox

 for all EANx-certified guests
Check the Price at Liveaboard.com
High Budget Favorite – Thailand Aggressor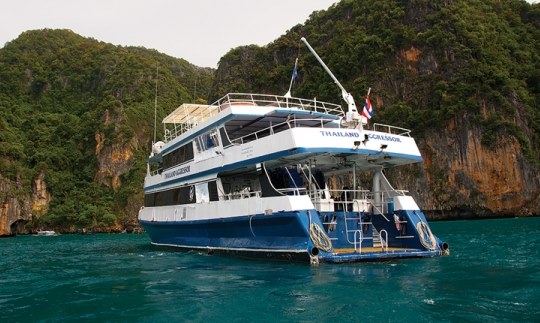 Features
Cruises Similans, Surin, Richelieu Rock
Cabins with private bathrooms, TVs & movies
Free local beer and wine, separate dining room
Sun deck with whirlpool tub
Large boat with a steel hull
Air-conditioned, furnished saloon and separate dining room on the main deck
Entertainment facilities include a flat-screen TV, DVD, and music system plus a library of books and magazines
Internet is available via the satellite system at an extra cost
Wine and local beer are free of charge

 

Computer, photo/video editing facility, multiple charging sites throughout the boat
Deck has a camera rinse tank and camera table
Check the Price at Liveaboard.com
Intriguing Design – SY Diva Andaman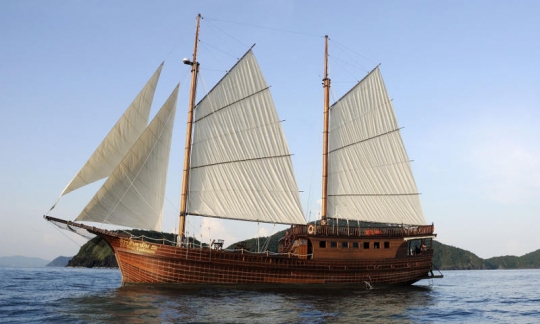 Features
Cruises Similans, Richelieu Rock, Koh Bon, Koh Tachai, Burma South
Cabins with private ensuite bathrooms, minibar, safety deposit boxes
Complimentary bottle of champagne
Sea kayaks
Traditional Thai massage
Dive deck with lockers, hot shower, toilet
Large boat with wooden paneling throughout
10 crew for a maximum of 15 scuba divers
Air-conditioned saloon/dining area where you can find the entertainment facilities
Large sundeck

C

omplimentary bottle of champagne

 

Nitrox available
Check the Price at Liveaboard.com
Selection of the Best Thailand Dive Sites
Similan Islands – 11 major granite tropical islands in the midst of brilliantly clear blue water, the Similans feature beautiful rich soft and hard coral reefs abundant with exceptionally fascinating marine life and the largest number of reef fish in Thai waters.  There are swim-through rock formations in the midst of boulders, canyons, and pinnacles with numerous gorgonians, barrel sponges, and exciting critters like nudibranchs, moray eels, cuttlefish, and octopus.  Exciting larger attractions often include reef sharks, leopard sharks, manta rays, green turtles, and when conditions are right, a whale shark.  Current can make for some exciting drift diving.
Richelieu Rock – Just pushing through the surface at low tide, the pinnacles of Richelieu Rock create a top Thai dive site attracting schools of snapper, sweetlips, barracuda, and jacks.  As on the sites in the Similans, there is a similar rich coral reef which includes some intriguing animals like sea anemones with their clownfish, frogfish, harlequin shrimp, nudibranchs, pipefish, seahorses, and ghost pipefish. Manta and eagle rays and whale sharks also pass through this area.
Khao Lak is the mainland Thailand area just to the east of the Similans.  The Bunsoong Wreck is an attraction here.
Koh Bon is a pinnacle island 800 meters northeast of the Similans and is well known as a cleaning station for mantas.  Several varieties of sharks cruise the area or hang out under rocks and coral ledges including blacktips, whitetips, leopard, nurse and grey reef sharks.
Koh Tachai, a pinnacle island north of Koh Bon, frequently has strong currents and abounds in prey fish that attract massive schools of predators like tuna, jacks and barracuda, and reef sharks.  The reef is covered predominantly with hard corals.
Burma South – This, too, is a rich coral reef area with various reef sharks, manta rays and green turtles, and the possibility of whale sharks.  It is also rich with smaller critters like nudibranchs, moray eels, octopus, and cuttlefish.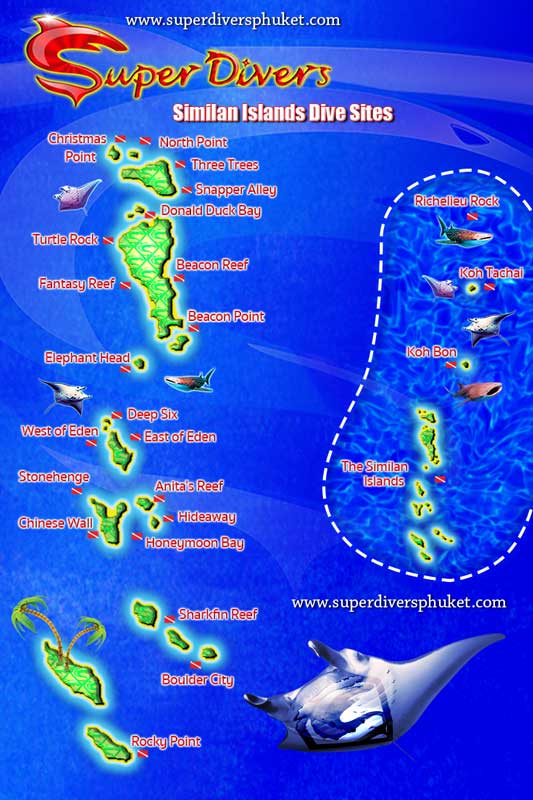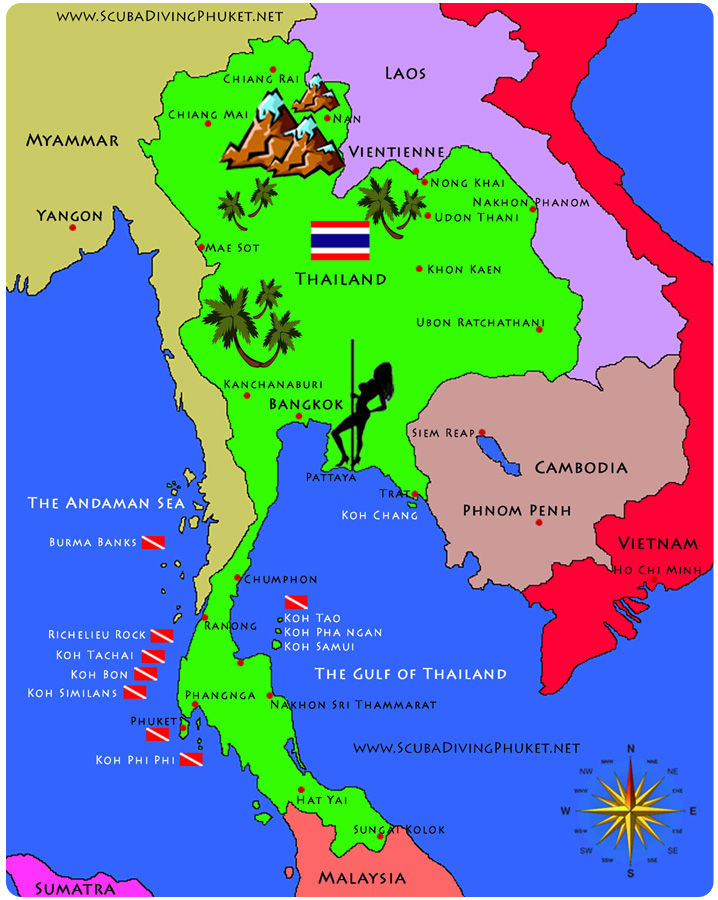 Here are my reviews for other great dive sites in Malaysia, the Andaman Sea, and the Gulf of Thailand:
Thailand Photos
With the pristine coral reefs, biodiversity including manta and eagle rays, turtles, a variety of sharks, dolphins, whales sharks, macro critters, and reef tropicals, there are many excellent photo opportunities.  For information and reviews of dive cameras, click here:
Scuba Diving Trip Insurance
A cushion for emergencies provides peace of mind when on vacation.  I recommend this diving insurance as they have worldwide coverage and provide scuba divers quality insurance and medical assistance service.
Feedback and Comments
I hope you found this post on Thailand liveaboard scuba diving interesting and useful. If you have any questions or ideas, please feel free to share them in the comments section.  I'd love to know of any experience you have.  If there is no comments section directly below, click here:  >>comments<<