We may earn money or products from the companies mentioned in this post.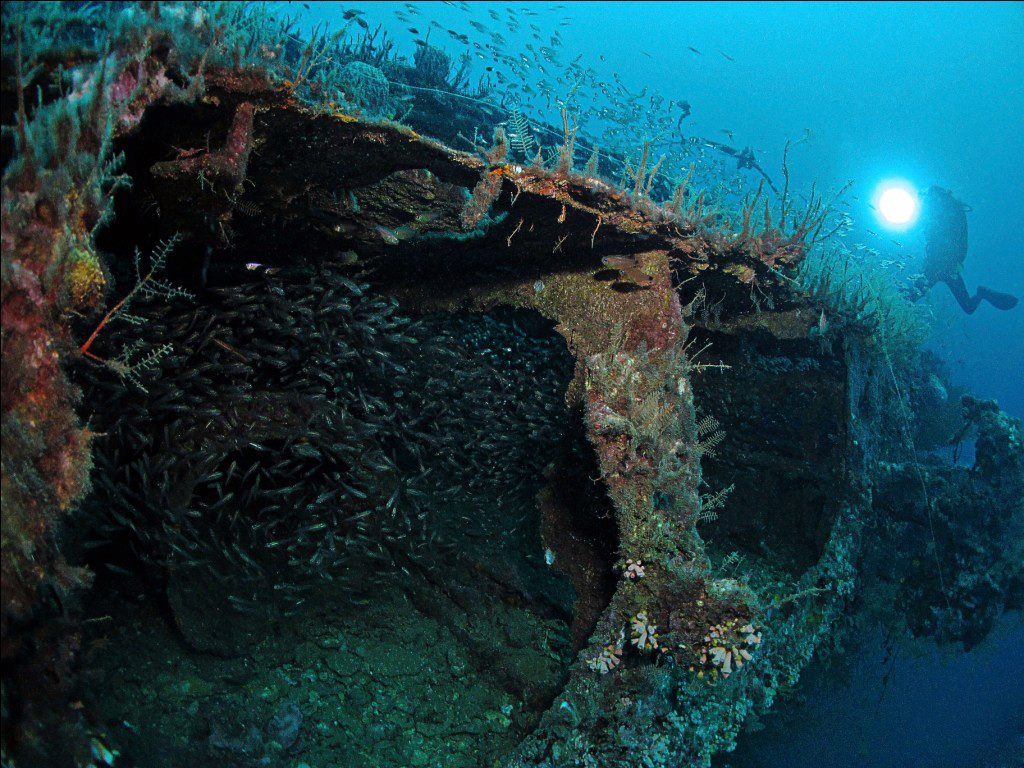 This is the forty-ninth in a series of reviews of the best dive resort locations around the world.  In this post, the focus is on Labuan, Malaysia.
In addition to this series on dive resort locations, the best worldwide liveaboard dive locations and services are reviewed in their own series.  To check them out, or others in this series, click on Liveaboards/Resorts on the menu at the top and choose a title from the list.
Have you ever been diving in Labuan before?  If so, I'd love to know about your experience.  What dive shop or liveaboard did you use?  Which dive spots are the best and what are the conditions there regarding the visibility, current, water temperature, sealife attractions, etc.?  Please post your response in the comments section at the bottom and we'll all learn something we can use.
Labuan Diving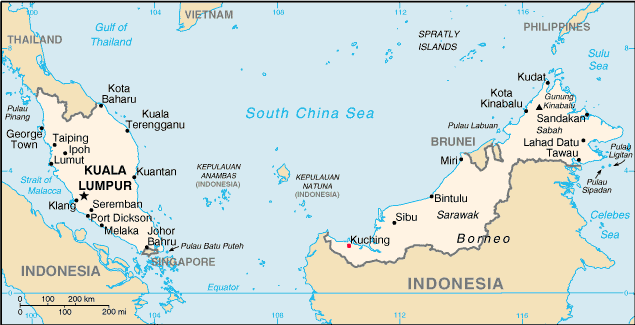 Background – Labuan is a federal territory of Malaysia consisting of Labuan Island and 6 smaller islands which combine for a total area of 92 square kilometers (57.5 square miles).  Situated 8 km (5 miles) off the northwest coast of Borneo, north of Brunei in the South China Sea, the terrain is fairly flat with 70% under vegetation.  The population of 100,000 sustains itself on an economy driven by banking, steel, methanol, floor tiles, flour mills, and offshore supplies.  English is widely spoken along with Malay, indigenous languages and different dialects of Chinese in their community.  A sizable portion of the population comes from outside Labuan lending to a cosmopolitan atmosphere.
Undersea World – Labuan Marine Park includes the islands of Kuraman, Rusukan Besar and Rusukan Kecil just south of the main island.  The fringing reefs there are popular for snorkeling, but Labuan has developed its reputation as a top scuba diving destination for the 4 relatively shallow major wrecks outside the Marine Park area to the west and south.  They are well encrusted with a rich variety of hard and soft corals, sponges, sea fans, gorgonians, black coral and other invertebrates providing an excellent habitat for macro life like scorpionfish, frogfish, crabs, shrimp, octopus and many others.  Other attractions include schooling tropicals like yellowfin fusiliers,  bannerfish, angelfish, snappers, pelagics, Napoleon wrasses, groupers, batfish, marble stingrays, leopard, nurse and the occasional whale sharks, barracuda, trevallies and turtles.
To check out liveaboard diving opportunities, click here: liveaboard diving
For reviews of diving at other Malaysian locations please check these posts:
Seasons and Conditions – Diving is possible throughout the year.  It rains every month with the driest time from January through April.  There is, however, no real monsoon or typhoon threat.  Average daily air temperature highs are 31-32°C (88-90°F).  Water temperature ranges from 25-32°C (77-90°F) meaning a 3 mm wetsuit should handle thermal protection needs when the water is at the coldest.  Visibility is pretty good for wreck diving running from 10-30 meters (35-100 feet).  Typically current around the wrecks is not strong.  Maximum depth on two of the wrecks is 35 meters (115 feet) and it's 30 meters (100 feet) on the other two.  They all can be reached at significantly shallower depths.  If penetration is not attempted these sites do not require advanced or technical skills.  There are at least two dive shops on Labuan Island who provide equipment rental, courses, guiding and boat cruises to the wrecks.  Other shops from outside the immediate area also arrange trips to Labuan.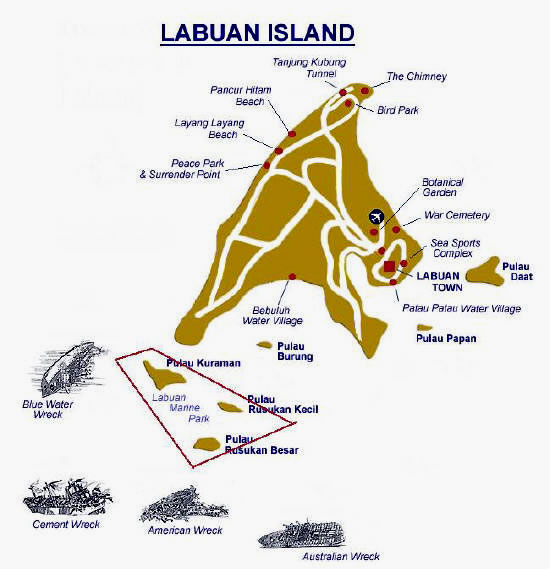 Labuan Wreck Sites
Blue Water Wreck (Mabini Padre): 35 meters (115 feet) maximum depth, rests on its port side, starboard side reachable at 24 meters (80 feet), huge fishing trawler sunk after a fire in 1981, well encrusted with hydroids, sponges and soft corals, macro life including blue frogfish, lionfish, scorpionfish, pipefish, hawkfish and blennies, schooling jacks, barracudas, tuna and mackerel, whitetip reef sharks, groupers, swim through of bridge and trawl shoot possible, experienced level
Cement Wreck (MV Tung Huang): 30 meters (100 feet) maximum depth, 92 meter (300 foot) freighter sunk in 1980 while transporting cement to Brunei for the palace, sitting vertically, can reach the superstructure at 19 meters (63 feet), well encrusted with hard and soft corals, black corals, sponges, and feather stars,  highlights include, anthias, lionfish, butterflyfish, scorpionfish, yellow pixy hawkfish, schools of jacks, barracudas, snappers, turtles and possible whale sharks, cargo hold, engine room and superstructure possible to penetrate, experienced level
Australian Wreck (SS De Klerk and later Imabari Maru): maximum depth 35 meters (115 feet), reachable at 25 meters (83 feet), Dutch cargo vessel built in 1890, scuttled in 1942 and taken over by the Japanese Navy, hit a mine and sunk in 1944, 339 killed, mostly prisoners, workers and comfort women, lies at a 50 degree angle on her port side, much deterioration of the structure, blast hole in the starboard side, rich encrusting reef, good macro including shrimps, frogfish, scorpionfish and big lionfish, pufferfish, schooling tropicals and yellowfin fusiliers, little current, experienced level
American Wreck (USS Salute): 30 meters (100 feet) maximum depth, can reach at 12 meters (40 feet), US Navy minesweeper commissioned in 1943, sunk when it hit a land mine in Brunei Harbor in 1945, nine US sailors died, broken in half with a section of the bow facing sternward, penetration is possible, much live ammo was removed recently by the Malaysian Navy, but some is still there including depth charges and bullets, other artifacts are shoes, kitchen supplies, and wine bottles, well encrusted with sponges, including barrel sponges, plate corals and black corals, good macro life, moray eels, lionfish, cardinalfish, schooling tropicals, angelfish, stingrays, nurse sharks, big barracudas, little current, experienced level
Labuan Island Photos
With the interesting wrecks, colorful encrusting life, gorgonians, black coral, macro life, schools of fish, rays, sharks, turtles, and fascinating scenes on land, as well, there are many excellent photo opportunities.  For information and reviews of dive cameras, click here:
Transport to Labuan is possible by air or boat.  Malaysia Airlines, AirAsia and MASWings fly daily from Kota Kinabalu and Kuala Lumpur to Labuan Airport.  Ferries from Menumbok, Sipitang, Limbang, Lawas, Kota Kinabalu and Brunei all have a regular schedule.  Once on Labuan buses and taxis are available, but distances are mostly short and walkable.
There are at least 2 dive shops operating on Labuan Island providing a full range of services including equipment rental, dive courses, guiding and boat dive cruises.  Hotel and resort pricing is very reasonable in a range from $16 to $81 per night.  The website linked below is a good source for the available options and can arrange the booking.  Their rates are the lowest and it is free to cancel or change dates.
Labuan, Malaysia Things to Do
Duty-free shopping, great Malay food, restaurants, bars, and nightclubs are all popular.  Beware that many of the bars are associated with prostitution.  For the sporting, there are beaches, seaside activities, fishing and golf at two golf courses.  World War II sites, "The Chimney," Bird Park and the Kampung Air/Water Village are other options.  Check out the video below for a look at Labuan life and additional leisure options.
A cushion for emergencies provides peace of mind when on vacation.  I recommend this diving insurance as they have worldwide coverage and provide scuba divers a quality insurance and medical assistance service.
Feedback and Comments
I hope you found this post on Labuan scuba diving interesting and useful. If you have any questions or ideas, please feel free to share them in the comments section.  I'd love to know of any experience you have diving there.  If there is no comments section directly below, click here:  >>comments<<