We may earn money or products from the companies mentioned in this post.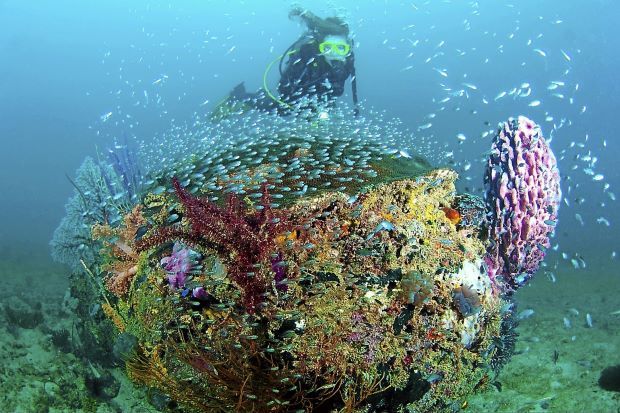 Diver & Glassfish Over Reef – Tunku Abdul Rahman National Park
This is the one hundred and twenty-sixth in a series of reviews of the best dive resort locations around the world.  In this post, the focus is on Kota Kinabalu, Malaysia. In addition to this series on dive resort locations, the best worldwide liveaboard diving locations and services are reviewed in their own series.  To check them out, or others in this series, click on Liveaboards/Resorts on the menu at the top and choose a title from the list.
Have you been diving in Kota Kinabalu before?  If so, I'd love to know about your experience.  What dive shop or liveaboard did you use?  Which dive spots are the best and what are the conditions there regarding the visibility, current, water temperature, sealife attractions, etc.?  Please post your response in the comments section at the bottom and we'll all learn something we can use.
Scuba Diving Kota Kinabalu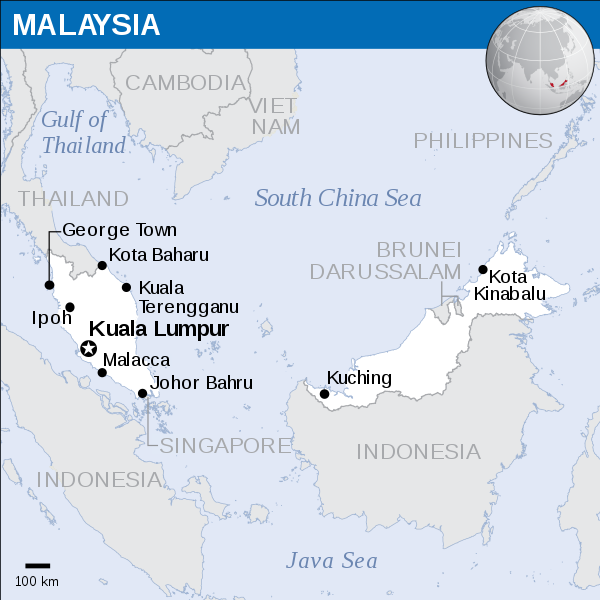 Background – Situated on the west coast of Sabah, Kota Kinabalu is the capital of the state with a metro population of 630,000.  Kota translates as fort and Kinabalu comes from the mountain of that name 50 kilometers (31 miles) to the east-northeast of the city.  With a history as part of the Bruneian Empire in the 15th century and later controlled by the British North Borneo Company in the 19th century, KK has a rich cultural mix of influences.  More than 20% of the population are ethnic Chinese, around 25% are non-Malaysian, and there are several Malay ethnicities, as well. A substantial number of people of Filipino origin, both legal and illegal, mostly from the southern Philippines make up part of the non-Malaysian group with an increasing number of expats from numerous countries.    A sort of Creole form of Malay is the common language with several Chinese dialects also in use.  This mix brings with them a number of religions including Animism, Islam, Christianity, Buddhism, Taoism, and others.  Rapid urbanization is fueled by a developing economy that previously relied on natural resources.  Today industry, financial services, and tourism are all increasing in importance.  For further details on the history, culture, and demographics, please check here:  Wikipedia – Kota Kinabalu
Undersea World – 15-20 minutes boat ride from shore is the 4,929 hectare Tunku Abdul Rahman National Park.  Consisting of the 5 islands, Sapi, Gaya, Manukan, Sulug, and Mamutik, the reefs have been monitored and protected for over 40 years.  With its sandy beaches and lush forests this home to amazing wildlife like swallows, sea eagles, hornbills, terns, macaques, monitor lizards, bearded pigs, squirrels, and pangolins, is a popular destination for island hoppers and day-trippers.  Hotels in Gaya and Manukan are available, as well.  The dive sites are characterized as gently sloping coral gardens to depths of 30 meters (100 feet) with good visibility averaging 15 meters (50 feet), and gentle currents.  The reefs are dominated by an array of hard coral species, sea whips, sponges, and soft corals.  Macro attractions like frogfish, ghost pipefish, and octopus are the delight of photographers as are the variety of reef tropicals, green and hawksbill turtles, Napoleon wrasses, big schools of barracuda and jacks, stingrays, eagle rays, nurse sharks, blacktip reef sharks, and whale sharks from December through March during the plankton bloom.
For reviews of diving at other Malaysian locations please check these posts:
Seasons and Conditions – Diving is possible year-round in KK.
Average daily air temperature highs stay in a range of 30-32°C (86-90°F).
Water temperature ranges from 25 to 30°C (77 to 86°F) meaning a 3 mm wetsuit should handle thermal protection needs when the water is at the coldest.
Visibility is pretty good averaging around 15 meters (50 feet).
Typically current is not strong.
There are sites suitable for all levels of diver.  There are many dive shops in the area offering the full range of diving coursework, equipment rental, guiding, and boat cruises.
There are no liveaboard yachts cruising the Kota Kinabalu area.  There are, however, a couple of wonderful vessels doing safaris on the east side of Borneo to the Derawan Islands.  Here is my review and links to the liveaboard yachts: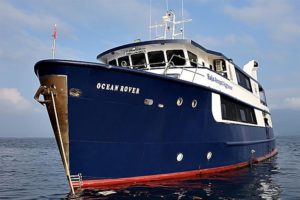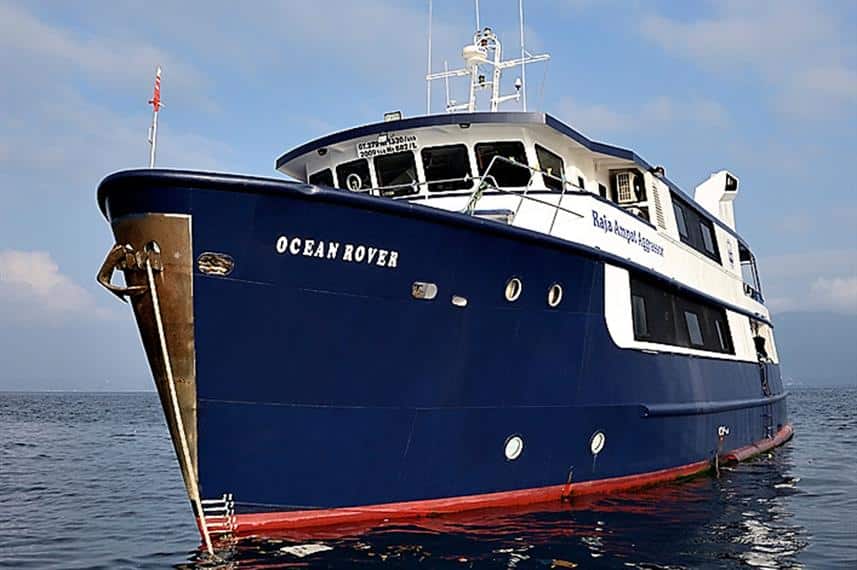 Raja Ampat Aggressor, Derawan Islands Liveaboard Diving – Check the Price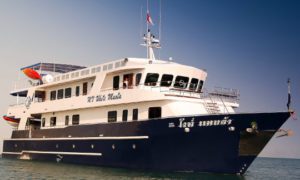 Raja Manta, Derawan Islands Liveaboard Diving – Check the Price
Selected Kota Kinabalu Dive Sites
Gaya Island: 5-30 meters (16-100 feet) There are nice sites particularly around the western half of Gaya.  Police Bay on the north side has a sandy bottom with staghorn corals, lots of reef tropicals, and stingrays in the sand.  Clement Reef on the southwest side has a variety of hard corals including brain, table, and staghorn corals and sponges.  Otherwise, around the island, you may find frogfish, scorpionfish, lionfish, nudibranchs, seahorses, turtles, schools of barracuda, pelagics like tuna, and reef sharks.
Sapi Island: 8-25 meters (26-82 feet) Beautiful beaches give way to reefs with great macro critters like cuttlefish, octopus, moray eels, nudibranchs, anemones and their clownfish, stonefish, crocodile fish and schools of reef tropicals like fusiliers, and stingrays.  The Sapi Jetty area also has interesting macro critters including fingered dragonets. gobies, flounders, cuttlefish, and sea kraits.  Nearby Edgell Patch has a mild slope from 6 meters (20 feet) extending to 25 meters (82 feet) with schools of fusiliers, cardinalfish, crinoids, and nurse sharks.
Manukan Island: 25 meters (82 feet) maximum depth; The gently sloping reef is unusually rich in hard corals with staghorn in the shallower areas, and brain and lettuce coral from 8 meters (26 feet) downward.  Marine life highlights include batfish, trumpetfish, big groupers, and schools of barracuda.  Other reef fish and macro critters include pufferfish, butterflyfish,  parrotfish, rabbitfish, blennies, and nudibranchs.  At mid-reef, a small wooden wreck provides habitat for frogfish, morays, shrimps, and cuttlefish.
Mamutik Island: This smallest of the islands has white sandy beaches and is a shallow rich site for divers and snorkelers.  There is a nice variety of reef tropicals and macro critters including lionfish, leaf fish, frogfish, and sea horses.  To top it off a huge statue of a seahorse is underwater there to greet you.
Sulug Island: 18 meters (60 feet) Considered by many the best site in the park, Sulug has a sloping reef of pristine hard corals that turns into a sand bottom starting in 12-15 meters (40-50 feet) with padina seaweed and sargassum.  This combination provides excellent habitat for a variety of marine life including mantis shrimps, gobies, panther flounders, hingebeak shrimps, banded sea kraits, nudibranchs, moray eels, frogfish, stingrays, huge schools of yellowtail snapper, and turtles.
Things to Do in Kota Kinabalu (aside from scuba diving)
In and around Kota Kinabalu and within day-trip distance are loads of natural and cultural sites and activities to make your vacation truly noteworthy. This list has some highlights to investigate: Atkinson Clock Tower, Poring Hot Springs, Wetland River Cruise, Sea Kayaking, Mount Kinabalu, Seafood, Green Connection Aquarium, Stilt Villages Tour, KK Handicraft Market, Waterfront Stroll & Drinks, White Water Rafting, Monsopiad Cultural Village, KK City Mosque, City Park, Chinatown, Saba State Museum, Borneo Railway, Island Hopping, Tanjung Aru Beach, Lok Kawi Wildlife Park, Signal Hill Observatory Platform, State Mosque.
Here are two videos as an introduction.  The first runs quickly through several intriguing activities and locations.  The second follows a group of young tourists on their fun trek.
Plane – Kota Kinabalu International Airport (BKI) located 7 kilometers (4 miles) from the city center handles domestic and international flights from a number of East Asian countries and Australia.  An airport bus, mini-bus, or taxi can transport you to the city.
Long-Distance Bus – KK is a hub with several bus stations that enable service around Sabah.
Ferry – Jesselton Point Ferry Terminal facilitates twice-daily service to Labuan and Brunei.
Train – Sabah State Railway has new air-conditioned trains that have routes to many locations on the interior and beyond.  North Borneo Railway runs an old steam train to Papar in a popular service designed for tourists.
Bus and Minibus – For around town transportation, City Bus has numerous routes.
Taxis are available for short and long trips. Be sure to haggle.
Car rental from several companies is available at the airport and elsewhere.  You can compare and haggle for the price of these, as well.
Walking around town is a great way to see and feel it all.
For further details on transportation and other tourist tips, please go to Wikivoyage – Kota Kinabalu.
Hotels and Diving – There are more than 900 lodging options in Kota Kinabalu starting at $3 per night.  Many dive shops are in the area offering a full range of services that include equipment rental, diving certification classes, dive guides, and boat tours.  Many are within or associated with lodging.  The website linked below has the details and can arrange a booking for the lodging.  You can easily find the location on the map provided on this site.  Their rates are guaranteed to be the lowest and it is free to cancel or change dates.
Photography in Kota Kinabalu
With the colorful coral reefs, a variety of fish, macro critters, sharks, rays, pelagics, and scenic shoreside targets, as well, there are many excellent photo opportunities.  For information and reviews of dive cameras, click here:
A cushion for emergencies provides peace of mind when on vacation.  I recommend this diving insurance as they have worldwide coverage and give scuba divers a quality insurance and medical assistance service.
Feedback and Comments
I hope you found this post on Kota Kinabalu scuba diving interesting and useful. If you have any questions or ideas, please feel free to share them in the comments section.  I'd love to know of any experience you have.  If there is no comments section directly below, click here:  >>comments<<