We may earn money or products from the companies mentioned in this post.

Katori Maru Wreck – Kuching, Sarawak, Malaysia (Photo courtesy of Aquabase Scuba Diving & TripAdvisor)
This is the one hundred and fifty-ninth in a series of reviews of the best dive resort locations around the world.  In this post, the focus is on Kuching, Malaysia. In addition to this series on dive resort locations, the best worldwide liveaboard diving locations and services are reviewed in their own series.  To check them out, or others in this series, click on Liveaboards/Resorts on the menu at the top and choose a title from the list.
Have you been diving in Kuching before?  If so, I'd love to know about your experience.  What dive shop or liveaboard did you use?  Which dive spots are the best and what are the conditions there regarding the visibility, current, water temperature, sealife attractions, etc.?  Please post your response in the comments section at the bottom and we'll all learn something we can use.
Kuching Diving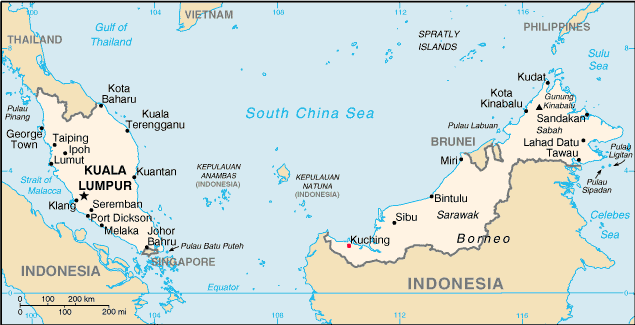 Background – With a population of around 650,000, Kuching is the capital and largest city in the state of Sarawak on Malaysian Borneo.  On the southwest tip of the state with the Sarawak River dividing the wetlands of the city north to south, Kuching is bordered to the north by the peninsular coasts of Baku and Santubong, to the west by Kuching National Park, to the east by the Kuap River, and to the south by the airport.  It is warm and humid all year with a tropical rainforest climate but rarely any high winds or heavy thunderstorms.  A part of the Sultanate of Brunei until 200 years ago, it was ceded to the Brooke family who ruled it until the Japanese took over from 1941-1945.  After that, the Brookes ceded it to Great Britain in 1946.  Sarawak finally gained independence in 1963 when it became a part of Malaysia.  The economy has a foundation in primary products but is increasingly adding light industry, finances, and services to its portfolio.  The culture is quite a mélange with Malays and Chinese making up about equal parts, along with minorities of indigenous peoples, South Asians, and other international residents.  Kuching has its own dialect of Malay and several Chinese dialects are spoken.  Almost everyone can speak English, as well.  For additional historic, cultural, geographic, and demographic information, please check Wikipedia-Kuching.
Undersea World – Most of the best diving in the Kuching area is to be found at the Satang Islands and on several historic World War II wrecks.  The 4 Satang Islands are situated about a 45-minute boat ride from Santubong outside the mouths of 4 rivers.  Probably needless to say, the diving there is sometimes challenged by poor visibility due to river sediments.  Often though, visibility exceeds 10 meters (33 feet), which is good enough to enjoy the marine life around these attractive islands.  Look for shallow fringing reefs or boulders with a good range of hard and soft corals, gorgonians, and a variety of fish including mangrove jacks, butterflyfish, parrotfish, stary puffers, blue-ringed angelfish, groupers, batfish, and snappers.  Many enjoy it as a muck destination where you can find a variety of nudibranchs, and feather stars, carpet eels, moray eels, blennies, and lobsters.  In the Sematan River area around 50 kilometers (31 miles) offshore are several major wrecks from the Japanese occupation during the second world war with plenty to explore.  In addition, there is a turtle nesting area managed by the Sarawak Forestry Corporation on Satang Besar and another one on Pulau Talang.
For reviews of diving at other Malaysian locations please check these posts:
Seasons and Conditions – Diving is possible year-round in Kuching.
Average daily air temperature highs stay in a range of 30-33°C (86-91°F) all year.
There is substantial rain year-round with the most during the northeast monsoon from November through February.
Water temperature ranges from 28 to 31°C (82-88°F) meaning a 3 mm wetsuit should handle thermal protection needs even for those most prone to getting cold.
Visibility is in a range of 5-20 meters (16-68 feet).
Typically current is mild around the nearby islands and can at times be strong on the wrecks.
There are sites suitable for all levels of diver.  There are 7 or more dive shops in the area offering the full range of diving coursework, equipment rental, guiding, and boat cruises.
There are no liveaboard yachts cruising the Kuching area.  There are, however, a couple of wonderful vessels doing safaris on the east side of Borneo to the Derawan Islands.  Here is my review and links to the liveaboard yachts: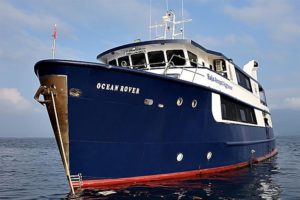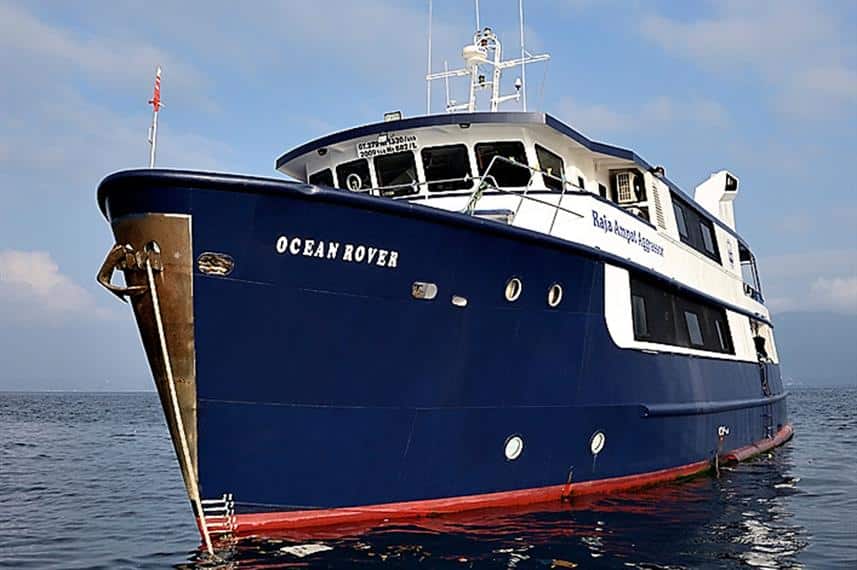 Raja Ampat Aggressor, Derawan Islands Liveaboard Diving – Check the Price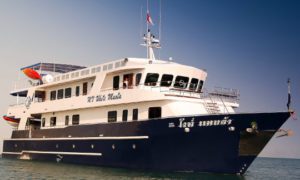 Raja Manta, Derawan Islands Liveaboard Diving – Check the Price
Selected Kuching Dive Sites
Katori Maru Wreck: 12-21 meters (40-70 feet), 150-meter (492-foot) passenger/cargo ship commissioned in 1913 in Nagasaki, used as a troop carrier in World War II, sunk by Dutch submarine K-XIV on December 23, 1941, broken into pieces with the hull resting upright, surrounded by schools of fusiliers and chromis, pufferfish, batfish, snappers, groupers, and cruising barracudas and jacks, encrustation includes black coral, look for sea snakes and macro critters like nudibranchs, penetration of the hull is possible, currents can be strong on occasion, visibility runs from 8-20 meters (25-68 feet), suitable for experienced level divers (check out the video at the top)
Sagiri Wreck:  32 meters (105 feet), 118-meter (387-foot) Fubuki-class destroyer launched in 1929, sunk by Dutch submarine K-XVI on Christmas Eve in 1941, structure intact, resting upright, many parts to explore including cannons, guns, and ammo on the deck, engine parts, signal lights, and a wooden pail, some areas can be penetrated, watch out for fishing nets, look for batfish, cleaner wrasses, damselfish, and a giant grouper, visibility runs from 8-10 meters (25-33 feet), strong currents possible, suitable for experienced level divers (check out the video below)
Hiyoshi Maru: 22 meters (72 feet), 111-meter (364-foot) Japanese cargo ship built in Holland and purchased by Japan in 1929, sunk by Dutch submarine K-XIV on December 23, 1941, broken apart and spread around over a broad area, lots of marine life including nudibranchs, lobsters, rabbitfish, stingrays, turtles, nurse sharks, groupers, and schools of barracuda, yellowtail snappers, batfish, and jacks, currents can be strong, visibility ranges from 8-20 meters (25-68 feet), suitable for experienced level divers
Satang Besar: 12 meters (40 feet), several sites around the island, fringe reefs surround 66% of the island and around the rest there are boulders, a variety of hard corals and sea fans with marine life including starry pufferfish, parrotfish, mangrove jacks, copper banded butterflyfish, snappers, blue-ringed angelfish, and groupers, and macro critters like crinoids, lobsters, nudibranchs, blennies, eels, and sea urchins, a protected turtle nursery is on the beach, visibility averages 10 meters (33 feet) but can be less on occasion, usually has mild to non-existent current, suitable for all levels of diver
Things to Do in Kuching (aside from scuba diving)
This city with a great mixture of cultures is rich in history and set in an environment of natural beauty.  There is much to see and do.  Here is a sample of sights and activities to consider:  Sarawak Cultural Village, the Indian Mosque, Kuching Waterfront, Sarawak Islamic Museum, Astana (Palace), Cat Museum, Kuching Mosque, Sarawak Museum, Annah Rais, Sarawak Timber Museum, Main Bazaar, Tua Pek Kong Chinese Temple, Kayaking on the Sarawak River, Open Air Market, St. Thomas' Cathedral, Semanggoh Nature Reserve, Bako National Park, Old Courthouse, River Cruise, Kubah Ria Complex, Fort Margherita, Satang Turtle National Park, the Cat Statue, Sunday Market, Gunung Gading National Park.
This video is an overview that gives you a nice feel for the beauty and style of life in Kuching.
Air – Kuching International Airport (KCH), the busiest in Sarawak, handles frequent flights to other major and minor cities around Malaysia.  The only international links are to Singapore and Pontianak in Indonesia.  Taxis are available for the 20 minute trip to town.  Public buses can be accessed at Kuching Sentral Bus Terminal located 1 kilometer (.6 miles) from the airport.
A variety of regional buses, boats, and a cruise liner from Singapore provide frequent service to Kuching.
Multiple bus lines and shuttle vans provide service all around the city.
Taxi – Metered taxis are reasonably priced, though some drivers try not to use the meters.  Services like Uber, two of which are GrabCar and Maxim are available through a downloadable app.  Many hotels will provide a shuttle service to tourist spots and city center locations.
Motorbikes and bicycles are for rent and make many trips more convenient.  Beware of poor drivers and chaos on the roads.
Sarawak River Transport – Boats and speedboats can provide transport to many destinations along the river.  Sarawak River Cruise also does tours.
For more details related to all of the above transportation options and other tourist information, go to Wikitravel-Kuching.
Hotels and Diving – In Kuching there are at least 277 lodging options from $3 to $305 per night and a number of dive shops in operation.  They offer a full range of services that include equipment rental, diving certification classes, dive guides, and boat tours.  The website linked below has the details and can arrange a booking for the lodging.  You can easily find the location on the map provided on their site.  The rates are guaranteed to be the lowest and it is free to cancel or change dates.
Photography in Kuching
With the colorful coral reefs, a variety of fish, historic wrecks, and intriguing onshore targets, as well, there are many excellent photo opportunities.  For information and reviews of dive cameras, click here:
A cushion for emergencies provides peace of mind when on vacation.  I recommend this diving insurance as they have worldwide coverage and give scuba divers a quality insurance and medical assistance service.
Feedback and Comments
I hope you found this post on Kuching scuba diving interesting and useful. If you have any questions or ideas, please feel free to share them in the comments section.  I'd love to know of any experience you have.  If there is no comments section directly below, click here:  >>comments<<