We may earn money or products from the companies mentioned in this post.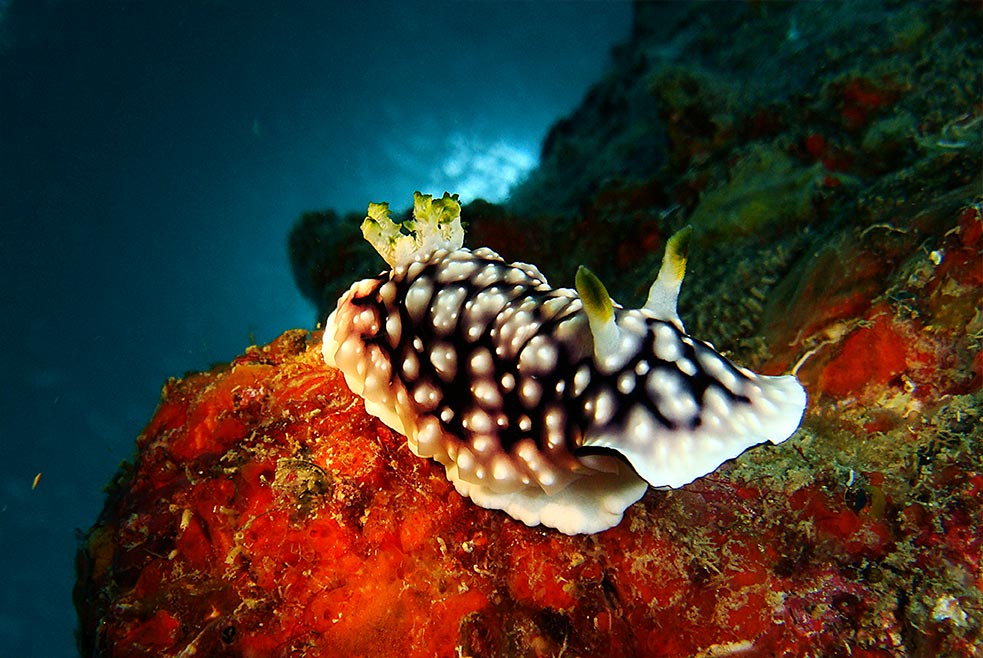 Updated January 5, 2021
This is the forty-sixth in a series of reviews of the best dive resort locations around the world.  In this post, the focus is on Tioman Island, Malaysia.
In addition to this series on dive resort locations, the best worldwide liveaboard dive locations and services are reviewed in their own series.  To check them out, or others in this series, click on Liveaboards/Resorts on the menu at the top and choose a title from the list.
Have you ever been diving on Tioman Island?  If so, I'd love to know about your experience.  What dive shop or liveaboard did you use?  Which dive spots are the best and what are the conditions there regarding the visibility, current, water temperature, sealife attractions, etc.?  Please post your response in the comments section at the bottom and we'll all learn something we can use.
Tioman Island Scuba Diving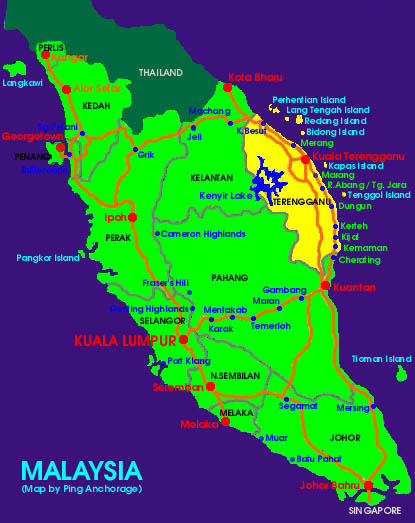 Background – Tioman Island sits 32 kilometers (20 miles) off the east coast of Peninsular Malaysia.
This 21-kilometer (13-mile) long island of dense forest has a number of protected mammals including the long-tailed macaque monkey, slow loris, binturong, black giant squirrel, red giant squirrel, mouse deer, brush-tailed porcupine, and palm civet.  There are also 138 species of bird with the frigatebird one of the attractions.
The area around Tioman and the several nearby islands is a marine park and marine reserve.
Historically Tioman served as a stopover for fisherman to obtain wood and water.
Today while not being a fast-paced tourist destination like many of the scuba diving locations on Borneo and elsewhere around Malaysia, it is still well recognized as a beautiful natural setting for a lower key, slower-paced vacation for divers and nature lovers.
Undersea World – Tioman and the surrounding islands are known as a good all-round diving destination.
The coral reef is fairly rich with an abundance of invertebrate life and fish.  The underwater terrain includes colorful coral gardens and fringing reefs, boulders, canyons, caverns, pinnacles, swim-throughs, and a number of well-encrusted wrecks.
The seascape has a good variety of hard and soft corals, sponges, sea fans, whips, gorgonians, and black coral to go along with strong macro photography targets including octopus, eels, pygmy seahorses, stonefish, cuttlefish, nudibranchs, crabs, mantis shrimp, and boxfish.  Massive schools of fusiliers, yellowtail barracuda, and big-eye trevallies encompass divers, coral heads, and outcrops. Other highlights are kingfish, giant groupers, pickhandle barracuda, bumphead parrotfish, Napoleon wrasses, tuna, turtles, blue-spotted stingrays, blacktip and whitetip reef sharks, nurse, guitar and whale sharks, and manta rays.
To check out liveaboard diving opportunities, click here: liveaboard diving
For reviews of diving at other Malaysian locations please check these posts:
Seasons and Conditions – The monsoon season is from November to February which brings very high tides, powerful waves, and strong winds.  Most dive shops close at that time.
From February to November is the dry season and the water is smoother.  The peak time for conditions is from March through May and then again in September and October.
Visibility is from 15-30 meters (50-100 feet) and water temperature from 27-29°C (81-84°F).
From June to August visibility tends to decrease to below 12 meters (40 feet).
There are sites for all levels including some that are deeper and have significant current.
At least a dozen dive shops providing equipment rental, courses, and guiding are operating around the island.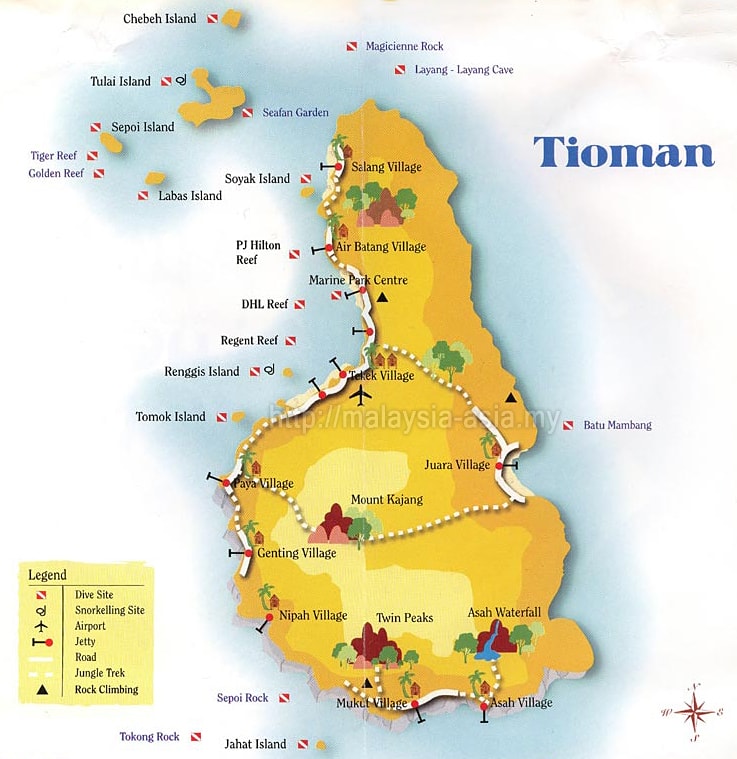 Sampling of the Best Tioman Island Scuba Diving Sites
Sepoi Island: 5-23 meters (15-78 feet), volcanic boulders, coral heads, down to a sandy bottom, lobsters, Napoleon wrasses, schools of barracuda, yellow amberjacks, southern currents on occasion make for good drift diving, experienced level
Tomok Island: 5-15 meters (15-50 feet), a small island with coral heads and boulders, nudibranchs, big map pufferfish, and moray eels, Napoleon wrasses, bumphead parrotfish, sweetlips, emperors, little current, all levels
Rengis Island: 5-15 meters (15-50 feet), a fringing reef with a good variety of corals including table, staghorn, brain and cabbage corals, pufferfish, moray eels, lionfish, scorpionfish, yellowtail fusiliers, turtles, blacktip reef sharks, snorkeling and all levels
Marine Park: 8-15 meters (25-50 feet), 10-15 boats sunk as artificial reefs linked together with a line, lionfish, scorpionfish, blue-spotted stingrays, lots of macro critters, little current, good night dive, all levels
Soyak Island: 10-16 meters (35-54 feet), boulders with lots of soft corals, a variety of hard corals, sea whips and large coral heads, huge Napoleon wrasses, batfish, emperors, titan triggerfish, parrotfish, angelfish, turtles, all levels
Soyak Wreck (Sawadee Wreck): 20-32 meters (68-107 feet), two Thai fishing boats at 22 and 30 meters (73 and 100 feet), thick cover of soft corals, rich habitat for macro life and fish including nudibranchs, stonefish, frogfish, jacks, fusiliers, yellowtail barracuda, pufferfish, batfish, emperors, Napoleon wrasses, titan triggerfish, parrotfish, little current, experienced level
Labas Island: 8-23 meters (25-78 feet), a rocky site with boulders, tunnels, caverns and caves, coral gardens, a rich reef with lots of fish, nudibranchs, blue-spotted stingrays, pufferfish, lionfish, turtles, mild to strong current, experienced level
Chebeh Island: 10-30 meters (35-100 feet), volcanic rocks, canyons, and swim-throughs, a cavern with glassfish, yellowtail fusiliers, batfish, angelfish, barracudas,  manta rays, whale sharks, big sea fans, soft corals, anemones, strong current possible, experienced level
Tiger Reef: 5-25 meters (15-83 feet), submerged reef rich in hard and soft corals, sea fans and whips, crinoids, overhangs, huge rocks, white-eyed morays, barracudas, napoleon wrasses, soldierfish, fusiliers, surgeonfish, trevallies, rainbow runners, nudibranchs, eagle rays, nurse, whitetip reef, guitar and whale sharks, strong currents possible, careful planning of entry and exit points is necessary, experienced level
Magicienne Rock: 10-21 meters (35-70 feet), rocky pinnacle from 8 meters (25 feet), with surrounding plateaus of coral, lots of reef fish, rainbow runners, barracudas, big manta rays, leopard and whale sharks, some surface chop is possible, experienced level
Tioman Island Photos
With the interesting underwater terrain, wrecks, giant sea fans, coral, macro life, rays, sharks, turtles, colorful reef fish, and fascinating scenic landscapes, there are many excellent photo opportunities.  For information and reviews of dive cameras, click here:
Tioman Airport near Tekek Village handles flights from Singapore and Kuala Lumpur on Berjaya Air.  They are daily most of the year and several times per week during the monsoon season.
Two-hour ferry service from Mersing is available 2-3 times daily making several stops around Tioman.  Particularly when service from Mersing becomes irregular due to bad weather, ferries from Tanjung Gemuk may be available.  Private speedboats from Mersing can also be arranged.
There are very few roads on Tioman Island though there have been some recent improvements.  Cars and jeeps are available to some locations.  Bicycles and scooters are for rent.  Perhaps the easiest way to travel from village to village is by the regularly scheduled Mersing ferry service.
There are at least 10 dive shops operating on Tioman providing a full range of services including equipment rental, dive courses, guiding, and boat dive cruises.  Several of them are associated with resorts.  Resort pricing is very reasonable in a range from $15 to $130 per night.  The website linked below is a good source for the available options and can arrange the booking.  Their rates are the lowest and it is free to cancel or change dates.
Tioman Island Things to Do (aside from scuba diving)
Most of the attractions on Tioman are related to enjoying the beautiful natural environment.  Beach activities, sunbathing, surfing, kayaking, fishing, and island hopping are popular.  Yoga is also available at several locations and through teachers at resorts.  Touring and trekking are a must-do to attractions like Asah Waterfall, Gunung Kajang Mountain, and into the jungle to explore the fascinating wildlife which includes monitor lizards, macaque monkeys, giant squirrels, birds, and several endemic species.  Each of the 8 villages has its own intrigues and you can check out the services at the restaurants and resorts around the island.  The following video gives you a bird's eye view.
A cushion for emergencies provides peace of mind when on vacation.  I recommend this diving insurance as they have worldwide coverage and provide scuba divers a quality insurance and medical assistance service.
Feedback and Comments
I hope you found this post on Tioman Island scuba diving interesting and useful. If you have any questions or ideas, please feel free to share them in the comments section.  I'd love to know of any experience you have diving there.  If there is no comments section directly below, click here:  >>comments<<