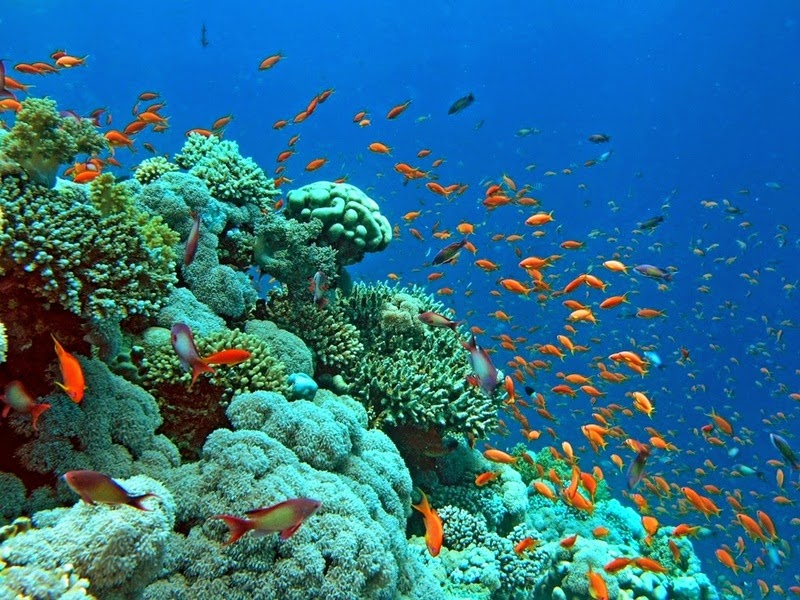 Updated January 6, 2021
This is the seventy-ninth in a series of reviews of the best dive resort locations around the world.  In this post, the focus is on Redang Island, Malaysia. In addition to this series on dive resort locations, the best worldwide liveaboard diving locations and services are reviewed in their own series.  To check them out, or others in this series, click on Liveaboards/Resorts on the menu at the top and choose a title from the list.
Have you ever been diving on Redang Island?  If so, I'd love to know about your experience.  What dive shop or liveaboard did you use?  Which dive spots are the best and what are the conditions there regarding the visibility, current, water temperature, sealife attractions, etc.?  Please post your response in the comments section at the bottom and we'll all learn something we can use.
Diving Redang Island Malaysia
Background – Redang Island is the major island in a nine island archipelago 45 kilometers (28 miles) offshore from Terengganu, Malaysia.  It is 42 square kilometers (26.25 square miles) in area with about 1,200 residents (250 families) historically involved in fishing, but moving increasingly into tourism.
The high point on the island is Bukit Besar at 359 meters (1,178 feet).
Redang Island (Pulau Redang) is part of a large scale marine park with the mission of preserving the undersea environment which allows no fishing within a 3.2-kilometer (2-mile) radius of the island.
There are a relatively small number of fairly upscale relaxed resorts as opposed to the rowdier backpacker environment of the nearby Perhentian Islands.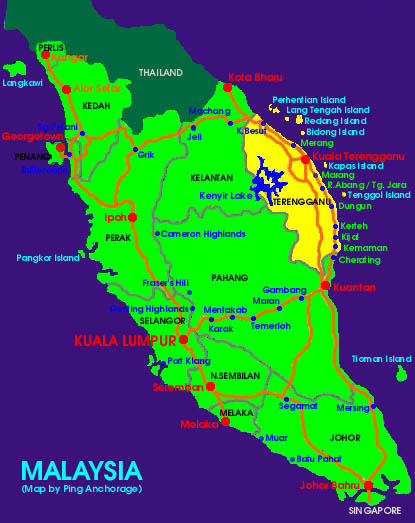 Undersea World – The islands of the archipelago are characterized by white sandy beaches and an unspoiled reef of hard and soft corals with gorgonians even in the shallow water of the fringing reef.
Sealife includes 500 species of coral and 3,000 species of fish living around an interesting terrain of boulders, canyons, crevices, sea mounds, and several shipwrecks.
Highlights are stingrays, sharks, and the occasional manta ray or whale shark.  There are nesting areas for turtles with lots of them swimming around particularly around turtle bay in the north.  Near Lima Island is a black coral garden and between Besar and Kecil Islands is a mini-mount.
Photographers will be delighted with the macro critters, reef tropicals, and clear water.  Massive areas carpeted in hard corals with big barrel sponges, sea whips and lots of nooks and crannies provide habitat for the likes of cowries, spider shells, tubeworms, sea cucumbers, urchins, lobster, octopus, nudibranchs, shrimp, scorpionfish, lionfish, pipefish, hermit crabs and moray eels.
Schooling fish include fusiliers, yellow snappers, batfish, jacks, barracuda, and tuna.  Other reef fish on display are pufferfish, cardinalfish, damselfish, butterflyfish, angelfish, chromis, wrasses, rabbitfish and parrotfish.
To check out liveaboard diving opportunities, click here: liveaboard diving
For reviews of diving at other Malaysian locations please check these posts:
Seasons and Conditions – Diving is possible all year, but during the monsoon season from November through February there are strong winds, more powerful waves, and very high tides.  The drier time is from March through October and surface conditions are smoother at that time.
Daily average high temperatures are above 30ºC (86ºF) all year with water temperatures ranging from 28-31ºC (82-87ºF) that require minimal thermal protection.  A Lycra suit would be a good precaution against stingers.
Current is mild to nonexistent at many of the sites, but some occasionally have strong currents and some almost always do.
The water is often crystal clear with visibility generally in the 18-30 meter (60-100 foot) range.
There are several dozen sites with something suitable for all levels of diver and at least 10 dive shops in operation providing equipment rental, courses, guiding and boat tours.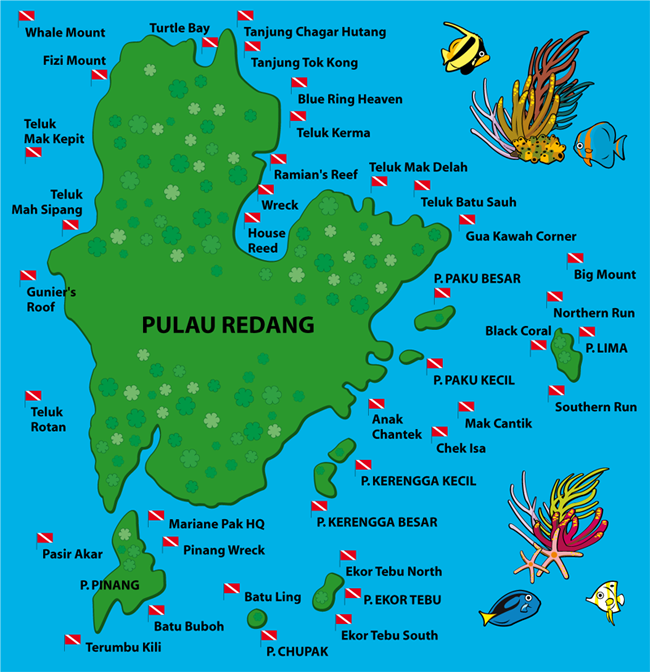 Selected Redang Island Diving Sites
Tanjun Tok Kong: 38 meters (125 feet) maximum depth:  steep slope, rich hard and soft corals, nudibranchs and macro life, Moorish idols, butterflyfish, surgeonfish, angelfish, schooling snapper, fusilier, big-eye jacks and barracuda, Napoleon wrasse, grouper, queenfish, blacktip reef sharks, green and hawksbill turtles, strong current possible, experienced level
Gua Kawah: 30 meters (100 feet) maximum depth, gradual slope to two pinnacles at 30 meters (100 feet), big boulders, only a little hard and soft coral, nudibranchs, Napoleon wrasse, jacks, blacktip reef sharks, all levels
Pulau Ekor Tebu: 24 meters (80 feet) maximum depth: huge boulders, a cave, white sand bottom, big table corals, staghorn, lettuce and leather coral, soft coral, giant clams, schools of baitfish with jacks, pompano, barracuda, eagle rays and possible manta rays, blacktip reef, cat and bamboo sharks, all levels
Big Mount: 14-34 meters (57-112 feet), mount tops at 14 meters (57 feet), big snapper, jacks, queenfish, tuna, eagle rays, strong current expected, experienced level
Pinang Wreck: 25 meters (83 feet), Vietnamese fishing boat on a sandy bottom, reduced to rubble in 2011, lots of big fish, batfish, snapper, jacks, giant grouper, large stingrays, pufferfish, lionfish, porcupine puffers, sharks, experienced level
Terumu Kili: 20 meters (68 feet), rocks above the surface sloping to sand at 20 meters (68 feet), coral garden of soft and leather corals, sea fans and whips, fusiliers, snappers, yellowtail barracuda, jacks, moray eels, turtles, blacktip reef sharks, currents are often strong, experienced level
Pulau Kerengga: 16 meters (53 feet), lots of hard coral sloping to a sandy area, bumphead parrotfish, snapper, jacks, batfish, yellowtail barracuda, lots of stingrays in the sand, turtles, shrimp and crabs, good night dive, little current, all levels
Pulau Lima Northern Run: 20-35 meters (68-115 feet), shoal starting at 20 meters (68 feet), lots of hard and soft coral, gorgonians, anemones, whip corals, tuna, barracuda, grouper, blacktip reef sharks, possible whale sharks, experienced level
Black Coral Garden:  40 meters (130 feet) maximum depth, hard corals shallow, lots of soft coral from 20 meters (68 feet), used to have lots of black coral, though less now, jacks, barracuda, blue-spotted stingrays, sharks, experienced level
Redang Island Photos
With the interesting undersea terrain, rich and colorful coral reefs, macro critters, a variety of fish, sharks, stingrays, barracuda, tuna and turtles, and scenic beach vistas and shoreside targets as well, there are many excellent photo opportunities.  For information and reviews of dive cameras, click here:
Transportation – To get to Redang Island first you'll need to fly to Kuala Terengganu from Kuala Lumpur on one of the multiple daily flights of MAS, Malindoair or Air Asia.  From there it takes a trip to Merang, 30 kilometers (19 miles) to the north for a speedboat or ferry.  It takes around 40 minutes to Pasir Panjang on Redang Island from there.
From March to October direct ferries from Kuala Terengganu's Shahbandar Jetty can get you to the Berjaya Jetty on the south side of Redang in about 1 hour and 15 minutes.
Once on Redang, the limited roads are of little use to a tourist and there is no public land transportation.  To move from beach to beach will require chartering a boat.  No organized water service is available.
Otherwise, there is hoofing it on jungle trails that will take 30 minutes or more to the nearest destinations.
Dive Shops & Lodging – There are relatively few resorts on Redang Island that range in price from $37 to $239 per night.  Most have an in-house dive shop or are associated with one.  In all there are 10 dive shops offering services including equipment rental, dive courses, guiding and boat dive cruises.  The website linked below is a good source for the available options and can arrange a booking.  You can easily find the locations on the map provided on this site.  Their rates are the lowest and it is free to cancel or change dates.
Things to Do on Redang Island (aside from scuba diving)
Most of the activities available for your time after diving is related to nature and outdoor activities in this very relaxed and peaceful environment.  Boat trips, kayaking, trekking, volleyball, visiting the Marine Park Centre and enjoying the sunset are high on the list.  The resorts and restaurants also offer wonderful Malay food for your enjoyment.  This video gives you a good look at what Radang has to offer.
A cushion for emergencies provides peace of mind when on vacation.  I recommend this diving insurance as they have worldwide coverage and provide scuba divers a quality insurance and medical assistance service.
Feedback and Comments
I hope you found this post on Redang Island scuba diving interesting and useful. If you have any questions or ideas, please feel free to share them in the comments section.  I'd love to know of any experience you have diving on Redang Island.  If there is no comments section directly below, click here:  >>comments<<