We may earn money or products from the companies mentioned in this post.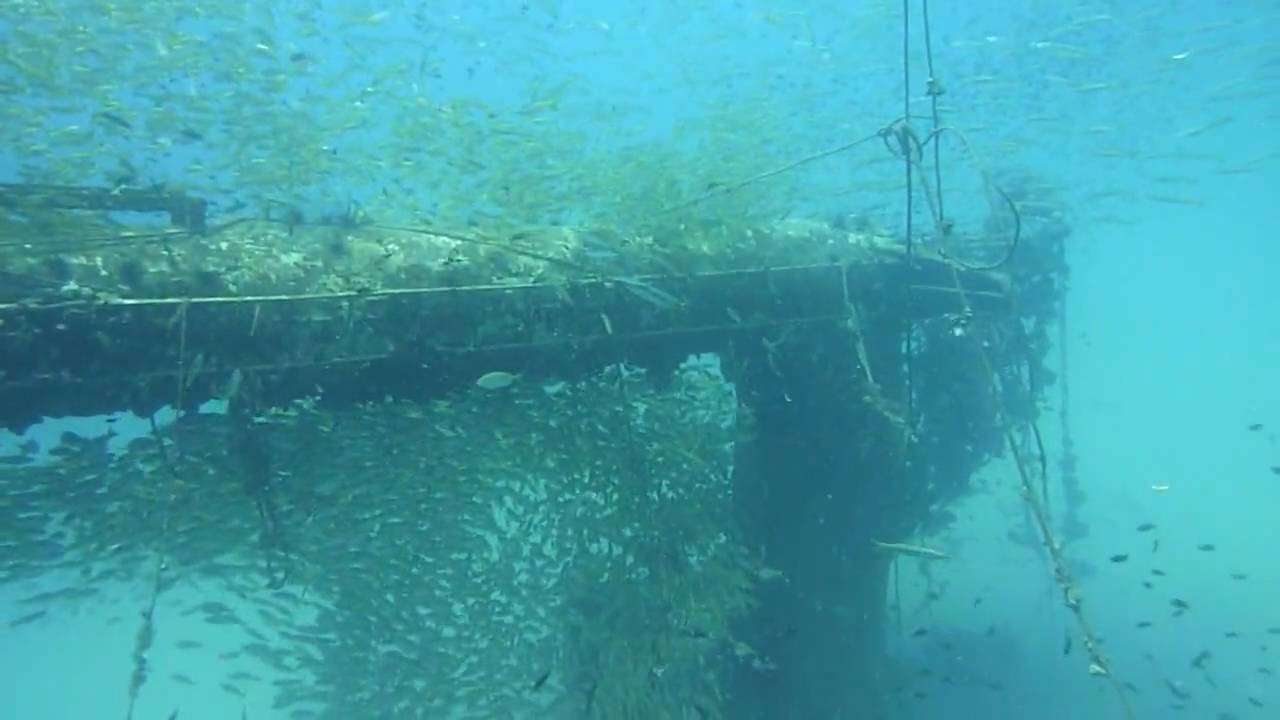 This is the forty-eighth in a series of reviews of the best dive resort locations around the world.  In this post, the focus is the Perhentian Islands, Malaysia.
In addition to this series on dive resort locations, the best worldwide liveaboard dive locations and services are reviewed in their own series.  To check them out, or others in this series, click on Liveaboards/Resorts on the menu at the top and choose a title from the list.
Have you ever been diving in Perhentian Islands before?  If so, I'd love to know about your experience.  What dive shop or liveaboard did you use?  Which dive spots are the best and what are the conditions there regarding the visibility, current, water temperature, sealife attractions, etc.?  Please post your response in the comments section at the bottom and we'll all learn something we can use.
Perhentian Islands Diving
Background – Two main islands and four smaller unpopulated ones make up the Perhentian Archipelago.  Perhentian Besar (the greater) and Perhentian Kecil (the lesser) have a population of around 2,000 and are situated 17 kilometers (10 miles) off the northeast Peninsular Malaysian coast 64 kilometers (40 miles) from the Thai border.  Perhentian means "stopping point" in Malay and denotes the traditional role of the islands as a transit stop between Bangkok and Malaysia.  Today the economy is driven by nature tourism based mainly around scuba diving, water-related activities and jungle trekking.  People converse in the local dialect of Malay as the primary language, but English is widely spoken.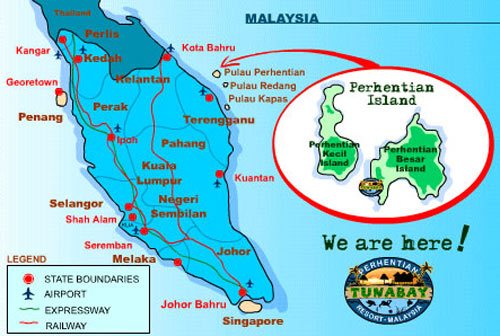 Undersea Life – Most of the area around the Perhentian Islands is in the protected Marine Park created in 1994 which is in large part responsible for coral reefs and sea life on the more than 20 dive sites that are among the richest in the South China Sea and around Peninsular Malaysia.  The undersea terrain consists of coral heads, big boulders with swim-throughs, caves, caverns and several well-established wrecks.  There is a good variety of corals with large hard corals, gorgonians, harp, and black coral as well as soft corals, sponges, and other encrusting invertebrates.  This provides excellent habitat for macro critters like moray eels, scorpionfish, boxfish, cuttlefish, shrimps, nudibranchs, pipefish, seahorses, blue-ringed octopus, and crabs, to name but a few.  Larger highlights include trevally, sweetlips, barracuda, cobias, pufferfish, snapper, batfish, bumphead parrotfish,  turtles, blue-spotted and marble stingrays, eagle rays, shovelnosed guitarfish, blacktip reef, nurse, leopard, grey bamboo and occasionally whale sharks.  Dolphins and pilot whales also make an appearance in July and August.
To check out liveaboard diving opportunities, click here: liveaboard diving
For reviews of diving at other Malaysian locations please check these posts:
Seasons and Conditions – It is possible to dive year-round, but the monsoon season from November through February brings very high tides, strong winds, and more powerful waves.  From March through October it is drier and surface conditions smoother.  Water temperature ranges from 28-31ºC (82-87ºF) necessitating minimal thermal protection.  A Lycra suit would be a good precaution against stingers.  Visibility is usually from 15-20 meters (50-68 feet).  Current is mild to nonexistent at many of the sites, but some do have strong currents on occasion.  There are sites suitable for all levels with not many offering good opportunities to go really deep.  At least 22 dive shops providing equipment rental, courses and guiding are operating around the two main islands. Green turtles come to nest between May and July and dolphins and pilot whales come, as mentioned, in July and August.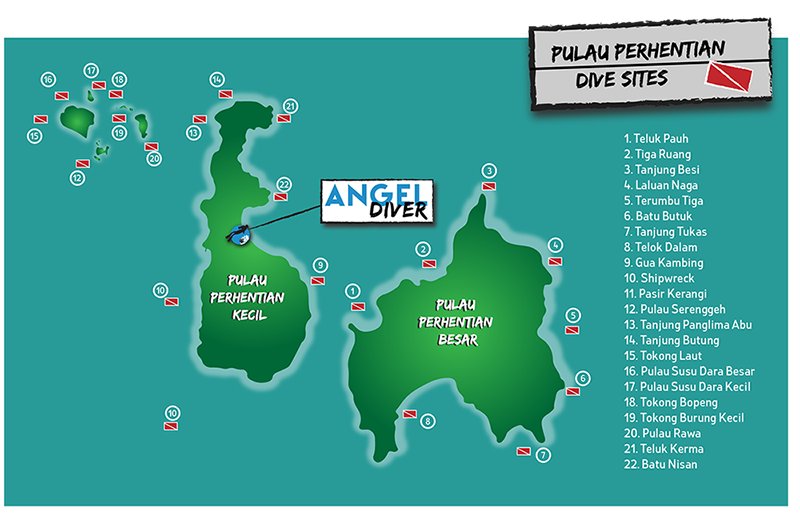 Sampling of the Best Perhentian Islands Scuba Diving Sites
5. Terumbu Tiga (Tiger Rocks): 10-20 meters (35-68 feet), large rocks and coral formations with swim throughs and canyons, barrel sponges, gorgonians, sea whips, soft corals, scorpionfish, moral eels, lionfish, schools of mackerel and barracuda, nurse, leopard, whitetip and blacktip reef sharks, Napoleon wrasses, hawksbill and green turtles, strong current possible, all levels
8. Telok Dalom (Shark Point): 16 meters (54 feet), lots of staghorn coral, black coral, sea anemones, variety of macros life and reef fish, hawksbill turtles, blacktip reef sharks in the shallows, strong current possible, all levels
10. Pasir Tani Wreck (Vietnamese Wreck): 18-24 meters (60-80 feet), US landing craft (used for Vietnamese boat people) sunk while being towed in 1976, sitting upright, well encrusted, big array of fish feeding in the current, schools of barracuda, jacks and snappers, batfish, groupers, stingrays, wrasses, angelfish, boxfish, stonefish and other macro critters, strong current possible, experienced level  (There are two #10s on the map.  This is the southerly one)
Kapal Gula (Sugar Wreck): 12-18 meters (40-60 feet), 90 meter (295 foot) cargo ship, loaded with sugar sunk in 2000 during a storm, well encrusted, good macro, boxfish, crabs, loaded with fish including lionfish, jacks, sweetlips, grouper, barracuda, nurse sharks, penetration of cabins, wheelhouse and engine room possible, occasional current, all levels (located to the southwest of the Pasir Tani Wreck)
15. Tokong Laut (Pinnacle): 5-24 meters (15-80 feet), several huge boulders and pinnacles, swim-throughs, caverns, nook and crannies, gorgonians, soft corals, sponges, nudibranchs, boxfish, pufferfish, stingrays, lionfish, Napoleon wrasses, green turtles on practically every dive, blacktip reef, nurse, leopard, and occasionally whale sharks, strong currents possible, experienced level
17. Sail Rock: 17 meters (57 feet): submerged shoal with variety of hard corals including staghorn and table coral, barrel sponges, sea whips, anemones, tube worms, grouper, sweetlips, batfish, triggerfish, schools of snapper and yellowtail barracuda, no current, all levels
21. Teluk Kerma (D'Lagoon): 2-12 meters (6-40 feet), a sandy lagoon surrounded by colorful hard corals, a rich reef with a good variety of sea life, bumphead parrotfish, anemones and clownfish, blue-spotted and giant stingrays, no current, beginner and training level
22. Batu Nisan: 5-15 meters (15-50 feet), shallow rocky reef, brain, leaf, lobe and staghorn corals, good macro with shrimps, gobies, crabs, starfish, boxfish, tubeworms, colorful anemones and giant clams, Jenkin whiprays, blue-spotted stingrays, bumphead parrotfish, angelfish, batfish, turtles, little current, great night dive, all levels
Perhentian Islands Photos
With the interesting underwater terrain, wrecks, big gorgonians, black coral, macro life, rays, sharks, turtles, colorful reef fish, and fascinating scenic landscapes, there are many excellent photo opportunities.  For information and reviews of dive cameras, click here:
Kota Bharu has an airport with 50-minute domestic flights from Kuala Lumpur on AirAsia.  After transiting to the city, buses are available to Kuala Besut, but the easiest way to accomplish this leg is to take a taxi from the airport which takes 45 minutes. Buses can take 90 minutes to 2 hours.  From Kuala Besut there is ferry service to the islands, however, a speedboat is much quicker (30-45 minutes).  Once on the Islands water taxi and walking are the only options.
There are at least 22 dive shops operating on the Perhentian Islands providing a full range of services including equipment rental, dive courses, guiding and boat dive cruises.  Several of them are associated with resorts.  Resort pricing is very reasonable in a range from $23 to $297 per night.  The website linked below is a good source for the available options and can arrange the booking.  Their rates are the lowest and it is free to cancel or change dates.
Perhentian Islands Tourist Attractions
Scuba diving is the main attraction as a part of the nature tourism economic base of the islands.  Water sports, canoeing, fishing camping, and jungle trekking are the primary alternative activities.  There are restaurants on all the beaches and resort areas with local and western food available.  Booze is somewhat available at inflated prices with Long Beach the only area with any real nightlife, though limited.  The following video gives you a look at the options.
A cushion for emergencies provides peace of mind when on vacation.  I recommend this diving insurance as they have worldwide coverage and provide scuba divers a quality insurance and medical assistance service.
Feedback and Comments
I hope you found this post on Perhentian Islands scuba diving interesting and useful. If you have any questions or ideas, please feel free to share them in the comments section.  I'd love to know of any experience you have diving there.  If there is no comments section directly below, click here:  >>comments<<