We may earn money or products from the companies mentioned in this post.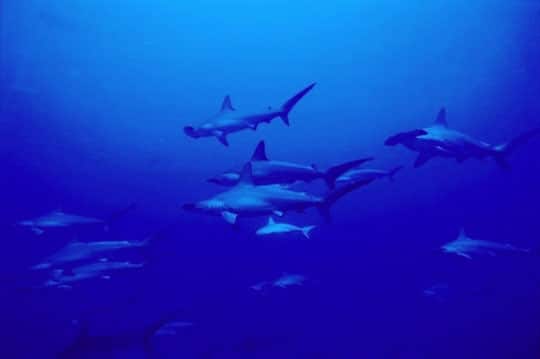 Are you looking for your dream dive vacation? This is the fourth in a series of reviews of the best dive resort locations around the world.  In this post, the focus will be Layang Layang and Lankayan, islands off of Sabah in Malaysia.  In addition to this series on dive resorts, the best worldwide liveaboard dive locations and services are reviewed in their own series.  To check them out, or others in this series, click on Liveaboards/Resorts on the menu at the top and choose a title from the list.
Have you ever been diving in Layang Layang or Lankayan?  If so, I'd love to know about your experience.  Which dive spots are the best and what are the conditions there regarding the visibility, current, water temperature, sealife attractions, etc.?  Please post your response in the comments section at the bottom and we'll all learn something we can use.
Layang Layang Diving
Located 300 km (188 miles) northwest of Sabah, Layang Layang Island is made up of 13 linked coral reefs and is part of the 600 islands, reefs, and shoals of the Spratly's.  Layang Layang means "Place of Swallows" in Malay.  It's not large at 14 square kilometers (8.75 square miles) but has an extremely rich and diverse ecosystem surrounding it.
The relative isolation has allowed the reef to remain healthy and pristine.  The atoll sits in a 2,000 meter (6,500 feet) deep sea and is characterized by wall diving.  The current is usually gentle but a number of the sites are fairly deep making them more suitable for advanced and experienced divers.  Macro photographers will enjoy the smaller critters and the list of spectacular larger animals is extensive.  Layang Layang has at least 11 distinct dive sites that are most famous for shoals of scalloped hammerheads that are usually prevalent in April and May.  Resident attractions include leopard, lemon, and whitetip sharks, green and hawksbill turtles, barracuda, giant clams, morays, and leaf scorpionfish.  Dogtooth tuna, whale sharks, and mantas are pelagic visitors.
The resort is open from March through June within the April to August dry season, the best time weather-wise for diving.  Visibility is usually from 10-40 meters (33-130 feet) and water temp in the season is 25-30° C (77-86° F).  There is high demand during this short season, so early booking is advised.
Layang Layang Island Reef Summary
Depth: 5->40 m (16->130 ft)
Visibility: 10-40 m (33-130 ft)
Currents: usually mild
Surface conditions: calm
Water temperature: 25-30° C (77-86° F)
Experience level: intermediate-advanced
Number of dive sites: ~20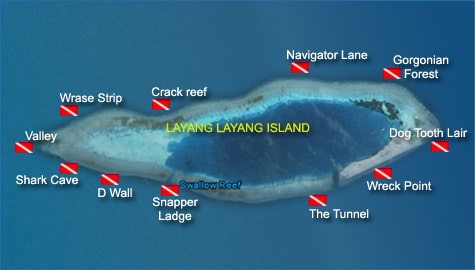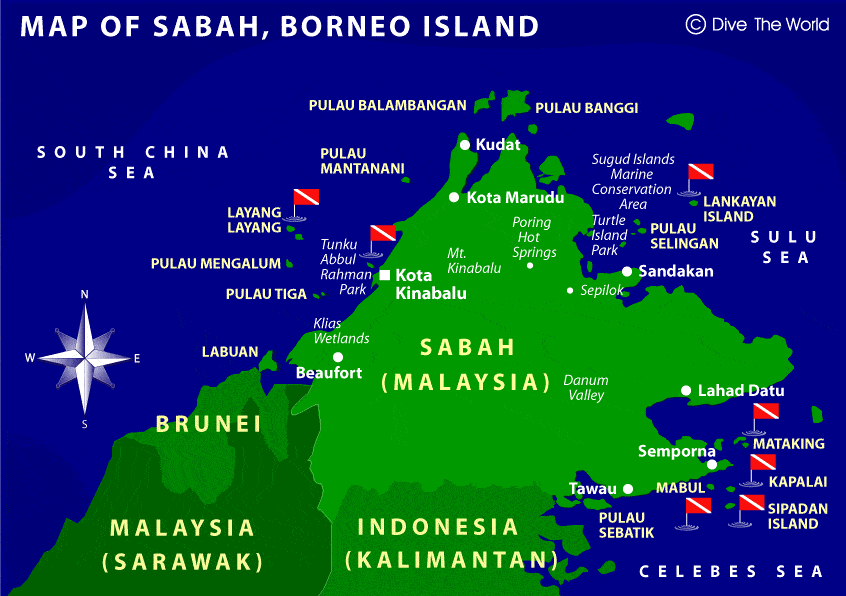 Lankayan Island Diving
Lankayan is situated about 50 km (31 miles) northeast of Sandakan in Sabah, Malaysia.  Unlike the more rugged coastline of Layang Layang, Lankayan has beautiful white sand beaches where romantic couples can take in the sunset and watch the abundant fireflies and fruit bats in their after-dark activities.  The single resort there is environmentally conscious and only a short boat trip from the Sepilok orangutan sanctuary.
While not as spectacular as the more famous neighbor to the south, Sipadan, or Layang Layang, Lankayan has pristine healthy reefs, a number of interesting wrecks suitable for beginners and some outstanding muck diving for the macro photographer.  Year-round access is possible to the more than 40 dive sites.
Larger resident attractions are schooling barracuda and jacks, giant groupers, stingrays, and leopard and blacktip sharks, masses of which swim in the shallows to the delight of snorkelers and beachcombers.  If you are there from March to May there is a good chance of seeing whale sharks.  From June to September green and hawksbill turtles nest on the beach. Giant clams and other large mollusks along with fascinating smaller critters like glassfish, painted frogfish, harlequin phantom pipefish, leaf fish, nudibranchs, seahorses, porcelain crabs and gobies of all colors can be seen.  Jawfish Lair is, naturally, the place to see jawfish.  Several wrecks which can be safely accessed by relative beginners are nearby including the Lankayan, Mosquito and Jetty Wrecks.
During the rainy season from December to March Lankayan is sheltered from monsoons and major rains but the resort closes from October to March.  It is warm year-round with water temperatures from 26-30° C (79-86° F).  Visibility is usually good ranging up to 25 m (83 ft).
Lankayan Island Reef Summary
Depth: 5-30 m (16-100 ft)
Visibility: 3-25 m (10-83 ft)
Currents: Moderate
Surface conditions: Calm
Water temperature: 26-30° C (79-86° F)
Experience level: beginner-advanced
Number of dive sites: >40
Distance: ~50 km (1½-2 hours) northeast of Sandakan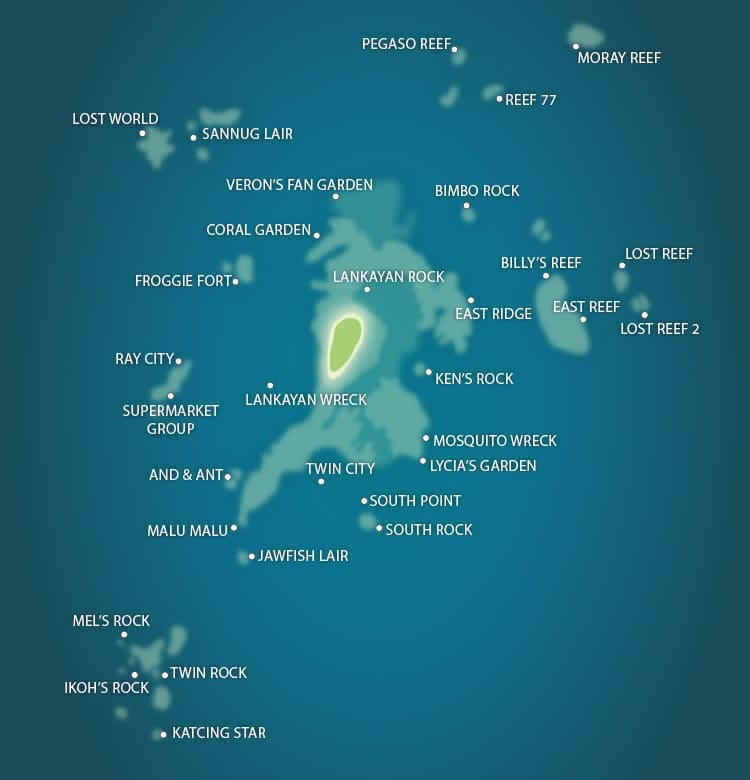 Lankayan Island Dive Sites
Layang Layang and Lankayan Resorts
Both of these rather small islands are distinguished by having only one resort each.  Fortunately, both focus on scuba diving and provide excellent overall services in their relatively remote and idyllic locations.
Layang Layang Island Resort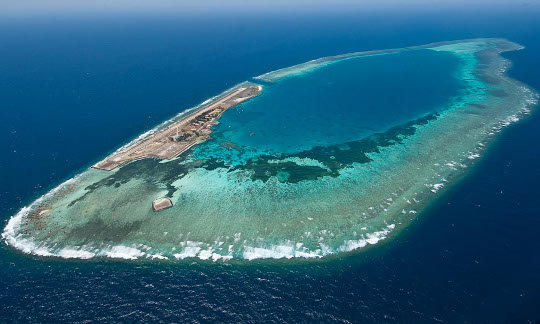 Featuring
The only diving operator on the island
Swimming pool, billiard table, and bar football
Massage center, canoes for hire
Protected bird park
Malay, Chinese, Indian and continental cuisine
Offers full board and diving packages
Unlimited shore dives
Experienced English-speaking divemaster (maximum 10 divers per DM)
Scuba equipment (approx. $

58

per day)
10 catamarans with twin 4-stroke 90 HP Honda engines
Malaysian Navy also have a base on the island
Lankayan Island Resort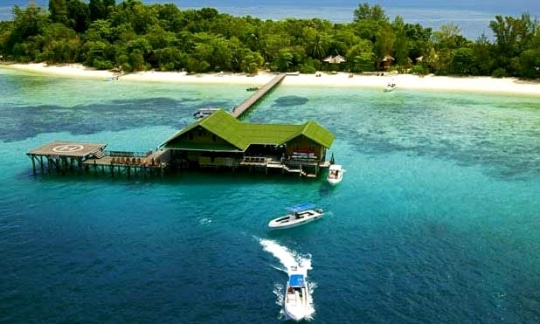 Featuring
The only diving operator on the island
Swimming pool, billiard table, and bar football
Massage center, canoes for hire
Protected bird park
Chinese and Western cuisine
Offers full board and diving packages
Unlimited beach dives
Experienced English-speaking divemaster (maximum 10 divers per DM)
Scuba equipment (approx.

USD

38

per day)
Monohull speed boats – maximum of 15 persons
There are currently no liveaboard yachts cruising Lankayan or Layang Layang.  There are, however, a couple of wonderful boats doing safaris further south on the east side of Borneo to the Derawan Islands and other great Indonesian sites.  Here is my review and links to the vessels:
For reviews of diving at other Malaysian locations please check these posts:
Air to Layang Layang – Located in the Spratly Islands in the South China Sea between Vietnam and Borneo, Layang Layang is a one hour flight on regular special chartered flights from Kota Kinabalu in Sabah.  Coordinate with the resort for the arrangements.
Air to Lankayan – From Kota Kinabalu, you need to catch a flight to Sandakan Airport.  The hotel will arrange a pick-up to get you the rest of the way. The boat transfer takes 1.5 to 2 hours.  Coordinate all details with the resort.
Resorts – The website linked below is the contact for lodging and can arrange a booking.  The rates are guaranteed to be the lowest and it is free to cancel or change dates.  Please take note of the limited season and book well in advance.
Lankayan and Layang Layang Photos
With the pristine coral reefs, biodiversity including wrecks, sharks, rays, turtles, dolphins, macro critters and reef tropicals, and interesting onshore scenery, as well, there are many excellent photo opportunities.  For information and reviews of dive cameras, click here:
A cushion for emergencies provides peace of mind when on vacation.  I recommend this diving insurance as they have worldwide coverage and provide scuba divers a quality insurance and medical assistance service.
Feedback and Comments
I hope you found this post on Malaysian scuba diving interesting and useful. If you have any questions or ideas, please feel free to share them in the comments section.  I'd love to know of any experience you have.  If there is no comments section directly below, click here:  >>comments<<