We may earn money or products from the companies mentioned in this post.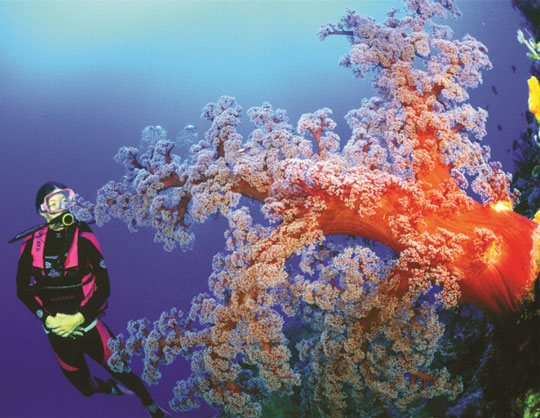 This is the eighth in a series which introduces and describes the various dive services and sites for worldwide liveaboard dive safaris.  This one will focus on Australia, including the Outer Barrier Reef, the Coral Sea, Neptune Islands great white shark dives, and Rowley Shoals.
In addition to this series on liveaboards, the best worldwide dive resort locations and services are reviewed in their own series.  To check them out, or others in this series, click on Liveaboards/Resorts on the menu at the top and choose a title from the list.
Have you been diving in Australia before?  If so, I'd love to know about your experience.  What dive shop or liveaboard did you use?  Which dive spots are the best and what are the conditions there regarding the visibility, current, water temperature, sealife attractions, etc.?  Please post your response in the comments section at the bottom and we'll all learn something we can use.
Dive Sites
Great Barrier Reef (including the Coral Sea)
Located off the north coast of Queensland, the Great Barrier Reef is 1,429 miles (2,286 km) long covering 134,000 square miles (214,400  square km). This huge ecosystem is visible from space and one of the healthiest and richest in the world with fabulous dive sites all along it.  Hundreds of varieties of coral overwhelmingly free of bleaching is surrounded by thousands of fantastic reef critters like large groupers, parrotfish, triggerfish, blue spotted lagoon rays, nudibranchs, and countless other invertebrates, as well as 6 of the world's 7 species of sea turtle.  Grey and whitetip reef sharks are frequently joined by silvertips, bull and even tiger sharks.  Pelagics including giant trevallies, barracuda and dogtooth tuna also frequent the area, and from June through August dolphins and minke and humpback whales are often sighted.
June to October is the best season weather-wise with little rainfall and water temperature running from 24-30 degrees C (75-86 degrees F).  Visibility is great, up to 60 m (200 feet).  The monsoon season runs from October to May, but it usually doesn't rain for more than two hours at a time, so diving needn't be interrupted for long.  Due to the moderate depths and calm, clear water, diving is suitable for less experienced and advanced divers.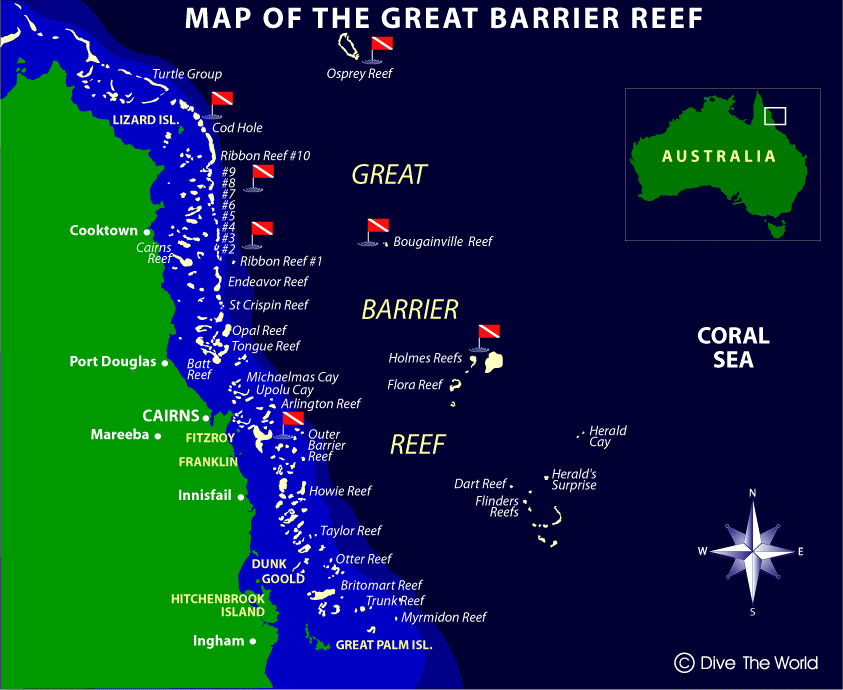 Rowley Shoals
Rowley Shoals are 3 small Indian Ocean atolls located 160 miles (256 km) west of Broome, Western Australia.  They make up the Rowley Shoals National Park, which has installed public moorings to prevent dropped anchor damage.  It is home to 200 species of coral and 700 fish species.  Shallow coral gardens host an abundance of small fish and invertebrates, huge giant clams, Maori wrasse and potato cod, among other fascinating creatures.  These shallows descend into steep walls with giant gorgonians, caves, and canyons.  Grey and whitetip reef sharks are seen on every dive with possible appearances of hammerhead and whale sharks, mantas, dolphins, whales, and tuna.  There are frequently strong currents and some pretty exciting drift diving.  Overall, Rowley Shoals is a spectacular, pristine dive site.
There is a short season for good conditions from October to November.  Expected water temperature is 23-29 degrees C (74-84 degrees F) with visibility of 20-30 meters (65-100 feet).
Neptune Islands (Great White Shark Cage Diving)
The Neptune Islands consist of 4 islands in the mouth of the Spencer Gulf near Port Lincoln, South Australia. (On the map toward the bottom of the page, it is the site closest to Adelaide.)  They are the wild and rugged home to Australia's largest fur seal colony, Australian sea lions, white-breasted sea eagles, rock parrots, and the albatross.  These alone would be worth the trip, but of course, the reason for a liveaboard here is the presence of 5-meter (16-foot) great white sharks that live in the area year-round.  Female great whites, which are larger, up to 6 meters (19 feet), arrive from April to August to greet and feast on the seal pups born at that time.  It makes for world-class shark cage diving.
Liveaboard Dive Boat List
Middle Budget
Odyssey
Spirit of Freedom
Spoilsport
High Budget
Outer Great Barrier Reef, Cairns Dive Boats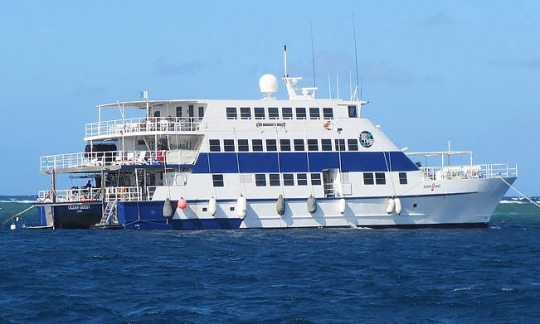 Featuring
Visits Cairns' Great Barrier Reef
Itinerary: Outer Barrier Reef: Saxon, Norman, Hastings reefs
2-4 night liveaboards
International cuisine served buffet style
All cabins with ensuite bathrooms, TV, music
Dedicated air-conditioned dining area, bar
Large boat
2 motorized dive dinghies
Featuring
Visits Cairns' Great Barrier Reef
Itinerary: Pellowe Reef, Flynn Reef, Milln Reef, Moore Reef, and Thetford Reef
ProDive runs 3 identical liveaboards, can join any day
International styled menu
2 nights/11 dives only
Dive deck with showers, toilets, wide stairs
Exclusive moorings – no other dive boats
1 dive tender
Communal bathrooms
Featuring
Visits Cod Hole, Ribbon & Osprey reefs, Bougainville, Holmes, special Minke whale trips
3-7 night liveaboards
International and Australian cuisine
Most cabins have ensuite bathrooms
Free Nautilus Lifelines, 'open' dive deck
2 life rafts, 2 inflatable dinghies
Featuring
Visits Cod Hole, Ribbon Reefs, Osprey Reef
3-7 night liveaboards
All cabins have ensuite bathrooms
Oceanview cabins have TV, DVD, window
Australian and international cuisine
Complimentary wine
Large stable boat with a steel hull
3 life rafts, 2 tenders
Rowley Shoals Dive Boat
Featuring
The only liveaboard option at Rowley Shoals
Itinerary: Clerke Reef, The Aquarium, Clerke Wall, Jimmy Goes to China, Blue Lagoon, The Channel, Mermaid Reef, Cod Hole, Night Critters, Mermaid Wall, Coral Gardens and Mermaid Caves
7-night trips from Broome, Western Australia
Limited season, much sought after spaces
Meals, snacks, basic beverages provided
Communal bathrooms
Neptune Islands Great White Shark Cage Diving
Featuring
The only shark diving option in S Australia
Visits Neptune and Hopkins Island
Itinerary: Hopkins Island (seal swim), Neptune Islands (shark viewing and diving including ocean floor cage diving)
Maximum of 12 guests only
Meals, snacks, basic beverages provided
All cabins feature ensuite bathrooms
Surface cages and submerged cages
Great whites, sea lions, fur seals, cuttlefish, sea dragons
Check it on Dive the World.com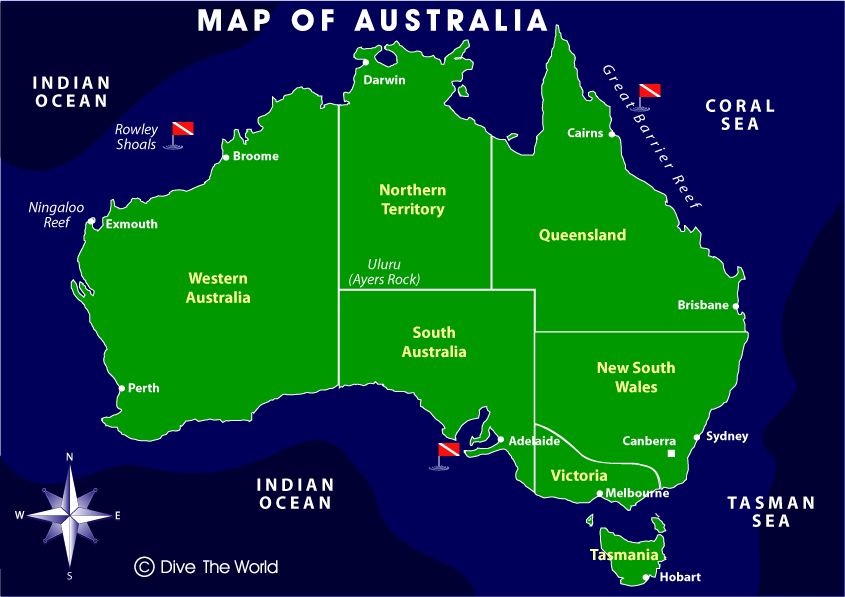 | | Ocean Quest | Scubapro | Spoilsport | Spirit of Freedom | Odyssey | Princess II |
| --- | --- | --- | --- | --- | --- | --- |
| Length | 36 m | 25 m | 30 m | 37 m | 24 m | 23 m |
| Guests | 48 | 32 | 28 | 26 | 20 | 12 |
| Crew | 18 | 6 | 11 | 9 | not available | not available |
| Equipment | free | free | $32/day | $28+/day | $160/week | $29/day |
| Nitrox | $7/fill | $73/trip | $7/day | $18+/day | no | no |
| Single | to be arranged | +90% | +70% | +100% | +50% | +70% |
| Price/Day | $126 | $185 | $304 | $250 | $300 | $270 |
| Barrier Reef | yes | yes | no | no | no | no |
| Coral Sea | no | no | yes | yes | no | no |
| Rowley Shoals | no | no | no | no | yes | no |
| Neptune Islands | no | no | no | no | no | yes |
Are you looking for your dream liveaboard? If you would like more details or to make a reservation, click on one of the Dive the World banners located at the bottom of this post and in the right sidebar.  Then for this safari, go to Liveaboards/Australia.
Dive Insurance
A cushion for emergencies provides peace of mind when on vacation.  I recommend this diving insurance as they have worldwide coverage and provide scuba divers a quality insurance and medical assistance service.
Feedback and Comments
I hope you found this post on Australian scuba diving interesting and useful. If you have any questions or ideas, please feel free to share them in the comments section.  I'd love to know of any experience you have.  If there is no comments section directly below, click here:  >>comments<<