We may earn money or products from the companies mentioned in this post.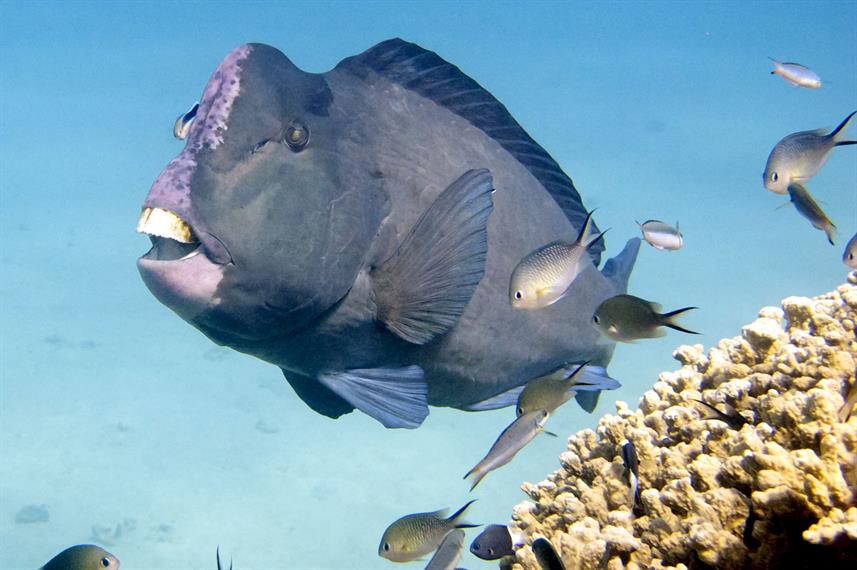 This is the one hundred and fifty-third in a series of reviews of the best dive resort locations around the world.  In this post, the focus is on Cairns, Australia.  In addition to this series on dive resort locations, the best worldwide liveaboard diving locations and services are reviewed in their own series.  To check them out, or others in this series, click on Liveaboards/Resorts on the menu at the top and choose a title from the list.
Have you been diving in Cairns before?  If so, I'd love to know about your experience.  What dive shop or liveaboard did you use?  Which dive spots are the best and what are the conditions there regarding the visibility, current, water temperature, sealife attractions, etc.?  Please post your response in the comments section at the bottom and we'll all learn something we can use.
Scuba Diving Cairns Australia
Background – Located on the east coast in the far north of Queensland on the coastal strip between the Coral Sea and the Great Dividing Range, Cairns is the fifth most populous city in the state with 145,000 people.  With a tropical climate and proximity to one of the 7 Wonders of the World, the Great Barrier Reef, and the nearby rainforest, it is a major tourist destination.  The first European presence was made by the beche de mer fishermen in the 1860s who found aboriginal inhabitants, the Gimuy Walubara Yidinji, who still have descendants in the area today.  Along the way, mangrove swamps and sand ridges were filled in and leveled to make the current location habitable.  After World War II Cairns started gaining recognition as a tourist area.  The completion of Cairns International Airport in 1984 gave it a major push toward its status as the major gateway to the Great Barrier Reef.  For more historical, cultural, and demographic information, go to Wikipedia-Cairns.
Undersea World – The Great Barrier Reef has several sections almost all of which are accessible from Cairns.  The inner reefs, while not as rich as the rest still have colorful coral gardens, rich marine life, and the advantage of being scattered along the coastline close enough to conveniently do training and recreational diving without making a lengthy boat cruise.  There are sandy and grassy areas where you can find stingrays and perhaps a dugong.  Beyond the inner reefs are the outer reefs.  These are richer and have a greater variety of undersea topography including canyons, drop-offs, ledges, coral shoals, pinnacles, and big coral bommies.  Many are close enough to access on day trips like Moore, Flynn, Milln, Thetford, and Pellowe Reefs.  Others like Norman, Saxon, and Hastings Reefs are just far enough away that a liveaboard is more convenient.  The most spectacular dive sites are to the north like the Ribbon Reefs, or further offshore like Cod Hole, and Osprey and Bougainville Reefs in the Coral Sea.  For the Coral Sea sites, a liveaboard is the only option.
The reason people dive the Great Barrier Reef is the pristine marine life that is unmatched for diversity.  There are more than 1,600 species of fish, 400 hard coral species, a third of all soft coral species, and 134 species of sharks and rays including whitetip, blacktip, and grey reef sharks, hammerheads, wobbegongs, and tiger sharks.  Whale sharks only rarely make an appearance from November to January.  That's just a starter.  6 of the 7 sea turtle species can be seen, along with 14 types of sea snake, saltwater crocodiles, 1,300 crustaceans, and 3,000 mollusks like nudibranchs, snails, giant clams, squid, cuttlefish, octopus, and nautilus.  Marine mammals also have a strong presence with 30 species seen around the reefs.  Highlights are minke whales coming from June to August and humpback whales from June to November.  Bottlenose dolphins are often seen and Bryde's whales also occasionally pass through.  Coral bleaching has caused some damage in 1998, 2002, and lately in 2015, but it is only a relatively small blemish.  More is seen in the far north.  A couple of quite venomous jellyfish to be aware of commonly come from November through May – the box jellyfish, and the Irukandji jellyfish.  Skin protection in the form of a lycra suit is advised.
Seasons and Conditions – Diving is possible all year in Cairns.
Air temperature average daily highs reach 31.6°C (88.9°F) in December and January and dip to 25.9°C (78.6°F) in July.
The rainy season in Cairns runs from November through May with a possibility of cyclones.  The heaviest rains are from January through March. Rains generally come early in the morning or in the late afternoon.  From June through September is the dry season.
The water temperature reaches highs of 29°C (84.2°F) from December through February with the lows from June through August of 22°C (71.6°F).  During the warmest times, a 3mm wetsuit is probably sufficient. When the water is at its coolest, many will use a 5-7mm wetsuit.
Currents are often mild on the dive sites on the Outer Reef around Cairns.  On some of the distant sites further from shore, they can be strong.
Visibility is usually from 10-40 meters (33-130 feet).  Under some conditions of wind and weather, it can get down to 5 meters (16 feet).
There are sites suitable for all levels of diver from beginner to advanced levels.  Dozens of dive shops are in operation that can provide a full range of diving coursework, equipment rental, guiding, and boat cruises.
For information about cold water gear, please check out my review:
There are a number of liveaboard yachts cruising the Great Barrier Reef.  Ocean Quest and Coral Sea Dreaming  go to the Outer Reef to sites relatively close to Cairns including Flynn, Milln, Thetford, and Pellowe Reefs.  The MV Scubapro I travels a bit further to sites to the north including Norman, Saxon, and Hastings Reefs.  The MV Spirit of Freedom and MV Spoilsport go to the most distant sites like Cod Hole, the Ribbon Reefs, and the Coral Sea.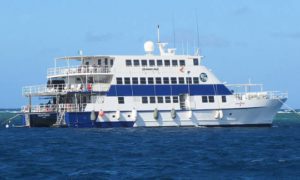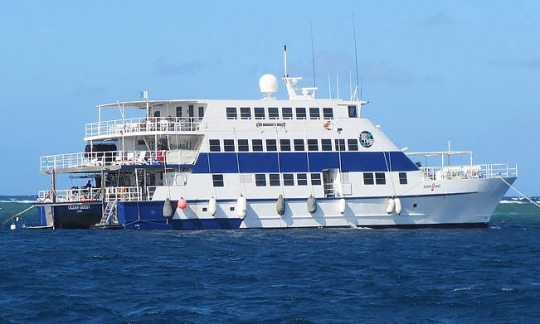 Ocean Quest, Great Barrier Reef (Outer Reef) Liveaboard – Check the Price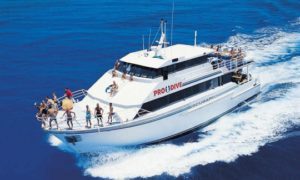 MV Scubapro I, Great Barrier Reef (Outer Reef) Liveaboard – Check the Price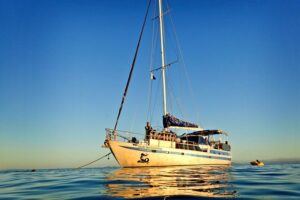 Coral Sea Dreaming, Great Barrier Reef (Outer Reef) Liveaboard – Check the Price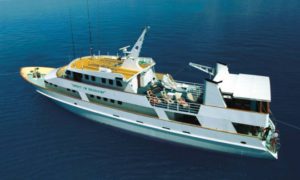 MV Spirit of Freedom, Great Barrier Reef (Cod Hole, Ribbon Reefs, Coral Sea) Liveaboard – Check the Price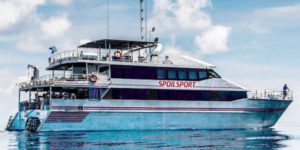 Spoilsport, Great Barrier Reef (Coral Sea, Cod Hole, Ribbon Reefs) Liveaboard – Check the Price
There are a number of liveaboard yachts cruising to other areas in Australia including Rowley Shoals, Neptune Island, and Ningaloo Reef.  Here are my reviews on Australian diving and some of the liveaboard yachts diving other Australian sites: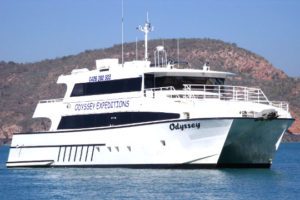 MV Odyssey, Rowley Shoals Liveaboard Diving – Check the Price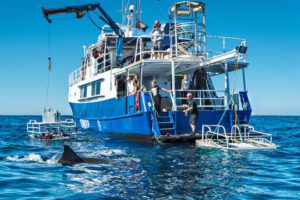 Princess II, Neptune Island Shark Cage Diving Liveaboard – Check the Price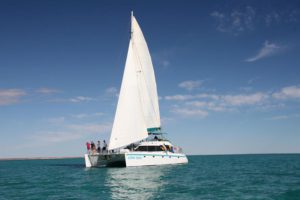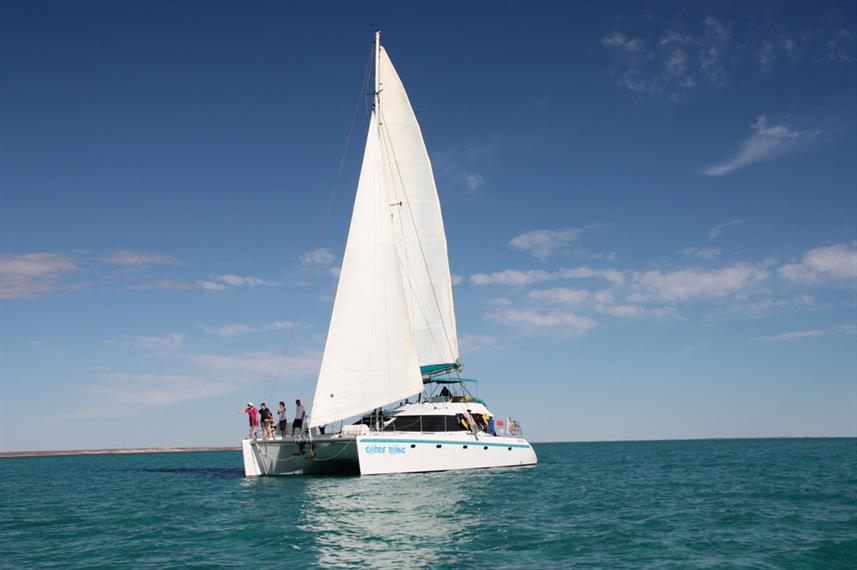 Shore Thing, Ningaloo Reef Liveaboard – Check the Price
Selected Cairns Dive Sites
Flynn Reef: 5-30 meters (16-100 feet), 7-8 dive sites, variable topography with walls, caverns, overhangs, swim-throughs, ruts, and a white sand bottom, large variety of colorful hard corals, marine life highlights are anemones with clownfish, parrotfish, schools of juvenile barracuda, hawksbill turtles, and whitetip reef sharks, currents are mild, there are sites suitable for all levels of diver
Milln Reef: 5-30 meters, 6-7 sites, walls, swim-throughs, big coral bommies, rich in colorful hard and soft corals, gorgonians, whip corals, and black coral in places, macro critters include nudibranchs, flatworms, sea stars, commensal gobies, painted lobsters, and eels, other marine life highlights include coral trout, peacock groupers, parrotfish, butterflyfish, bird wrasses, surgeonfish, barracudas, diagonally banded sweetlips, and dolphins, currents are mild, there are sites suitable for all levels of diver
Pellowe Reef: 5-30 meters: several sites, walls and one notable swim-through, more exposed and close to the continental shelf, a chance to see big pelagics, schools of chevron barracudas, jacks, and dolphins, other highlights include schools of sergeant majors, squirrelfish, Maori and Napoleon wrasses, whitetip reef sharks, anemones, and sea cucumbers, moderate to strong current is possible, there are sites suitable for all levels of diver
Thetford Reef: 5-30 meters: several sites, many big coral bommies, walls, numerous swim-throughs, rich hard and soft corals, and gorgonians, marine life includes, butterflyfish, damselfish, angelfish, triggerfish, parrotfish, schools of sergeant majors and fusiliers, red bass, trevallies, octopus, Napoleon wrasses, Christmas tree worms, moderate currents are possible, there are sites suitable for all levels of diver
Moore Reef: 1-25 meters, numerous sites, coral bommies, staghorn corals on a slope, diverse hard and soft corals, highlights to look for include feather stars, giant clams, nudibranchs, damselfish, wrasses, parrotfish, emperors, butterflyfish, surgeonfish, reef sharks, pufferfish, snappers, hawksbill turtles, current is usually mild, there are sites suitable for all levels of diver and snorkelers
Things to Do in Cairns (aside from scuba diving)
Cairns has a lot more than just top scuba diving for the adventurous tourist.  Mountains, forests, waterways, and fun times in the city await you, as well.  Here are some of the sights and activities to consider:  Devil's Pool, Jungle Surfing Zipline in Daintree Forest, Mission Beach,  Josephine Falls, Thala Lodge (eco-resort), White Water Rafting on Tully River, Bungee Jumping with a BMX Bike, Helicopter Over the Great Barrier Reef, Cairns Botanical Gardens, Kuranda Scenic Railway, Daintree Rainforest River Cruise, Palm Cove, Crystal Cascades, Mossman Stand-Up Paddleboard Tour, Japukai Aboriginal Cultural Park, Mossman Gorge Indigenous Dreamtime Walk, Dolphin and Whale Watching Tablelands, Cape Tribulation Beach, Green Island, Night Markets, Skyrail Rainforest Cableway, Rusty's Market, Lyquid Nightlife, Undara Volcanic National Park.
This video is a nice introduction and overview of what Cairns has to offer.
Air – Cairns International Airport (CNS) has international and domestic terminals within walking distance of each other.  International destinations served are Tokyo, Bali, Singapore, Port Moresby, Auckland, and Hong Kong.  Frequent flights are available to all the major Australian cities.  Several shuttle bus companies and taxis can provide transportation into town.  At a distance of 7 kilometers (4.375 miles) to the city center, it is possible to walk it.
Train – Queensland Railway offers a 24-hour service to Brisbane 5 days a week.  They also run the Kuranda Scenic Railway to Kuranda for a 2-hour journey departing at 8:30 and 9:30 am daily.  The Savannahlander is another train service to Kuranda that continues to Forsayth in the outback from April through November with one journey per week on Wednesdays.  Cairns Station is in the center of the city.
Public Bus – Sunbus provides a network of 8 routes around the city.
Car rental is available from several agencies at the airport.
For more intricate details related to the transportation options and other tourist information, go to Wikivoyage-Cairns.
Hotels and Diving – In Cairns there are at least 240 lodging options running from $6-$971 per night and more than two dozen dive shops in operation.  They offer a full range of services that include equipment rental, diving certification classes, dive guides, and boat tours.  The website linked below has the details and can arrange a booking for the lodging.  You can easily find the location on the map provided on their site.  The rates are guaranteed to be the lowest and it is free to cancel or change dates.
Photography in Cairns
With the colorful coral reefs, a variety of fish, rays, sharks, dolphins, and intriguing onshore targets, as well, there are many excellent photo opportunities.  For information and reviews of dive cameras, click here:
A cushion for emergencies provides peace of mind when on vacation.  I recommend this diving insurance as they have worldwide coverage and give scuba divers a quality insurance and medical assistance service.
Feedback and Comments
I hope you found this post on Cairns scuba diving interesting and useful. If you have any questions or ideas, please feel free to share them in the comments section.  I'd love to know of any experience you have.  If there is no comments section directly below, click here:  >>comments<<