We may earn money or products from the companies mentioned in this post.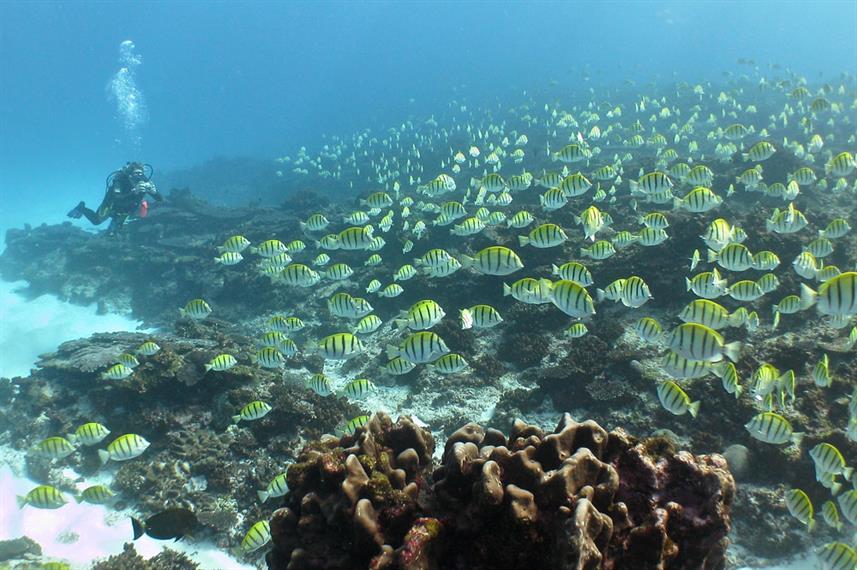 This is the twenty-ninth in a series which introduces and describes the various dive services and sites for worldwide liveaboard dive safaris.  This one will focus on Ningaloo, Western Australia.
For liveaboard reviews of Australia diving in the Outer Barrier Reef, the Coral Sea, Neptune Islands great white shark dives, and Rowley Shoals, please click on this title:
In addition to this series on liveaboards, the best worldwide dive resort locations and services are reviewed in their own series.  To check them out, or others in this series, click on Liveaboards / Resorts on the menu at the top and choose a title from the list.
Have you ever been diving on Ningaloo Reef before?  If so, I'd love to know about your experience.  What dive shop or liveaboard did you use?  Which dive spots are the best and what are the conditions there regarding the visibility, current, water temperature, sealife attractions, etc.?  Please post your response in the comments section at the bottom and we'll all learn something we can use.
Scuba Diving Ningaloo Reef
Ningaloo Reef is situated about mid-way between Broome and Perth in Western Australia.  It is reasonably remote but is accessible by air, bus or car.  Exmouth, the biggest town in the area is served by Learmonth Airport about 20 miles (37 km) away.
Without much nightlife, the main attractions are natural resources.  Ningaloo Reef is one of the few pristine reefs left and is part of the Ningaloo Marine Park.  Nearby is the wildlife-rich Cape Range National Park and, in addition to resorts, hotels and backpacker lodges, there are camping sites and caravan parks.  The seaside is also well known for snorkeling and surfing.
Scuba diving highlights are whale sharks, humpback whales, dolphins, dugongs, manta rays, stingrays, green, hawksbill and loggerhead turtles, reef sharks and large groupers.
The diving depth range is 5-40 meters (16-130 feet), but most of the best diving on this rich and bio-diverse reef is at  21 meters (70 feet) or less, making it suitable for all diver levels.
Visibility ranges from 5-30 meters (16-100 feet) but is often from 10-20 meters (35-70 feet).  It is generally sunny year round with a wet season in May and June and a dry season from August to December.  Daily temperature highs range from 25-35°C (77-95°F) with the warmest in the southern hemisphere summer (December to March), and the coolest in winter (June to August).  The water temperature also varies based on the season, ranging from 19-28°C (66-82°F).
Seasonal attractions:
March-July: whale sharks
July-November: humpback whales, dolphins
November-January: hawksbill turtle nesting
January-March: hawksbill turtle hatching
Reef Summary
Depth: 5-40m
Visibility: 5-30m
Currents: usually gentle
Surface conditions: relatively calm
Air temperature: 25-35°C (77-95°F)
Water temperature:19-28°C (66-82°F)
Experience level: beginner-advanced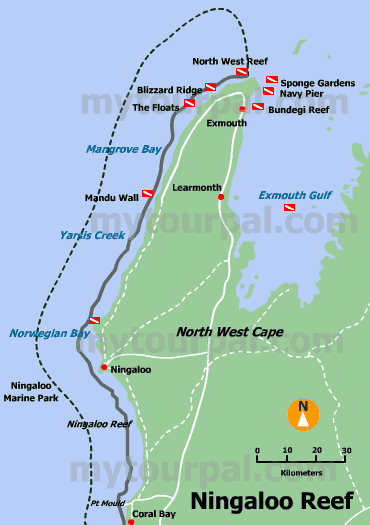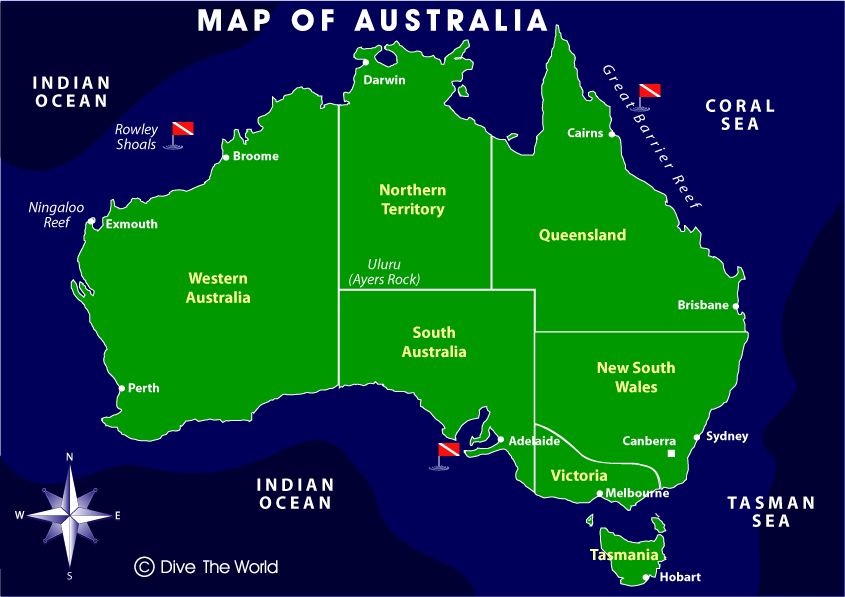 Ningaloo Liveaboard Dive Boats
There is only the one liveaboard boat cruising Ningaloo Reef.  This is a family owned catamaran serving a maximum of 10 guests.  Though small, it has most of the comforts of much larger yachts, and the cozy camaraderie and excitement of a speedy sailboat.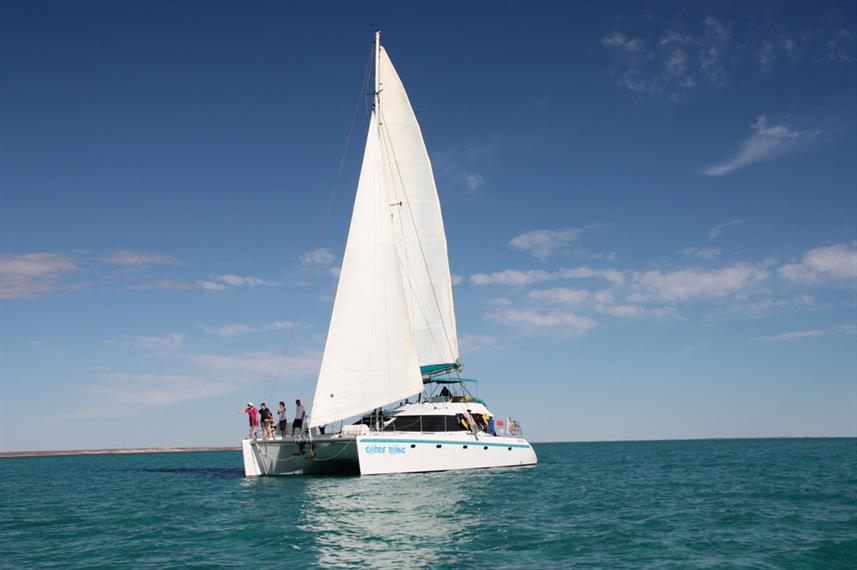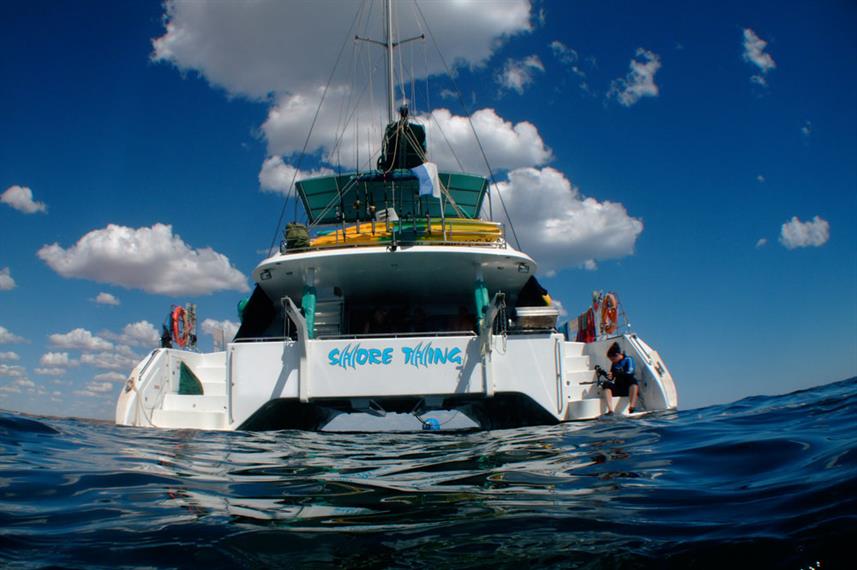 3-9 night itineraries to Ningaloo Reef
Daily housekeeping, air-conditioned saloon, aircon cabins, en-suite bathrooms, indoor saloon, warm water showers
Western, local and vegetarian food, outdoor dining
Charging stations
Sun deck
Separate rinse for u/w camera
English speaking crew
Onboard kayaks
Non-diver (snorkeler) friendly
Dive deck
Tenders for diving
Emergency rafts
Shore Thing
Length

30 m
Guests

10
Equipment

BCD & Regs
$120/3 nights
$180/5 nights
$290/9 nights
Nitrox

No
Snorkel
Friendly
Yes
Price/Day

$303
Ningaloo Accommodation
The Exmouth/Ningaloo/Coral Bay area has several dive shops and quite a few hotels and resorts of varying levels.  The Shore Thing liveaboards take up to ten days but can be as short as three.  If your cruise is on the short end of the range or you would like to spend time on shore among the wildlife of the Cape Range National Park, hiking and exploring, or take in the sun and surf action of the beach, then hooking up with local accommodation might be suitable.  This website can introduce options and help arrange a booking:
Ningaloo Photo Opportunities
With the macro life, beautiful, diverse coral reef and lots of fish, there are many excellent photo opportunities.  For information and reviews of diving cameras, click here:
Scuba Diving Trip Insurance
A cushion for emergencies provides peace of mind when on vacation.  I recommend this diving insurance as they have worldwide coverage and provide scuba divers a quality insurance and medical assistance service.
For liveaboard reviews of Australia diving in the Outer Barrier Reef, the Coral Sea, Neptune Islands great white shark dives, and Rowley Shoals, please click on this title:
Feedback and Comments
I hope you found this post on Ningaloo Reef scuba diving interesting and useful. If you have any questions or ideas, please feel free to share them in the comments section.  I'd love to know of any experience you have diving there.  If there is no comments section directly below, click here:  >>comments<<