We may earn money or products from the companies mentioned in this post.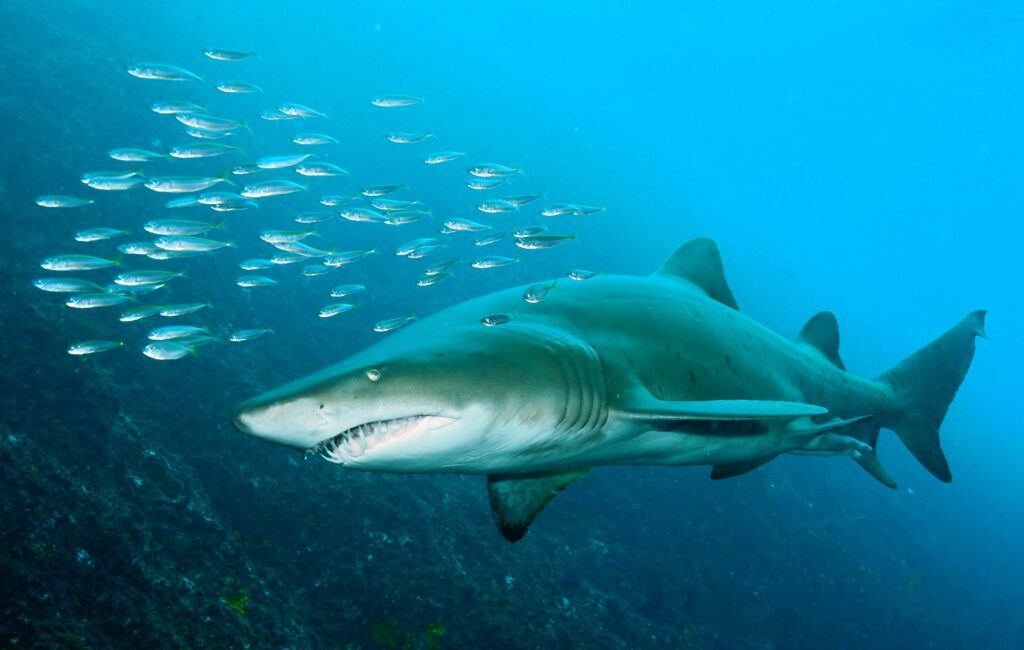 This is the one hundred and forty-ninth in a series of reviews of the best dive resort locations around the world.  In this post, the focus is on Sydney, Australia.  In addition to this series on dive resort locations, the best worldwide liveaboard diving locations and services are reviewed in their own series.  To check them out, or others in this series, click on Liveaboards/Resorts on the menu at the top and choose a title from the list.
Have you been diving in Sydney before?  If so, I'd love to know about your experience.  What dive shop or liveaboard did you use?  Which dive spots are the best and what are the conditions there regarding the visibility, current, water temperature, sealife attractions, etc.?  Please post your response in the comments section at the bottom and we'll all learn something we can use.
Scuba Diving Sydney Australia
Background – Set in a coastal basin in the southeast of Australia, Sydney is the state capital of New South Wales.  The archaeological record shows indigenous habitation as early as 30,000 years ago with Captain Cook the first westerner to arrive at Botany Bay is 1770.  The British took interest and founded a penal colony there in 1788.  The gold rush of 1851 was the start of major economic and cultural development that has occurred since that time.  Mass migration to Sydney started after World War II.  Today with a population of 5.3 million it has the largest economy in Australia based around trading, manufacturing, finance, education, and tourism.  It is a major cosmopolitan center with 45.4% born overseas and 35.8% speaking a language other than English at home.
Undersea World – When people think about Australian diving the Great Barrier Reef usually comes to mind and then maybe Rowley Shoals or Ningaloo Reef.  Divers in Sydney, though, have realized there is no need to travel that far for great year-round diving.  All along the coastline and in Sydney Harbor, itself, there are dozens if diverse fascinating dive sites.  Shallow and deep sites suitable for all levels are accessible by boat and a great many of them from shore.  The undersea terrain is variable from place to place with sandy areas, boulders, volcanic formations, ledges, caves, and swim-throughs.  Most areas have hard corals and sponges, with soft corals in some areas,  Several varieties of kelp and seagrass also add to the habitat providing cover for interesting macro life like weedy sea dragons that mimic the plantlife, nudibranchs, crabs, lobsters, sea stars, scorpionfish, cleaner wrasses, tube anemones, and many others.  Other reef highlights are eels, parrotfish, goatfish, leather jackets, porcupine puffers, blue groupers, yellowtail scad, several species of stingray, wobbegongs, Port Jackson sharks, grey nurse sharks, turtles, seals, and many seasonal whales including humpback, southern right, pilot, sperm, minke, killer, and false killer whales.  In addition, there are many historic and scuttled wrecks.
Seasons and Conditions – Diving is possible all year in Sydney.
Air temperature average daily highs reach 26°C (80°F) in January and February and dip to 17°C (63°F) in July.
Rainfall is pretty steady throughout the year without a real rainy season.
The water temperature ranges from 15-19°C (59-66°F) in winter and 22-25°C (72-77°F) in summer.  During the warmest times, a 5-7mm wetsuit will be suitable for most.  When the water is at its coolest, a 7mm wetsuit or even a drysuit with hood and gloves would suit many.
Currents are generally mild.
Visibility ranges from 1-20 meters (3-68 feet).  5-10 meters (16-33 feet) is common.  The best visibility is generally in the winter months.
There are sites suitable for all levels of diver from beginner to advanced levels.  A number of dive shops are in operation that can provide a full range of diving coursework, equipment rental, guiding, and boat cruises.
For information about cold water gear, please check out my review:
There are no major liveaboard yachts cruising Sydney but there are some to other areas in Australia including the Great Barrier Reef, Rowley Shoals, Neptune Island, and Ningaloo Reef.  Here are my reviews on Australian diving and some of the liveaboard yachts diving Australian sites: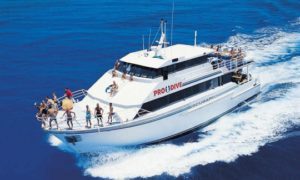 MV Scubapro I, Great Barrier Reef Liveaboard – Check the Price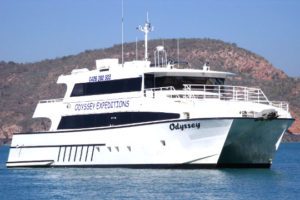 MV Odyssey, Rowley Shoals Liveaboard Diving – Check the Price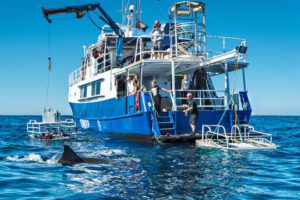 Princess II, Neptune Island Shark Cage Diving Liveaboard – Check the Price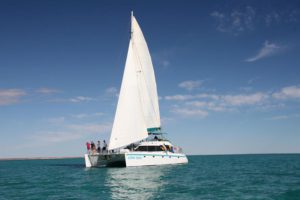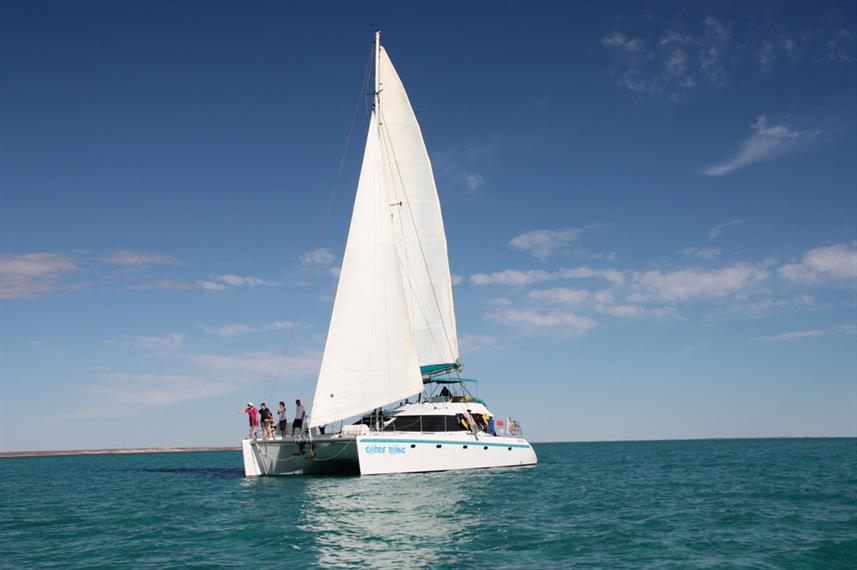 Shore Thing, Ningaloo Reef Liveaboard – Check the Price
Selected Sydney Dive Sites
Bare Island: 3-19 meters (10-62 feet), in Botany Bay near La Perouse, shore entry, sandy areas, with plant life, sponges, boulders, walls, and interesting marine life including seahorses, pygmy pipefish, nudibranchs, Bare Island anglerfish, flatheads, blue devilfish, red Indian fish, and sharks, boat traffic is possible, an SMB is a good idea, suitable for all levels of diver (check the video above)
Shelley Beach: 11 meters (36 feet), part of the Cabbage Tree Bay Aquatic Reserve near Manly, two sites, the north side has boulders and the south side has kelp and rocks, rich marine life with Maori wrasses, snake-skin wrasses, blue gropers, several varieties of bream, leatherjackets, longfin pikes, yellowtail scads, butterflyfish, Moorish idols, bull rays, wobbegongs, dusky whaler sharks, and dolphins, suitable for all levels of diver
Gordon's Bay: 14 meters (46 feet), north of Coogee, shore entry, nature trail with a chain to follow, has a small wall, sandy bottom, with rocks and lots of kelp, marine life highlights include nudibranchs, sea dragons, weed fish, red morwong, velvet leatherjackets, Maori wrasses, striped sea pike, blue gropers, several varieties of stingray, goatfish, Port Jackson sharks, wobbegongs, suitable for all levels of diver (check the video at the top)
Magic Point: 7-23 meters (23-75 feet), off Maroubra, two caves about 30 meters (100 feet) apart at 18 meters (60 feet) at the base of a wall, home to 10-20 grey nurse sharks around the entrances, the reef extends to an edge at 23 meters (75 feet), outside the caves are soft corals, sponges, and kelp, additional highlights include  bull rays, pineapple fish, wobbegongs, Port Jackson sharks, and weedy seadragons mimicking the kelp, some current is possible, suitable for experienced level divers (check the video below)
SS Tuggerah: 46 meters (151 feet), 2.2 kilometers (1.375 miles) off of Royal National Park on the south of Sydney, 56-meter (184-foot) steam-powered cargo vessel, sank in a storm in 1919 while carrying a cargo of coal to Sydney, rests on her port side, mast lying to the side, bow destroyed and full of nannygai and other small fish, much remaining to be explored including the engine room, boiler, and propeller, possibility of strong current all the way to the bottom, suitable for technical divers (check the video below)
HMAS Adelaide: 20-32 meters (68-105 feet), near Terrigal a short drive north of Sydney, 138-meter (453-foot) Australian Navy guided-missile frigate scuttled to become an artificial reef in 2011, prepared with several access holes, penetration possible to the bridge, helicopter hangars, and operations room, marine life includes blue gropers, yellowtail scad, kingfish, blennies, batfish, octopus, and bannerfish, suitable for experienced level divers
Things to Do in Sydney (aside from scuba diving)
As one of the great cities of the world, Sydney is at the center of Australian culture with wonderful historical and natural beauty.  Here are some of the sights and activities to consider:  See an Opera House Show, Cockatoo Island, Stroll Darling Harbor, Sydney Fish Market, Paddy's Markets, Bondi Beach, Sydney Tower, Elizabeth Farm, Climb Sydney Harbor Bridge, Circular Quay Dining, Hayden Orpheum Picture Palace, Ghost Tour, Royal Botanic Gardens, Luna Park, Sydney History Pub Crawl, Garigal National Park, Tour Manly, Cruise Circular Quay & Darling Harbor, Museums, Nightlife, Sports at SCG.
This video is a nice introduction and overview of what Sydney has to offer.
Air – Over 35 airlines link to Sydney Kingsford Smith International Airport (SYD) on domestic flights and international flights from around the world.  There are 3 terminals with numerous methods available for transit between them.  To get to the city there are suburban trains, local buses, shuttle buses, taxis, Uber, and walk and train.  For the many details involving air transportation, movement between terminals, and to town, click here.
Public Transport – There is a many-faceted public transport system in Sydney consisting of commuter rail, bus, ferry and light rail. Combined, you can make it to practically any destination in metropolitan Sydney.   For detailed information check Wikitravel-Sydney or Transport Infoline.
Car rental is available at the airport and at many locations in town from numerous major companies.
For additional transportation and tourist details, go to Wikitravel-Sydney.
Hotels and Diving – In Sydney there are at least 1,200 lodging options starting from as low as $7 per night and a number of dive shops in operation.  They offer a full range of services that include equipment rental, diving certification classes, dive guides, and boat tours.  The website linked below has the details and can arrange a booking for the lodging.  You can easily find the location on the map provided on their site.  The rates are guaranteed to be the lowest and it is free to cancel or change dates.
Photography in Sydney
With the colorful coral reefs, a variety of fish, rays, sharks, seals, wrecks, and intriguing onshore targets, as well, there are many excellent photo opportunities.  For information and reviews of dive cameras, click here:
A cushion for emergencies provides peace of mind when on vacation.  I recommend this diving insurance as they have worldwide coverage and give scuba divers a quality insurance and medical assistance service.
Feedback and Comments
I hope you found this post on Sydney scuba diving interesting and useful. If you have any questions or ideas, please feel free to share them in the comments section.  I'd love to know of any experience you have.  If there is no comments section directly below, click here:  >>comments<<