We may earn money or products from the companies mentioned in this post.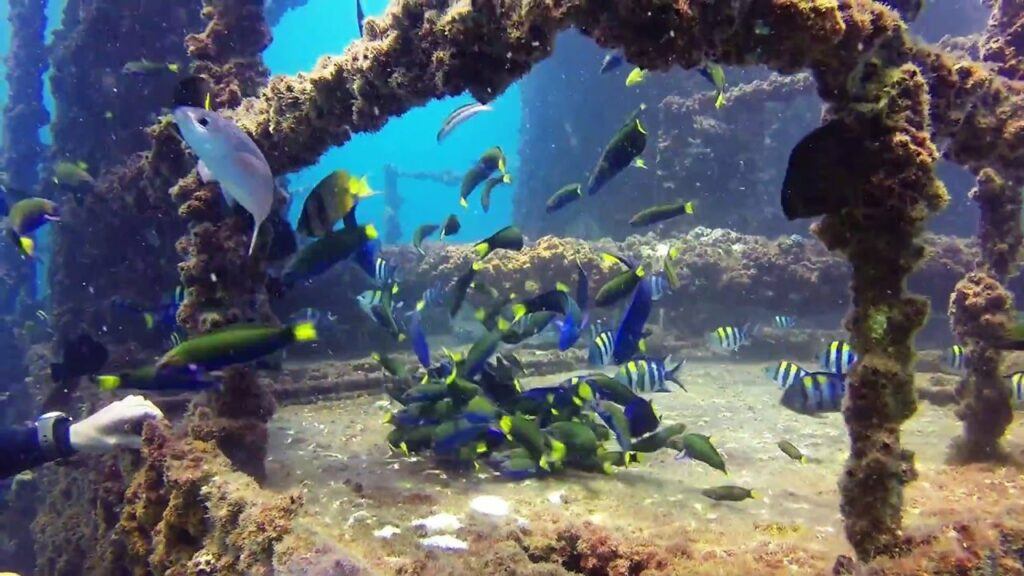 This is the one hundred and fifty-first in a series of reviews of the best dive resort locations around the world.  In this post, the focus is on Brisbane, Australia.  In addition to this series on dive resort locations, the best worldwide liveaboard diving locations and services are reviewed in their own series.  To check them out, or others in this series, click on Liveaboards/Resorts on the menu at the top and choose a title from the list.
Have you been diving in Brisbane before?  If so, I'd love to know about your experience.  What dive shop or liveaboard did you use?  Which dive spots are the best and what are the conditions there regarding the visibility, current, water temperature, sealife attractions, etc.?  Please post your response in the comments section at the bottom and we'll all learn something we can use.
Brisbane Australia Scuba Diving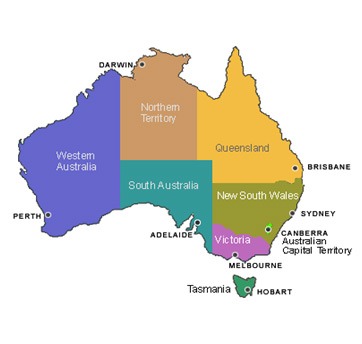 Background – With a population of 2.5 million (3.4 million in the metropolitan area), Brisbane is the capital of Queensland and Australia's third-largest city.  It is situated on the flood plain of the Brisbane River to the east of the Great Dividing Range and 15 kilometers (9.375 miles) from the river's mouth at Moreton Bay. Human inhabitation of the area goes back 22,000 years. When the first western exploration saw Matthew Flinders arrive in Moreton Bay in 1799 there were 6,000-10,000 indigenous people already living in the area.  The major western settlement started in 1824 when New South Wales Governor, Sir Thomas Brisbane, established a penal colony.  From that inauspicious start, Brisbane has become a rapidly developing new-age city.  With an already strong diverse economy, the government is pushing an emphasis on biotech and research and international exposure which has included hosting the 1982 Commonwealth Games, the 1988 World Expo, the 2001 Goodwill Games, and the 2014 G-20 Summit.  The strong international flavor is further evidenced by 32% of citizens being born overseas and 51% having at least one parent born overseas.  For further historical and demographic information please go to Wikipedia-Brisbane.
Undersea World – The Brisbane scuba diving takes place in Moreton Bay, around the islands including the big ones, North Stradbroke and Moreton, and beyond up to 2-3 hours boat ride away.  Covering such a broad area there is a great variety of undersea topography with fringing coral reefs, shoals, boulders, caves, walls, swim-throughs, cracks, and crevices that provide rich habitat for marine life.  The sub-tropical climate has encouraged a rich reef system of hard and soft corals, big sea fans and gorgonians, sponges, sea whips, and a variety of other encrusting invertebrates.  Currents bring with them nutrients to satisfy pelagics like tuna, mackerel, kingfish, and barracuda and the seasonal visitors eagle rays, manta rays and leopard sharks in summer, and grey nurse sharks and humpback whales in winter.  Other reef highlights include turtles, wobbegongs, shovelnose sharks, bull rays, stingrays, Queensland, and giant groupers, octopus, nudibranchs, crayfish, mantis shrimps, scorpionfish, and a vast array of other reef tropicals and macro critters.  In addition, there are numerous wrecks including the HMAS Brisbane and the Tangalooma wrecks which are suitable for freedivers and snorkelers.
Seasons and Conditions – Diving is possible all year in Brisbane.
Air temperature average daily highs reach 30°C (86°F) in January and February and dip to 22°C (72°F) in June and July.
Brisbane has a dry season when it rains 4 days a month or less from July through September.  The rainy season is from December through March when it rains 8-9 days a month.
The water temperature reaches highs of 26-28°C (79-82°F) in February with the lows in August of 20-23°C (68-73°F).  During the warmest times, a 3mm wetsuit is probably the most protection needed.  When the water is at its coolest, many will use a 5-7mm wetsuit.
Currents are often mild but moderate to strong drift is possible on some sites.
Visibility generally ranges from 15-25 meters (50-82 feet).
There are sites suitable for all levels of diver from beginner to advanced levels.  A number of dive shops are in operation that can provide a full range of diving coursework, equipment rental, guiding, and boat cruises.
For information about cold water gear, please check out my review:
There are no major liveaboard yachts cruising Brisbane but there are some to other areas in Australia including the Great Barrier Reef, Rowley Shoals, Neptune Island, and Ningaloo Reef.  Here are my reviews on Australian diving and some of the liveaboard yachts diving Australian sites: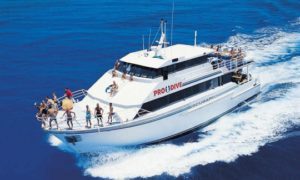 MV Scubapro I, Great Barrier Reef Liveaboard – Check the Price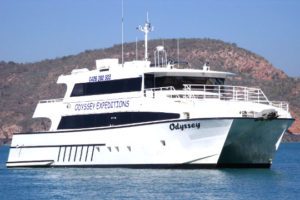 MV Odyssey, Rowley Shoals Liveaboard Diving – Check the Price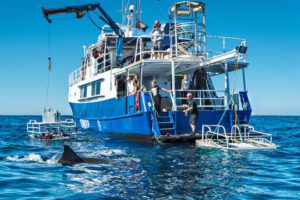 Princess II, Neptune Island Shark Cage Diving Liveaboard – Check the Price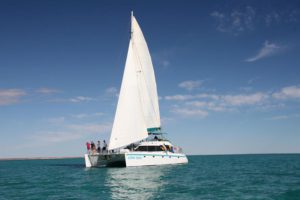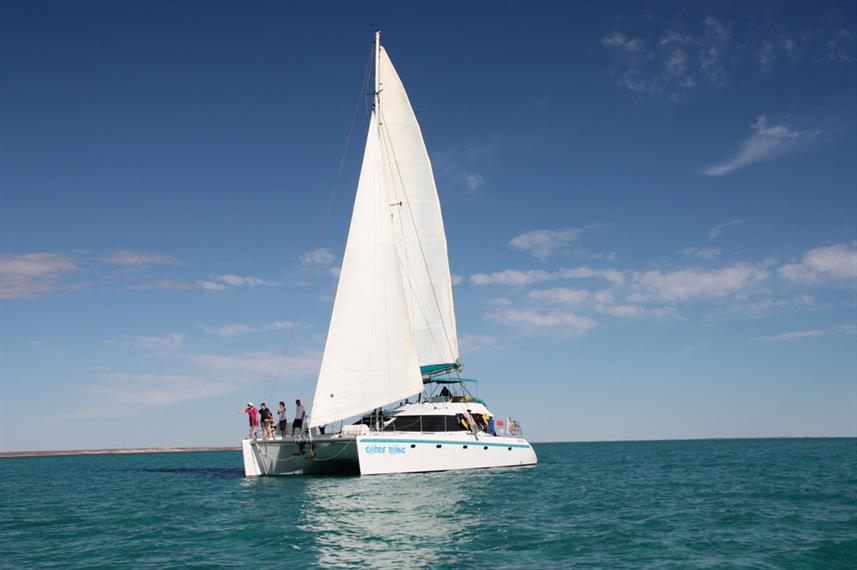 Shore Thing, Ningaloo Reef Liveaboard – Check the Price
Selected Brisbane Dive Sites
HMAS Brisbane Wreck: 15-27 meters (50-90 feet), 133-meter (436-foot) missile destroyer scuttled to become an artificial reef  off Moreton Island in 2005,  prepared before sinking with many access holes cut in the hull, sitting upright largely intact with many great penetration opportunities, rich marine life with lots of soft corals and some hard corals getting established, frogfish, blennies, nudibranchs, sea hares, squid, schools of snappers and red emperors, resident schools of kingfish, bull, eagle, and shovelnose rays, greasy cod, Queensland groupers, and turtles, suitable for experienced level divers, check out the the video below
Flinders Reef: 3-28 meters (6-92 feet), north of Moreton Island, diverse reef of 175 species of fish and 112 species of hard and soft coral, terrain includes pinnacles, swim-throughs, caverns, and a sunken trawler, highlights are a turtle cleaning station in 5 meters (16 feet) of water, stingrays and wobbegongs, eagle rays and nurse sharks in summer, grey nurse sharks and humpback whales in winter, and the occasional manta ray, strong current is possible, suitable for all levels of diver, check out the top video
Cementco Wreck: 25-35 meters (82-115 feet), near Flinders Reef, originally an Australian Army support ship, the Crusader, it later became the Cementco used as a self-propelled coral barge, scuttled in 1986 to become an artificial reef, resting upside down, encrusted in corals, marine life includes rays, groupers, crayfish, and large schools of fish, penetration is appropriate for divers with wreck training due to massive machinery hanging inside, suitable for experienced level divers
Cherub's Cave: 15-30 meters (50-100 feet), about 4.5 kilometers (2.8 miles) off the east side of Moreton Island, pinnacle to 15 meters (50 feet) with a cave inside that is a 15 meter square, smaller caves, boulders, and small gullies surround it, some kelp, lots of macro critters, big schools of fish, wobbegongs, turtles, and grey nurse sharks in season, current is possible, suitable for experienced level divers
Manta Ray Bommie: 5-16 meters (16-52 feet), north of North Stradbroke Island, in the summer manta rays linger in great numbers, other highlights are numerous reef tropicals and macro critters like mantis shrimp, nudibranchs, octopus, scorpionfish, giant clams, crayfish, and moray eels, also shovelnose and leopard sharks, stingrays, bull rays, and loggerhead turtles, suitable for all levels of diver, check out the video above
Flat Rock – Shark Alley: 35 meters (115 feet) maximum depth, north of Stradbroke Island, highlights are schools of rays, wobbegongs, and pelagics, on the eastern edge look for grey nurse sharks in winter, suitable for experienced level divers
Shag Rock: 5-20 meters (16-68 feet), off North Stradbroke Island, highlights include excellent macro life and wobbegongs, shovelnose sharks, catsharks, leopard sharks, turtles, and a possibility of manta rays, suitable for all levels of diver
Things to Do in Brisbane (aside from scuba diving)
As the Capital of Queensland, Brisbane is the regional center of culture with a rich history and natural beauty.  Here are some of the sights and activities to consider:  Story Bridge Climb, The Cube Exhibitions, Triffid (music & beer), City Hopper River Cruise, Gallery of Modern art, James Street (fashion hub), Mount Coot-tha Lookout, Yatala Drive-in, South Bank, New Farm Park, Lone Pine Koala Sanctuary, Powerhouse Farmer's Markets, Ceder Creek Trail, Golden Pig Cooking Class, La Trobe Terrace Shopping, Eat Street Markets, Suncorp Stadium, Brisbane Jazz Club, Lefty's Old Time Music Hall, City Botanic Gardens.
This video is a nice introduction and overview of what Brisbane has to offer.
Air – Located 20 kilometers (12 miles) northeast of the city center at Eagle Farm is Brisbane Airport (BNE).  It has direct international service to most Asian centers, the US, Canada, the Middle East, and New Zealand from the international terminal.  The domestic terminal links to other Australian cities.  To get into the city there are many options including Airtrain, Coach Trans, public buses, limo transfer, and taxi.
Around Town
Public Transport – Ferries, buses, and trains with a common ticketing system called Translink can conveniently move you to most locations.
Car rental is available from many top agencies at the airport and around town.  Parking is at a premium downtown.
Motorcycles/motorbikes/scooters are available with some companies delivering the vehicle to you.  They are a convenient option, especially where parking is at a premium.
Green Cabs are a sort of rickshaw type of vehicle available on weekends for transit and tours.
For the intricate details related to the transportation options and other tourist information, go to Wikitravel-Brisbane.
Hotels and Diving – In Brisbane there are at least 400 lodging options starting from as low as $10 per night and a number of dive shops in operation.  They offer a full range of services that include equipment rental, diving certification classes, dive guides, and boat tours.  The website linked below has the details and can arrange a booking for the lodging.  You can easily find the location on the map provided on their site.  The rates are guaranteed to be the lowest and it is free to cancel or change dates.
Photography in Brisbane
With the colorful coral reefs, a variety of fish, rays, sharks, whales, wrecks, and intriguing onshore targets, as well, there are many excellent photo opportunities.  For information and reviews of dive cameras, click here:
A cushion for emergencies provides peace of mind when on vacation.  I recommend this diving insurance as they have worldwide coverage and give scuba divers a quality insurance and medical assistance service.
Feedback and Comments
I hope you found this post on Brisbane scuba diving interesting and useful. If you have any questions or ideas, please feel free to share them in the comments section.  I'd love to know of any experience you have.  If there is no comments section directly below, click here:  >>comments<<