We may earn money or products from the companies mentioned in this post.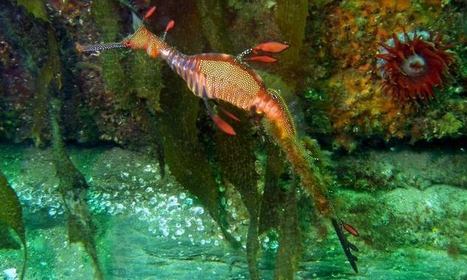 Updated on January 8, 2021
This is the one hundred and fifth in a series of reviews of the best dive resort locations around the world.  In this post, the focus is on Tasmania. In addition to this series on dive resort locations, the best worldwide liveaboard diving locations and services are reviewed in their own series.  To check them out, or others in this series, click on Liveaboards/Resorts on the menu at the top and choose a title from the list.
Have you ever been diving in Tasmania before?  If so, I'd love to know about your experience.  What dive shop or liveaboard did you use?  Which dive spots are the best and what are the conditions there regarding the visibility, current, water temperature, sealife attractions, etc.?  Please post your response in the comments section at the bottom and we'll all learn something we can use.
Scuba Diving Tasmania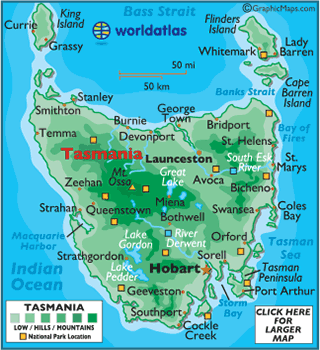 Background – The fascinating island state of Tasmania consists of the main island (the world's 26th largest) and 334 smaller islands located 240 kilometers (150 miles) south of Victoria on mainland Australia.
The population of 526,700 lives mostly in the southeast near Hobart, the capital, and on the north coast.
42% of the Tasmanian landscape is protected and consists of diverse vegetation including grassland, eucalyptus forests, temperate rain forests, alpine heathlands, and cool temperate rain forests.
It is famous for its unique wildlife like the extinct thylacine, Tasmanian devils, wombats, kangaroos, and other marsupials.
Researchers believe indigenous people lived there about 42,000 years ago.  When Europeans arrived in the 17th century, it is estimated that there were from 3,000 to 7,000 aboriginal inhabitants.  There is a colorful history with war, bad treatment, and imported disease that made life difficult, but today there are over 23,000 in Tasmania identifying as indigenous.  The bulk of the rest of the citizens is of British or European ancestry with English spoken as the first language by 88%.
The foundation of the economy is mining, agriculture forestry, and tourism.
Tasmanians love sports, especially Australian Rules Football and Cricket.
For more demographic and historical information about Tasmania, please go here:  Tasmania – Wikipedia
Undersea World – The temperate waters around the islands of Tasmania harbor a plethora of flora and fauna in shallow and deep water on a variety of undersea topography.
In some areas, warming has depleted the kelp beds, but there are still many plants to be found.
There are caverns, caves, walls, pinnacles, and several shipwrecks like the historic SS Nord, a cargo ship sunk in an accident in 1915.
It is possible to dive with dolphins and seals in shallow water and migrating whales are also a possibility.
Encrusting life of yellow zoanthids, corals, and sponges can be quite dense with sea whips in some locations, as well.
This habitat is home to massive schools of pink butterfly perch, long nose board fish, draughtboard sharks, bastard trumpeters, and banded stingrays, along with weedy sea dragons, spotted handfish, cowfish, wrasse, abalone, and southern rock lobster.
Seasons and Conditions – Diving is possible year-round in Tasmania.  The winters are mild and rainy and the summers are cool.  Rainfall is frequent throughout the year with less in the summer.
Air temperatures vary some around the country.  There are highs in the low 70s F (21°C) in summer and low 50s (2°C) in winter.
Water temperature averages 50 to 60°F (10 to 15.5°C) from winter to summer.  A 7mm wetsuit or drysuit with hood and gloves is appropriate.
Currents can run from quite mild to strong depending on the site, season, and tides.  Surge is also a consideration in some areas.
Visibility is best during the winter months with a year-round range from 30 to 100 feet (9-30 meters).
There are sites suitable for all levels of diver with a depth range of 10 to 140 feet (3 to 40 meters).  Dive shops are located near the dive sites around the country that can offer a range of diving coursework, equipment rental, guiding, and boat cruises.
For information about cold water gear, please check out my review:
There are no major liveaboard yachts cruising Tasmania but there are some to other areas in Australia including the Great Barrier Reef, Rowley Shoals, Neptune Island, and Ningaloo Reef.  Here are my reviews on Australian diving and some of the liveaboard yachts diving Australian sites: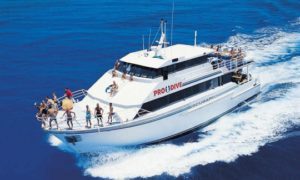 MV Scubapro I, Great Barrier Reef Liveaboard – Check the Price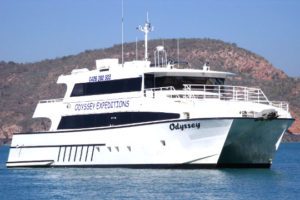 MV Odyssey, Rowley Shoals Liveaboard Diving – Check the Price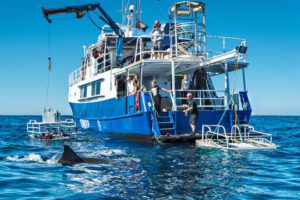 Princess II, Neptune Island Shark Cage Diving Liveaboard – Check the Price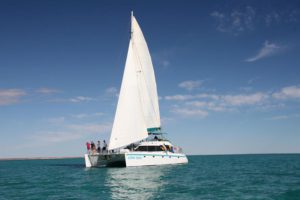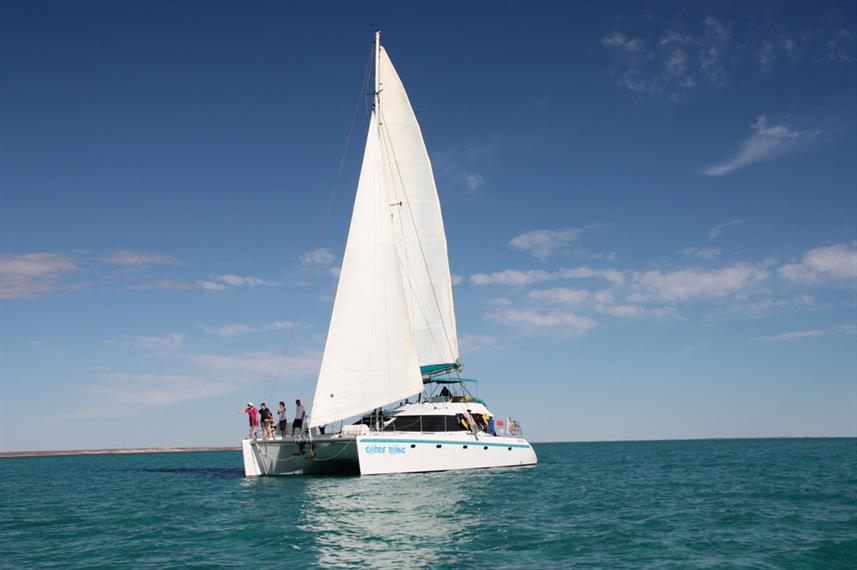 Shore Thing, Ningaloo Reef Liveaboard – Check the Price
Selected Tasmania Dive Sites
Fortesque Bay Kelp Forest: 70 feet (21 meters) maximum depth, located in Tasman National Park, shore entry, kelp, draughtboard sharks, giant rays, seals, all levels and snorkeling
Waterfall Bay Caves and Canyons: 70 feet (21 meters) maximum depth, south of Eaglehawk Neck, near Devil's Kitchen, includes Cathedral Cave, Dog Leg Cave, and Horseshoe Cave, many narrow passages and tunnels, big schools of fish near the entrances, walls encrusted with a variety of invertebrates, experienced level
Paterson's Arches (in Waterfall Bay): 70 feet (21 meters) maximum depth, swim-throughs, and walls with rich encrusting life, weedy sea dragons, all levels
SS Nord Wreck: 140 feet (42 meters) maximum depth, near Cape Pillar, 289-foot (87-meter) cargo vessel sunk after hitting a pinnacle in 1915, all crew survived, mostly intact, rudder still moves, brass fittings and Chinese crockery still there, rich encrustations and marine life, variety of fish, experienced level
Munro Bight Kelp Forest: 60 feet (18 meters) maximum depth, extensive kelp beds damaged some by warming, rich marine life including schools of bastard trumpeters, banded stingrays, draughtboard sharks, all levels
Diamond Island Kelp Forests:  20 feet (6 meters) average depth, near Bicheno, shore entry, kelp forest, typically good visibility, lots of abalone, all levels
Governors Island Marine Reserve: 16-130 feet (5-40 meters), near Bicheno, more than 15 dive sites, lots of sponges, soft coral, and seagrasses, striped trumpeters, octopus, dolphins, and the occasional whale, popular dive sites include Mount Everest, Magic garden, and Trap Reef
Maria Island: near Orford, a number of sites including the Troy D., a 183-foot (55-meter) Hopper Barge, scuttled in 2007 to become an artificial reef, rich in marine life, huge schools of fish
Rocky Cape National Park: off the northwest coast, rich undersea environment with huge barrel sponges, giant clams, yellow and white sea pens, pufferfish
Bruny Island: a ferry trip from Kettering to South Bruny National Park, many deep caverns, blue penguins and right whales are possibilities
Tasmania Things to Do (aside from scuba diving)
Tasmania not only has many natural sites but historic and cultural attractions, as well.  Here is a list of some of the most prominent to consider:  MONA (Museum of Old and New Art), Hobart's waterfront, Mt. Wellington, Huon Valley, Hastings Caves and Thermal Springs, a Tasmanian Devil, Mt. Field National Park, Richmond, Port Arthur, Doo Town, Maria Island, Wineglass Bay, Binalong Bay and the Bay of Fires, Cataract Gorge, Grindelwald, Tamar Valley Wine Region, Christmas Hills Raspberry Farm, The Big Penguin, The Nut, Tarkine Forest, Cradle Mountain, Strahan, Wilderness Railway, Gordon River.
These two videos give you the flavor of the capital city and the scenic countryside with some intriguing spots to visit and a nice overview of options for a visitor.
Air – Airports in Hobart, Launceston, Burnie, Devonport, King Island, and Flinders Island all handle traffic from the mainland and intra-island flights on Tasmania.
Ferry – The only service available is two Spirit of Tasmania Ferries that go between Station Pier in Port Melbourne and Devonport.
Buses – There are several long-distance lines, but service is infrequent.  Metro bus services are available in several of the cities.
Cars are probably the most convenient means of transport on Tasmania.  They are available for rent from a number of major rental chains.  It is possible to take a car on the ferry from Melbourne, but not a rental car.
Bicycle touring is also popular.
For more complete details of tourist information, please go here:  Tasmania – Wikivoyage
Hotels and Diving – There are hundreds of hotel and lodging options of all levels in Tasmania starting at around $14 per night.  At last count, there are more than a dozen dive shops located mostly in the north or southeast.  A number of them are situated in or affiliated with hotels and offer a range of services including equipment rental, diving certification classes, dive guides, and boat tours.  The website linked below has the details and can arrange the booking.  You can easily find the location on the map provided on this site.  Their rates are guaranteed to be the lowest and it is free to cancel or change dates.
Tasmania Photos
With the beautiful reefs, a variety of fish, wrecks, and macro critters, and scenic shoreside targets, as well, there are many excellent photo opportunities.  For information and reviews of dive cameras, click here:
A cushion for emergencies provides peace of mind when on vacation.  I recommend this diving insurance as they have worldwide coverage and provide scuba divers a quality insurance and medical assistance service.
Feedback and Comments
I hope you found this post on Tasmania scuba diving interesting and useful. If you have any questions or ideas, please feel free to share them in the comments section.  I'd love to know of any experience you have.  If there is no comments section directly below, click here:  >>comments<<