We may earn money or products from the companies mentioned in this post.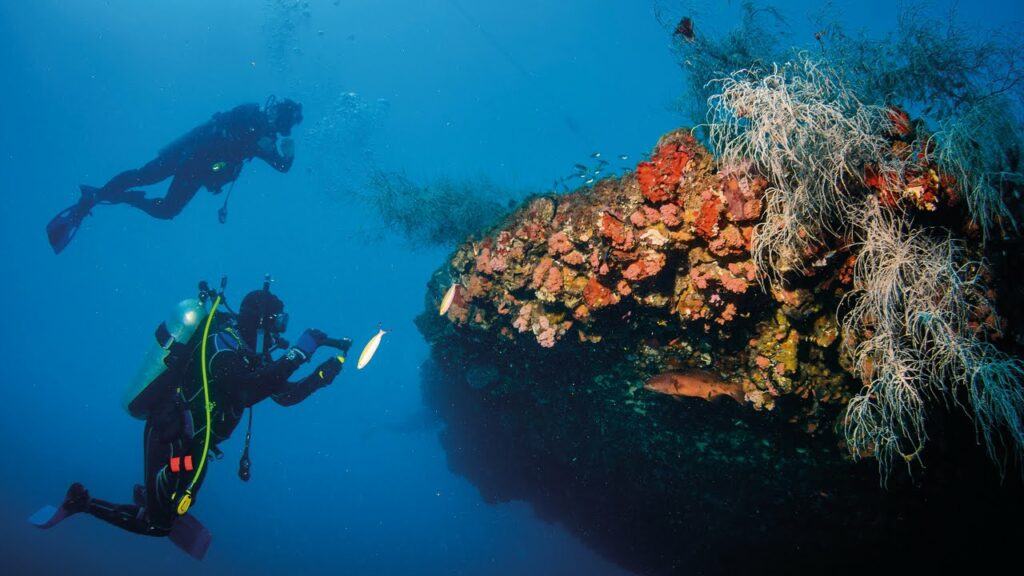 This is the one hundred and fifty-sixth in a series of reviews of the best dive resort locations around the world.  In this post, the focus is on Townsville, Australia.  In addition to this series on dive resort locations, the best worldwide liveaboard diving locations and services are reviewed in their own series.  To check them out, or others in this series, click on Liveaboards/Resorts on the menu at the top and choose a title from the list.
Have you been diving in Townsville before?  If so, I'd love to know about your experience.  What dive shop or liveaboard did you use?  Which dive spots are the best and what are the conditions there regarding the visibility, current, water temperature, sealife attractions, etc.?  Please post your response in the comments section at the bottom and we'll all learn something we can use.
Townsville Australia Diving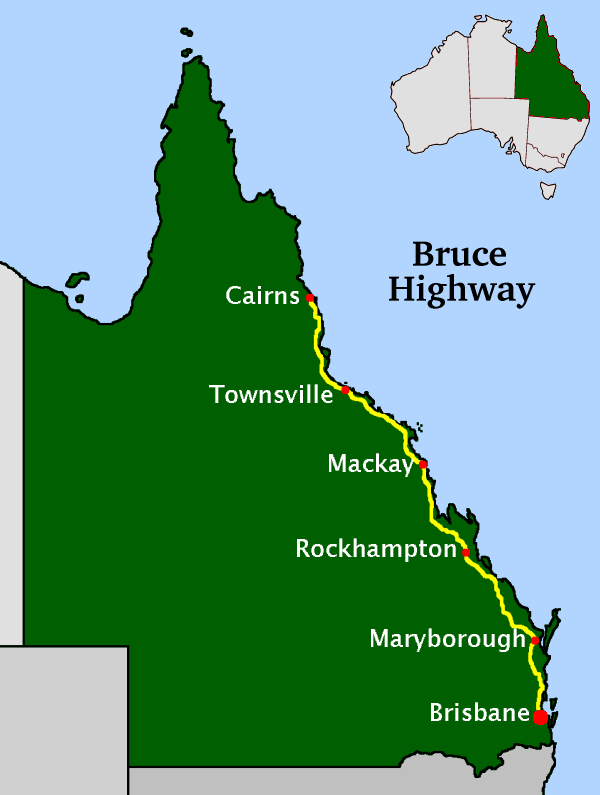 Background – Townsville is a middle-sized city of around 200,000 located on the northeast coast in Queensland, 1,350 kilometers (844 miles) north of Brisbane and 350 kilometers (219 miles) south of Cairns.  Geographically situated on Cleveland Bay with red granite Castle Hill on the west side of the city, the Ross River flowing through it, and Magnolia Island 8 kilometers (5 miles) just offshore, it is opposite the central section of the Great Barrier Reef further to the east.  The area was first visited by Captain Cook in 1770, though he didn't land.  The serious settlement didn't begin until the 1860s.  During World War II Townsville was a major staging site for battles in the Southwest Pacific.  Today it has a diverse economy of processing, manufacturing, defense, healthcare, education, and retail with the port in the process of expansion to handle large cargo and passenger ships.  There's a cosmopolitan atmosphere with lots of bars and restaurants and a more laidback feel for a tourist destination.
Undersea World – Townsville is most known for its access to the spectacular Yongala wreck, which is actually much closer to Ayr to the south.  There is nearby Magnetic Island with many shallow sites and 20 wrecks to be explored, some possible while snorkeling.  Better sites are reachable on the Great Barrier Reef on day trips to Lodestone, Keeper, Wheeler, and Davies Reefs a couple of hours away.  There is a nice variety of undersea terrains like walls, canyons, swim-throughs, gullies, pinnacles, and big coral bommies with a good assortment of the Great Barrier Reef marine life to see.  Megafauna includes Napoleon wrasses, bumphead parrotfish, whitetip, blacktip, and grey reef sharks, bull sharks, stingrays, marble rays, potato cod, and schooling barracuda and pelagics.  Seasonal highlights are possible Minke whales from June through August, humpback whales from June through November, and manta rays from May through September.  Reefs rich in hard and soft corals, sponges, gorgonians, and other encrusting invertebrates provide habitat for many species of macro critters and reef tropicals.  Check out the video below of the Yongala wreck to see the eye-popping volume of life and variety of species in the area.
Seasons and Conditions – Diving is possible all year in the Townsville area.
Air temperature average daily highs reach 31°C (88°F) from December through February and dip to less than 26°C (79°F) from June through August.
The rainy season is from January through March.  Rains generally come in the late afternoon.  From May through October is the dry season.
The water temperature ranges from 22°C (72°F) in summer to 28°C (82°F) in winter.  Most divers will be happy in a 3-5mm wetsuit most of the time.
Currents can be strong on some sites.
The visibility runs from 10-60 meters (33-200 feet).  Sites around Magenta Island are usually at the bottom end of the range and those further out on the reef can reach the top end.
There are sites suitable for all levels of diver from beginner to advanced levels.  Numerous dive shops are in operation that can provide a full range of diving coursework, equipment rental, guiding, and boat cruises.  A number of local outfits also conduct short liveaboards.  The Yongala wreck and outer reef sites are reachable on day trips from Townsville.
There are a number of liveaboard yachts cruising the Great Barrier Reef to sites further north.  Ocean Quest and Coral Sea Dreaming go to the Outer Reef to sites relatively close to Cairns including Flynn, Milln, Thetford, and Pellowe Reefs.  The MV Scubapro I travels a bit further north to sites fairly close to Port Douglas including Norman, Saxon, and Hastings Reefs.  The MV Spirit of Freedom and MV Spoilsport go to the most distant sites like Cod Hole, the Ribbon Reefs, and the Coral Sea.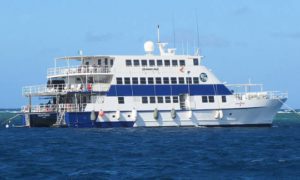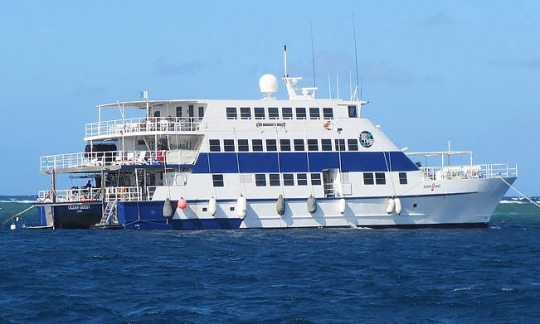 Ocean Quest, Great Barrier Reef (Outer Reef) Liveaboard – Check the Price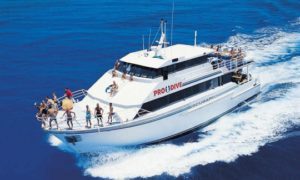 MV Scubapro I, Great Barrier Reef (Outer Reef) Liveaboard – Check the Price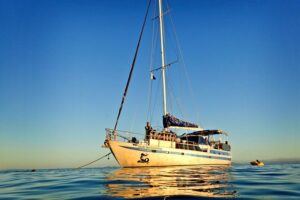 Coral Sea Dreaming, Great Barrier Reef (Outer Reef) Liveaboard – Check the Price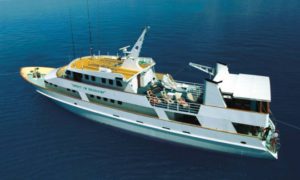 MV Spirit of Freedom, Great Barrier Reef (Cod Hole, Ribbon Reefs, Coral Sea) Liveaboard – Check the Price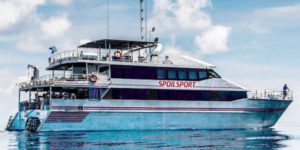 Spoilsport, Great Barrier Reef (Coral Sea, Cod Hole, Ribbon Reefs) Liveaboard – Check the Price
There are several liveaboard yachts cruising to other areas in Australia including Rowley Shoals, Neptune Island, and Ningaloo Reef.  Here are my reviews on Australian diving and some of the liveaboards diving other Australian sites: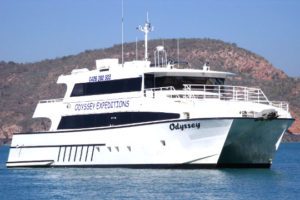 MV Odyssey, Rowley Shoals Liveaboard Diving – Check the Price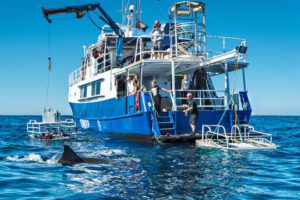 Princess II, Neptune Island Shark Cage Diving Liveaboard – Check the Price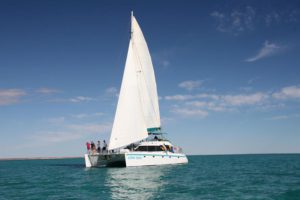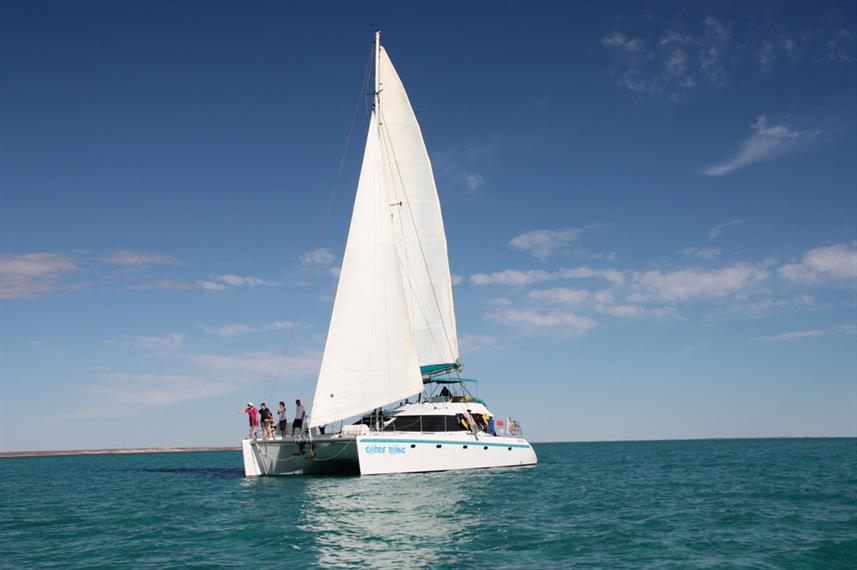 Shore Thing, Ningaloo Reef Liveaboard – Check the Price
Selected Townsville Dive Sites
SS Yongala: 15-33 meters (49-108 feet), located 89 kilometers (48 miles) southeast of Townsville and 22 kilometers (12 miles) east of Cape Bowling Green, 109-meter (357-foot) passenger liner that sank in bad weather in 1911, rediscovered by divers 50 years later it is now one of the most densely packed coral reefs in the world, covered in hard and soft corals, gorgonians, black coral, and many other encrusting invertebrates, marine life includes olive sea snakes, octopus, nudibranchs, shrimps, crabs, giant groupers, Napoleon wrasses, giant trevally, bull sharks, guitar sharks, marble rays, stingrays, and the possibility of a tiger shark, no penetration is allowed, suitable for all levels of diver, check out the video at the top
SS Moltke: 8 meters (25 feet), located in Geoffrey Bay, Magnetic Island, 60-meter (196-foot) 3-masted German barque that was scuttled to become a breakwater in 1913, the owner and explosives expert doing the job were drunk and did the job improperly putting her to rest in an unplanned location, rich in marine life with stonefish, sweetlips, parrotfish, groupers, batfish, barramundi cod, and epaulet sharks, crocodiles have also been spotted, suitable for all levels of diver, check out the video below
Wheeler Reef:  2-18 meters (6-59 feet), on the west side of the outer reef, rich in corals, a lagoon with crevices, canyons, swim-throughs, and caves, big schools of reef tropicals and some pelagics, moray eels, crabs, shrimps, turtles, and whitetip reef sharks, suitable for all levels of diver
Keeper Reef: 18 meters (59 feet), on the outer reef, rich corals with gorgonians and soft corals on a terrain of canyons, swim-throughs, and gullies with caverns, marine life highlights include crayfish, shrimps, rock cod, barramundi cod, squirrelfish, coral trout, rabbitfish, batfish, schools of fusiliers, turtles, and whitetip reef sharks, suitable for all levels of diver
Lodestone Reef: 1-25 meters (3-82 feet), on the outer reef, shallow coral gardens with a sandy bottom, coral bommies, and canyons going deeper with gorgonians, sea whips, and hard and soft corals, macro critters include octopus, nudibranchs, and sea stars, look for anemones and their partners, butterflyfish, angelfish, blue tangs, blacktip and whitetip reef sharks, stingrays, groupers, sweetlips, trevally, barracuda, and turtles, suitable for snorkelers all levels of diver
Davies Reef: 6-25 meters (20-82 feet), on the outer reef, several dive sites with pinnacles, small caverns, gullies, and walls, rich corals with soft corals and gorgonians on walls, highlights include parrotfish, wrasses, schools of fusiliers and barracuda, suitable for all levels of diver
Things to Do in Townsville (aside from scuba diving)
With a rich cultural, historical, and military background, shoreside landscapes, and laidback ambiance, Townsville has activities and sights for everyone.  Here are some to consider:  The Strand Beachfront Promenade, Townsville Brewery, Magnetic Island Day Trip, Castle Hill Lookout, Beach Bar, Billabong Sanctuary, Australian Festival of Chamber Music, Jezzine Barracks & the Army Museum, Cowboys Rugby League Club Restaurants, Reef HQ Barrier Reef Aquarium, Queens Garden, Heritage Bar, Riverway, Museum of Tropical Queensland, The Taphouse, Cultural Center, Whale Watching Tour, Botanical Gardens, Harold's Seafood, Town Common Conservation Park, Townsville 500 Car Race, Charter Towers (Texas Longhorns), Maritime Museum of Townsville, Strand Night Market, Longboard Bar & Grill, Cotters Market, Ville Resort Casino.
This video is a nice glimpse of what Townsville has to offer.
Air – Townsville Airport (TSV), 10 kilometers (6.25 miles) west of town, has regular service to Sydney, Melbourne, Brisbane, MacKay, Cairns, Hamilton Island, and Darwin.  Taxi service can get you to the city from the airport.
Train – Queensland Rail has services to Cairns and Brisbane 5 times a week.
Bus – Sunbus runs a public transport service around town with 7 lines.  Several other services run for special events and special routes.
Taxis operate 24 hours a day servicing the whole of Townsville.
Car rental is possible through numerous agencies at the airport and around town.
For ferry transit to Magnetic Island 8 kilometers (5 miles) away, Fantasea Cruising Magnetic and Sunferries both provide service.  Check here for details.
For more specific details related to the transportation options and other tourist information, go to Wikitravel-Townsville.
Hotels and Diving – In the Townsville area there are at least 60 lodging options ranging from $14-$231 per night and a number of dive shops in operation.  They offer a full range of services that include equipment rental, diving certification classes, dive guides, and boat tours.  Several do short liveaboards to sites in the area.  The website linked below has the details and can arrange a booking for the lodging.  You can easily find the location on the map provided on their site.  The rates are guaranteed to be the lowest and it is free to cancel or change dates.
Photography in Townsville
With the colorful coral reefs, a variety of fish, rays, sharks, dolphins, wrecks, and intriguing onshore targets, as well, there are many excellent photo opportunities.  For information and reviews of dive cameras, click here:
A cushion for emergencies provides peace of mind when on vacation.  I recommend this diving insurance as they have worldwide coverage and give scuba divers a quality insurance and medical assistance service.
Feedback and Comments
I hope you found this post on Townsville scuba diving interesting and useful. If you have any questions or ideas, please feel free to share them in the comments section.  I'd love to know of any experience you have.  If there is no comments section directly below, click here:  >>comments<<