We may earn money or products from the companies mentioned in this post.
This is the one hundred and fifty-fifth in a series of reviews of the best dive resort locations around the world.  In this post, the focus is on the Whitsunday Islands, Australia.  In addition to this series on dive resort locations, the best worldwide liveaboard diving locations and services are reviewed in their own series.  To check them out, or others in this series, click on Liveaboards/Resorts on the menu at the top and choose a title from the list.
Have you been diving on the Whitsundays before?  If so, I'd love to know about your experience.  What dive shop or liveaboard did you use?  Which dive spots are the best and what are the conditions there regarding the visibility, current, water temperature, sealife attractions, etc.?  Please post your response in the comments section at the bottom and we'll all learn something we can use.
Scuba Diving the Whitsundays
Background – The Whitsundays are made up of 74 islands in the central section of the Great Barrier Reef ranging from opposite Bowen in the north to MacKay in the south, about 900 kilometers (560 miles) from Brisbane.  Captain Cook was the first European to arrive in 1770 to this home of the indigenous Ngaro and Gia peoples.  From early day logging, the islands have developed into a major tourist destination with 700,000 visitors annually.  Hamilton Island is the main commercial center with a population of 1,350 out of a total of 1,570 on all the islands.  The main islands are Whitsunday, Hamilton, Hook, Hayman, South Molle, Long, Lindeman, and Daydream Islands, all with resorts and camping possible on 3 of them.  Yachting, watersports, and other outdoor activities are the major draw.
Undersea World – The dive sites around the Whitsundays are inside the outer reef not too close to the Continental Shelf and the currents there.  Nonetheless, except for not many pelagics, the famous Great Barrier Reef biodiversity is still in effect.  A beautiful array of hard and soft corals, gorgonians, sponges, tunicates, and other invertebrates encrust an interesting topography of walls, ledges, pinnacles, canyons, swim-throughs, and coral bommies that provides a nice habitat for macro critters like crabs, flatworms, nudibranchs, eels, and scorpionfish.  Megafauna highlights include Napoleon wrasses, blacktip and whitetip reef sharks, guitarfish, wobbegongs, green turtles, jacks, barracuda, stingrays, bottlenose dolphins, a great variety of reef tropicals, and seasonal visits from humpback whales from June through November, Minke whales from June through August, and manta rays from May through September.  In addition, there is a possibility of seeing dugongs in some of the shallow grass beds.
Seasons and Conditions – Diving is possible all year on the Whitsunday Islands.
Air temperature average daily highs reach 31°C (88°F) from November through January and dip to 23°C (73°F) in July.
The rainy season is from January through March.  Rains generally come in the late afternoon.  From June through October is the dry season.
The water temperature ranges from 24-29°C (75-84°F) but is usually around 25°C (77°F) throughout the year.  Most divers will be happy in a 3-5mm wetsuit most of the time.
Currents are usually mild on the dive sites around the islands.
The visibility runs from 8-30 meters (25-100 feet).  In the rainy season, it can be toward the bottom of the range.
There are sites suitable for all levels of diver from beginner to advanced levels.  Numerous dive shops are in operation that can provide a full range of diving coursework, equipment rental, guiding, and boat cruises.  A number of outfits also conduct short liveaboards around the islands.
There are a number of liveaboard yachts cruising the Great Barrier Reef to sites further north.  Ocean Quest and Coral Sea Dreaming go to the Outer Reef to sites relatively close to Cairns including Flynn, Milln, Thetford, and Pellowe Reefs.  The MV Scubapro I travels a bit further north to sites fairly close to Port Douglas including Norman, Saxon, and Hastings Reefs.  The MV Spirit of Freedom and MV Spoilsport go to the most distant sites like Cod Hole, the Ribbon Reefs, and the Coral Sea.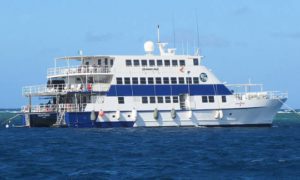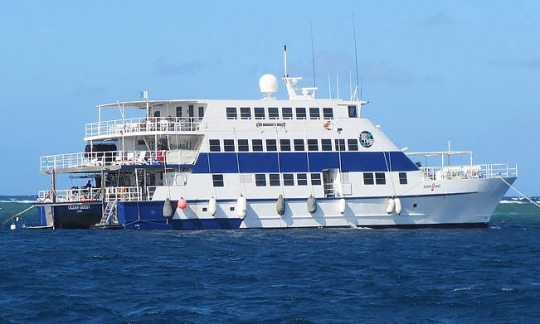 Ocean Quest, Great Barrier Reef (Outer Reef) Liveaboard – Check the Price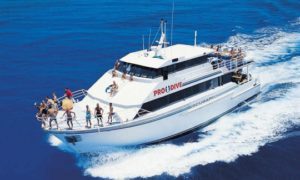 MV Scubapro I, Great Barrier Reef (Outer Reef) Liveaboard – Check the Price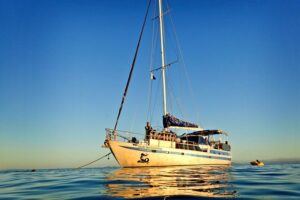 Coral Sea Dreaming, Great Barrier Reef (Outer Reef) Liveaboard – Check the Price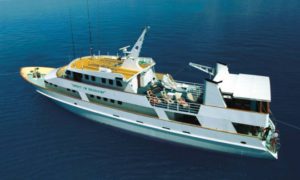 MV Spirit of Freedom, Great Barrier Reef (Cod Hole, Ribbon Reefs, Coral Sea) Liveaboard – Check the Price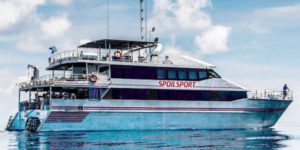 Spoilsport, Great Barrier Reef (Coral Sea, Cod Hole, Ribbon Reefs) Liveaboard – Check the Price
There are several liveaboard yachts cruising to other areas in Australia including Rowley Shoals, Neptune Island, and Ningaloo Reef.  Here are my reviews on Australian diving and some of the liveaboards diving other Australian sites: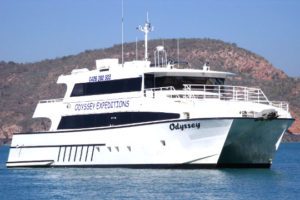 MV Odyssey, Rowley Shoals Liveaboard Diving – Check the Price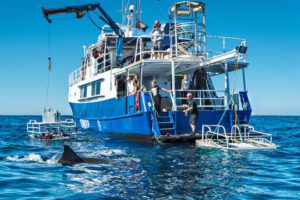 Princess II, Neptune Island Shark Cage Diving Liveaboard – Check the Price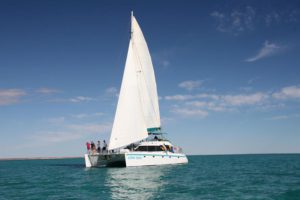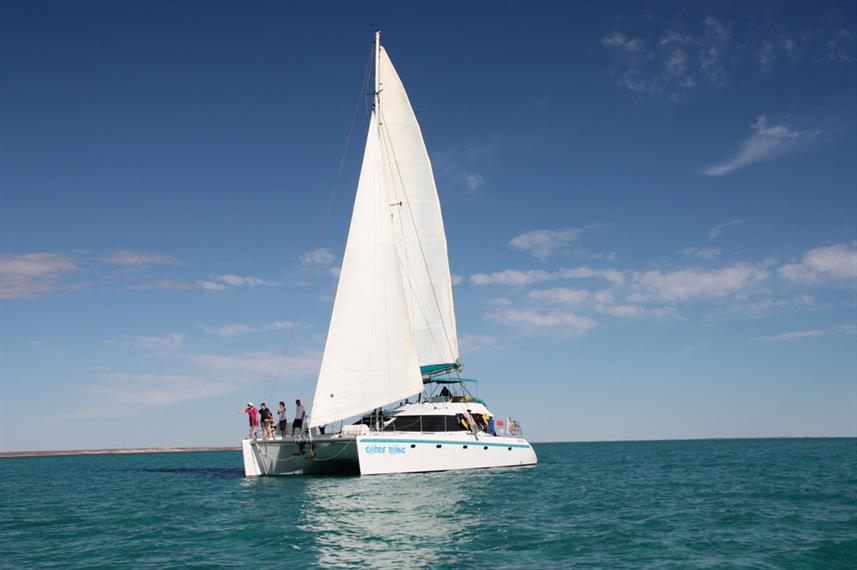 Shore Thing, Ningaloo Reef Liveaboard – Check the Price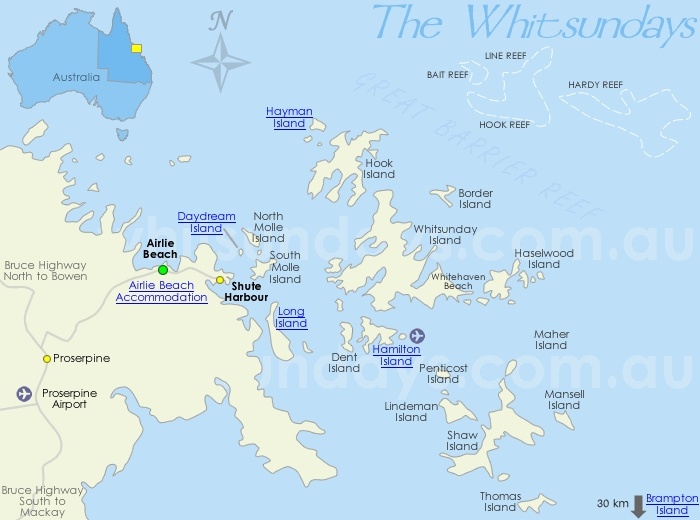 Selected Whitsundays Islands Dive Sites
Blue Pearl Bay (Northwest Hayman Island): 3-18 meters (10-60 feet), rich coral gardens  with sea whips and big gorgonian fans, a topography of crevices, walls, and swim-throughs, lots of reef tropicals, a highlight is Napoleon wrasses, suitable for all levels of diver
Dolphin Point (Hayman Island): 18 meters (60 feet), large boulder shaped porite corals and coral bommies on sloping terrain, look for resident whitetip reef and hammerhead sharks, tuna, barracuda, and mackerel are also possible, suitable for all levels of diver
Manta Ray Bay (Hook Island): 3-25 meters (10-82 feet), rich hard and soft corals around pinnacles with a sand bottom, a terrain of valleys, caverns, and swim-throughs, reef tropicals include damselfish, angelfish, coral trout, parrotfish, and batfish, manta rays are possible from May through September, suitable for all levels of diver
Mackerel Bay (East Hook Island): 12 meters (40 feet), wall with a canyon, ledges, a big cavern with several entrance passages and light penetrating through cracks in the ceiling, strong winds are possible on the east side of Hook Island that can preclude diving, look for blue-spotted stingrays, coral trout, sweetlips, turtles, and shovelnose rays, suitable for experienced levels of diver
The Pinnacles (Hook Island): 20 meters (68 feet), many large coral bommies nearly reaching the surface, lots of hard corals of many species, usual access is from the western beach, look for Napoleon wrasses, blacktip and whitetip reef sharks, and manta rays from May through September, suitable for all levels of diver
Luncheon Bay (Northwest Corner of Hook Island): 15 meters (50 feet), coral bommies with a variety of hard corals on top of the reef with a steep walls and gullies in between bommies encrusted with whip corals, sea fans, soft corals, and black coral, lots of reef tropicals like sweetlips, damselfish, butterflyfish, and emperor angels, other highlights are anemones and their clownfish, nudibranchs, moray eels, groupers, trevallies, batfish, barramundi cod, whitetip reef sharks, and sea turtles, possible manta rays in season, suitable for all levels of diver
Things to Do in the Whitsunday Islands (aside from scuba diving)
The Whitsunday Islands and the immediate area on the mainland is all about the outdoors.  There are a vast number of exciting activities and sights for the whole family.  Here are some to consider:  Cedar Creek Falls, Wildlife Park at Hamilton Island, Airlie Beach Canoeing, Whale Watching, Visit Bowen, Coral Beach, Whitehaven Beach, Fishing Charter, Tennis, Conway National Park, Stand-up Paddleboarding, Reef Sleep Pontoon Cruise, Mountain Bike in Molle Islands National Park, Long Island Rainforest, Nara Inlet (Aboriginal Art), Langford Island, Seafood, Jet Boat Ride, Sailing, Dent Island Golf, Coalface Experience Museum, Shopping, Segway Tour, Butterfly Bay (Hook Island), Sea Kayaking, Jetskiing, Helicopter Tour, Coral Cove, Boathaven Beach, Crocodile Safari, Trek a Lowland Rainforest, Cedar Creek Falls, Airlie Beach Saturday Market, Cane Toad Races, Seaplane Trip, Eat a Bowen Mango.
This video is a nice glimpse of what the Whitsundays have to offer.
Air – Two airports service the Whitsunday area, Proserpine on the mainland and Hamilton Island, the main commercial area on the islands.  Frequent flights are available from around Australia.  There are shuttle buses available at Proserpine Airport for the 30 minute trip to Airlie Beach or Shute Harbor.
Ferries await incoming flights for trips from Proserpine to the islands and from Hamilton Island to other destinations in the Whitsundays.  Pricing is fairly expensive.
Transit between islands can be made by ferry, yacht, boat, air taxi, helicopter, and seaplane.
Bus transit is available from Airlie Beach to Shute Harbor.  Many of the bigger islands also have public bus service.  A number of hotels, the airport, and some restaurants and shops provide free transit service on Hamilton Island.
For more specific details related to the transportation options and other tourist information, go to Wikivoyage-Whitsunday Islands.
Hotels and Diving – In the Whitsundays area there are at least 85 lodging options ranging from $15-$1,493 per night and a number of dive shops in operation.  They offer a full range of services that include equipment rental, diving certification classes, dive guides, and boat tours.  Some short liveaboards can also be organized with local operations.  The website linked below has the details and can arrange a booking for the lodging.  You can easily find the location on the map provided on their site.  The rates are guaranteed to be the lowest and it is free to cancel or change dates.
Photography on the Whitsundays Islands
With the colorful coral reefs, a variety of fish, rays, sharks, dolphins, and intriguing onshore targets, as well, there are many excellent photo opportunities.  For information and reviews of dive cameras, click here:
A cushion for emergencies provides peace of mind when on vacation.  I recommend this diving insurance as they have worldwide coverage and give scuba divers a quality insurance and medical assistance service.
Feedback and Comments
I hope you found this post on Whitsunday Islands scuba diving interesting and useful. If you have any questions or ideas, please feel free to share them in the comments section.  I'd love to know of any experience you have.  If there is no comments section directly below, click here:  >>comments<<