We may earn money or products from the companies mentioned in this post.

Black Manta – Byron Bay, Australia (Photo courtesy of Byron Bay Sundive & TripAdvisor)
This is the one hundred and fifty-eighth in a series of reviews of the best dive resort locations around the world.  In this post, the focus is on Byron Bay, Australia. In addition to this series on dive resort locations, the best worldwide liveaboard diving locations and services are reviewed in their own series.  To check them out, or others in this series, click on Liveaboards/Resorts on the menu at the top and choose a title from the list.
Have you been diving in Byron Bay before?  If so, I'd love to know about your experience.  What dive shop or liveaboard did you use?  Which dive spots are the best and what are the conditions there regarding the visibility, current, water temperature, sealife attractions, etc.?  Please post your response in the comments section at the bottom and we'll all learn something we can use.
Scuba Diving Byron Bay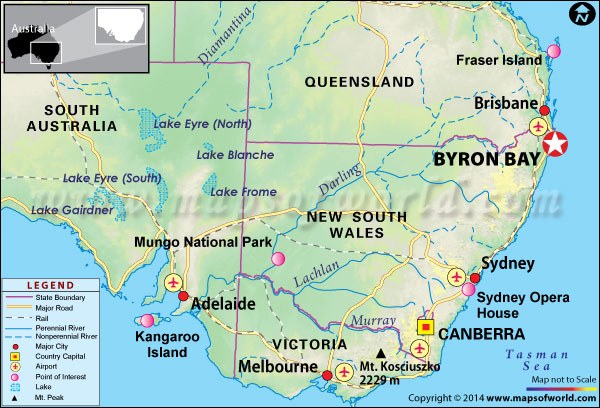 Background – Port Byron is situated on the far northeast coast of New South Wales 165 kilometers (103 miles) south of Brisbane and 772 kilometers (483 miles) north of Sydney.  The peninsula extending off the bay, Cape Byron, is the easternmost point on the continent.  Lieutenant James Cook was the first European to arrive finding anchorage there in 1770 in the original home of the Arakwal people.  The early economy developed around timber production, then gold mining of the beaches, and extended to the primary industries of dairy, meat production, fishing, and whaling, with the first jetty built in 1886.  Longboard surfers arrived in the 1960s to take advantage of several natural breaks.  From there it continued development as a destination for travelers of alternative and hippy lifestyles.  Today with a population in the town and surrounding area of around 30,000, Port Byron is an up-market residential location that still attracts surfers, backpackers, and general tourists to the tune of 1.7 million annually.  International and domestic tourists come for surfing, beaches, scuba diving, whale watching, and a rural, laidback lifestyle.  There are many home-based businesses focusing on alternative, holistic, cultural, and knowledge industries.  For more cultural, historic, geographic, and demographic information, please go to Wikipedia-Port Byron.
Undersea World – Most of the diving in Byron Bay is done at the top attraction, Julian Rocks, only a 10-minute boat ride north of Byron Head.  While there is a healthy reef of hard and soft corals on an interesting subsea terrain of rocks, coral heads, caverns, and swim-throughs that provides excellent habitat for other marine life, that is not the main attraction.  The reason people flock to the area is for the great mix of cold and warm water marine life with 400 species of fish and photographic targets like nudibranchs and cuttlefish, but more importantly because of the megafauna.  Divers love the chance to get up close to wobbegongs, stingrays, eagle rays, loggerhead, green, and hawksbill turtles, blue and Queensland gropers, and big schools of black cod, kingfish, trevally, and mulloways.  In the winter, 3.5-meter grey nurse sharks showing little inhibition swim among the divers.  Humpback whales make the migration from the south and are also frequently sighted in winter.  In summer, the visitors are leopard sharks and manta rays, often visible in great numbers.  Most sites are in less than 30 meters (100 feet), however, technical divers will delight in visiting the Sea Rogue wreck in 40-50 meters (141-164 feet), first located in 2011.
Seasons and Conditions – Diving is possible all year in Byron Bay.
Air temperature average daily highs reach 28°C (82°F) in January and February and dip to 19°C (66°F) in June and July.
It rains throughout the year in Byron Bay with a bit drier season from July through October.
The water temperature reaches highs of 22°C (71°F) in January with the lows in July of 18°C (64°F).  During the warmest times, a 7mm wetsuit is the choice of many.  When the water is at its coolest, a drysuit with hood and gloves would be the safe bet.
Currents are often mild but moderate to strong drift is possible on some sites.
Visibility ranges from 5-30 meters (16-100 feet).
There are sites suitable for all levels of diver from beginner to technical levels.  A number of dive shops are in operation that can provide a full range of diving coursework, equipment rental, guiding, and boat cruises.
For information about cold water gear, please check out my review:
There are no major liveaboard yachts cruising Byron Bay but there are some to other areas in Australia including the Great Barrier Reef, Rowley Shoals, Neptune Island, and Ningaloo Reef.  Here are my reviews on Australian diving and some of the liveaboard yachts diving Australian sites: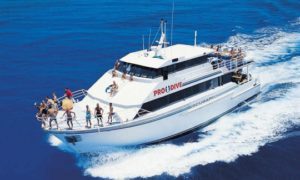 MV Scubapro I, Great Barrier Reef Liveaboard – Check the Price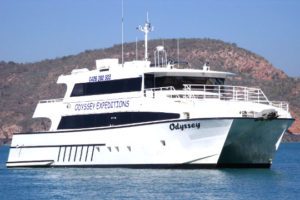 MV Odyssey, Rowley Shoals Liveaboard Diving – Check the Price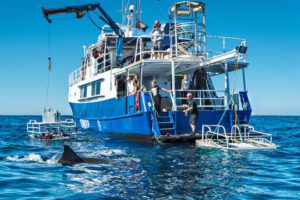 Princess II, Neptune Island Shark Cage Diving Liveaboard – Check the Price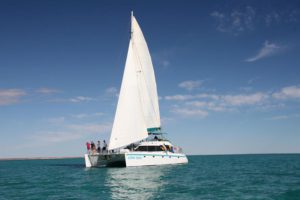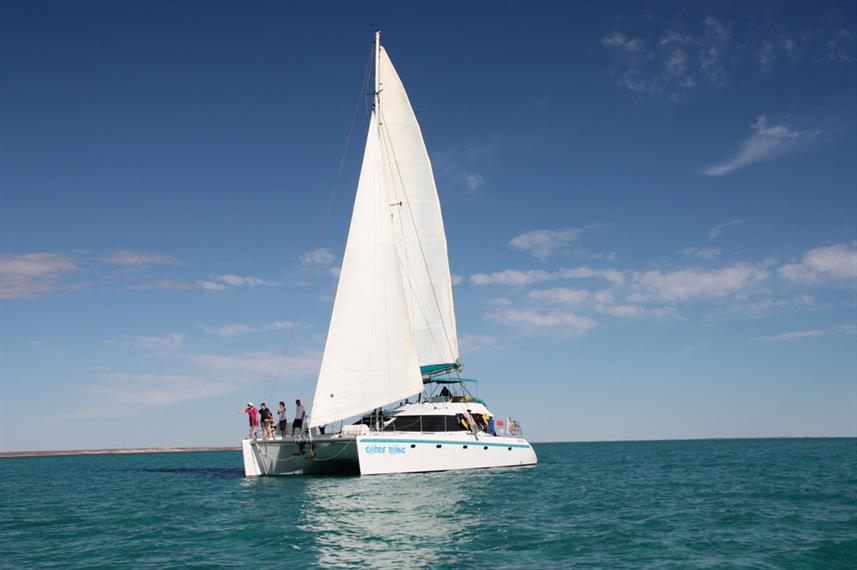 Shore Thing, Ningaloo Reef Liveaboard – Check the Price
Selected Byron Bay Dive Sites
The Nursery: 5-12 meters (16-40 feet), on the western side of Julian Rocks, protected from current and swell, lots of reef fish and juveniles, macro life includes octopus, cuttlefish, lionfish, mantis shrimp, porcelain crabs, frogfish, and nudibranchs, at the northern end is the cleaner cave with big snappers and shovelnose sharks, also onsite is a well encrusted anchor and chain, look for grey nurse sharks in summer, and leopard sharks and manta rays in winter, suitable for all levels of diver
The Needles: 10-15 meters (33-50 feet), on the southwest tip of Julian Rocks, large rocky bommies protruding close to the surface with a central sandy bottom, look for nudibranchs in the nooks and crannies, lots of schooling fish, bull rays, eagle rays, the 3 turtle species (green, loggerhead, and hawksbill), a large number of leopard sharks, up to 20 at a time during the winter, manta rays often appear in numbers on top of the bommies, current is possible, suitable for all levels of diver
Cod Hole: 15-21 meters (50-70 feet), on the northeast tip of Julian Rocks, big swim-through at 15 meters (50 feet) with large schools of fish around the opening including yellow bullseyes, kingfish, jewfish, sweetlips, trevally, and Queensland gropers, inside look for wobbegongs, moray eels, crayfish, slipper lobster, lionfish, cuttlefish, and cleaner shrimps, outside the swim-through the reef slopes to a sandy bottom at 21 meters (70 feet) which is a great spot for pelagics, eagle and bull rays, up to 20 grey nurse sharks in winter, and mantas in summer, current is possible, suitable for all levels of diver
Hugo's Trench & False Trench: 8-18 meters (25-60 feet), Julian Rocks site, two parallel canyons that cut into rocky formations with swim-throughs, sheltered from strong currents, many big fish come to hunker down or otherwise avoid the current including kingfish, Queensland gropers, black cod, trevally, bull and eagle rays, grey nurse sharks in the winter and mantas in summer, look for macro critters like nudibranchs in the nooks and crannies, suitable for all levels of diver
Mackerel Boulder: north of Julian Rocks, huge boulder from 15-25 meters (50-82 feet) on a sandy bottom, big cracks to penetrate and explore, look for big pelagics coming by from the blue, leopard sharks and mantas come during summer and grey nurse sharks during winter, currents possible, suitable for all levels of diver
Spot X: 17-25 meters (56-82 feet), 800 meters north of Julian Rocks, beyond Mackerel Boulder, two bommies rising from the sandy bottom at 25 meters (82 feet) to 17 meters (56 feet), moderate to strong current is possible, look for pelagics including mackerel, wahoo, trevally, and kingfish, bronze whalers are year-round visitors, grey nurse sharks come in winter, suitable for experienced level divers
Cape Pinnacle: 26-42 meters (85-138 feet), northeast of the lighthouse, pinnacle topping at 26 meters (85 feet) coming from a base at 42 meters (138 feet), strong currents are possible, look for critters like nudibranchs on the wall, a great spot to observe jewfish, pearl perch, trevally, snapper, mackerel, wahoo, bull and eagle rays, and bronze whalers, suitable for experienced level and technical divers
Sea Rogue Wreck: 40-50 meters (141-164 feet), in the Windarra Banks 16 km northeast of the Brunswick Heads bar, steel trawler that sunk after capsizing in 2008, 2 crewmen survived, the captain didn't make it, located in 2011, strong current is possible, resting upright and largely intact on a sand bottom, fully encrusted with marine life, highlights are a great many kingfish and jewfish, wobbegongs, moray eels, and lionfish, lots of rigging and artifacts to explore, suitable for technical divers
Things to Do in Byron Bay (aside from scuba diving)
With the natural beauty, historic sites, and an array of adventurous activities available, this haven for hippies has heaps of things to do and places to see.  Here are some to consider:  Byron Bay Lighthouse, Skydiving, Beaches, Beach Parties, Surfing Lessons, Railway Bar Music, Slacklining, Kayak Trip, Day Trip to Nimbin, Tea Tree Lakes, Shopping, Local Markets, Massage, Friday Free BBQ, Arts Factory Lodge, Mountain Bike Touring, Party at Pubs & Clubs, African Drumming Workshop, Didjeridoo Lesson, Dolphin & Whale Watching, Byron Fresh Cafe, Springbrook National Park, Rainbow Temple, Tree Sanctuary, Crystal Capital.
The first video gives you a nice feel for the beauty and ambiance of Byron Bay and the second introduces some high octane activities available to take a shot at.
Air – The Ballina/Byron Airport (BNK) is a 30-minute drive away in Ballina.  It receives flights from Melbourne, Sydney, and Newcastle.  There are regular shuttle services available at the airport to town, some of which deliver you to your precise destination.  Public buses are also available which pass through other towns on the way to Port Byron.  Gold Coast Airport (OOL) in Coolangatta about an hour away to the north has connections to all major Australian cities and Hong Kong, Singapore, Kuala Lumpur, Tokyo, and New Zealand.  Numerous transport shuttles can deliver you to Port Byron with at least one right to your door.  Car rental at this airport is cheaper than that in Port Byron.
Bus – Greyhound and Premier buses make the run daily between Sydney and Brisbane making a stop in Port Byron.
Port Byron has no direct train service available.
Car rental can be done at the airport, on Jonson Street in Port Byron, or online.  There is metered parking in some areas.
Most destinations within Byron Bay are walkable.  Blanch's Bus Company operates a limited regular transport service around Byron Bay.
For more details related to the transportation options and other tourist information, go to Wikitravel-Port Byron.
Hotels and Diving – In Byron Bay there are at least 69 lodging options from $13 to $1,703 per night and a number of dive shops in operation.  They offer a full range of services that include equipment rental, diving certification classes, dive guides, and boat tours.  The website linked below has the details and can arrange a booking for the lodging.  You can easily find the location on the map provided on their site.  The rates are guaranteed to be the lowest and it is free to cancel or change dates.
Photography in Byron Bay
With the colorful coral reefs, a variety of fish, rays, sharks, whales, and intriguing onshore targets, as well, there are many excellent photo opportunities.  For information and reviews of dive cameras, click here:
A cushion for emergencies provides peace of mind when on vacation.  I recommend this diving insurance as they have worldwide coverage and give scuba divers a quality insurance and medical assistance service.
Feedback and Comments
I hope you found this post on Byron Bay scuba diving interesting and useful. If you have any questions or ideas, please feel free to share them in the comments section.  I'd love to know of any experience you have.  If there is no comments section directly below, click here:  >>comments<<