We may earn money or products from the companies mentioned in this post.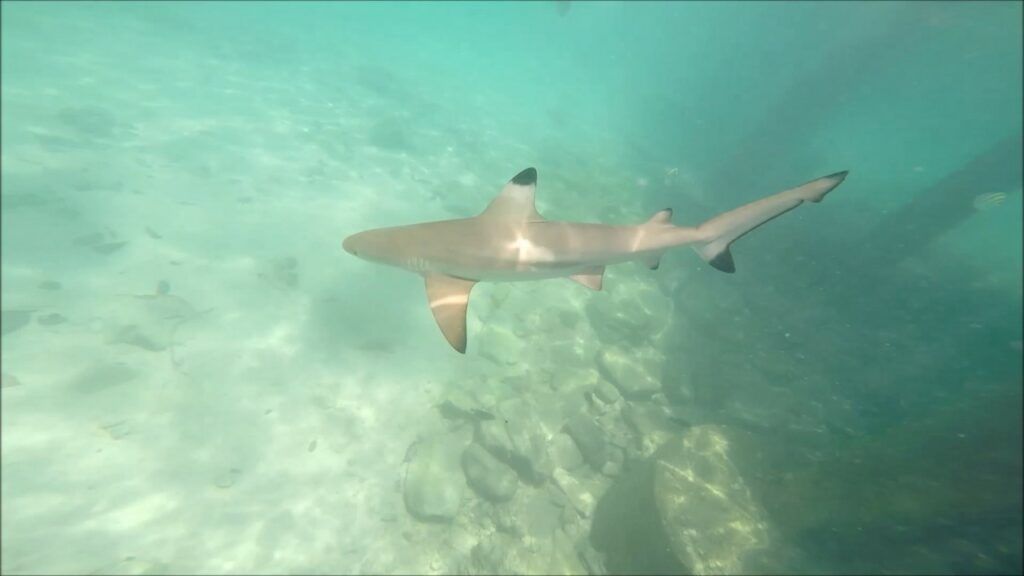 This is the one hundred and forty-sixth in a series of reviews of the best dive resort locations around the world.  In this post, the focus is on Langkawi, Malaysia.  In addition to this series on dive resort locations, the best worldwide liveaboard diving locations and services are reviewed in their own series.  To check them out, or others in this series, click on Liveaboards/Resorts on the menu at the top and choose a title from the list.
Have you been diving in Langkawi before?  If so, I'd love to know about your experience.  What dive shop or liveaboard did you use?  Which dive spots are the best and what are the conditions there regarding the visibility, current, water temperature, sealife attractions, etc.?  Please post your response in the comments section at the bottom and we'll all learn something we can use.
Langkawi Scuba Diving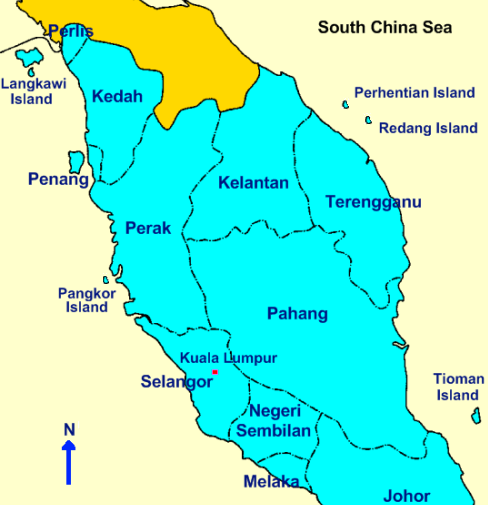 Background – Langkawi is an archipelago of 99 islands plus 5 that only just break the surface during low tide.  This district of Malaysia is separated from the coast by the 30 kilometers (18.75 miles) of the Strait of Malacca and is situated at the far northwest end of the country near the border with Thailand.  By far the largest of the islands is Langkawi Island with a population around 75,000.  Only 3 of the other islands in the archipelago are populated, giving the entire district a total of around 110,000.  The main island is 25 kilometers (15.625 miles) long and has a largely unspoiled landscape two-thirds of which are hills and mountains covered by forest.  A low-key more traditional economy based on rice, rubber, and fishing has given way to tourism starting in 1987 when the government granted tax-free status.  A further boost came in 2007 when it attained UNESCO World Geopark status.  Today annual tourists number over 4 million, some international but the majority Malaysian, spending around $20 billion per year.
Undersea World – The hotel and tourist scene emanates from Langkawi Island, while none of the reputed dive sites are there.  The dive shops make day trips to the Pulau Payar Marine Park group of islands 30 kilometers (18.75 miles) to the southeast.  While not reaching the same level as the world-class diving in Sipadan, many put it on par with some of the great diving on the east side of the peninsula in Tioman Island, the Perhentian Islands, and Redang Island, with interesting undersea topography and reasonably rich marine life.  Coral bleaching in 2010 and 2014 that effected many locations in Asia have not left any major blight on the dive sites in the park.  There is a good variety of hard and soft corals, sea fans, sponges, and massive quantities of sea anemones on some sites.  The varied undersea terrain consists of fringing reefs, coral gardens, large coral covered rocky outcrops, swim-throughs, walls, and ledges.  Intriguing macro life and reef tropicals include seahorses, ghost pipefish, shrimps, common octopus, crabs, lobsters, nudibranchs, banded sea kraits, scorpionfish, moray and ribbon eels, blennies, jawfish, cardinalfish, yellow-lined fusiliers, yellow-tail spinecheeks, many varieties of butterflyfish, blue ring angelfish, surgeonfish, and wrasses.  Larger scale fauna available to observe are turtles, Napoleon wrasses, big-eye jacks, barracuda, and Goliath and Malabar groupers, along with whitetip and blacktip reef sharks, leopard sharks, nurse sharks, and infrequently whale sharks.  There are more than 20 discreet dive sites in the park and nearby including the Kaca sunken wrecks made up of dozens of scuttled fishing boats sunk with the goal of creating artificial reefs.
Seasons and Conditions – Diving is possible all year in Langkawi.  The busiest season is when it is driest from November through April especially around New Years.  Early booking is recommended for the holiday season.
Air temperature average daily highs stay in a range of 30-33°C (86-91°F) all year.
The dry season is from November through April.  From May through October it rains 18-23 days per month with the hardest rains from August through October.
The range for water temperature is 25-30°C (77-86°F) with highs in dry season and lows during the rainy season.  During the warmest times, a 3mm wetsuit will be the maximum thermal protection needed for most.  When the water is at its coolest, a 5mm wetsuit is probably enough.
Currents are generally mild but strong at times in some locations.
Visibility is usually in the 10-25 meter (33-82 feet) range.  However, it gets as poor as 5 meters (16 feet) on occasion in some locations.  The best visibility is found at Pulau Segantang, 13 kilometers (8.125 miles) from Pulau Payar.
There are sites suitable for all levels of diver from beginner to advanced levels.  20 or more dive shops are available that can provide a full range of diving coursework, equipment rental, guiding, and boat cruises.
None of the major liveaboard yachts travel to Langkawi.  However, there are quite a few that cruise sites in the Andaman Sea on the west side of Thailand to the north.  Here are several with links for booking and details: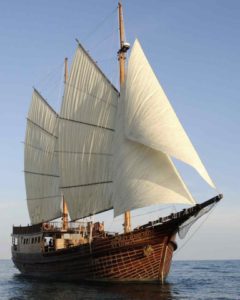 SY Diva Andaman, Similans and Mergei Archipelago Liveaboards – Check the Price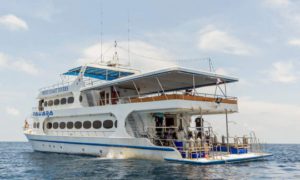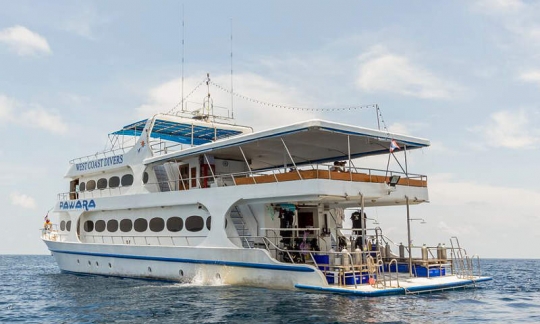 MV Pawara, Similans and Andaman Sea Liveaboards – Check the Price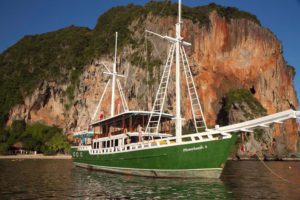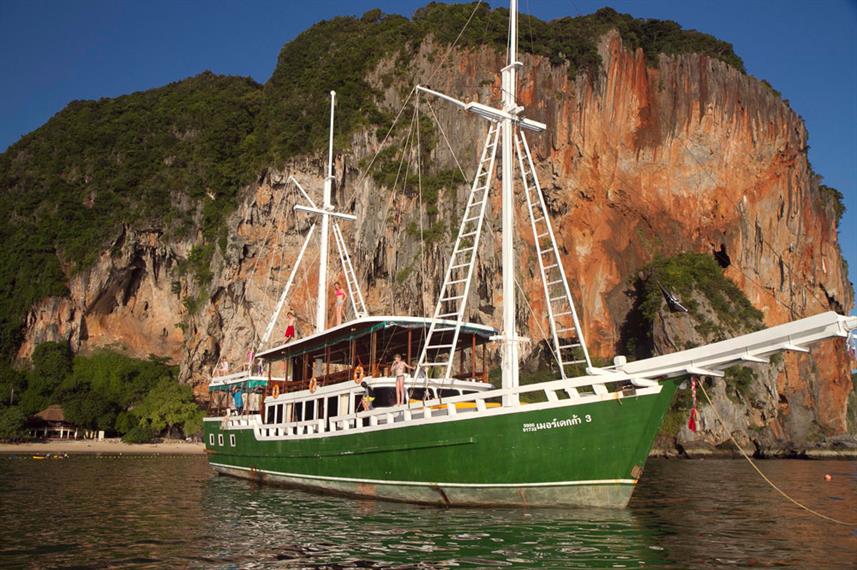 Merdeka 3, Southern Andaman Sea Liveaboards – Check the Price
Here are my reviews for dive sites in Malaysia, the Andaman Sea, and the Gulf of Thailand:
Selected Langkawi Dive Sites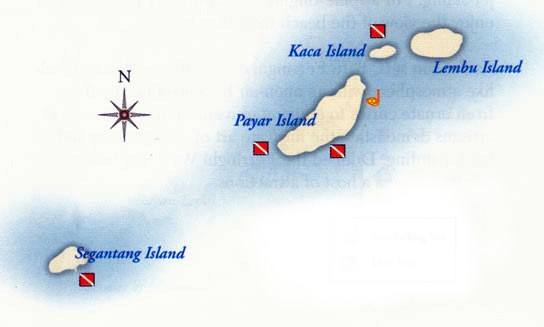 Coral Garden: 18 meters (60 feet), on the southwestern tip of Pulau Payar, coral garden rich in hard and soft corals with many colorful soft corals, a terrain of rocks, canyons, and crevices, macro critters include nudibranchs, seahorses, ghost pipefish, and moray eels, other highlights include groupers, snappers, fusiliers, lionfish, titan triggerfish, angelfish, bannerfish, moon wrasses, and pufferfish, visibility can sometimes be poor, suitable for all levels of diver
Grouper Farm: 15 meters (50 feet), located at the southern end of Pulau Payar close to Coral Garden, rich hard corals, lots of reef tropicals, schools of barracuda, and many large groupers, only mild current, visibility can be below 10 meters (33 feet) on occasion, suitable for all levels of diver
Kaca Sunken Wrecks: 15 meters (50 feet) average depth, near Pulau Kaca, numerous rule-breaking fishing boats confiscated by the Marine Park were scuttled to become an artificial reef, now richly encrusted in corals and other invertebrates, home to macro critters and reef tropicals like stonefish, nudibranchs, urchins, lobsters, lionfish, anemones and clownfish, angelfish, butterflyfish, pufferfish, fusiliers, and snappers, schooling barracuda and jacks, and blacktip reef sharks are possible, visibility can be poor sometimes, suitable for all levels of diver
House Reef: 15-18 meters (50-60 feet), located in front of the Marine Park Center on Pulau Payar, sandy bay rich in macro critters and reef tropicals like seahorses, leaf fish, ghost pipefish, mantis shrimp, moray eels, angelfish, butterflyfish, rabbitfish, lionfish, and pufferfish, additional highlights are a resident giant barracuda and a large grouper, visibility may get below 10 meters (33 feet) on occasion, suitable for all levels of diver
Tyre Reef: 30 meters (100 feet), located on Pulau Segantang 13 kilometers (8.125 miles) west of Pulau Payar, rocky wall with rich hard and soft corals, lobsters, moray eels, and reef tropicals, highlights are schools of barracuda, jacks, and snappers, and the possibility of leopard and nurse sharks, suitable for experienced level divers
Things to Do in Langkawi (aside from scuba diving)
Many sites and activities in Langkawi are involved with the beautiful scenery, nature, and adventure, but there is also rich culture and history to be appreciated as well.  Here are some of the highlights to check out:  Galeria Perdana, Mahsuri Tomb and Museum, Kilim Geopark, Pantai Cenang, Tour the Islands, Durian Pernangin (Waterfall), Talagah Tujuh Waterfalls, Taman Leganda Langkawi, Nasar Kandar Tomato (Restaurant), MARDI Langkawi Agro Technology Park, Oriental Village (Theme Park), Island Cruise, Eat at Hangat Market, Pantai Kok (Beach), Loman Padi Rice Garden, Parasailing, Zipling, Skybridge, Langkawi Wildlife Park and Bird Paradise, Tanjun Rhu Beach, Underwater World Langkawi, Skytrex Adventure, Natural Salt Water Jacuzzi, Eagle Square (Dataran Lang), Kilim Karst Geoforest Ayer Hangat Friday Night Market.  For a more detailed discussion of things to do, click here.
This video introduces some of these highlights and a few more.
Air – Langkawi International Airport (LGK) handles more than a million passengers annually at its location at Padang Matsirat in the southwest section of the island.  There are direct flights from Penang, Johor Bahru, Kuala Lumpur, Kota Bharu, and Singapore.
Boat – Charters, speedboats, and ferries offer trips to several locations on mainland Malaysia and Thailand.  Click here for details.
Taxis are available at the airport and ferry terminals and around the island.
Cars and motorbikes/scooters can be rented at the airport.  With no public transportation, they are a convenient option. Please take note that Malaysia is a left-hand drive country.  Use extra caution on the roads to avoid people and domestic and wild animals that are often using them.
Bicycles are available to rent in some locations but are not widely available.
For additional transportation and tourist details, go to Wikitravel-Langkawi.
Hotels and Diving – In Langkawi there are more than 500 lodging options starting at $3 per night and around 20 dive shops in operation, some located within or associated with hotels.  They offer a full range of services that include equipment rental, diving certification classes, dive guides, and boat tours.  The website linked below has the details and can arrange a booking for the lodging.  You can easily find the location on the map provided on their site.  The rates are guaranteed to be the lowest and it is free to cancel or change dates.
Photography in Langkawi
With the colorful coral reefs, a variety of fish, barracuda, groupers, sharks, and intriguing onshore targets, as well, there are many excellent photo opportunities.  For information and reviews of dive cameras, click here:
A cushion for emergencies provides peace of mind when on vacation.  I recommend this diving insurance as they have worldwide coverage and give scuba divers a quality insurance and medical assistance service.
Feedback and Comments
I hope you found this post on Langkawi scuba diving interesting and useful. If you have any questions or ideas, please feel free to share them in the comments section.  I'd love to know of any experience you have.  If there is no comments section directly below, click here:  >>comments<<