We may earn money or products from the companies mentioned in this post.

Chumphon Pinnacle Batfish – Chumphon, Thailand (Courtesy of TripAdvisor)
This is the one hundred and thirty-eighth in a series of reviews of the best dive resort locations around the world.  In this post, the focus is on Chumphon, Thailand. In addition to this series on dive resort locations, the best worldwide liveaboard diving locations and services are reviewed in their own series.  To check them out, or others in this series, click on Liveaboards/Resorts on the menu at the top and choose a title from the list.
Have you been diving in Chumphon before?  If so, I'd love to know about your experience.  What dive shop or liveaboard did you use?  Which dive spots are the best and what are the conditions there regarding the visibility, current, water temperature, sealife attractions, etc.?  Please post your response in the comments section at the bottom and we'll all learn something we can use.
Chumphon Scuba Diving Thailand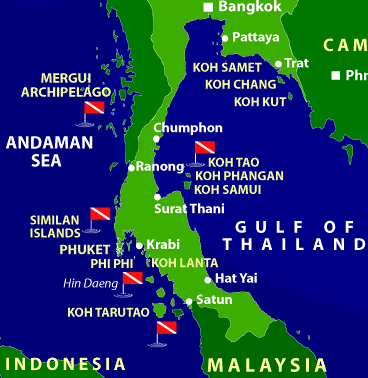 Background – Situated just inland from the central coast on the Gulf of Thailand, Chumphon City is the capital of the Province of the same name.  The city has a population of 35, 000 in a province with half a million that has 220 kilometers (137.5 miles) of coastline.   Untouched by the mass tourism in most of the top resort areas of Thailand, Chumphon has maintained much of its original natural beauty and still relies on agriculture to fuel the local economy.  With pristine uncrowded beaches, especially along "Pathio's Gold Coast and Beaches" in the region next to Chumphon Airport, Chumphon is considered the gateway to the much busier tourist islands of the Chumphon Archipelago that include Koh Samui, Koh Phangan, and Koh Tao.
Undersea World – Spread out over the archipelago, there are dozens of dive sites with a good variety of undersea terrain.  The rock piles, pinnacles, caves, crevices, and swim-throughs are bathed by the plankton-rich sea which has nourished the diverse coral reef.  There is an excellent variety of hard and soft corals, sea fans and whips, sponges, black coral, rich macro life, and lots of fish.  Highlights include octopus, crabs, pipefish, seahorses, oysters, parrotfish, butterflyfish, damselfish, frogfish, scorpionfish, blue-spotted stingrays, turtles, massive schools of yellow snappers, yellowback fusiliers, yellowtail barracuda (yellow is very popular), rainbow runners, and one-spot snappers, along with schooling jacks and pelagics, leopard and reef sharks, and the occasional manta ray or whale shark.  In addition, the scuttled Prab wreck (sister ship to the Sattakut wreck in Koh Tao) provides excellent habitat for an array of sealife, huge schools of fish, and great exploration and swim-through opportunities.  Chumphon has been favorably compared to Koh Tao for diving but lacks the swarms of tourists you find shoreside and diving on the Koh Tao sites.
Seasons and Conditions – Diving is good all year in the Koh Chang Archipelago.
Air temperature is always warm with average daily highs from 30-35°C (86-95°F).
The range for water temperature is 27-30°C (80-86°F).
Currents are usually mild but there are sites where it can get strong.
The rainy season is from May through November.
Visibility is variable based on the site and the season.  The best visibility is during the dry season.  For most sites, the range is from 10-30 meters (35-100 feet).  There are some locations where it may get as poor as 5 meters (16 feet) at times, especially when there is rain or wind.
There are sites suitable for all levels of diver from beginner to advanced levels.  Several dive shops are available that can provide a full range of diving coursework, equipment rental, guiding and boat cruises.
None of the major liveaboard yachts travel to Chumphon.  However, there are quite a few that cruise sites in the Andaman Sea on the west side of Thailand.  Here are several with links for booking and details: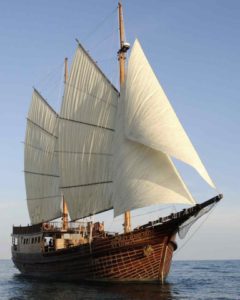 SY Diva Andaman, Similans and Mergei Archipelago Liveaboards – Check the Price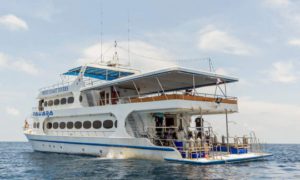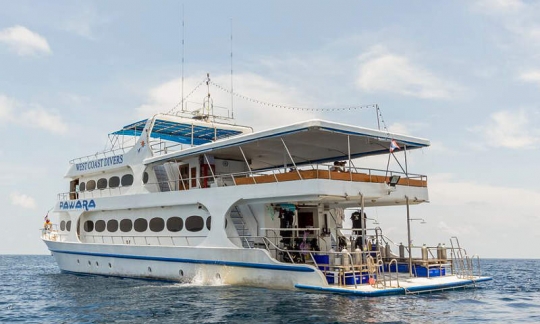 MV Pawara, Similans and Andaman Sea Liveaboards – Check the Price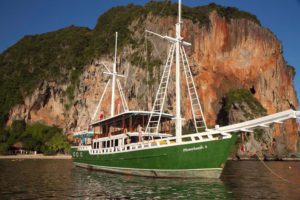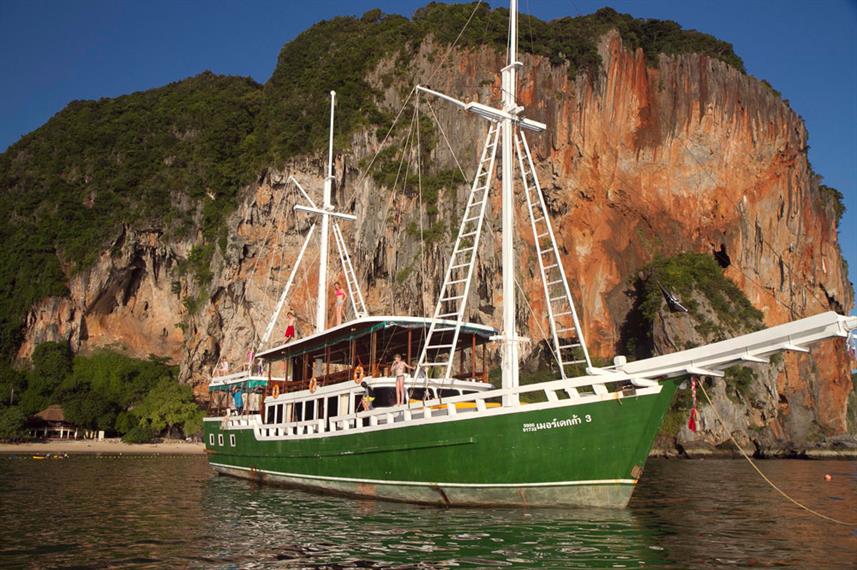 Merdeka 3, Southern Andaman Sea Liveaboards – Check the Price
For my reviews on other great diving locations in Thailand, Cambodia, and Burma, please check out these posts:

Selected Chumphon Dive Sites
Chumphon Pinnacle: 12-35 meters (40-115 feet), granite pinnacle peaking at 12 meters (40 feet) below the surface, Chumphon and Koh Tao's most famous site, anemone covered rocks at the base with pink skunk anemonefish, batfish, big grouper, yellowtail barracuda, big schools of jacks, leopard sharks on the sandy bottom or reef edge, lionfish fusiliers, rabbitfish, bannerfish, cobia, queenfish, rainbow runners and seasonal whale sharks, strong current is possible, suitable for experienced level divers
Hin Pae: 24 meters (80 feet), small group of rocks barely clearing the surface, a small wooden Thai fishing boat that sank recently rests in fragments of the sea bed, rich marine life including lots of anemones, sea whips, black corals, giant clams, nudibranchs, and reef tropicals, special attractions are barracuda, blue-spotted stingrays, turtles, and occasional whale sharks suitable for all levels of diver
Kho Lak Ngam: 21 meters (70 feet), rocky outcrop islet part of Mu Ko Chumphon National Park, rich hard and soft corals, anemones, and good macro life including frogfish, pipefish, seahorses, and clams and numerous reef tropicals including parrotfish, fusiliers, and bannerfish, suitable for all levels of diver
Koh Mattra: 21 meters (70 feet), part of Mu Koh Chumphon National Park, 2-kilometer (1.25-mile) long day trip island with a few facilities, dive sites are all around the island which has a rich coral reef of hard and soft coral with lots of macro critters and reef tropicals like pipefish, frogfish, and seahorses, and parrotfish, suitable for all levels of diver
Koh Ngam Noi: 21 meters (70 feet), site along with its sister island, Koh Ngam Yai, famous for the collection of bird nests, many sites around the island with interesting corals and reef fish, at the southeast corner is a site called Lak Ngam with big boulders which is a good spot to observe passing whale sharks, suitable for all levels of diver, (check out the video below)
HTMS Prab (LCI-741) Wreck: 21 meters (70 feet), originally a US Navy vessel commissioned in 1945, scuttled to become an artificial reef in 2011, sister ship to the HTMS Sattakut (LCI-742) scuttled near Koh Tao, resting upright in excellent condition, easy, safe penetration is possible, rich in marine life including massive schools of one-spot snappers and fusiliers, lots of encrusting corals and sponges, and the possibility of hawksbill turtles and whale sharks, close proximity to Koh Ngam Noi, suitable for experienced level divers (check out the video above)
Things to Do in Chumphon (aside from scuba diving)
Chumphon (city) is not a highly developed international tourist area.  It does have some beautiful scenic sites and activities and rich Thai culture.  Here are a few places to visit and activities to consider:  Eat Pad Thai at the street market, island hopping, picnic at Cabana Beach, Prince of Chumphon Shrine, Wat Phra Yai (temple), Wisai River Falls, view from Khao Mudsee, Thai desserts in a Pak Nam shop, Chumphon City Pillar Shrine, Muko Chumphon National Park, Wat Pa Yang Temple, watch raptors at Khao Dinsor (Hawk Mountain), viewpoint of Pathiu at Wat Khao Chedi, Kook Noy Kitchen, Chumphon National Museum, Farang Bar, Aeki's Bar, Pirates Terrace, Chumphon Fresh Market, bamboo rafting, San Nai dun coffee.  For details on many of these as well as many other attractions, check Wikitravel-Chumphon.
This video gives a small taste of what Chumphon has to offer.
Air – Multiple 50 minute daily flights from Bangkok's Don Mueang Airport (DMK) on several airlines go to Chumphon Airport (CJM) which is in Pathio District 30 kilometers (19 miles) north of Chumphon city.  There are numerous transit agents to onward destinations and scheduled aircon minivans for trips into the city.  No metered taxi service is available at the airport.
Bus and train service from Bangkok and beyond is available with many options.  Check here for details.
Local public buses, motorbike taxis, songthaews, and taxis are all available with limitations on when, where, and how to use them.  Check here for details.
Motorbike rental is available at reasonable daily rates.  Check here for details.
For additional details on transportation and tourist matters, go to Wikitravel-Chumphon.
Hotels and Diving – In Chumphon there are more than 100 lodging options starting at $6 per night.  A number of dive shops are in operation, some located within or associated with hotels.  The Pathio seaside area is the location of several.  They offer a full range of services that include equipment rental, diving certification classes, dive guides, and boat tours.  The website linked below has the details and can arrange a booking for the lodging.  You can easily find the location on the map provided on their site.  The rates are guaranteed to be the lowest and it is free to cancel or change dates.
Photography in Chumphon
With the colorful coral reefs, a variety of reef tropicals, macro critters, stingrays, groupers, wrecks, and intriguing onshore targets, as well, there are many excellent photo opportunities.  For information and reviews of dive cameras, click here:
A cushion for emergencies provides peace of mind when on vacation.  I recommend this diving insurance as they have worldwide coverage and give scuba divers a quality insurance and medical assistance service.
Feedback and Comments
I hope you found this post on Chumphon scuba diving interesting and useful. If you have any questions or ideas, please feel free to share them in the comments section.  I'd love to know of any experience you have.  If there is no comments section directly below, click here:  >>comments<<