We may earn money or products from the companies mentioned in this post.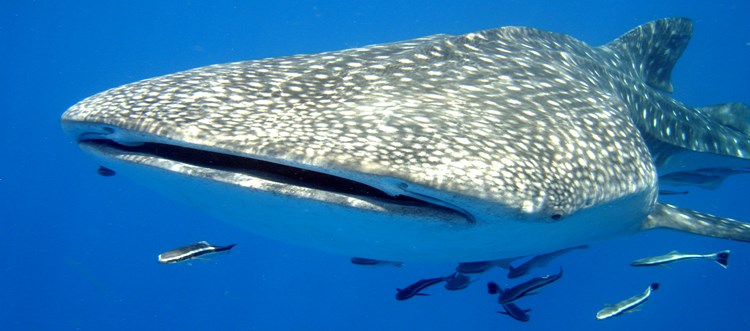 This is the one hundred and seventh in a series of reviews of the best dive resort locations around the world.  In this post, the focus is on Cambodia. In addition to this series on dive resort locations, the best worldwide liveaboard diving locations and services are reviewed in their own series.  To check them out, or others in this series, click on Liveaboards/Resorts on the menu at the top and choose a title from the list.
Have you ever been diving in Cambodia before?  If so, I'd love to know about your experience.  What dive shop or liveaboard did you use?  Which dive spots are the best and what are the conditions there regarding the visibility, current, water temperature, sealife attractions, etc.?  Please post your response in the comments section at the bottom and we'll all learn something we can use.
Scuba Diving Cambodia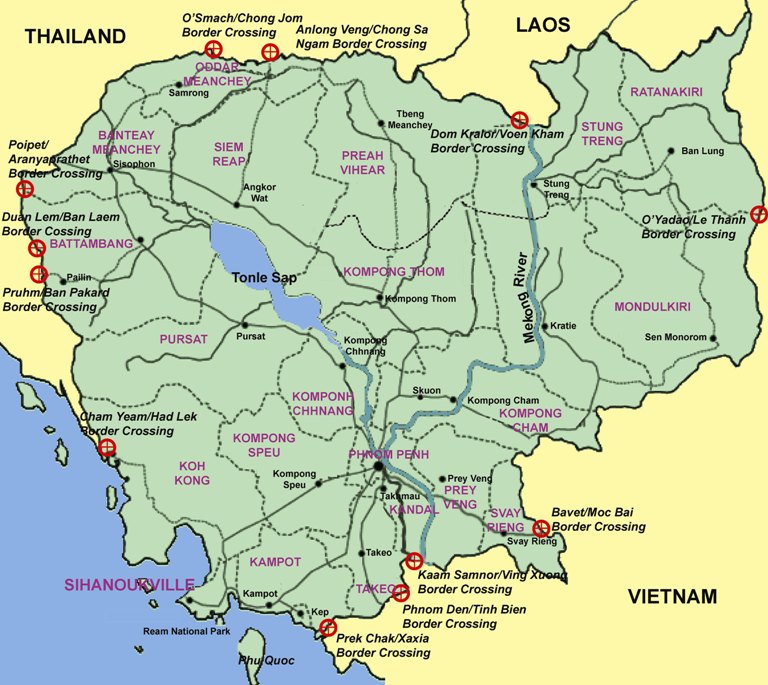 Background – Cambodia (or Kampuchea) with a population of 16 million is encircled by Thailand, Laos, Vietnam, and the Gulf of Thailand.  Despite a history of war and the social and cultural upheaval of the Khmer Rouge Regime, 95% of the people are Theravada Buddhists.  Today the country is a constitutional monarchy with a president of 30 years, Hun Sen, a former Khmer Rouge commander, and a virtual one-party parliament.  Agriculture makes up 90% of GDP but it is a surge in tourism and garment manufacturing that has pushed growth to a high percentage rate recently.  The development of the economy has been delayed by poor infrastructure including roads damaged by the years of war but that too is showing improvement.  The scuba diving in the Gulf of Thailand can be most easily accessed through Sihanoukville from the resorts there or by transport to the many islands where there is a good variety of dive sites and accommodation.  For more information about history, culture, and demographics, please go here:  Cambodia – Wikipedia
Undersea World – The seaside town of Sihanoukville is only a few hours south of Phnom Penh.  From there dozens of islands are a relatively short boat ride away.  Many are uninhabited and most have pristine reefs and rich sea life.  The commercial development for recreational scuba diving is 20-30 years behind the islands in the Gulf of Thailand near Pattaya to the west.  That means the tourist scene is more relaxed and there are not as many divers.  There is a nice variety of undersea terrain and the reefs are generally pretty healthy with a biodiversity of marine life.  Attractions include intriguing macro life like nudibranchs, sea stars, scorpion fish, cuttlefish, eels, and octopus along with triggerfish, sweetlips, snappers, batfish, parrotfish, huge cobia, big schools of barracuda and jacks, catsharks, reef sharks, blue-spotted stingrays, and whale sharks in season.
Seasons and Conditions – Diving is possible year-round in the Gulf of Thailand off Cambodia.  It's always nice and warm hitting daily average lows in December of 25°C (77°F) and daily average highs of 29°C (84°F) in April.  Water temperatures are likewise quite warm reaching a low of 28°C (82°F) in January and a high in May of 30.5°C (87°F).  The dry season is from November to May when visibility is better.  The annual vis range is 10-40 meters (35-130 feet).  Current is usually minimal, but on some sites, it can be a factor.  A lot of the diving is fairly shallow and there are sites suitable for all levels.  There are a number of dive shops in Sihanoukville and on Koh Rong and Koh Rong Samloem where there is significantly supporting infrastructure with accommodations, a range of diving coursework, equipment rental, guiding, and boat cruises locally and to more distant islands including overnight trips.
There are no major liveaboard yachts cruising Cambodia but there are some others to sites around Thailand.  Here are my reviews on Thai diving and some great liveaboards there: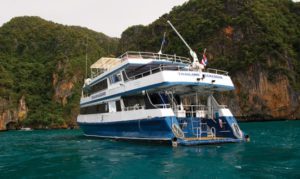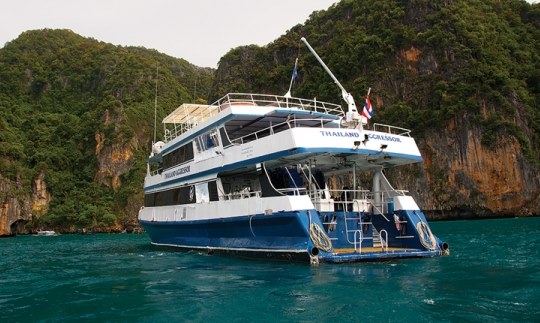 Thailand Aggressor, Similan Islands Liveaboard – Check the Price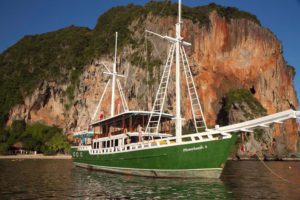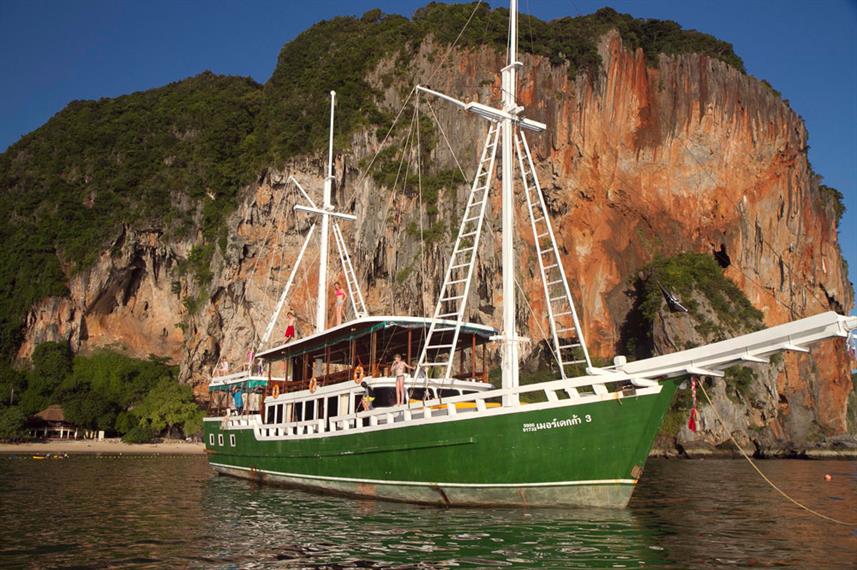 Merdeka 3, Southern Andaman Sea Liveaboard – Check the Price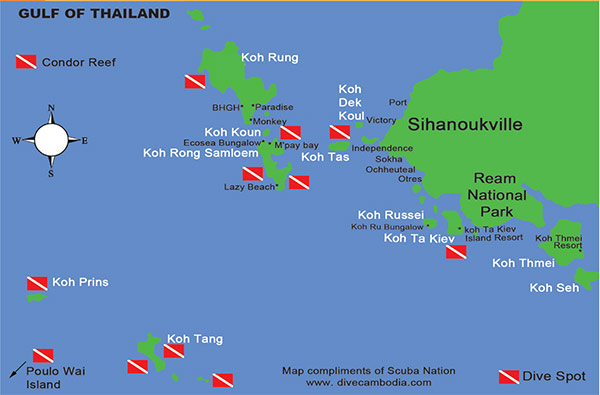 Selected Cambodia Dive Sites
Koh Tas:  about an hour away from Sihanoukville by boat, 12 meters (40 feet) maximum depth, 3 main sites on a fringing reef, lots of hard coral and coral bommies dropping to a sandy bottom,  scorpion fish, moray eels, parrotfish, schools of yellow goatfish, large anemones with their clownfish, boxfish, big parrotfish, snappers, and sweetlips, visibility runs from 5-24 meters (16-80 feet), suitable for all levels
Koh Rong Saloem: 1.5 to 2 hours away from Sihanoukville, 9 main dive sites with a maximum depth of 18 meters
Cobia Point:  18 meters (60 feet) maximum depth, steep drop off from shore to the maximum depth, rich corals on the wall, curious 2-meter (7-foot) cobia (kingfish) often swim with divers, some current is possible, suitable for all levels
Sponge Garden: 17 meters (57 feet) maximum depth, the reef descends to 10 meters (35 feet) close to shore and extends down to the maximum depth, lots of barrel sponges with shrimps, crabs, lionfish, and scorpion fish within or nearby, massive schools of yellow goatfish are possible, parrotfish, barracuda, and cobia, suitable for all levels
Koh Kon: 1.5 to 2 hours from Sihanoukville, between Koh Rong and Koh Rong Saloem, 16 meters (53 feet) maximum depth, small island with 4 sites around it, each with a slightly different terrain, reef, and other marine life, many anemones, boxfish, schools of yellow goatfish, jacks, barracuda, and fusiliers, big parrotfish, snappers, sweetlips, blue-spotted stingrays, bamboo and catsharks, moray eels, squid, octopus, nudibranchs, flatworms, suitable for all levels
Koh Rong:  1.5 to 2 hours from Sihanoukville, north of Koh Kon sandwiching it with Koh Rong Saloem, bigger island know for beaches and party atmosphere, it has a number of sites, and some it shares with Koh Rong Saloem
Back Door:  Koh Rong site with many large boulders that form a good habitat for macro life, marine life similar to that of Koh Kon and Koh Rong Saloem, suitable for all levels
Koh Tang: situated 4-5 hours from Sihanoukville, uninhabited except for a small military contingent, 30 meters (100 feet) maximum depth, 9 dive sites, has the reputation as one of the best dive sites in Cambodia
Three Bears: 6-16 meters (20-53 feet), the name comes from a formation of caves in the cliff on shore, fields of staghorn corals, then coral bommies as you move south, lots of juvenile fish and other marine life among the corals, visibility is usually excellent, suitable for all levels
Stingray Alley: 30 meters (maximum depth), a rocky site with many macro critters like scorpionfish, octopus, cuttlefish, and crustaceans, lots of blue-spotted stingrays, great for night diving, moving below 25 meters (83 feet) are small reef formations, suitable for all levels
Koh Prins:  situated 5-6 hours from Sihanoukville and 3 hours from Koh Rong Saloem, Koh Prins is the biggest of 3 islands grouped together, Koh Moan and Naked Island are the other 2, 8 dive sites around the 3 islands, 30+ meters (100+ feet) maximum depth
Shark Point (Naked Island west side): 5-30+ meters (16-100+ feet), anemone field starting at 5 meters (16 feet), sloping with rocky outcrops to below 30 meters (100 feet), blacktip reef sharks congregate at the northwest end at a cleaning station, whale sharks are often spotted in December and May, suitable for all levels
Eagle Ray Alley (Naked Island east side): 30 meters (100 feet) maximum depth, rocks to the maximum depth, a strong current is possible, eagle rays often seen, whale sharks in May and December, suitable for experienced level divers
Condor Reef:  situated 4-5 hours from Sihanoukville to the west of Koh Rong, 10-40 meters (35-130 feet), coral shoal with a huge rectangular rocks, small walls and an arch, rich marine life including reef sharks, turtles, barracuda, pelagics, and whale sharks in May and December, many remnants from sunken Chinese junks such as porcelain dating to 1660, suitable for all levels depending on the depth
Things to Do in Cambodia (aside from scuba diving)
If you make it to Cambodia you won't want to miss the most famous of it's historic and cultural sites and activities.  This video is a nice introduction.
Cambodia Transportation, Hotels, Resorts, and Diving Services
Air – The gateway to diving in Cambodia is Sihanoukville.  Sihanoukville Airport is 17 km (10.6 miles) east of town next to the Ream National Park.  There are several flights weekly from Siem Reap, Kuala Lumpur, Hainan, Shenzhen, and Ho Chi Min City.
Buses – A number of bus lines and mini-buses run from Phnom Penh at very low prices.  From Siem Reap several lines run sleeper night buses.  Cheap bus service is also available from Ha Tien, Vietnam as are aircon mini-buses from Koh Kong/Hat Lek in Thailand.
Train – Services between Phnom Penh and Sihanoukville were restored in 2016.  Travel is more relaxing than on the bus and costs around $7 one way.
Taxis  – Chartered taxis from the central market in Phnom Penh can get you to Sihanoukville in less than 3 hours for $25-$40.  In Sihanoukville, there are taxis, tuk-tuks, and motodops (bike-taxis) to cover the distances around town and between beaches.
Scooters – Motor scooters are available at around $4/day.  You have to haggle for it, though.
Ferries – Ferries and fast boat services run to both Koh Rong and Koh Rong Samloem from Sihanoukville.  The two to three times daily ferries take 2-3 hours and cost $5-$10 round trip.  The twice-daily fast boats take 40 minutes to an hour and cost $20 with an open return.
For more complete details of tourist information, please go here:  Sihanoukville – Wikivoyage
Hotels and Diving – There are hundreds of hotel and lodging options of all levels in Sihanoukville, Koh Rong, and Koh Rong Samloem starting at around $2 per night.  Each of those locations has a number of dive shops some of which are situated in or affiliated with lodging.  A range of services are available including equipment rental, diving certification classes, dive guides, and boat tours locally and to more distant islands.  The website linked below has the details and can arrange the booking.  You can easily find the location on the map provided on this site.  Their rates are guaranteed to be the lowest and it is free to cancel or change dates.
Photography in Cambodia
With the beautiful reefs, a variety of fish, macro critters, Chinese wrecks, and scenic shoreside targets, as well, there are many excellent photo opportunities.  For information and reviews of dive cameras, click here:
A cushion for emergencies provides peace of mind when on vacation.  I recommend this diving insurance as they have worldwide coverage and provide scuba divers a quality insurance and medical assistance service.
Feedback and Comments
I hope you found this post on Cambodia scuba diving interesting and useful. If you have any questions or ideas, please feel free to share them in the comments section.  I'd love to know of any experience you have.  If there is no comments section directly below, click here:  >>comments<<