We may earn money or products from the companies mentioned in this post.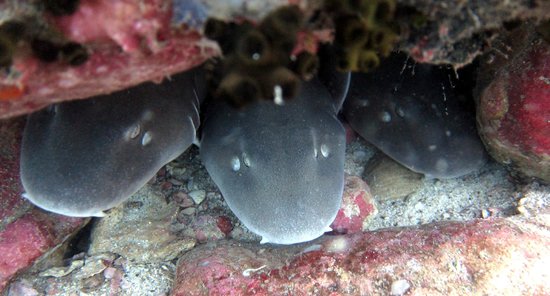 This is the seventeenth in a series of reviews of the best dive resort locations around the world.  In this post, the focus is Pattaya, Thailand.
In addition to this series on dive resort locations, the best worldwide liveaboard dive locations and services are reviewed in their own series.  To check them out, or others in this series, click on Liveaboards / Resorts on the menu at the top and choose a title from the list.
Have you ever been diving in Pattaya before?  If so, I'd love to know about your experience.  What dive shop or liveaboard did you use?  Which dive spots are the best and what are the conditions there regarding the visibility, current, water temperature, sealife attractions, etc.?  Please post your response in the comments section at the bottom and we'll all learn something we can use.
Scuba Diving Pattaya
Pattaya, about 144 kilometers (90 miles) or a 3-hour bus ride to the south of Bangkok, is Thailand's and perhaps Asia's, most popular beach resort city.  Originally a simple fishing town, US soldiers on leave from the Vietnam War spurred development to what it is today.  Its reputation as a sort of extension of the Patpong red light district in Bangkok still has some validity, but it is much more than that.  As you move away from the Pattaya beach inland and to the south to Jomtien and Rayong, the seediness disappears.  There is a lot to do for entertainment there including a floating market, Big Buddha Hill, a theme park, Asia's largest beachfront shopping mall, golf, great Thai food everywhere, all the boating and seaside activities and last, but not least, scuba diving.
When Pattaya's diving is compared to the best in Thailand, like that of the Andaman Sea, or even Koh Tao, it is not the same level. But there is still a lot to say for it.  There are a number of interesting shipwrecks and 3 areas with differing conditions and distance from Pattaya, all accessible by boat.  Many sites are excellent for diver training of beginner, advanced, wreck and Nitrox courses.
The near islands (Koh Larn, Koh Sak and Koh Krok) have nice hard and soft corals on a shallow reef that also has turtles and sharks and the HTMS Kut nearby.
The far islands, directly west beyond the near islands, consist of 6 islands (Koh Luern, Koh Phai, Koh Man Wichai, Koh Klueng Badan, Koh Hoo Chang, and Koh Rin).  These have less diving traffic, better visibility, a richer reef and conditions that are more unpredictable, including drift.
To the south are the Samae San Islands (Koh Chuang and Koh Chan).  The colorful sites there have fascinating macro critters like seahorses and porcelain crabs, and lots of the classic Indo-Pacific reef fish including wrasses, butterflyfish, angelfish, and parrotfish.  There are also hawksbill, green and leatherback turtles, schooling jacks and barracuda and blacktip and bamboo sharks.
It is always warm with air temperatures from 28-32°C (82-90°F) and water temperatures at around 28-30°C (82-84°F) throughout the year.  The rainy season is from May to October with the heaviest rain in September and October.  The best overall conditions for diving are from December through March, but diving is possible all year.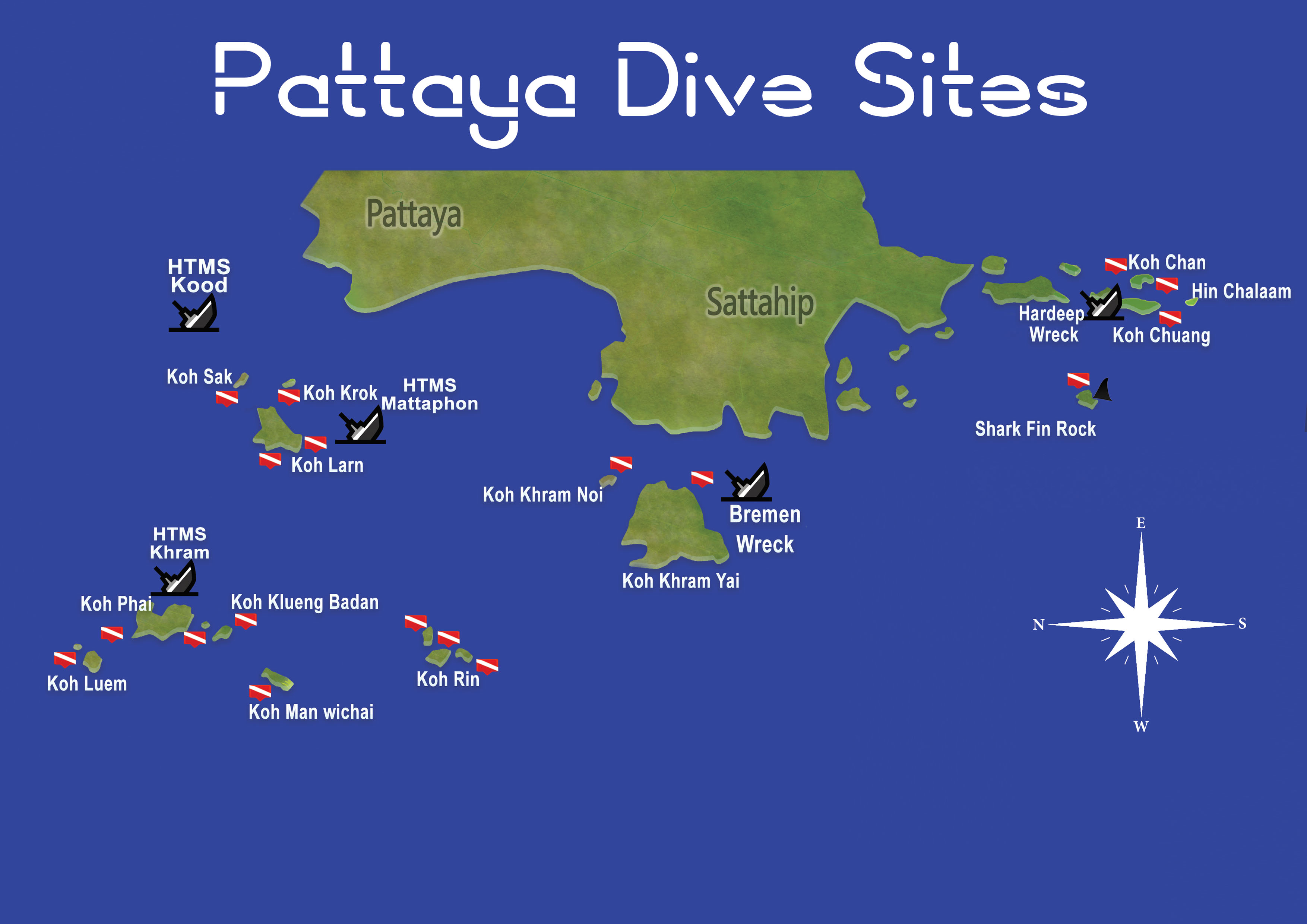 Selected Popular Pattaya Dive Sites
Koh Larn – to 15 meters (50 feet), nice corals right offshore, nurse sharks, good snorkeling, other water sports including parasailing, jet skis, banana boats, visibility 5-15 meters (6-50 feet), beginner level and training
Koh Sak – to 9 meters (30 feet), crescent-shaped with white beaches, calm surface, nice corals, good macro with pipefish, seahorses and dragonish, hawksbill turtles, bamboo sharks, 5-15 meters visibility (16-50 feet), beginner level and training
Koh Krok – to 12 meters (40 feet), nice hard (staghorn mushroom and table) and soft corals mainly on the southern and western points, some current possible, parrotfish, wrasses, pufferfish and hawksbill turtles, 5-15 meters (16-50 feet) visibility, good for beginner level and snorkeling
Koh Rin – 3 sites (South Rock, North Rock, Koh Rin Bay), to 18 meters (60 feet), variety of hard and soft corals, coral whips, barrel sponges, invertebrates like nudibranchs, crinoids, brittle stars and other macro critters including razorfish and pipefish, harlequin sweetlips, snappers, squirrelfish, giant pufferfish, lionfish, moray eels, hawksbill turtles, stingrays, bamboo sharks, 5-15 meter (6-50 foot) visibility, beginner level
Koh Man Wichai – 2 sites (Fingers, Wall), to 22 meters (73 feet), valleys and mounts, wall, drop-off, rich hard and soft coral reef life, large groupers, puffer fish, green and hawksbill turtles, stingrays, sharks, 10-30 meters (35-100 feet) visibility, beginner and experienced levels
Koh Phai – 3 sites (East, South Bay, South Drift), HTMS Khram wreck nearby, to 24 meters (80 feet), many corals, sea fans, whips, sponges, octopus, seahorses, stingrays, nudibranchs, stonefish, shrimps, cuttlefish, juvenile snappers, jacks, fusiliers, mullet, schools of yellow snapper, visibility 8-30 meters (25-100 feet), beginner and experienced levels
Hardeep (SS Suddhadib) Wreck – 64 meters (215 feet) length, maximum depth 28 meters (93 feet), sunk by allies in WWII, on starboard side, open cargo holds, easy penetration, 70 years of encrustation, jacks, butterflyfish, angelfish, queenfish, large wrasses, tusk fish, juvenile barracuda, experienced level, wreck and aow training
HTMS Kut (Khood or Kood) – WWII US landing ship (LSM-338) scuttled by the Thai Navy in 2006 as an artificial reef near Koh Sak, maximum depth 31 meters (103 feet), 56 meter (185 feet) length, well prepared, hazard-free,  easy penetration, stingrays, scorpionfish, barracuda, giant puffers, experienced level, wreck and aow training
There is a wide variety in accommodations available at every level from the backpacker to the highest luxury demanding tourist. A number of them are equipped with dive shops.  Otherwise, there are many quality diving operations nearby.  This website is a good source for the available options and can arrange a booking:
There is a continuous 3-hour bus service from Bangkok to Pattaya with departures until 10 pm.  You can depart from the city or from Suvarnabhumi Airport (Bangkok Airport).  Taxi service directly from the airport is also available.  I have used that and it is easy to organize.  U-Tapao Airport is an hour from downtown Pattaya.  Bangkok Airlines is the only carrier that flies in and out of there.  If you are taking a Thai domestic flight, U-Tapao is an option.
Pattaya Photos
With the macro life, beautiful, diverse coral reef and lots of fish, there are many excellent photo opportunities.  For information and reviews of diving cameras, click here:
A cushion for emergencies provides peace of mind when on vacation.  I recommend this diving insurance as they have worldwide coverage and provide scuba divers a quality insurance and medical assistance service.
Feedback and Comments
I hope you found this post on Pattaya scuba diving interesting and useful. If you have any questions or ideas, please feel free to share them in the comments section.  I'd love to know of any experience you have diving there.  If there is no comments section directly below, click here::  >>comments<<